I travel a LOT and I have a bunch of wireless devices that I bring with me on each trip.
Over the past few months though, I've started to think more deeply about network security and who might be watching what goes through the network or who's connected to it. Additionally, I've started to see some hotels offering "free Internet" - for 2 devices and then charging more for multiple devices. Finally, even at the best and most trusted hotel it's simply frustrating to have to connect my devices each time I go somewhere. When you combine all three of these things together it's sometimes easier to simply just throw up a wifi hotspot on my phone and be done with it. Unfortunately, that tends to be slow and expensive - luckily, Netgear has created a solution with their Trek Travel Router.
Last week I visited two different hotels to test out the N300 Trek Travel Router and see how well it worked.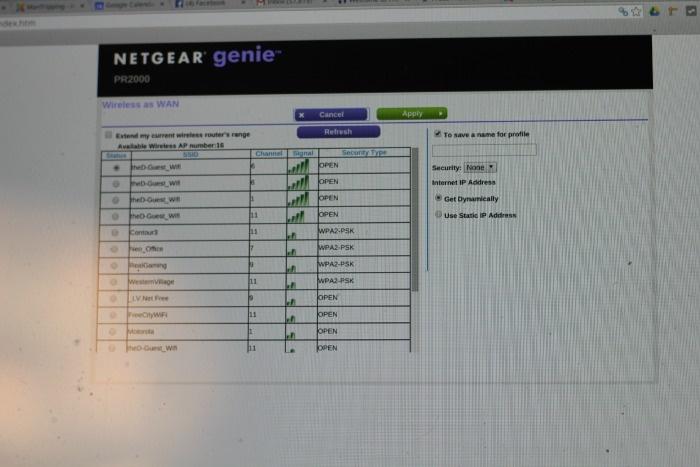 It was actually much more simple than I expected. Essentially, you just plug it into the wall and then connect your laptop (or other device) to the access point name listed on the unit, including username and password. Once connected, you select the access point to connect to and then it prompts you to login as if you were doing so from your laptop directly.
Once everything is set up, it works like any other router you might have at home - except that it is tiny and portable (folding power prongs and antenna). Because your computer is now located behind your own personal firewall this is an added layer of security but for me, honestly this is all about convenience. Once I arrived at my second hotel, I simply plugged it in again, logged in and connected the router to the hotel's wifi. All of my devices continued to connect to the router and since nothing changed it all worked in a matter of seconds instead of the normal ritual of configuring each one individually.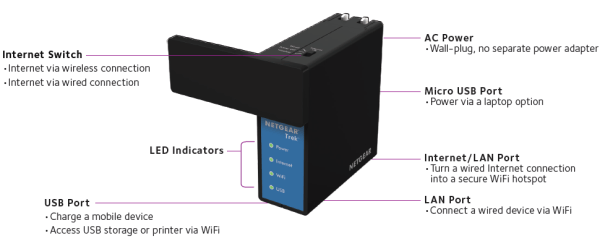 Security Functionality Includes:
WiFi Protected Access® (WPA/WPA2—PSK) and WEP
Software WPS PIN and PBC (Push Button Configuration) modes
Double firewall protection (SPI and NAT firewall)
Denial-of-service (DoS) attack prevention
DMZ for secure gaming
There are also a couple other usage scenarios where the Trek would come in handy ...
Public Wifi Hotspots:
In this case, you can actually plug the router into your laptop via USB and that will power it enough to amplify existing wifi connectivity while providing you the security of your own firewall as mentioned above. If you happen to be at a table with access to a power plug, you can then use the USB plug to charge your phone instead of using USB to power the device.
Extending Your Home Network:
At this point, most every device you can imagine has support for WiFi, but if it doesn't you could plug the Ethernet plug into the Trek to give it wireless ability. Additionally if you are in the backyard, using Trek will help amplify the signal to give you a stronger, faster connection.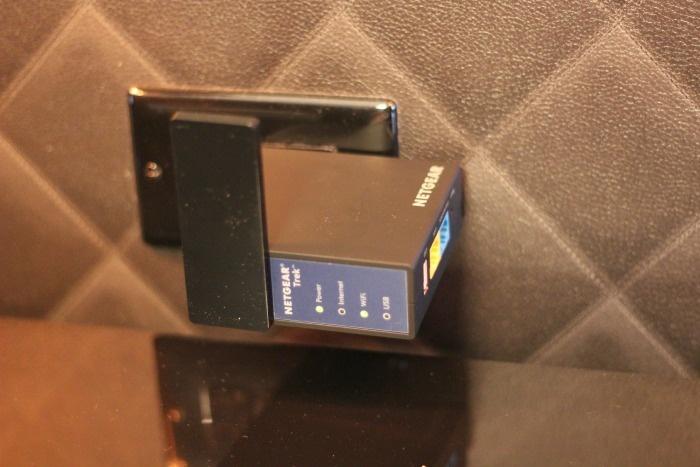 Overall, I was very pleased with the Trek Travel Router and it is a product that I would recomend to anyone who travels regularly.
With a list price of approximately $60 (you can find it significantly less if you search), this is an obviously purchase - especially if you've encountered those hotels that are charging for multiple devices.