Anyone involved in skincare knows that the industry has undergone many significant changes in the past decade, especially when it comes to men's skincare.
Demand for skin care products has skyrocketed and the men's personal care market is predicted to reach $166 billion globally by 2022, according to Allied Market Research. With men fueling the explosive growth, some interesting developments are being seen in the latest products.
In the past few years, the use of moisturizers for men went from being taboo to being entirely acceptable. Men whose daily routine consisted of using soap on their faces now realize that a bar of soap often contains harsh ingredients that dry out the skin.
The internet has made it easier to access information and with this has come more knowledge about the dangers of a lack of skin protection. For instance, Melanoma rates in men are on the rise, according to research presented at the 2018 NCRI Cancer Conference which is all but more reason to put on sun screen.
The internet also makes it easier for men to find and buy skin care products that are specially formulated for their skin. They are spending time and money on products because they understand their necessity and the value of a daily skincare routine.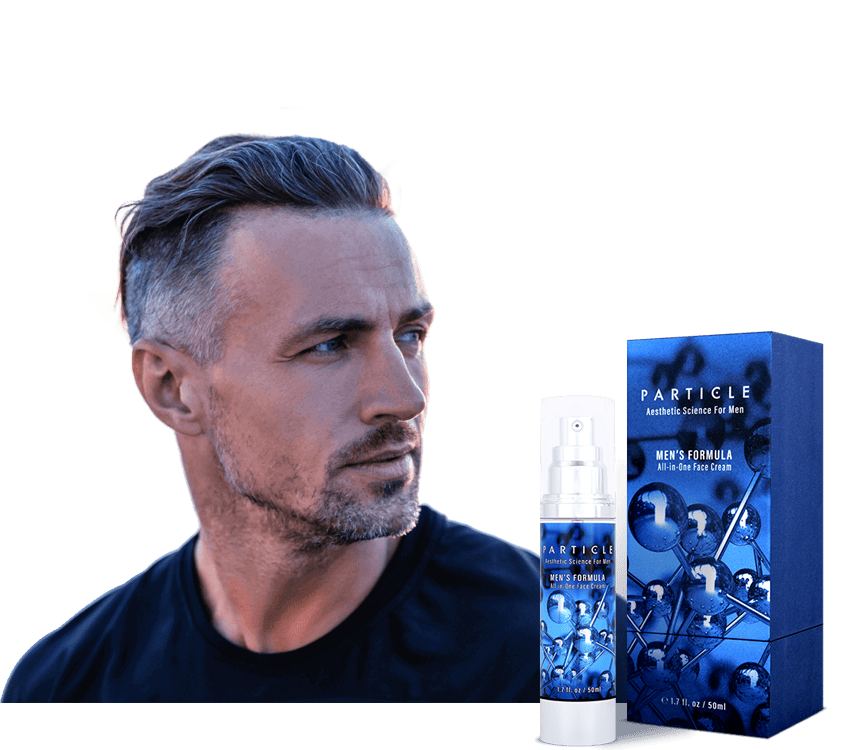 Why men need specific skincare products
Men's skin is about 25% thicker than that of women. They have larger pores and produce more sebum, which means they are more prone to clogged pores and breakouts.
Their skin is tougher and rougher and they tend to develop deep facial wrinkles over time due to the loss of subcutaneous fat. Regular shaving also stresses male skin, leading to cuts, razor burns, ingrown hairs and more sensitive skin.
Particle cream for men is a revolutionary product designed specifically to work on men's skin. Biochemists formulated it to penetrate through the toughness without leaving any shiny residue on the skin's surface.
They chose special ingredients that absorb moisture and lock it in, making the skin look smoother, younger and reducing the appearance of wrinkles.
One product with many functions
The plethora of skincare products on the market may simply confuse you. You probably know you need a moisturizer to hydrate your skin. You suffer from bags under your eyes, so you would like a cream to combat this. A cream to help with the problems caused by shaving is one of your priorities.
Particle is the perfect choice because it gives you six different benefits in one single cream. It does all the moisturizing, nourishing, toning, repairing and healing you need.
It will combat those bags under your eyes by boosting microcirculation and tightening the skin. It will repair and rejuvenate your skin while sleeping when you apply it before you go to bed. It will reduce the redness and other problems caused by shaving.
Powerful skincare ingredients
Particle cream contains 12 of the best ingredients for skincare.
Hyaluronic acid (collagen synthesis)
Squalane (powerful anti-aging properties)
Glycerin (natural ingredient that tightens the skin)
Allantoin (helps to heal damaged or dry skin)
Jojoba Oil (anti-inflammatory properties)
Vitamin E (repairs sun damage).
Shea Butter (nourishes, moisturizes and protects)
Coffee Seed Extract (boosts collagen production)
Ascorbyl Tetraisopalmitate (boosts collagen production
Lactic acid (improves moisture levels and skin texture)
Pentavitin (hydrates the skin)
Symwhite (combats discoloration and uneven skin tone)
How to use Particle
Thoroughly cleanse your face and squirt a dime-sized amount of the cream onto your fingers. Massage into the face gently until it covers it in a fine layer. Use it in the morning and at night. To get the best results, you will need to apply it daily on a regular basis. You should start experiencing the results in two to three weeks.
The company provides free shipping in the U.S. and globally. Your package will arrive within 2 to 3 days in the U.S. and 4 to 6 days outside the U.S. The company is confident enough in the product to provide a 30-day money-back guarantee. Particle says If you're not satisfied with the product, you can return it for a refund. The ingredients are natural and has been proved to work in studies. We think Particle deserves a room on your kitchen sink. What do you think? Share your comments below!