I take a lot of photos and while it's great to see them on the computer or my phone and share them on Facebook ... there's nothing that can compare to printing them out. I've been a fan of the prints on canvas format for a few years now and honestly I typically bounce around from one vendor to the next depending on the deals offered online. CanvasPop offered to let me try their service though and I'm impressed. Not only were the images color accurate and printed flawlessly, but the canvas and frames were far superior to other services out there.
CanvasPop canvas prints are all made right here in the United States by hand. They offer a variety of Canvas Prints sizes (including a massive 76"x38" print!). However, they also offer Framed Prints on canvas or paper as well as Triptych Panel Prints and Photo Collages. If you are looking for something special, you can upload your artwork and their design staff can add filters or even captions or cleanup the photo so your memories are printed as vibrantly as you remember them.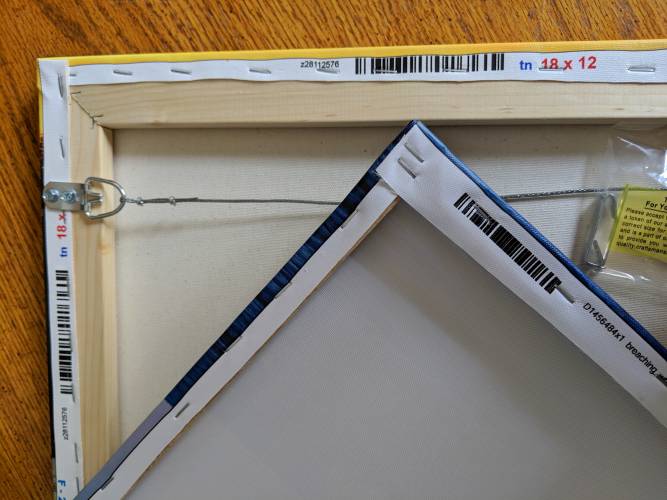 Often times we look at things in the printing industry as commodities, but CanvasPop Canvas Prints were far superior to what I've experienced in the past. In the photo above, notice the difference between CanvasPop (bottom) and the other company I ordered from previously. Here's a few specific elements that stood out ...
Wooden Frame Is Substantial - this not only helps with hanging, but especially with larger prints reduces the likelihood of warping or the canvas pulling out of position.
Metal Hanging Wire and Hardware - other companies I've purchased from simply had a wooden frame and that's it. This made things challenging to both hang as well as position so that it is perfectly level.
Canvas Was Thicker, More Textured, and More Opaque - this is fundamentally a personal style choice but when looking at the both canvases from the back it was clear that the other company used a much less substantial canvas. In fact, you can see more light passing through it than the one from CanvasPop and it was smoother, with less texture. The result was CanvasPop's felt less glossy and more like a painting than a photo.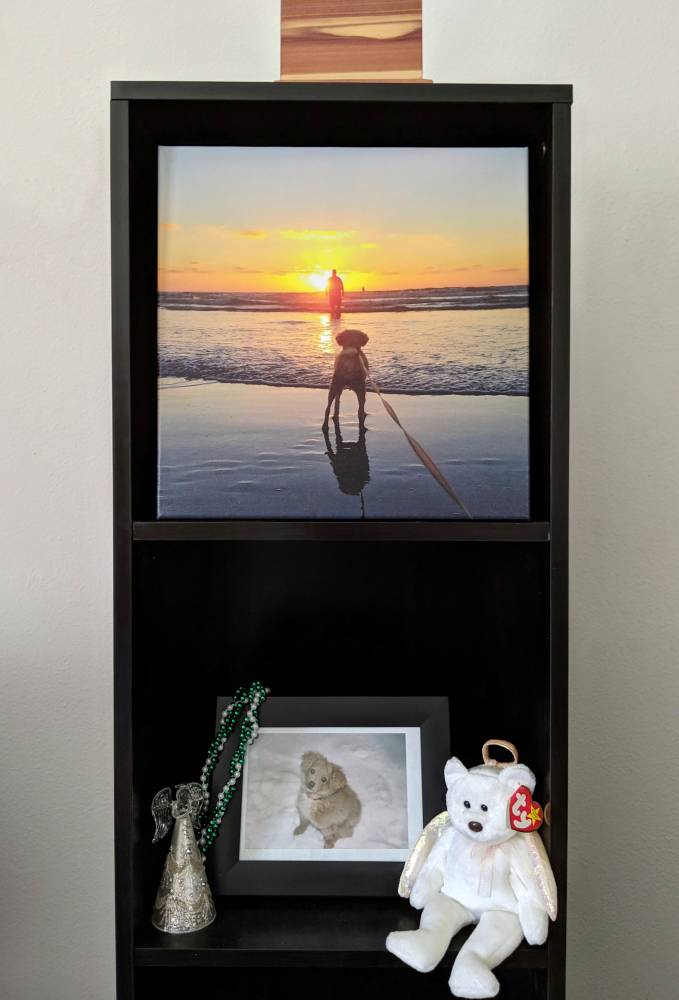 While I like the print on canvas format to remember travels in a way that simply posting on Facebook or looking at photos on my phone can't, this one was special.
Last fall, our dog Niki Belle passed away and so we've build a sort of memorial area for her in the house.
This is a major area where printing photos on canvas can have a major impact that other formats simply can't and CanvasPop came through perfectly.