Holy Cow! Mother's Day is here this weekend and the clock is ticking. That means that you need to go out and get some cool stuff for mom or that special woman in your life that you'll be celebrating this weekend. I know what you are thinking - "I don't have time to go shopping!". That's probably followed up immediately by, "OH CRAP! Shipping won't get it here on time either!". That's where Sear's In-Vehicle Pickup service comes into play and helps you become the hero that you know you are.
Procrastination isn't always a bad thing and much of the time I consider it simply spending time to be strategic. Unfortunately when that delay causes you to mess up an important day like this, it's simply a failure. To help you win this year, here's four steps to ensure you succeed!
Step One: What Does She Love?
This should be an easy one since you've probably done this 20-30+ times before for your mom and at least a few times all ready for your wife. Unfortunately that sometimes just isn't the case so here's some tips.
YES: Jewelry, Beauty / Perfume, Fun Kitchen Gadgets, Electronic Gadgets (headphones, phone, tablet, camera). These are all pretty safe choices and jewelry is always my go-to, but make sure you know her preference for color and style.
MAYBE: Fitness Gear, Clothing, Gardening Related and Kitchen / Food Prep. Depending on how it's presented and what she's into these can be fine but make sure it's fun and not, "Hey mom, here's some weights for you to work out with".
NO! Don't even think about it!: Vacuum Cleaners, Treadmill / Elliptical, anything that's Secretly for You. Mom doesn't want to think about housework, messes or losing weight so don't even go there.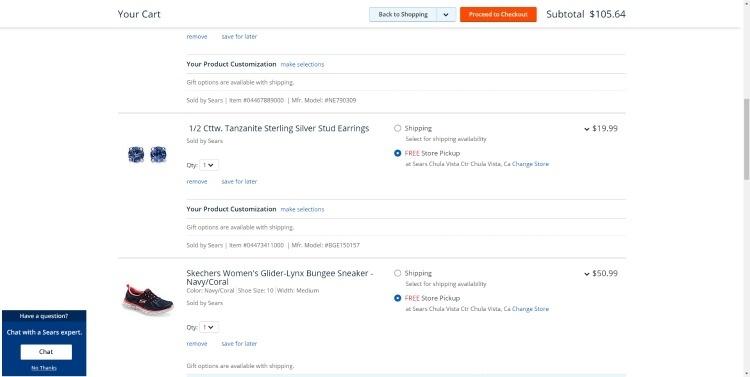 Step Two: Visit the Website (or shop on your Phone)
Once you have your ideal gifts in mind, it's time to visit Sears.com and start shopping. No, normally you'd be fine putting in your search term and scanning the entire site but this time let's make sure you have your favorite store selected. Then click on that tab to search. This way you'll know exactly what is where and be able to pick it up easily.
In my case, I got Heather a pair of cool walking shoes she hinted at and some earrings. Here's where you can get some bonus points - use humor, make it personal when you shop and remember it's not all about money. While your mileage may vary, I know that Heather isn't just looking for something expensive so when I saw these Tanzanite earrings I knew that I had to get them. We cruise a lot and every time we do they tend to push Tanzanite really hard and we always laugh - so here's a nice looking pair for less than $20 that she can wear on our next cruise.
Now go shopping to your hearts content and select some cool stuff. Once you have filled your cart go and check out, making sure to select Pick Up in Store.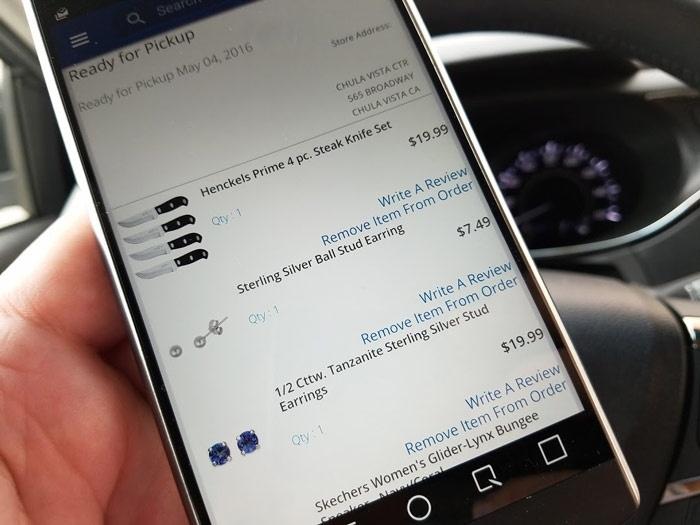 Step Three: Swing By Sears and Pickup the Order
After a couple hours (your time may vary), you'll get a text message and or an email letting you know that your order is ready to pickup in five minutes or less with no additional cost.
Step Four: Be the Hero!
Armed with your loot, it's time to take things home now and make Mother's Day extra special. Don't just throw those gifts in a bag but take her out to a nice dinner or brunch too. Wrap those gifts up and maybe even create a card for her with the kids.
Remember - while this might be "Her Day" ... it's really your chance to be the hero and show her how much she means to you!
Between now and May 7, when you use In-Vehicle Pickup shoppers will be randomly selected to win a $5,000 Sears gift card. So what are you waiting for? Find a great gift for your wife or mom at www.sears.com/allformom. As a bonus, shoppers that use Sears In-Vehicle Pickup for their online purchases between Tuesday, May 3 and Saturday, May 7 are automatically entered for a chance to win a $5,000 Sears gift card! Alternatively, you can also click on and enter the Shop Your Way All For Mom Sweepstakes at www.sears.com/allformom.