Ok, so we don't all work for some rich guy who let's us borrow his Ferrari convertible whenever we want. However, we can still have that dream.
There is nothing quite like a warm, breezy summer afternoon to make you wish for the wind in your hair as you drive through the city streets or back roads on the way to the beach. Convertibles are made for summertime and they are surprisingly affordable if you know where to look, so there is no better season to invest in a drop-top dream car. This year, you can indulge your fantasies without breaking the bank by buying any of the following seven especially affordable — yet still supremely satisfying — convertibles. (Hint - Magnum's Ferrari 308 isn't on this list!)

Mazda MX5 Miata
Experts often compare Mazda's small, sporty MX5 Miata with the Porsche Boxster. Both cars are sexy two-seaters, both can reach 60 miles per hour in about 7 seconds, and both have similar rates of customer satisfaction. The main difference is the Miata costs about $27,000, while the Boxster sets drivers back more than double that. Of course, the Miata does have a couple downsides, including a cramped cabin for bigger drivers and limited trunk space, but for a stylish convertible at this price range, you have to make some concessions.
Chevy Camaro Convertible
A Camaro Convertible generally isn't a car you buy for its practicality. The name has long been associated with a brawny style, a thunderous engine, and an overall wild ride. The attraction to the Camaro is much more emotional than logical; indeed, the small rear seat, tiny trunk, and big blind spots make regular use a downright hassle. Still, the Camaro is (and always will) make you feel cool, and with an average price of about $30,500, you won't even have to break a sweat buying one.
Chrysler 200 Convertible
Sadly, the Chrysler 200 no longer has a convertible version available, but there are tons of great deals on previous model years. However, the Chrysler 200 Convertible remains one of the most functional drop-tops on the market and we hope that they bring it back in 2016 or 2017. With a roomy interior and ample back-set leg space — which allows all passengers a comfortable seat — as well as ample storage space in the trunk, the 200 Convertible is a feasible every-season, multi-use car, unlike nearly every other vehicle on this list. Buyers often pay about $31,800 for a new model, which can come with a hard or soft top as well as outstanding standard features, like Chrysler's top rated infotainment system.
Ford Mustang Convertible
After 50 years, Ford still proudly produces its iconic Mustang, the muscle car that started the power and performance phenomenon. With aggressive lines and a powerful roar, the Mustang Convertible isn't for the meek driver, even though new models come with fuel-efficient four-cylinder engines. Costing about $35,100, and promising more savings at the pump, the Mustang Convertible is a smart choice for drivers looking for serious summer fun.

Fiat 500c
American drivers are finally starting to appreciate the value of small, and the Fiat 500c is one of the tiniest cars on the road with one of the tiniest price tags as well, at $14,000. For a bit more you can get a lot more with the Abarth version too. Yet, despite its outward appearance, the 500c seats two passengers comfortably, and its smaller frame allows the car one of the best fuel economies on this list, at 34 miles per gallon.
Fiat's engineers designed the 500c's convertible in a novel style; instead of folding into the trunk, the roof slides back along the roof rails and sits neatly on the rear shelf for a fast and fashionable view of the sky.
MINI Cooper Convertible
In direct competition with the Fiat 500c, the MINI Cooper Convertible is equally small and nimble on the road, with equally impressive fuel economy (31 miles per gallon) and equally iconic style. However, the MINI Cooper's interior is notably less comfortable, despite the company's goals to increase space for American-sized passengers. Still, costing about $31,600, the MINI is one of the best valued convertibles on the market.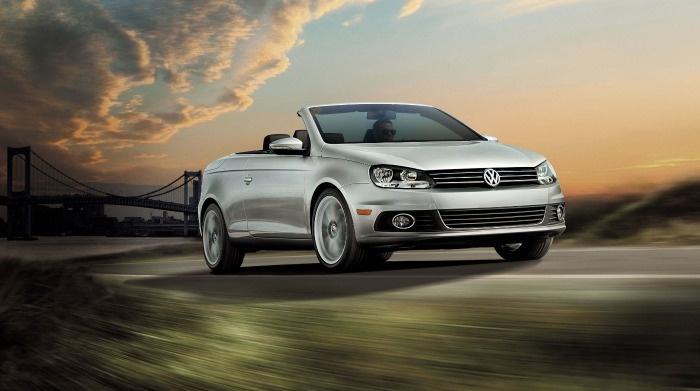 Volkswagen Eos Convertible
While most convertibles are built for style and power — like the prototypical Mustang and Camaro — the Volkswagen Eos Convertible seems designed primarily for passenger comfort. The car doesn't accelerate particularly fast, and its small four-cylinder engine doesn't give any thrilling kick. However, Volkswagen does give sun-lovers a gift not seen in any other convertibles on the market: a sun roof. Even when the summer weather fades, drivers can enjoy the warm sunlight through a window that retracts just as easily with the rest of the top. For this luxury, you ca