In case you missed it, today Carnival changed their policy and is now forbidding people from bringing water onto the ships and instead making people buy it from them or drink the tap water.
Thankfully though, there's an awesome product that I'll be taking with me the next time I cruise and that's the Zero Water Tumbler. For the past week or so I've been testing it out using San Diego tap water and it's been producing the same high quality of filtration that I experience in the full-sized pitchers but it is portable and convenient. Even if you don't cruise, this is a great item to keep with you in your backpack since you really shouldn't be using bottled water anyhow since it is pretty bad for the environment.
With the ZeroWater 26 oz Tubler though, simply fill it up when you go to a water fountain, at the lido buffet, or even in your stateroom (though it might be a challenge to fit under the faucet in the sink). When flying, you'll notice now that many airports also offer water bottle filling stations that while "filtered" are probably not of the highest quality.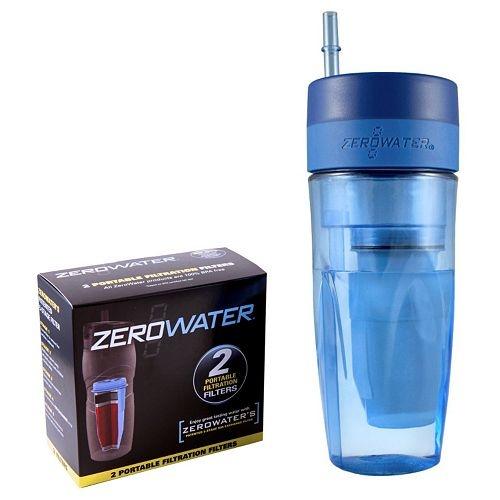 The ZeroWater filter consists of five technologies that help produce great tasting water that is free from various dissolved solids that you might otherwise find in the water. In fact, the "zero" stands for their pledge to deliver a 000 Total Dissolved Solids reading. Oh yeah and it has an indicator that changes color when it needs a filter change so no more going "eew what happened?" :)
These filtration technologies include:
Activated Carbon and Oxidation Reduction - removes the chlorine taste
Ion Exchange - removes virtually all dissolved solids that may be included in the water such as: Aluminum, Lead, Zinc, Nitrates, and others.
Three other stages of filtration are also included to ensure that the water is properly filtered.
The ZeroWater Tumbler costs $14.99 and can be purchased on the ZeroWater website or at most national retailers.