Years ago you could judge the efficiency of a vacuum by how heavy it was. The bigger and bulkier it was the better suction is probably had and therefor the cleaner your house would be when using it. Today though, cordless vacuum cleaners have become much more powerful and longer lasting than the 'dust busters' we grew up with. While still limited by a the battery packs and debris canister size, products like the Redroad V17 are a great option for cleaning all by the biggest messes.
Let's just get this out first. No matter how powerful an electric motor is, all "stick vacs" are limited in their performance by weight and capacity of their debris canisters. Depending on how you plan to use your new vacuum, this requires a bit of consideration. For those who might not be used to vacuuming the floor on a regular basis, you'll find that your canister fills very rapidly. Likewise, you may find that the battery - even one packing as much as the V17's might not last long enough to clean the whole house at maximum power.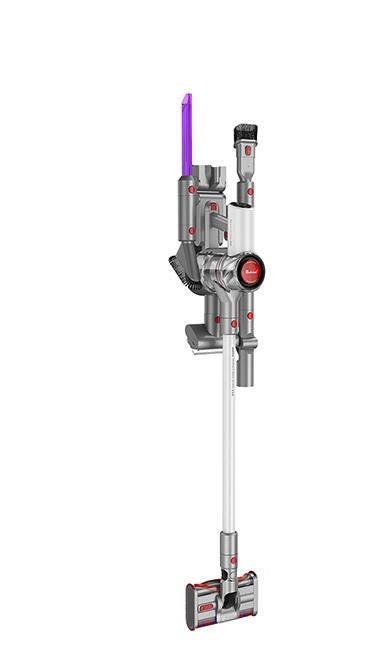 However, what I've discovered is that this Redroad V17 isn't like a plug-in vacuum. Instead, the versatility and easy of use of products like this allows it to be used daily, for shorter tasks instead of big jobs.
For instance, instead of vacuuming the carpet in front of the couch once per month ... do it every week to pull up dust and food particles that you may have dropped.
Not only will this allow you to empty the canister and keep the vacuum charged ... but it is also healthier since you aren't leaving dust, mold, and other particles to be stirred up every time you walk by.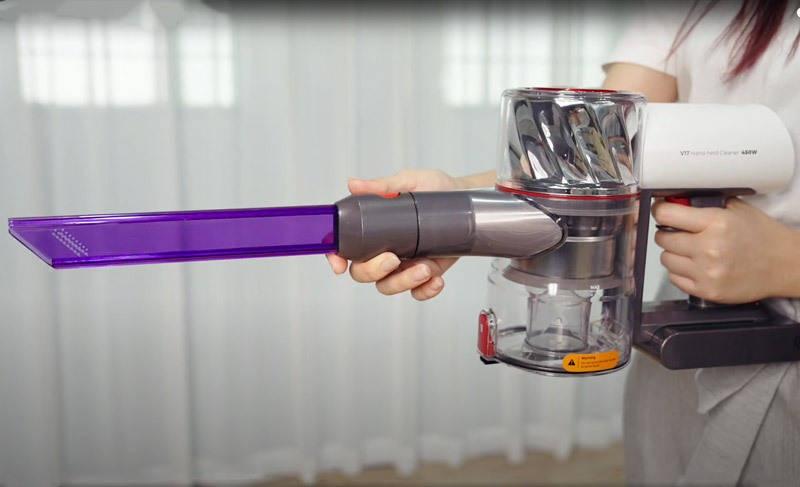 Key Features Of The Redroad V17:
155AW Suction Rate / 26,500Pa Suction Power
450W Rated Power
60 Minute Battery Life With Detachable Battery
Five Layer HEPA Fiter With Active Charcoal
Personalize The V17 With One Of Seven Filter Cover Colors
Easy To Read LCD Screen
Nine-layer Noise Reduction System - < 60db of Noise!
Dual Motorized Roller Brushes For Deep Cleaning
Quiet, Powerful and Long Lasting Battery
While everyone wants a vacuum to be as powerful as possible, being quiet is next on the list for most folks. Redroad has worked hard to make this V17 as quiet as possible. This includes nine-levels of sound optimization ranging from using brushless motors to reduce friction and noise as well as precision manufacturing to ensure pieces are tightly connected. They've even optimized the exhaust structure to help reduce noise too.
Despite it being quiet, it still delivers 26,500 Pa of suction power from it's 450W motor and provides up to 60 minutes of cleaning time to take care of more than just spot treatments around the house.
Plus, you could even purchase an extra battery pack and charge that outside of the vacuum itself for even longer cleaning sessions.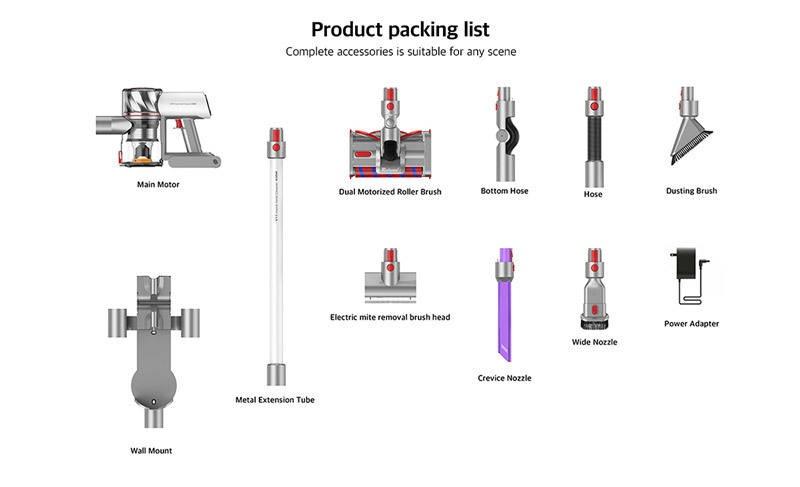 Flexibility For Cleaning Hard To Reach Spots
The dual motorized roller brushes are great for deep cleaning on rugs and carpets but the V17 also has an LED lighted Crevice Nozzle to get at crumbs stuck in tight spots. The vacuum also includes a metal extension tube, mite removal brush head, bottom hose, top hose, dusting brush, and a wide nozzle too.
All of these can be mounted on the wall for easy storage.
The Redroad V17 is available now on AliExpress.