Growing a beard has been a sign of masculine power and strength for thousands of years. While culturally we no longer must grow one to illustrate our masculinity, an increasing number of guys are choosing to do so anyhow. Luckily, there's an incredible marketplace of companies that are producing some awesome products designed to keep these beards looking (and smelling great). One of our favorites is Munson and Brothers. We first took a look at them a few weeks ago when we worked with Indi Do Good and today we're going to take a deeper dive.
I really love what the guys at IndieDoGood.com are doing to curate makers and artisanal products from across the United States. Each of these companies has a different and unique story that makes you appreciate the products they are producing that much more. For Munson and Brothers, the company was founded because of a dad's care and love for a daughter who had a dry skin condition that resisted conventional treatments. Instead of simply resigning himself - and her - to the discomfort, he developed an oil-based lotion that ultimately solved his daughter's skin issue. This success led him to build a business of crafting oil-based lotions, scents, soaps, and other products. The brand was born and allowed him to ultimately leave his corporate job and run the business full time.
All of the Munson and Brothers products are sourced and handmade in Mississippi by Americans. The company is found of referring to it as , "Mindfully Made in Mississippi!"
Let's take a look at a couple of their products and how to use them ...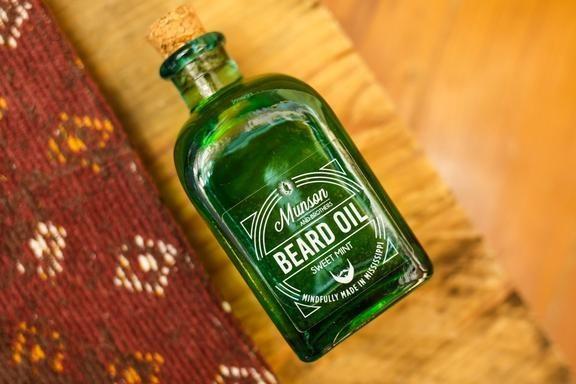 Munson and Brothers Beard Oil - Sweet Mint 3oz bottle
What is Beard Oil?
Beard Oil is one of the most essential products that anyone growing a beard will need to consider. Typically a Beard Oil will consist of two different oils - a carrier oil and an essential oil. While the carrier oil serves to offer moisturizing qualities, the essential oils contain scents and other benefits depending on the oil used. Furthermore, essential oils generally need to be diluted since they would otherwise cause irritation if applied directly to the skin at full strength. Together though, the resulting Beard Oil serves to moisturize the hair and skin, while alleviating itching and scratchiness - especially for new beard growers.
The essential oil then serves different purposes but often is designed as an antiseptic to clear out pores and reduce ingrown hairs and acne.
It's also a great opportunity to share mythology and stories. For instance, the Wildling Beard Oil is known as "Thieves Blend". This blend is said to have originated from a concoction that thieves who stole dead bodies during the plague wore to protect themselves from infection. Since that time, researchers have applied this blend for other purposes and this blend of essential oils now serves to help men look great, smell good, and protect their skin from infection. Though, it was never scientifically proven to ward against the plague, why take a chance!
Other blends include Soul Storming Beard Oil, Three Kings Beard Oil, Memphis Luke, and Sweet Mint as well as Unscented.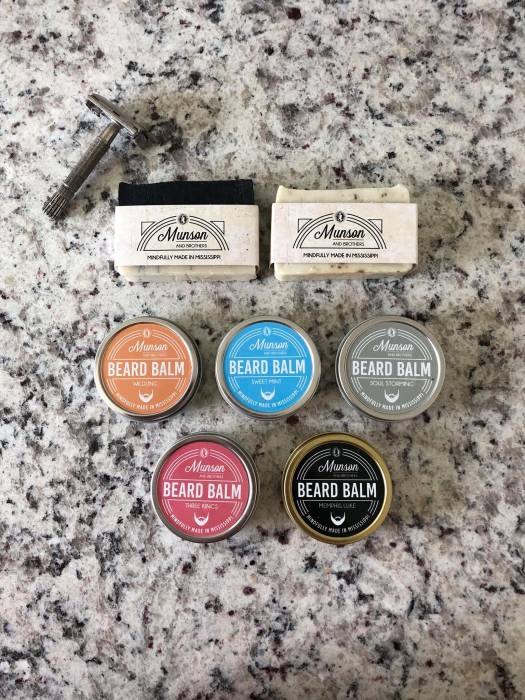 Munson and Brothers Beard Balm and Shampoo Bar
What is Beard Balm?
Beard Balm is a leave-in conditioner that helps soften your beard hair so that it is easier to style and care for. You'll also find that softer hair generally makes your beard itch less too. While this is important for the owner of that beard, others that may want to get close to the beard owner will appreciate the softness too!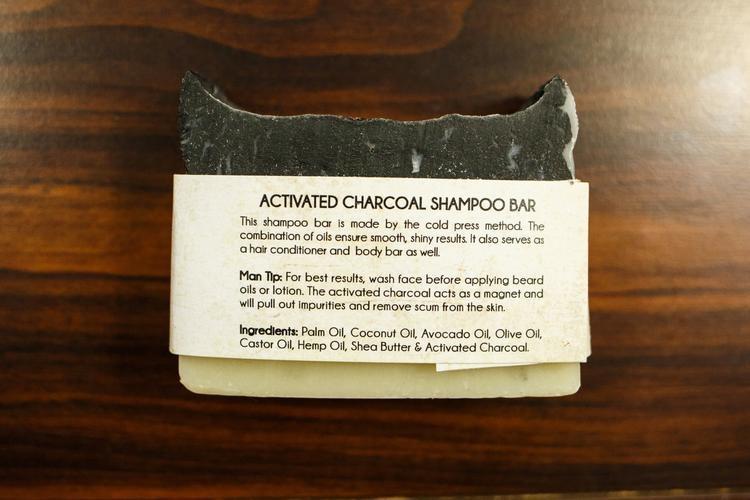 Activated Charcoal Shampoo Bar by Munson and Brothers
What is Beard Shampoo?
Just like you need to clean your hair with shampoo, your beard hair needs to be cleaned too.
While liquid shampoo may be easier to use, it is also a good way to waste a high-quality product. By offering it in a bar form, you are able to deliver the healing and cleaning properties right to your skin and hair.
This Activated Charcoal Shampoo Bar in particular uses activated charcoal to pull out impurities and remove scum from the skin. It can also be used as a body soap bar as well as for your beard.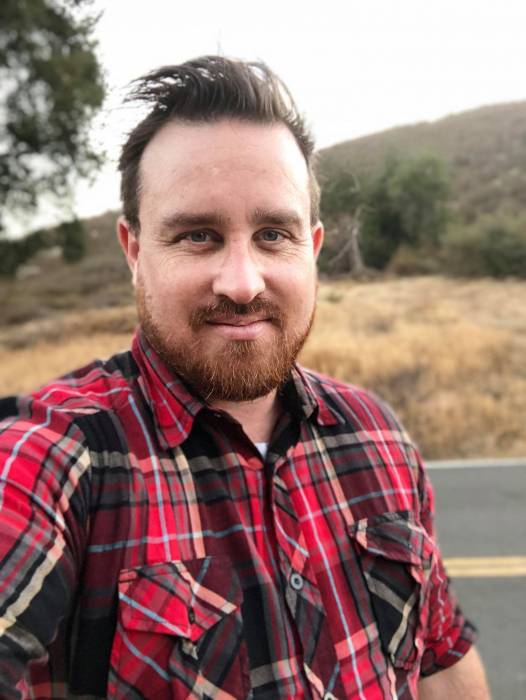 So, How Well Does It Work?
Personally, I'm not a beard growing guy ... I try every year for the playoffs (Baseball and then Hockey) ... but my attempts just go wrong.
That being said I tried Munson and Brothers Beard oil and it smells great and feels good on the skin. Luckily though, my good buddy Mike from The Gentleman Racer also tried the beard oil and other products listed above. He loves it!