My wife and I don't have kids - so our dog, Niki Belle, is our fur baby and child in probably more ways than a couple in a similar position might understand. When we first got her, we nervously prayed that she would be ok with doing road trips and were blessed that she indeed did not get car sick and was happy to curl up and relax or sit and look out the window. As anyone knows though, that's only part of the equation when it comes to taking care of your dog on the road.
I love to travel with our dog Niki. She has been with us on trips to Chicago, North and South Carolina, New Orleans, Kentucky, and even our cross country trip from Chicago to San Diego a couple years ago when we moved. We are lucky that she enjoys traveling with us, but it's important to make sure that we do what we can to make things as pleasant as possible for her.
Here are a few tips that I've learned over the years to make sure she is taken care of properly ...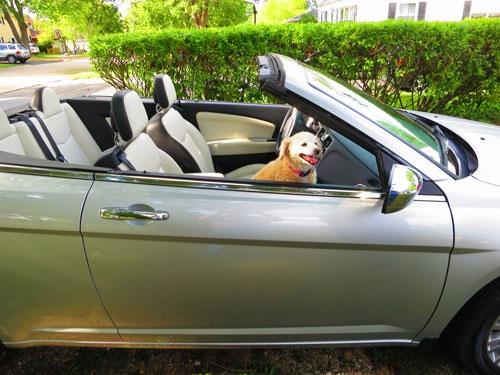 Pay Attention to Temperature
The first and possibly most important tip is to make sure to closely monitor the temperature in your car - dogs, just like babies can bake quickly if the car is left in the sun with the windows closed. It's always better to take your dog with you when you leave the car, but if you can't then I recommend you find a spot in the shade and make sure that the windows are rolled down enough that air can pass easily through the car and that you only step away for a few moments. That being said - be smart - if it is hot and the car is parked in direct sunlight then don't be stupid, move the car or find a different solution than leaving your baby alone in the car.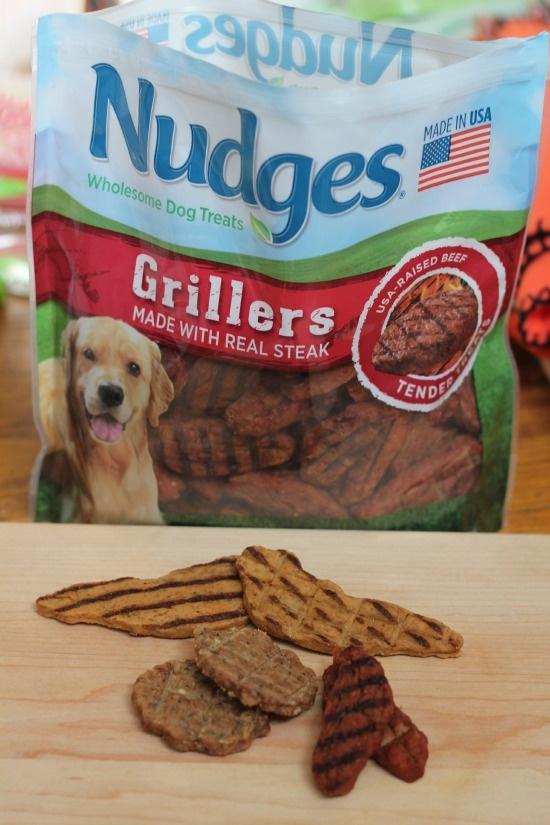 Take Plenty of Treats With You!
It's gotten more complicated over the past couple years to pick which treats are going to be "good". With scares about what foreign companies might be putting in their treats, I recommend you pick a brand like Nudges® Grillers and Sizzlers that is made in the United States with USA-sourced protein. They can be found at Walmart in the same aisle as all the rest of the dog biscuits and come in a few different flavors including: Grillers: Chicken, Grillers: Steak, Sizzlers: Chicken Bacon, Sizzlers: Beef and Cheese.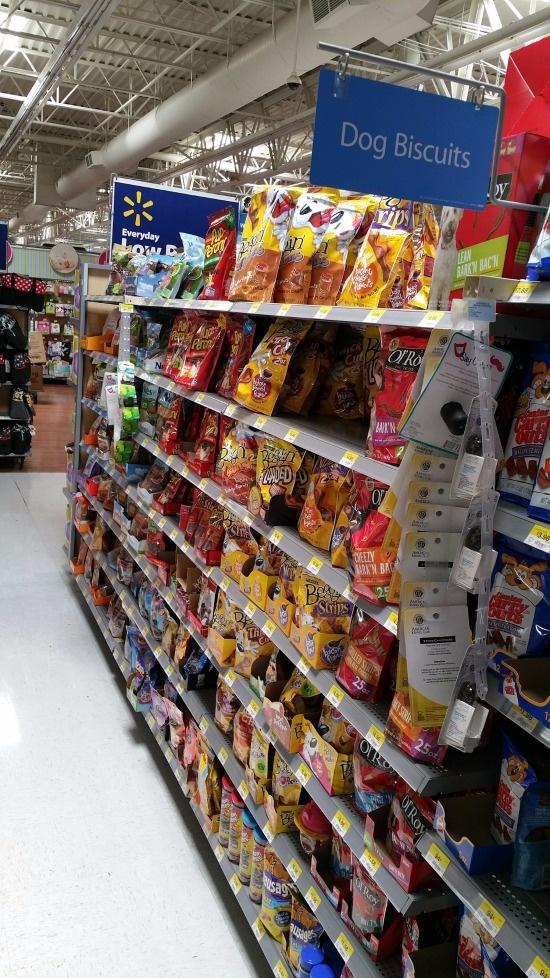 Frankly, I've bought a TON of treats over the past 10 years but I've never seen Niki flip out when I opened a new bag. She's usually pretty reserved but these smell really good and even as a human I think they look and feel like "real food" vs something plastic. In fact, "Real Meat" is the #1 ingredient in each one and there are no artificial ingredients. Everything is all natural.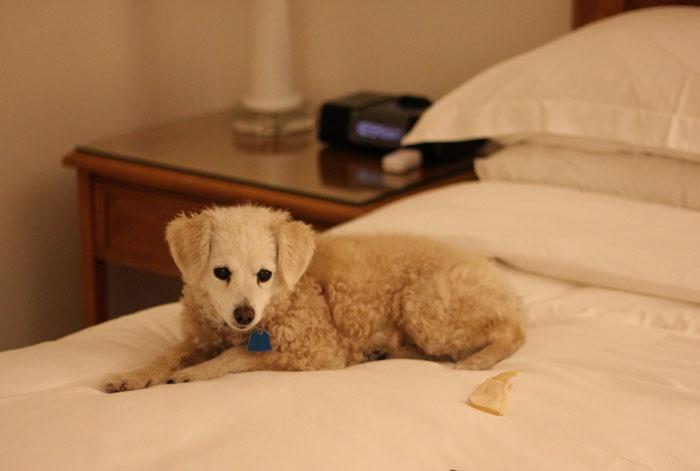 Find a Pet Friendly Hotel
Lots of hotels today are "pet friendly" but it's important to determine exactly what means is before stopping. For instance - some hotels will charge a "cleaning fee", others will charge that and a "pet fee", while others will charge neither. Two directories that I use to do research are BringFido.com and PetsWelcome.com, however I always call the hotel directly as well to confirm status.
Additionally, when you call the hotel - find out if your dog is allowed to be unaccompanied in the room or if they require your dog to be in a crate if you aren't there.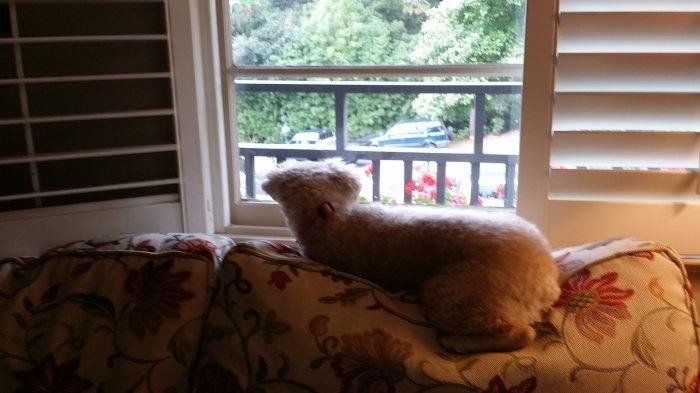 Make Sure You Give them Something To Do
You are probably consumed by driving, chatting, and the general excitement of going somewhere new and cool. Your dog on the other hand has little idea what's going on. As such, it's important to make sure that they have something fun to do when you get to the hotel as well as on the road. This could be as simple as making sure that they have their favorite toy or a good window perch to look outside.
Similarly, if you are doing a long road trip, don't forget to take them for a walk - not just a potty break. It's important for them to have a chance to stretch their legs and get some fresh air, not just relieve themselves.
Keep a Bottle of Water and Dish for Your Dog in the Car
One of the big challenges when traveling is making sure your dog drinks enough water while traveling. For our Niki, that means having a collapsible rubber camping bowl handy and a bottle of water that we keep full for her. This way, we can easily give her something to drink and prevent dehydration.
Another "pro tip" is that most fast food restaurants will give you a cup of ice water if you ask for it, so we usually do this for Niki so she can have an ice cold treat! (She also just loves to eat ice, so that works for her as a treat too.)
Keep "poop bags" Handy
Sadly, not everyone picks up after their dog and this gives a bad reputation to the rest of us. I understand that it isn't always easy to make sure you have something handy to pick up waste but yeah ... it really is easy. Simply keep some plastic grocery bags balled up in a door cup holder in the back seat or somewhere else and make sure you use them when you stop somewhere. It's not a good excuse to say "no one knows me, so it doesn't matter!" After all - when I visit YOUR town, I could say the exact same thing!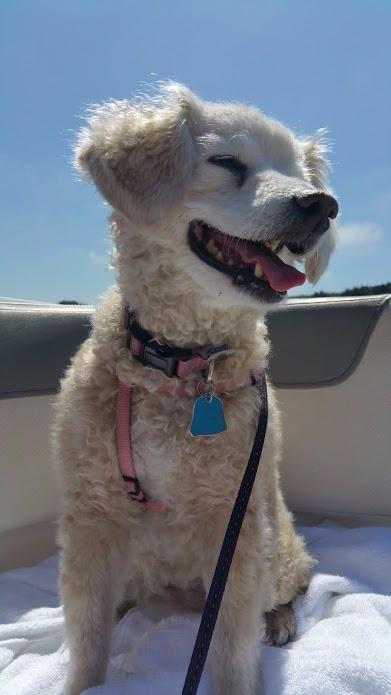 Pick Fun Places to Go That are Dog Friendly
You are bringing your dog on vacation, so make sure you pick fun places for him/her to go with you as well. That could mean a boat ride or a hike in the park. Make sure to call ahead and ask attractions to confirm though since I've found that some places (looking at you National Park Service!) don't allow dogs, despite it being full of other animals and awesome trails to go hiking.
As such, just like with hotels you should call ahead if you have any questions. However, in some cases you may be better with feigning ignorance and begging for forgiveness (though it's always good to know what rules beforehand so you can judge risk better).
Choose a Dog Harness Instead of a Collar
This should be an everyday tip, but when traveling, your dog will be less familiar with sights, sounds, and smells. As such, the tendency to run or pull on the leash will be more intense. A traditional neck collar puts stress on the neck and so it's better to have a harness in addition to the collar (to hold tags etc).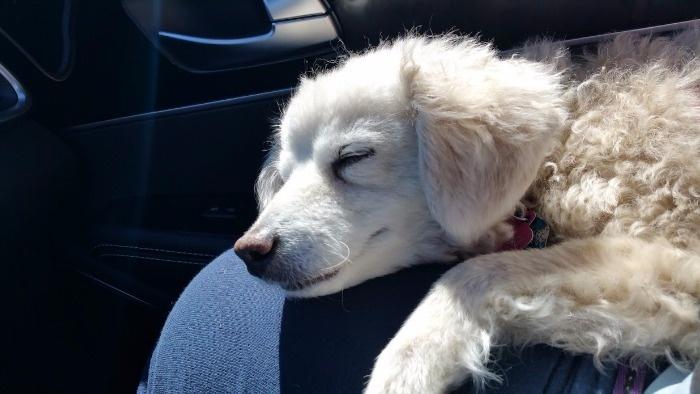 Give Your Dog Lots of Rest Time
Make sure to give your dog lots of time to rest. The trip may be hard on them since they don't know where they are going - just that they are away from familiar settings.
When traveling by car, we always make sure to put an extra blanket in the back seat as well as pillow to sleep on. Othertimes though, she seems more content to simply fall asleep on my leg up front :)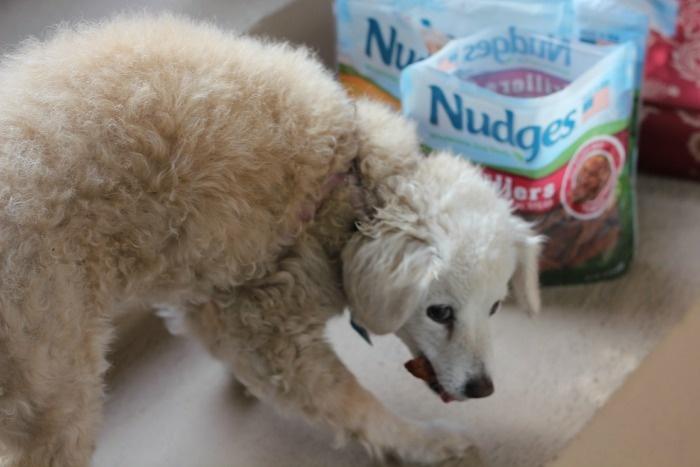 Reward Good Behavior!
Your dog may be stressed a bit while traveling - that's ok. It's important though to reward good behavior and treats like those from Nudges® are a great way to do that. It's ok to have more than one, but like anything - moderation is key! Niki LOVES these things and stood by the table sitting nicely after I put the bags on the table to finish writing this post.
Hopefully these tips will make traveling with your dog even more enjoyable for both of you this summer. Follow Nudges on Facebook or NudgeThemBack.com for even more information about this great brand and ideas on how to help make your dog even more happy this summer!