Golf as a game is almost as mental as it is dependent on your skill and talent, so here's a few tips to help you have the best golf game possible. Ultimately, it's up to you and what you want to get out of your golf game. There's no reason that everyone needs to be a pro able to compete on an international circuit. The most important factor is that you enjoy what you are doing and have a great time.

Burger and Fries from Ben's Pantry - The Ranch at Laguna Beach
Start With a Great Breakfast or Lunch
While some people suggest that Golf isn't really a physical sport, we all know that it is. After all, walking 18 holes can be more than five miles and even with a cart it's typically around a two mile walk. That means that you'll need to have a good breakfast or lunch in you and plan a stop somewhere along the route to grab a snack too.
Identify Your Weaknesses
Be honest with yourself and identify your weaknesses. It's not good enough to simply say "I need to be a better golfer!" Instead, look at your scores and where you fail to make drives, chips, and puts. Then focus on those areas so you can improve on your weaknesses.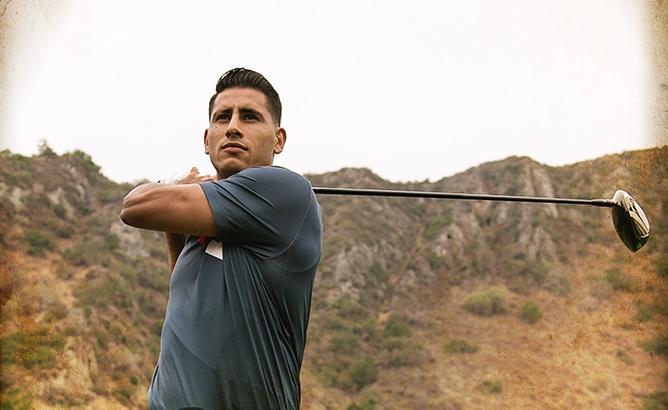 Practice With a Pro or Friends That Can Provide Constructive Feedback
Golf is a social sport and so having a friend to join you and offer constructive feedback can be a huge help with improving your golf game. On the other hand, hiring a golf pro to go with you is a great help since that their job to mentor you and your form but that's not always a possibility.
Practice Frequently and Just Beyond Your Abilities
Like any game, you need to practice frequently to see any measurable improvement. Similarly, you should do so at just beyond your abilities. That means if you can comfortably do a 20 foot put then stand back 30 feet and practice from there too.
It's OK to make mistakes and that's ultimately how you will be able to get better, but if you are always hitting a 100% of your shots you will never be able to improve!
Pick A Golf Course That Inspires You
At the end of the day, there's only so much you can practice and so much raw talent that you can hone. That's why it's important to pick courses that inspire you and drive you to want to practice more, work harder to be able to afford to travel further and buy better equipment. That's one of the things that's special about sports like golf since you'll be able to see places that other people only dream of like this amazing course, Ben Brown's in Laguna Beach, CA.