Toyota is the undisputed leader of the compact crossover SUV space and now they've made it even better. With the launch of the 2019 RAV4, Toyota has made it bigger, more aggressive, more fun, more stylish and generally more everything that buyers would want to see. Ultimately though it's not perfect but Toyota's new design theory seems to be on the right path to create great vehicles that are more than just "reliable". To celebrate the launch of this new vehicle, we tested it out on a road trip along the California coast including the twists and turns of Big Sur and the mountains of Carmel Valley.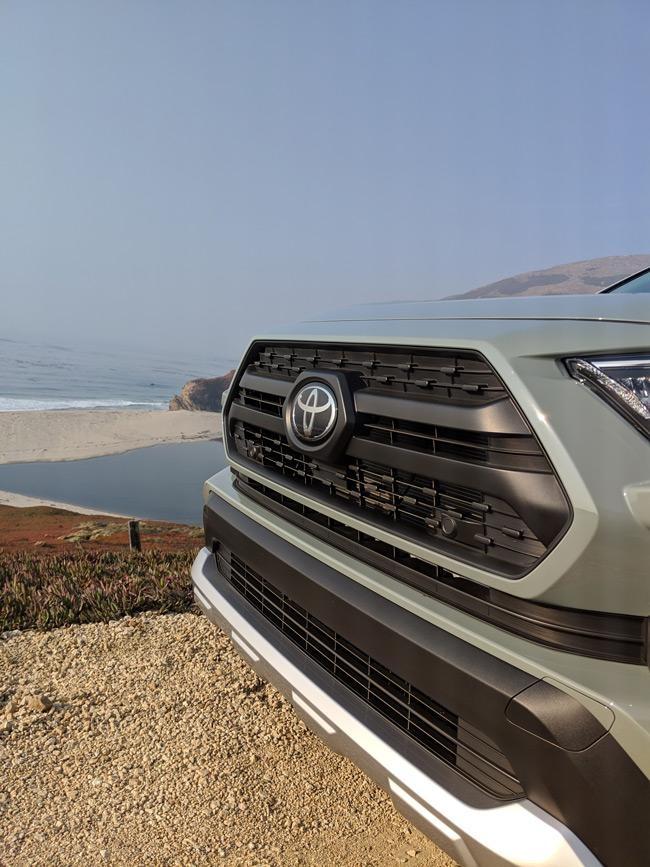 One of the first things that you'll notice when looking at the 2019 RAV4 is that it draws design styling more from the "truck" line than from the "car" line. The bigger and now octagonal grille, angular lines, and colors that evoke emotion such as "Lunar Rock with Ice Edge Roof" (Adventure grade exclusive) all contribute to making the RAV4 something that is genuinely fun to drive. These elements also makes it easier to integrate into your lifestyle than some other offerings in the segment.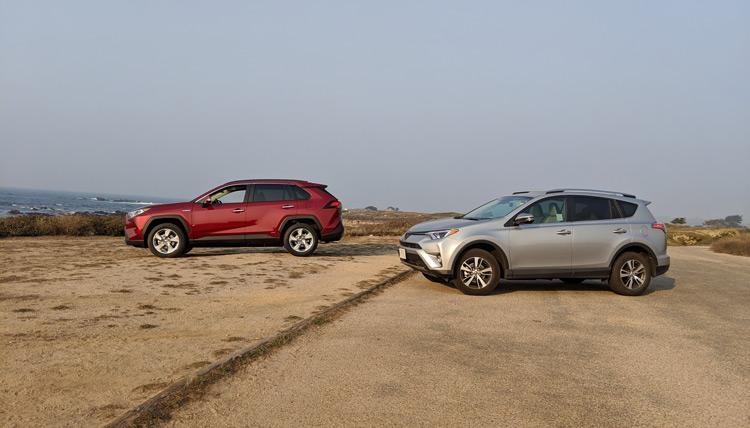 Visually, the 2019 is MUCH more appealing to look at and has a much more aggressive stance than the outgoing design. For me, this translates into a feeling that I'm in something that is ready for fun and adventure vs something I buy simply to haul people and stuff around town. That's a welcome change from the Toyota brand we all know and many of us love. Toyota has always been reliable, but I can't honestly say that I've ever "wanted one". While the RAV4 still isn't "craveable" for me, it truly a vehicle that I look forward to taking on a road trip again soon.
The total package is very compelling.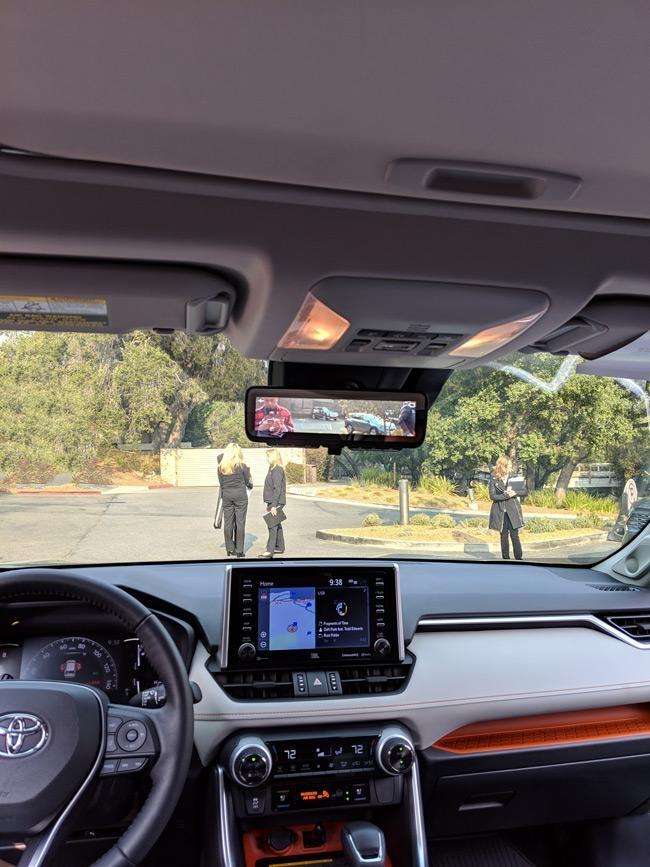 The RAV4 interior continues this departure from the boring old Toyota and introduces elements that I appreciate but may be controversial for existing owners. We've seen this new design language manifested in Tacoma and Camry, now it's making its way to the RAV4 as well. In addition to cosmetic flairs such as the orange accents and large rubber knobs on the center console, the equipment package has everything that you'd expect to see in a modern SUV.
This includes safety features that are standard on all grades including: Pre-collision system with Pedestrian Detection, Lane Departure Alert with Steering Assist, Automatic High Beams, Full-Speed Dynamic Radar Cruise Control, Road Sign Assist, and Lane Tracing Assist.
Additional options include a video review mirror that allows you to see spots that you might otherwise miss, as well as a 360 surround view.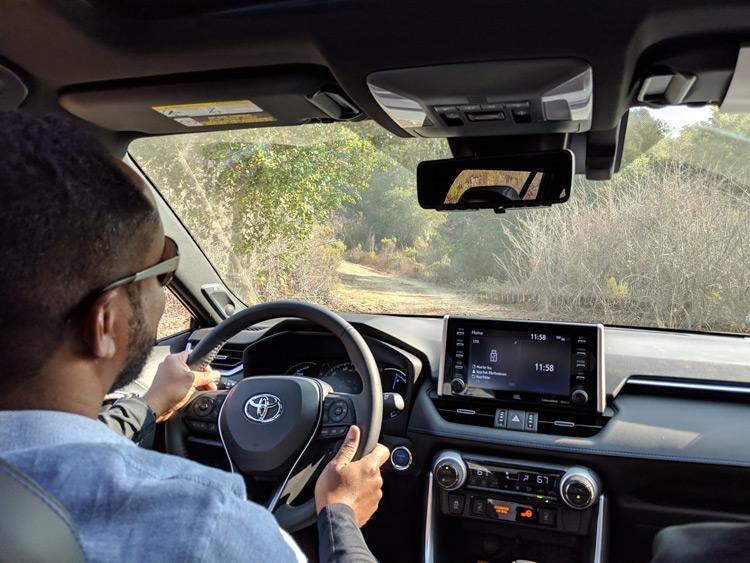 The Adventure grade includes features that I wouldn't expect on a small SUV like the RAV4.
This trim level does more than simply inspire you to go off-road with its name but it offers some (for a crossover SUV) advanced capabilities that will make that road trip even more fun.
Compared to the previous generation, the 2019 starts with an increase of 0.6" ground clearance, 1.2" more wheel base, decreased overhangs and the additional option for a 19" wheel. However, the Adventure grade takes that a step further with an extra .2 inches of ground clearance (8.6" total) and approach and departure angles of 19/21 degrees respectively.
The Adventure grade comes with AWD standard and mated to the 2.5L 4-cylinder engine pumping out 203 hp @ 6,000 rpm and offering Dynamic Torque Vectoring to make going around turns easier and more fun. It also offers Multi-Terrain Select to allow you to navigate roads with mud and sand, rock and dirt, or snow easier as well.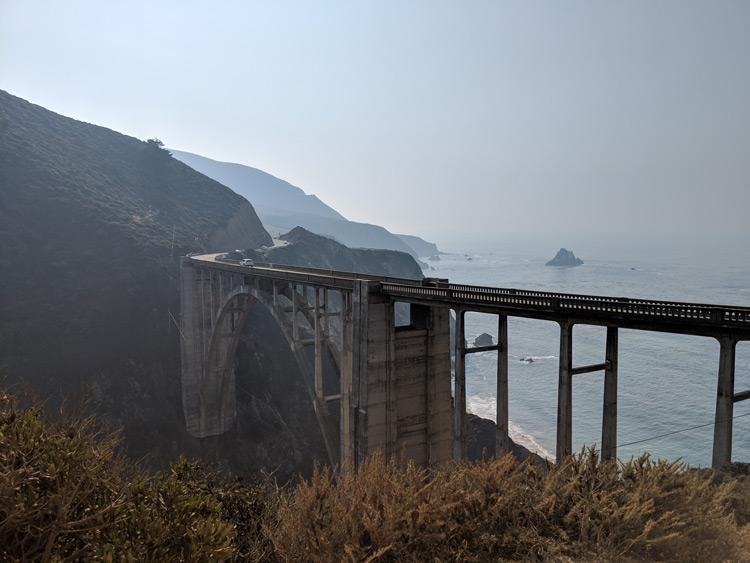 While pavement is still the preferred surface for the RAV4, it's nice to know that when you want to take a detour that it is ready to go with you!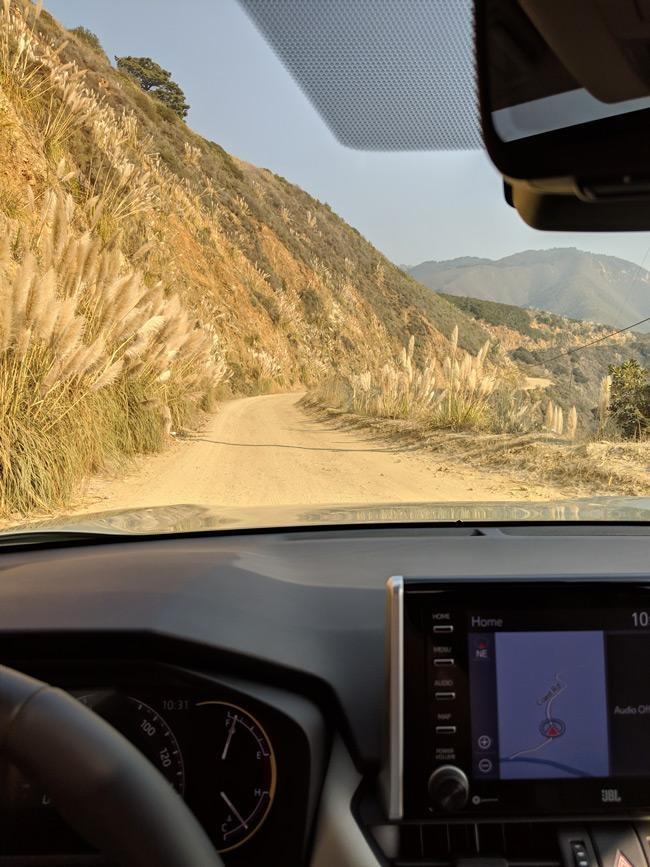 For instance, you never know where winding dirt roads might take you or when you need that extra ability to reach the perfect fishing spot.
It's also more than capable of tackling some obstacles and climbing hills covered with loose dirt and sand better than other SUVs like this that I've driven.
The RAV4 Adventure certainly isn't going to replace the 4Runner on my wishlist of vehicles for tackling trails ... but it's ready to take you farther than most others in its class.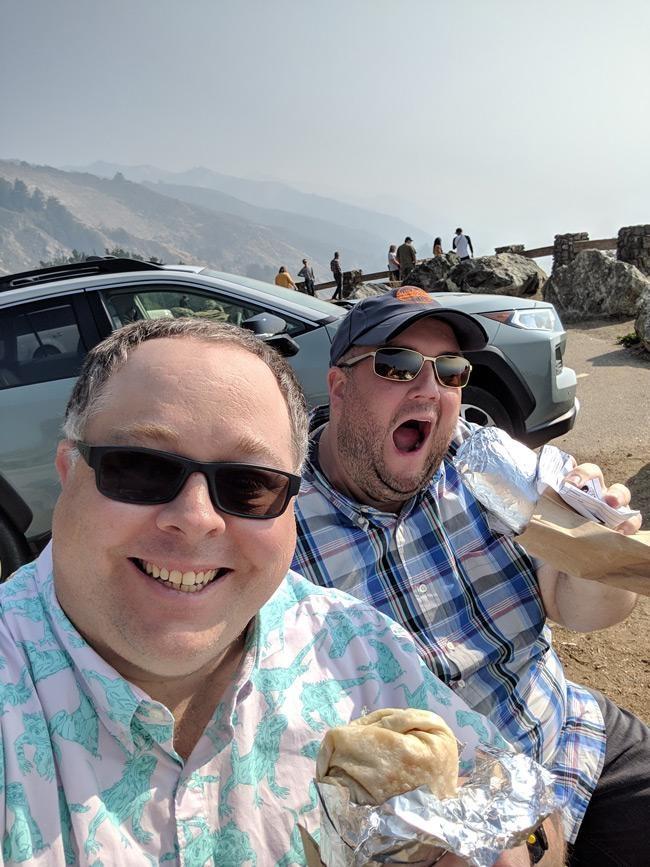 Ultimately though, a road trip is only as good as the guys you take with you. Phil from Gunaxin.com and I had a blast driving it. The car is fun to drive, capable, and offers everything you need to have a great time. The compact SUV space is jam packed right now and thankfully there are a lot of options for buyers. The RAV4 frankly isn't the most quiet, fastest, most comfortable, or most luxurious option out there. However, it comes in at a good price point and offers the things you really need ... and a bit more. If you are looking for a well rounded vehicle then this is a very good option.
When you factor in the features of the Adventure grade though, it begins to be a bit more differentiated. It is everything I love about Subaru and somehow manages to connect with you on a person level in ways that most vehicles don't. That makes the RAV4 Adventure a great choice for people with active lifestyles who want to do more than just stick to the pavement.
I welcome the fact that they are offering something special to those of us who are stuck between "needing" a compact SUV for practicality ... and "wanting" a truck for those times you want to do something more. In an ideal world, I'd be able to have both but neither my garage ... nor my wallet allow for that.
The 2019 RAV4 starts at $25,500 and the Adventure grade starts at $32,900. Fuel economy rating is 26/35 for all of the gas-powered FWD models except Adventure, which is AWD standard and rated at 25/33.