The most basic thing that you need to know about when choosing the right attire for any occasion is knowing what kind of occasion it is. An occasion can either be formal, informal, or semi-formal. Each occasion has a particular "dress code" or clothing rule that people have to follow. Formal and informal are understandable, but what event can be considered as semi-formal? Semi-formal is less dressy than a formal but dressier than an informal.
I had a chance to chat with some folks from Canali, an Italian company with some great clothing for men including dress shirts as well as casual shirts about this topic and learned quite a bit. It's an important topic that most guys just never think about – but trust me, the people you meet including prospective employers, girls, business partners etc. certainly do.
Why do we have to follow the dress code? Even an informal dress code is important because clothing has a social significance. For example, you can't go to a wedding wearing denim pants and a t-shirt. Weddings are usually a semi-formal occasion which means you have to wear dress shirts with a dark suit and a tie. Ties are optional, but it's still a safe bet. You're allowed to remove it off later on.
Before we get carried away and make this very confusing due to the fluidity and variety of fashion, we will focus more on dress shirts and casual button-down shirts.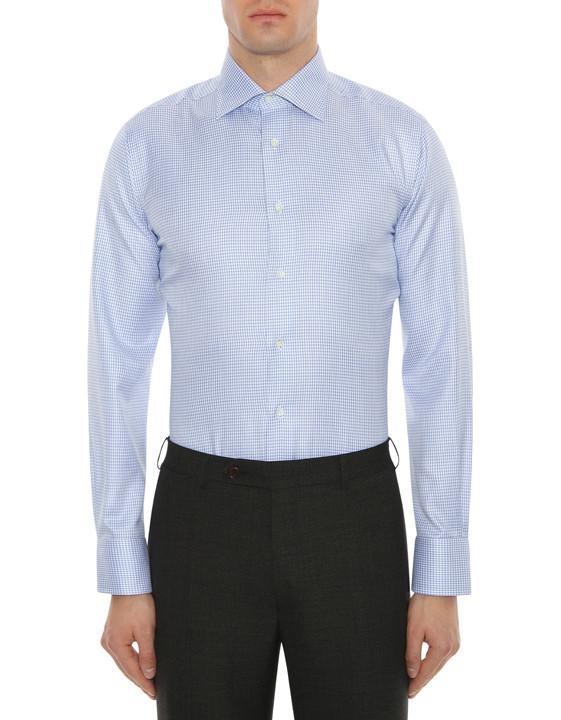 Canali impeccabile cotton dress shirt with houndstooth motif
When to Wear Dress Shirts
These shirts are buttoned up shirts with a collar, long sleeves with wrist cuffs. Usually, these shirts are made from cotton fabric that is woven and is dyed in different conservative patterns and colors. This is very convenient for the wearer since you can choose which design and what color that could match your personality.
When you starting choosing, make sure that it fits you correctly. There are some who have problems with finding a the right fit for them in the since ready-made shirts are sold in just about anywhere. You can choose to buy these shirts that are close to fitting you correctly and have them altered. However, if you want and if you can afford it, you can have your it custom made.
The dress shirts can be worn to formal and semi-formal occasions. You can wear your it tucked into your pants and pair it with a dark suit and a matching tie at business meetings or weddings. If you're going to a job interview, you can ditch the suit, but the tie stays.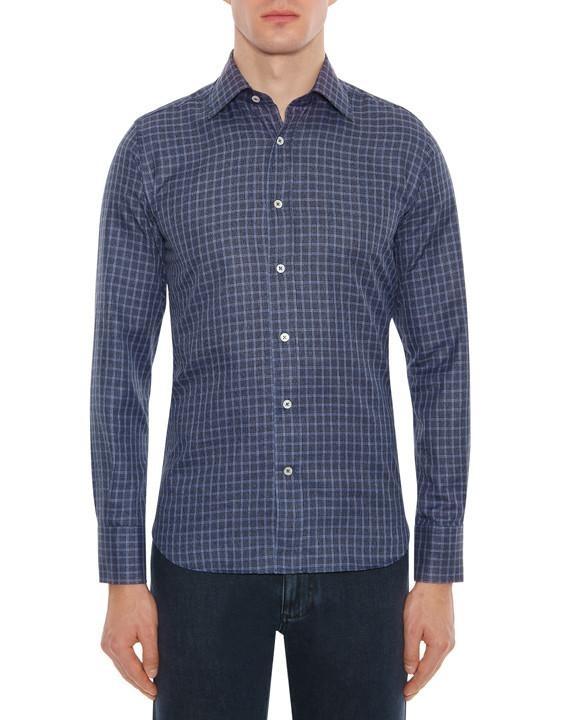 Canali men's blue cotton casual shirt with textured vichy cheek
When to Wear Casual (Button Down) Shirts
Casual shirts are, well, more casual.. Casual shirts have a more relaxed feel to it since it's looser. These casual shirts should be a bit looser across your shoulders and around your chest and waist. Not too loose though. You don't want to go around town with your shirt flapping everywhere.
Also, wearing a casual shirt will not require you to match it with a suit and tie. In fact, you can leave a one or two buttons open at the top. You can also wear them untucked and pair it with denim pants. You also have the option of wearing either short sleeves or long sleeves. You can also roll up the long sleeves to just around your forearm for a more casual look.
Coming from the name itself, you can wear these casual button-down shirts on laid-back occasions like dinner with the family, walking around the mall or the park, going to school, or a concert. You can wear this just about anywhere.
Your clothes speak for you. So always remember to know where you're going and to dress comfortably. Being comfortable with what you're wearing can help boost your confidence and if you're looking to save some money in the process, be sure to check which clothes are being posted on your local Craigslist. If you're persistent, you can find some incredible deals.