Love collecting watches but hate paying full price? Watch Gang is a monthly box club for watch geeks like you. Each month, members will get a new watch worth up to 5x the price of your monthly subscription fee of $299, $99, or $29. This is a great gift idea for the guys in your life and frankly it's such a great idea that you might just want to subscribe for yourself! We had the opportunity to review the service and for the $99 Black watch subscription fee I got an awesome Nautis Dive Chrono 500 worth $375. Let's talk more about how Watch Club works ...
Luxury Watch Subscription Made Easy!
While some guys might want to pick the exact watch they want - this isn't that sort of company. Instead, each month the members get a new watch based on their subscription tier. Each watch is up to 5x the value of the subscription tier and there are some pretty awesome bonuses each month too. For instance, each week members will be automatically entered for a chance to win some big ticket watches like Rolex, TAG Heuer and Seiko. Plus, there are other giveaways on an almost daily basis and there's even a community to help facilitate trading of watches back and forth between members.
How Does A Watch Club Like Watch Gang Work?
The thing I love about Watch Gang is that not only do you get an easy way to add watches to your collection at a great price, but you get the fun of discovery too. While shopping online or in a store can be fun - the anticipation of wondering what this month's watch will be is pretty awesome too.
Step One: Pick a Watch Gang Subscription Plan
Watch Gang has three different subscription plans: Platinum ($299/watch for Super Luxury up to $1,500 value); Black ($99/watch for Affordable Luxury up to $500 value); Original ($29/watch for Stylish and Fashionable up to $150 value)
Step Two: Tell Watch Gang What You Like
When you join Watch Gang, they give you an opportunity to select a few watch styles that you like. This can be changed at any time so if you want a bunch of different styles, you can mix things up as much as you want.
Step Three: Receive Your Watch Each Month
Watch Gang members will receive a new watch to keep each month based on their watch subscription plan level. Each watch is valued at up to 5x the membership fee. While there are no returns, Watch Gang does have a private community where you can trade and swap watches with other members as well as exclusive deals and private watch sales to buy other models. Plus, almost every day there are additional giveaways exclusively for watch gang members.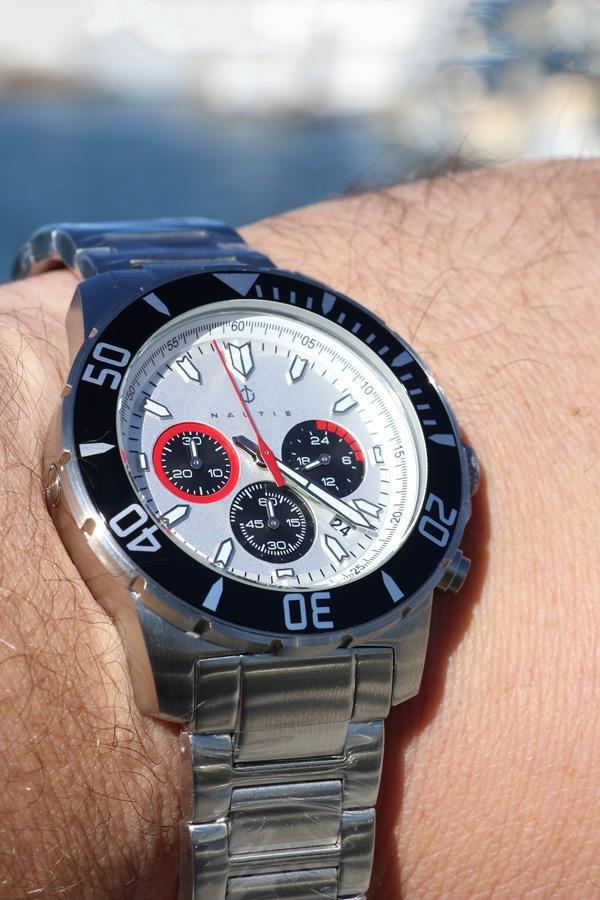 What Kind of Watches Should You Expect from The Watch Gang Subscription Club?
The short answer is that there is no way to predict exactly what you will get each month. There will almost certainly be watches that aren't your favorite - but you are pretty much guaranteed to find some keepers that you will love. Overall though, since the value is so high - even the ones you don't care for can be traded easily for something that's right for you.
According to Watch Gang, the Watch Gang Black subscription level is sourced primarily from premium microbrands that have gotten their start on crowdfunding sites like Kickstarter or well known brands like Citizen.
In October of 2018, the Black () Collection included:
Blacklist Streetmatic (ARV $299)
Nautis Dive Chrono 500 (ARV $375)
Casio G-Shock Tough Solar Multiband 6 (ARV $199)
My trial membership was clearly sponsored, though I am told the experience should be considered typical. I had the Black watch club subscription level and received a Nautis Dive Chrono 500 as seen in the photos above. For $99 I'd have been happy with any of those options though clearly the Nautis watch is the most premium of that month's watch club subscription collection.
Is Watch Gang Subscription Club Right For You?
If you love watches and are looking for an opportunity to check out some new brands, join a community of fellow watch geeks where you can trade, swap, and learn, and simply love to get cool stuff each month - then YES. Watch Gang is a great option for you. For those who are more particular and want one watch vs another then it might not be the best fit.
However, as a gift idea for men in your life - this is a great idea. I'm not a crazy luxury watch guy but I enjoy watches and this would be so much more fun than many other "box clubs" that I've worked with. Even if you don't like the watch you get, there's always ebay or the community to trade with, so how can you go wrong with getting a watch club scription with Watch Gang?