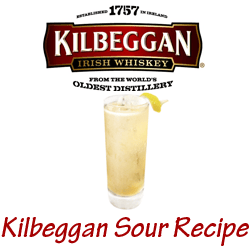 Are you ready to celebrate National Whiskey Sour Day on Aug. 25?
Our goal is to help you be as prepared as possible, so here is a recipe from Kilbeggan, created by Joaquin Simo, Head Mixologist at Pouring Ribbons of NYC.
Ready to start celebrating?
Kilbeggan Secret Sour Recipe Ingredients:
1 1/2 parts Kilbeggan® Irish Whiskey
1 1/2 parts Club Soda
3/4 part Dry Vermouth
3/4 part Simple Syrup
1/2 part Fresh Lemon Juice
1/2 part Fresh Grapefruit Juice
1 dash Orange Bitters
Method:
Combine all ingredients into a mixing glass over ice and shake.
Strain into a Collins glass with ice.
Garnish with a lemon peel.