When met with the proposition of an all-male vacation, most guys go to Las Vegas, or maybe Cooperstown, New York for a visit to the baseball hall of fame. Me? When met with the idea that me and my three best friends from college could get away from our daily lives for five days, we decided to explore our own backyard here in Oklahoma. While we don't live in what anyone would mistake for a tourist hotbed, there are indeed some pretty awesome things to do in our neck of the woods. So, after kicking around a few ideas, we decided to maximize our time and get the most out of our money by loading up the car, and hitting the open road right here in our home state.  What we did next was actually some of the best vacationing I've ever been a part of.
I must admit, I was pulling for Vegas, but I can't deny that I had a ton of fun on this little mini-road trip with some of the best friends a guy can have. After scouring the internet, we came across a tourism site, ChickasawCountry.com that focuses on our state and began to map out a plan for just what we'd be doing on our guy vacation.
So what'd we do?
Gambling
While we were rather split between Vegas and staying in Oklahoma, we made the compromise by promising to check out some of the local casinos. A quick visit to the Winstar World Casino and Resort in Thackerville, Oklahoma gave us our Vegas experience but right in our back yard. After more than a few drinks at Toby Keith's I Love This Bar and Grill, and several hundred wagers at the tables, we called it a night and headed back to our amazing rooms at the resort. After sleeping soundly, we pondered getting massages at the spa attached to the hotel, but decided it was time to pack up and get some golf in.
Golf
After a night of gambling there's nothing better than an early morning of golf the next day. Luckily for us, Oklahoma actually has some amazing golf courses. Our first 9 holes came at The Territory Golf and Country Club in Duncan, but we got out later in the vacation to play again at Boiling Springs Golf Club which was also pretty amazing.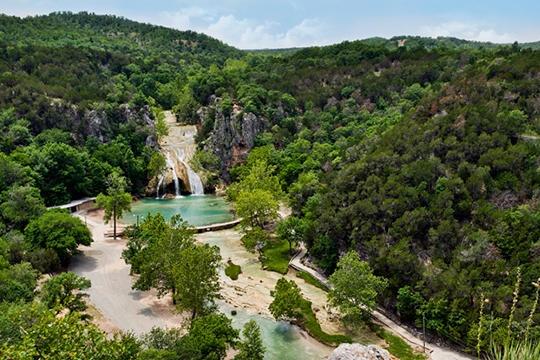 Camping
We camped two nights of our stay, and had a blast. The first camping stop was at Turner Falls Park near Davis, Oklahoma and it was full of beautiful scenery, a great campfire, and a cold beer or two right out of the cooler. During the day, we cooled down in the falls, which were more of a natural water park, featuring a 77-foot waterfall that fell into a pool below. It was a great time and something I would definitely recommend seeing if you are nearby. We had actually decided to try another campground for day two, but we had so much fun at Turner Falls that we just decided to stay another night.
After a week hopping from spot to spot in my own backyard, I can say that I am really happy that we decided to stay close to home. We saved money, got to experience some great new things right here in our home state, and had a great trip that these four guys can talk about for the next decade. I'd urge anyone looking for cheap vacation ideas to give your home state a try. There are often hidden gems that you never thought to look for and once you discover them, you'll be glad you did. The best source of info is going to be your state tourism or travel website as they often have a ton of attractions that you may have never realized were there. Happy vacationing!