Earlier this summer I had the opportunity to explore the western United States on an epic road trip driving a 2017 Explorer Platinum provided by Ford. For nearly three weeks, my wife and I lived out the vehicle and yet I was sad to see the car go at the end of our trip. I've driven a LOT of cars but few of them could have done what the Explorer did for us on the trip.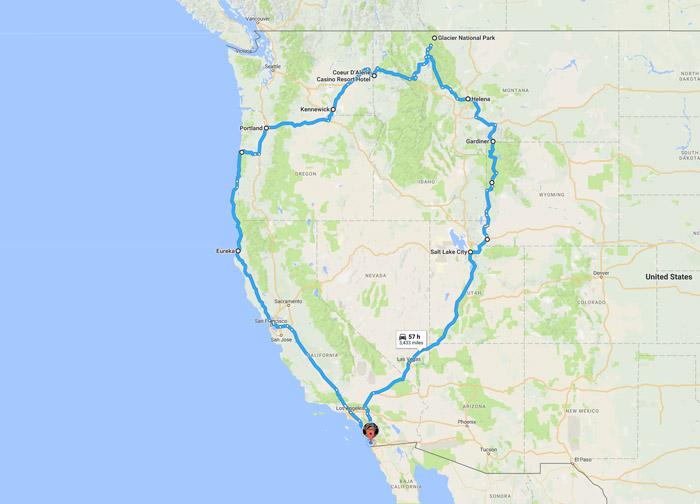 Our journey began in San Diego and then progressed north to Glacier National Park through Salt Lake City and Yellowstone, then back home along the Pacific Coast. Along the way, we explored nine different western sates, and experienced virtually every type of terrain from scorching deserts in California where the temperature was above 110 degrees to frozen mountain tops still covered in snow as we explored Glacier National Park in Montana. Over the course of three weeks, Heather and I would spend more than half our day in the car driving as well as watching the land pass by. In total, the trip spanned nearly 5,000 miles and yet we never got tired of buckling up and heading to the next adventure!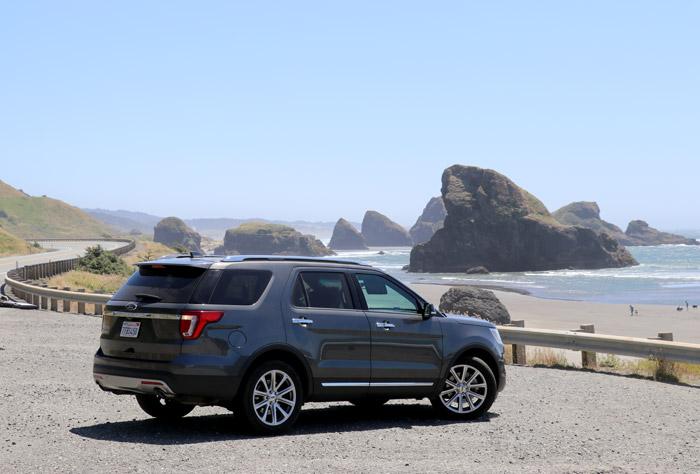 Our Road Trip Route:
Honestly, this trip is simply too long to include in a single article so I'll be updating this with links to highlighted locations as I publish posts. However I've shared some of my favorite photos below!
Salt Lake City
Grand Teton National Park
Yellowstone National Park
Montana - Exploring the "Land Between the Parks"
Glacier National Park
Kennewick, Washington
Redwood Forest National Park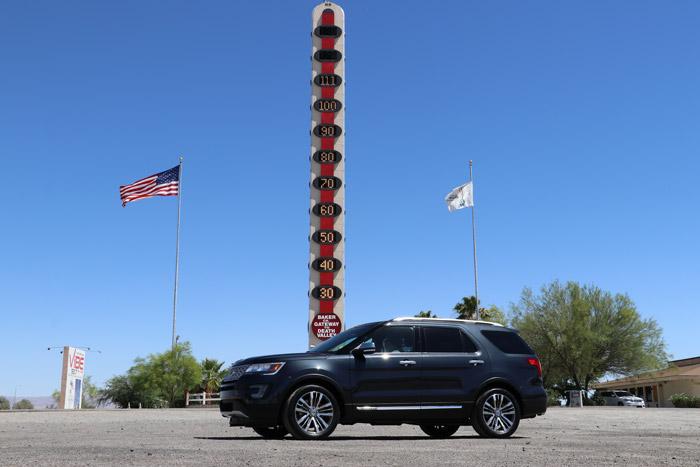 Comfort:
No matter what your destination, if your ride isn't comfortable it's going to drain you. We quickly discovered that not only did the Ford Explorer Platinum have large, comfortable leather, ventilated seats - but they also had a massage function! With us spending at least 5-7 hours on most days in the car, having the ability to turn on the massage function was a blessing for both passenger and driver.
Comfort however goes further than the seats themselves and it also includes completely subjective aspects like noise levels, ability to maintain comfortable temperature for passengers as well as driver, intuitive design on the navigation system, suspension, and ability to take curves without disturbing the passenger. Across the board, I was very happy with the Ford Explorer Platinum and both of us had no problem taking a nap while the other drove.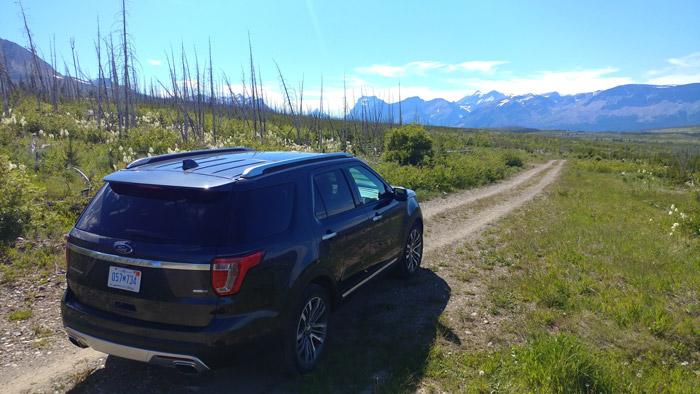 Technology:
From radio to navigation to safety features, the Ford Explorer Platinum had everything we could possibly want. For instance, while looking for parking spaces in Portland we were able to use the parking assist functionality to make the job easier. The Explorer isn't a tiny car and sometimes it was difficult to judge if it would fit. However, once we engaged the parking feature it used sensors to guide us into position and all we needed to do was brake / accelerate - it handled the steering for us.
On the road, we used the Adaptive Cruise Control often. During long stretches of highway driving this allowed us to avoid our legs becoming too fatigued. While we never had to test it (thankfully!) the Ford Explorer Platinum also came with Forward Collision Warning and Brake Support to help avoid crashes. It also featured an adjustable lane departure warning that helped keep us in the lane by steering us back away from the edge. Since it was easily adjustable, I ended up turning it down while driving on twisty rural roads where I sometimes would cut corners but then turn it back on for highway driving where fatigue could lead to lane drift.
While the Explorer's clearance and lack of skid plates prohibits us from doing anything more advanced, with it's intelligent 4WD featuring Terrain Management System, we were able to tackle sand, mud, and dirt roads with ease. Not only did we have excellent traction control but the suspension made the ride super comfortable too. This allowed us to get to some areas for the parks that a lesser vehicle might not have been able to ... or at least not without significant challenges.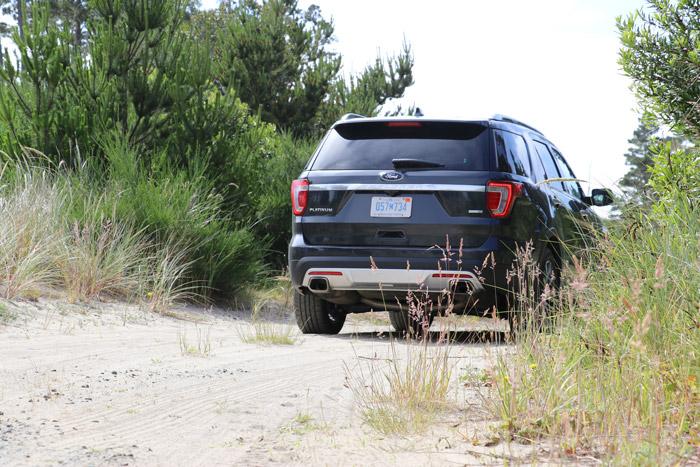 Flexibility:
On some trips, flexibility and the ability to be great on a variety of terrain isn't that important. For instance, when I drive to Vegas I'm typically looking for fast or fuel efficient (or ideally both!). Those roads are mostly highway driving where traffic backup is the only concern. On this trip however, I needed to be able to go fast on highways where the limit was 80 mph, drive well on dirt / sand / mud trails, and then still be comfortable inching forward through traffic jams in the parks as well as while crossing through cities like Portland, San Francisco, and Los Angeles.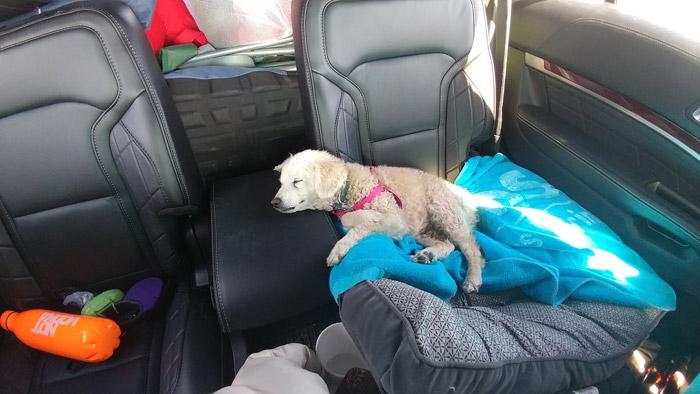 Cargo Capacity:
During this trip, we used pretty much every inch of the cargo capacity available. Since we didn't need the third row, that remained folded down the entire time creating 43.8 cubic feet of storage. This allowed for plenty of space for my sister as well as Niki Belle and her bed in the second row. In the back we had ample space for not just our cooler, suitcases, tripods, camera gear, and ice chest but also our camping gear too. It was full ... but we still had good visability out the back window since we didn't have to pile things too high.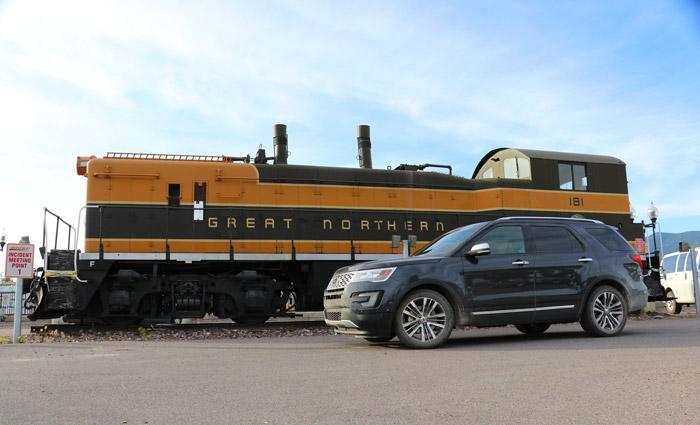 Performance:
Our Ford Explorer Platinum was outfitted witha 3.5L EcoBoost engine pumping out 365 hp and rated at 16 / 22 mpg. Across our journey, we averaged about 18 mpg. That includes extended time traveling at 80 mph in Montana, Wyoming, and Utah as well as climbing mountains and dealing with stop and go traffic in the parks as well as urban conjestion. Considering this is from a 4,453 pound vehicle capable of carrying us and everything we needed for three weeks - that's pretty awesome!
While we weren't towing anything on this trip, it's good to know that the Ford Explorer Platinum is capable of pulling 5,000 pounds.
Ford Explorer Road Trip Photo Gallery:
{lightgallery type=local path=images/stories/ford-explorer-road-trip/photo-gallery/ previewWidth=160}Ford Explorer Road Trip Photo Gallery{/lightgallery}