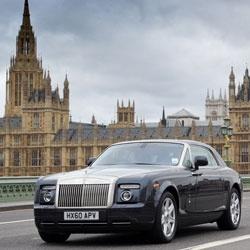 London is a fabulous place and it is not an everyday occurrence when we are given to the opportunity to swan around one of the most fashionable and extravagant cities on the planet; neither is it when we are given the opportunity to do so dressed like Don Draper or Frank Sinatra.
Whether you're on a stag party with your best friends or just fancy a terrifically expensive weekend on the town, SBuckinghams know a few exciting few places that may just take your eye:
The Travel: What About a Rolls?
Besides of course some of the best first class coaches that British Rail and afford; getting around London itself can be a little bit of a dog. If you really want to live it up, there are various chauffeur services in and around the city including, Phantom Hire; a Rolls Royce chauffeur driven service that affords three to four cars per person at a nippy
price of £395 a day.
The Meal: Alain Ducasse at The Dorchester
With reservations booked two months in advance, you should be prepared to consume of the finest meals served in the entirety of London. With fifteen more Michelin Stars than Gordan Ramsey, it could be said that Alain Ducasse is without doubt the most successful restauranteur in the world; easily proven with the distinctly French menu which combines some of the best of old, and the freshest of the new. With 3 courses of the A La Carte menu costing £85, expect to pay well over £100 per head for anything above.
The Hotel: A Night at the Langham Hotel
Although we're sure that you won't be staying in one of the £6,000 per night premier suites; the Langham Hotel is by far one of the most expensive hotels in the world and is indeed the most expensive in the capital. With the cheapest of the rooms cashing in at £249 (half a penny a second if you stay between 4pm and 10am), you and your pals can be assured of some of the most luxurious rooms that the city has to offer. Located in the heart of the West End, the hotel offers club weekend deals (with 3pm check outs; perfect for a prolonged booze-up).
The After Party: A couple of hours at Hoxton Pony Nightclub
Perhaps a place where you can afford to lose the tie; the Hoxton Pony Nightclub is one of the most sought after nightclubs on the London circuit and somewhere where'll you'll expect to rub elbows with some of the biggest UK artists and pop stars. Located near Shoreditch Highstreet Station, just west of Cambridge Heath be prepared to pay roughly £10 per person on weekends. At the same time however be prepared to be blown away to some of the most fantastic cocktails and mesmerising music having been described as 'a modernist Alice in Wonderland' by Harpers Bizaar.
Total Cost Per Person: £754