The Mountain Sky Guest Ranch sends word about their new mancation package - Man-Up in Montana. This is your chance to grab your pals and head off to hike the rugged mountains, fish the fantastic trout streams, and ride horses like the great cowboys that you may have only read about or seen in movies.
Man-Up in Montana will be held at the Mountain Sky Guest Ranch, Sept. 18-23, 2012 and is $1,700 per person.
This package is designed to help you walk in the footsteps of famous mountain men like Jim Bridger, John Colter, Meriwether Lewis, and William Clark. Or if your style is more artistic, maybe you would prefer to follow Charlie Russel.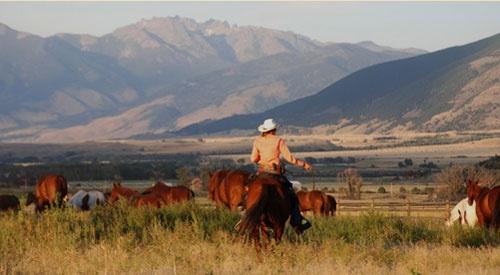 Just a few "Manly" Things To Enjoy at Mountain Sky Ranch:
Roam the mountain wilderness on foot or on horseback, exploring the mountain wilderness looking for elk, moose, mountain lion, and even black or grizzly bears!
Grab a fly-rod and wade into the "Blue Ribbon" of rivers in search for brown, rainbow, and cutthroat trout.
Celebrate that days adventures by sharing stories over a hearty meal made for a mountain man.
Relax under the canopy of stars free from urban light pollution (the nearest metropolitan area is more than 400 miles away!)

The Man-Up Mancation Package includes:
Lodging in our cozy wood cabins, all gourmet cuisine, ground transportation to and from the airport, and ranch activities including horseback riding, guided hiking and fly-fishing instruction.
All ranch facilities and amenities, including our heated pool, hot tub, sauna and fitness facility are also available for your enjoyment.
For an additional cost, Mountain Sky Ranch also offers massage services and off-site excursions including tours of Yellowstone National Park, Guided fly-fishing and whitewater rafting.