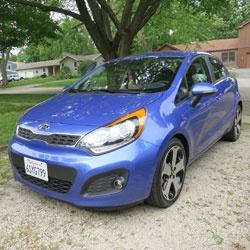 What do you think of when you hear the name Kia? Is it small, crappy, econobox? In the past, you may have been correct - but no longer! Kia has asked me to test drive some of their latest creations and they started me out with the fun and sporty 2013 Rio 5-door for a road trip review.
While this car is undoubtedly intended to zip around town vs a 3-4 hour road trip, it felt comfortable on the drive from Chicago to Indianapolis. Possibly more importantly, the car looks great!
NOTE: This was a pre-production version of the Kia Rio SX that we were provided for review.
Starting at $13,800, the Rio SX is in the same category as one of my all time favorite rides, the Ford Fiesta. This entire category is sort of fun because they are small cars with proportionally large engines and they are cheap. This means that if you are looking for a third car just for fun, this makes a great option. Of course, the Rio does have a rear seat, though I would say that is better used for supplies than cramming four guys into this car. One thing that I missed, compared to my review last year of the Fiesta, is that this version didn't have a manual transmission and faux-manual just isn't a replacement. That being said though, with the 6-speed automatic connected to the 1.6L engine producing 138 hp, the car was plenty zippy - though less "thrilling" to drive than if you were more connected to the road.
The quality of the interior and the feel of the car from things like the way the door closed to the way the trunk popped open was as good as anything else out there. Kia has absolutely worked on improving quality and style over the years and this is no exception.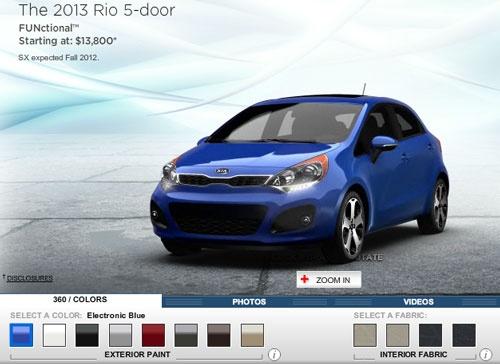 The Kia Rio SX starts at just under $14,000 and the version we tested had a sticker price of $17,700. In that range, the Rio would absolutely be considered an inexpensive car. However, it was nicely appointed with all the standard features + a leather wrapped steering wheel, 17" Alloy wheels, Sport Tuned Suspension, and even had aluminum gas/brake peddles to complete the sport feel of the car. This is not a "luxury car", but one of the things I was impressed with is that you get a lot of features for a very affordable price - yet it doesn't feel "cheap".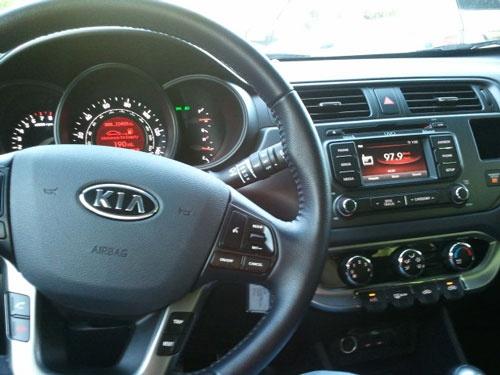 From an dashboard design perspective, it was surprisingly practical and easy to use. Some manufacturers have focused on cramming a bazillion buttons into a small space, resulting in distractions while driving. The Kia Rio at first glance looks primitive - but then you begin to appreciate the large buttons and the lack of distraction from having a gigantic TV screen for navigation. Similarly, instead of hiding the power sockets and USB plugs, they were right there under the console.
Having them placed there meant that it was extremely easy to plug in my iPhone and crank up some tunes.
On the other side though, while Kia features an UVO information system that features a ton of voice operated commands, I found it to not be terribly efficient since it didn't recognize my voice properly. The system however did pair to both of my phones extremely easily for phone calls. It just had the promise of so much more, including controlling tunes through MyMusic, and the ability to ask questions like "What's Playing".
I look forward to exploring this system more in the upcoming weeks as I try UVO on the Kia Soul and the Kia Optima.
Road Trip Review:
For this Road Trip Review, we pointed the Rio at the mecca for auto-sports - Indianapolis to go see the Indy 500 and the "Little Indy" at the Anderson Raceway. While the Rio is NOT a race car, it was fun and sporty and FAR more comfortable than I expected out of a compact car.

Anderson Raceway above, Indianapolis Motor Speedway below.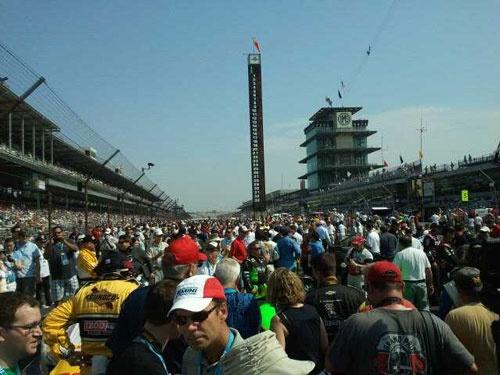 During highway driving, there was considerable wind and the Rio SX did not perform as well as I would have liked. This may have been that the car is small and light - therefor susceptible to gusts. However, without wind the Rio was comfortable and loved to cruise along smoothly at a rapid pace.
However, with a fairly large trunk (for a compact car), plenty of head room, and good visibility it was nice to drive.
On the streets of Chicago and Indianapolis though, it was much more fun with just enough power to zoom off the starting line at stop lights, and zip around corners.
The Rio is NOT a Mustang or Camaro and if you are looking for a rocket, this is NOT your car. However for what it is intended to be - an affordable sport-compact, that is fun to drive, fun to look at, and packed with features, it does a great job of owning that.
Road

Trip Review Scores (out of 10):
Sportiness: 9 - The Rio SX 5-door definitly felt sporty and looked the part too. Only downside is that the version I had was auto (which IS better for road trips anyhow).

Gas Mileage and Range:

9.5 - at 30 city and 40 mpg highway, it is a leader in its category.
Cool Factor: 8 - For a single guy who is still living the bachelor lifestyle and wants something sporty with luxury features and doesn't want to spend much money, this is THE CAR to get. For the rest of us, it is cheap enough to get as your second or third car ... something to zoom around in and remember what life was like when we were younger and valued FUN more than things like "Can a car seat fit in the back?".

Road Trip Comfort:

8 - This car was not UNCOMFORTABLE, but it clearly wasn't designed to be used for trips more than an hour or two. The gas tank was relatively small at 10 gallons, the seats were more "sporty" than "luxurious" but it was certainly comfortable for our trip.
Technology and Gadgets: 7 - With the addition of UVO it has a fairly sophisticated Infotainment system, but I had trouble getting it to recognize my voice. The "switchblade" key fob though made up for this though. For some reason it was just plain fun to approach the car, click the button and have the key flip out of the fob.
Total

Review Score: 8.3