While the UK in general might not be the manliest place in Europe, Wales would certainly qualify. After all, this is a land of more than 600 castles, steam trains, beer, golf, and a fiercely independent people. In fact, while it is a relatively small part of the overall United Kingdom, this nation is so important as to even give the title Prince of Wales to the heir apparent to the British Monarchy.
Despite hundreds of years as part of the larger British Isles culture, the country still maintains it's own unique Celtic culture, language, customs, holidays, music - and food customs. One such dish is Welsh Rarebit. While it at its most simple form, this dish is simply melted cheese on toast, it has numerous interpretations that you will find served in different parts of Wales- and now, even around the world. Not content to simply replicate a recipe I decided to create an interpretation of Welsh culture through food and created a rather unique Welsh Rarebit recipe based on the classic ...Read on for a chance to win a gift pack of Welsh cheeses to help you test your own version of this recipe at home.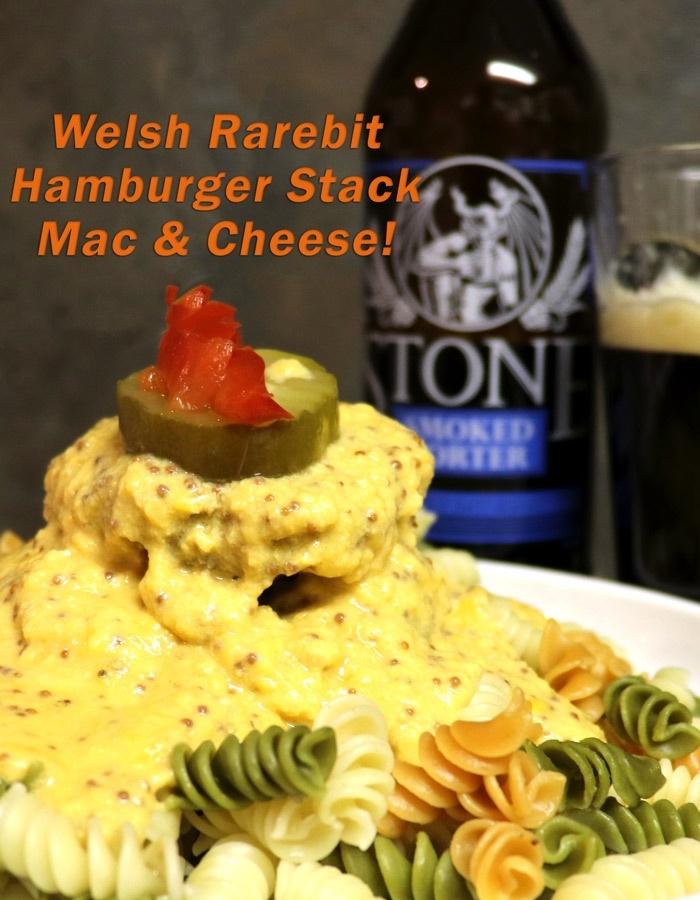 Welsh Rarebit Hamburger Stack Mac & Cheese!
Like Wales itself, this recipe is hearty, delicious, unique and combines much of the core essence of the region ...
Cheese - Welsh cheeses are among the best in the world, so of course we used a sharp welsh cheese (full recipe below).
Beer - Brewing has been part of Welsh culture as early as the 6th century and today has more than 80 breweries in a region with a population of only 3 million!
Beef & Pork - Two of the most common meats used in Welsh cooking are Beef and Pork as well as lamb, so we used both!
Castles - Wales is the land of castles, giant monuments with towers perched on hills overlooking the countryside.
National Colors - Red, White, and Green are the national colors so of course my recipe needed to incorporate that as well.
Red Dragon - For bonus points, I decided to garnish the top of my cheeseburger with a pickle medallion and a red dragon made from pickled peppers guarding the land.
Welsh Rarebit Ingredients:
1 pound Ground Beef
1 pound Ground Pork
1 Tbs chopped garlic
Season salt to taste
2 cups shredded Welsh Sharp Cheddar Cheese
1/4 cup porter beer (I chose Stone Brewing's Smoked Porter)
1/4 cup butter
2 Tbs Sour Cream
2 Tbs Whole Grain Mustard
1 Box of Tricolor Rotini
1 jar of pickles and pickled peppers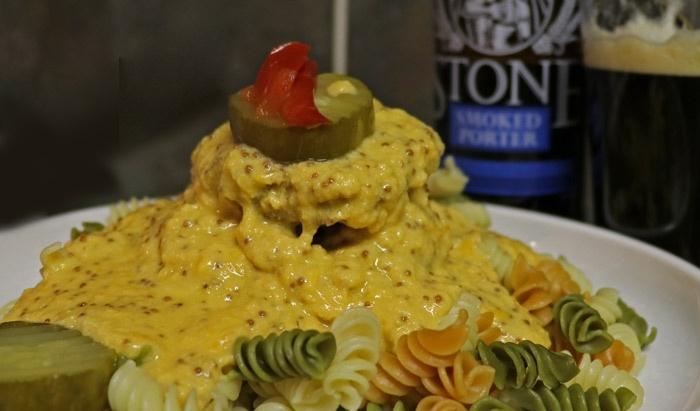 Welsh Rarebit Preparation:
Create small burger patties by mixing beef, pork, garlic, and season salt and then place on a tray and return to the refrigerator.
Boil the pasta.
Place butter, cheese, sour cream, mustard, and beer into a microwaves safe dish and melt slowly. Make sure to stir the mixture every 45 seconds to prevent over-cooking.
Grill the patties.
Place two grilled patties on top of the pile of pasta and pour the cheese sauce over it, then place one or more pickles on top along with the red pickled peppers.
There you have it! An interpretation of Welsh culture in a dish that is guaranteed to satisfy even the most extreme hunger.
This is best served with a pint of your favorite dark beer including porter or Welsh ale.