I had the privilege of visiting the folks at Boochcraft in San Diego during an open house at their new production facility and quite frankly it changed my perception of the entire beverage segment. As progressive and open to new ideas as I am ... I'd generally looked at "Hard Kombucha" as something girly that was more the domain of crunchy dudes who drove Subaru Foresters and talked about how great being a vegan was. While there's nothing wrong with those sort of guys ... that's just not me. What I found here though was a beautiful blend of West Coast craft beer scene vibes mixed with many of the same things that I enjoy about hanging out with the new generation of winemakers. Let's take a look at why I'm hooked on Boochcraft and you guys should make sure to grab some too.

Good Products Done In Good Ways By Good People
There's a thin line between businesses that wear their "good deeds" on their sleeves and use it as a marketing bullet point ... and those who simply do the RIGHT THINGS while creating great products. In the wine industry, the vast majority of vintners have a core connection with the land, climate, and biological nature of bringing grapes from tiny rootstocks to hearty vines that can produce fruit for as long as a century in the right circumstances. Sadly, because of the nature of brewing beer, distilling spirits, and certainly the creation of seltzers that connection just doesn't exist in the same way with those industries.
As a result, there's a tendency to slide towards a more industrial production where the end product is only marginally connected with the raw materials that go into the production pipeline.
Here though at Boochcraft I found the team talking about what strawberry farm they sourced from and they seemed to have a personal relationship with the people responsible for many of their ingredients. Their Hard Kombucha is brewed exclusively with real, organic ingredients and they never use artificial flavors, purees, concentrates, or preservatives. At one point they took us through the production area where some of these are pressed and frankly it looked nearly identical to the destemming and sorting table process that winemakers use during harvest.
Not only is the process good on the front end, but waste is taken seriously too. 100% of Boochcraft's fruit scraps are composted producing over 1 million pounds of compost annually, and any unused fruit is donated to feed the food insecure. Additionally, Utilizing a water-recapture loop, Boochcraft saves 1,116 gallons of fresh water per day. These were some factors in Boochcraft being able to secure the "Certified Benefit Corporation" or "B Corp" status that it now enjoys in recognition for these and other company-wide efforts.
The care and attention to detail here was something that immediately changed my attitude from, "sure ... I'll come and support a San Diego business" into ... "wow, this is good - I need another can!"
I don't know that any brewer, distiller, or vintner sets out to make crap but it's truly inspiring to see a team like this that has both talent, passion, experience, and the resources to create something like this.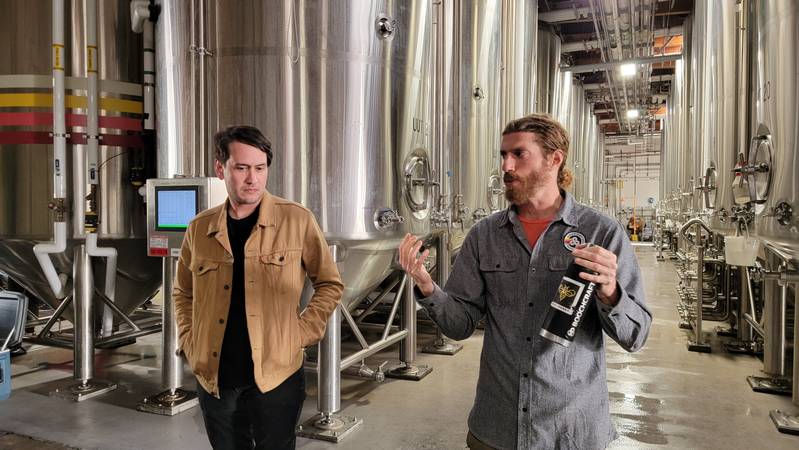 What Is Hard Kombucha Anyhow?
Kombucha is a fermented, lightly effervescent a sweet-and-sour beverage that is brewed from black or green tea. The basic ingredients are yeast, sugar, and tea that are brewed together and left to ferment for a week or more. During this time the yeast converts the sugar to alcohol and gives off a bit of gas leading to the slight carbonation. While some people let things stay at this point, others take the process to the next level by taking the "SCOBY - Symbiotic Colony Of Bacteria and Yeast to ferment more kombucha. This lactic-acid bacteria can work as a probiotic and is also a good source of vitamin B.
The next step is to add more sugar along with additional yeast to restart the fermentation process with the goal of creating alcohol. This will often create a ABV far higher than what you would want to can and the flavor isn't as fun either.
Once fermentation has stopped, fruit juices and other natural ingredients such as ginger, hibiscus, and jasmine are added to complete the process before canning begins.
The end result is a sweet but sour beverage not unlike a very good sour beer - but lighter and slightly less carbonated than seltzers while being more refreshing too. In the case of Boochcraft it tastes like the perfect cross between a Hard Seltzer and Sour Beer but with the soul and integrity of production that I love about wine.
Boochcraft Hard Kombucha is canned at 7% alcohol by volume (ABV), so it also sits at a nice level above many beers and seltzers but lower than most canned wines.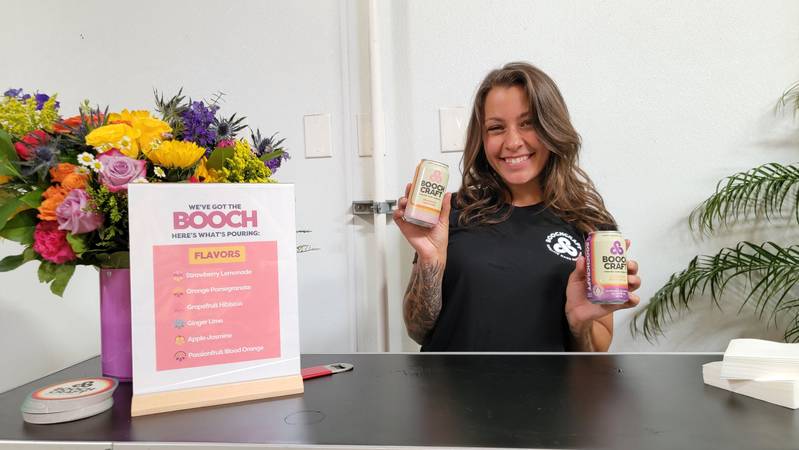 What Flavors Does Boochcraft Offer?
Boochcraft has four core flavors - Apple Jasmine, Ginger Lime, Grapefruit Hibiscus, Orange Pomegranate, and Strawberry Lemonade as well as seasonal flavors that currently include: Passionfruit Blood Orange, Spiced Pear, and Watermelon Chill.
For "science" I tasted all of them plus a few experimental ones and while each of them was exceptionally enjoyable, I found the Ginger Lime to be special since it pushed its way into the territory of a really high-quality ginger beer / ginger ale and I've since enjoyed it as a replacement for ginger ale when I need something to settle my belly after a hearty meal.
All of the flavors though are a welcome addition to my refrigerator because they are refreshing and taste great. While health benefits aren't my core concern, it's nice to know there might be some probiotic benefits as well.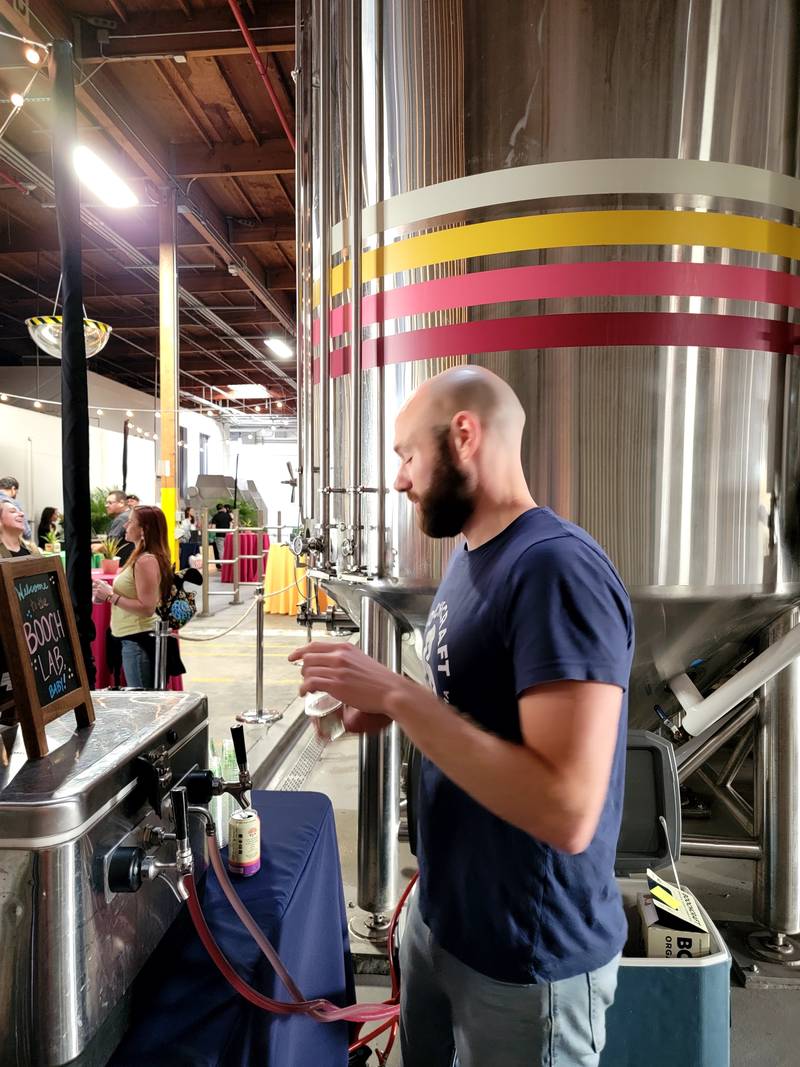 During our visit they also walked us through the process of creating new flavors at a pop-up "Booch Lab" where we experimented by adding other spices and enhancements as well. The sky is the limit here and I hope that as they continue to grow that they don't lose this fun sense of innovation.
You can currently buy Boochcraft at Whole Foods Market, liquor and beer stores, as well as other shops where similar beverages are sold nationwide. You can also order for pickup at the brewery and they have a Boochcraft Taproom at Del Mar Highlands that is open daily.