Buffalo wings are one of the most popular snacks for football parties - or even just snacking anytime. However, they tend not to be very healthy. Even when grilled vs fried, there's a lot of fat in the chicken skins. As a healthy alternative though, why not try cauliflower instead? These Buffalo Cauliflower Wing Bites are not only a more healthy alternative to traditional wings but they taste great and provides an excellent source of vitamin C, vitamin K, folate, vitamin B6, dietary fiber, and omega-3 fatty acids among other nutrients.
I'm not saying that these Buffalo Cauliflower Wing Bites are necessarily a "healthy snack" but compared to alternatives it's a great tasting way to eat your veggies. We've also created an alternative that is a bit healthier - Roasted Cauliflower Curry Bites.
As I think about the challenges that guys face when trying to eat healthy, making smart choices is key. It's tough to go on a "diet" and to many of us, that's simply a bad word that's synonymous with hunger, frustration and failure. So this recipe is designed to help you make smart choices.
For instance - while you would traditionally have a dipping sauce with wings - I've chosen to use blue cheese crumbles sprinkled on top instead. This way is still tastes great, looks fantastic but you are consuming a fraction of the fat you would normally. To take it a step further, simply remove the cheese entirely. The cauliflower bites will still taste great and you can shift those calories to something else.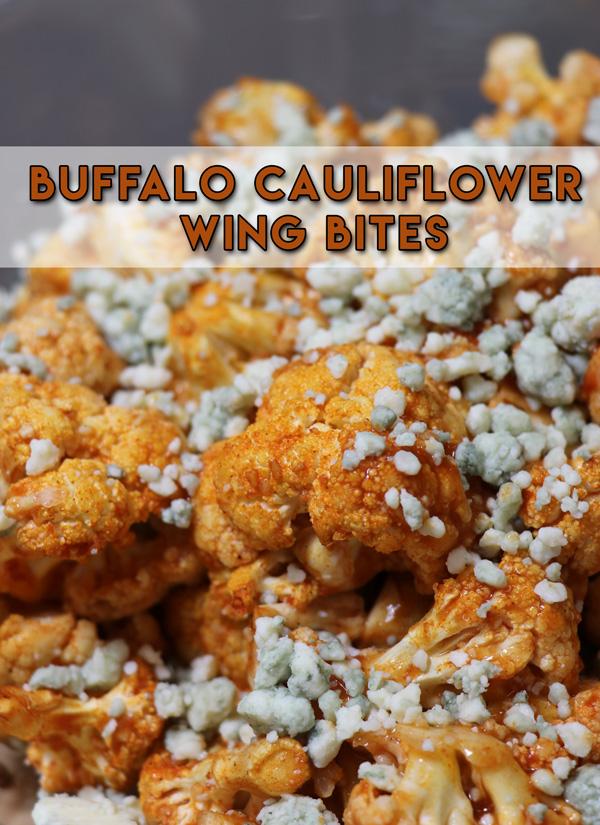 Buffalo Cauliflower Wing Bites Recipe:
This recipe is ridiculously simple and takes only about 30-40 minutes to prepare - most of which is simply waiting for them to cook.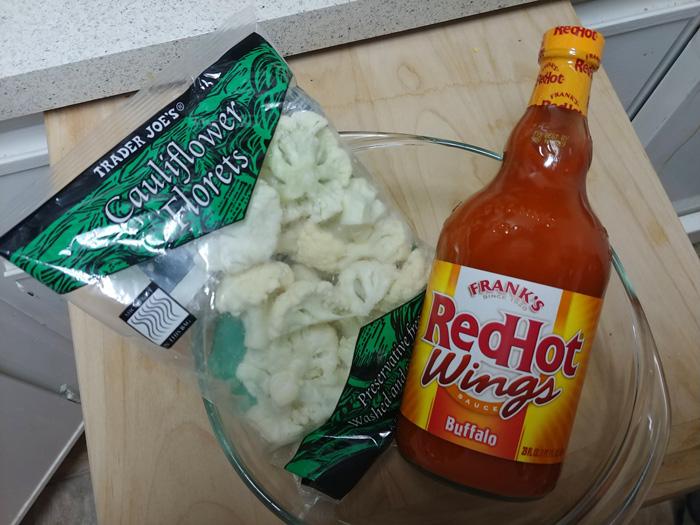 Bufflo Cauliflower Wing Bites Ingredients:
2 bags of Trader Joe's Caulflower Florets
10oz Franks RedHot Wings Sauce
2 tsp chopped garlic
3 tsp season salt
6 oz Trader Joes Blue Cheese Crumbles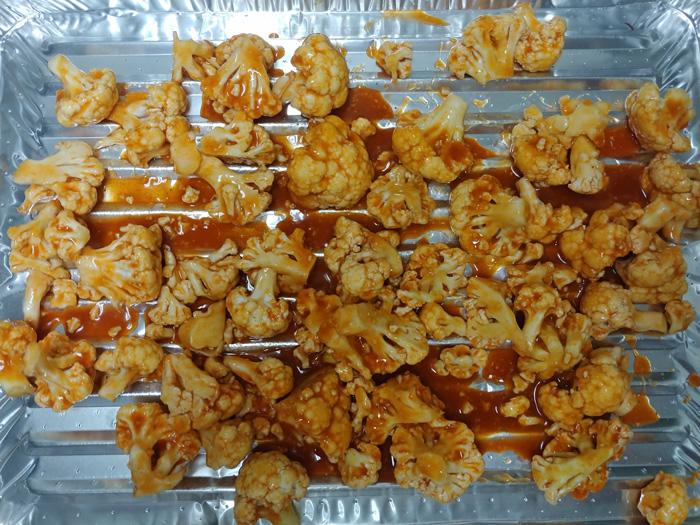 Preparation of Buffalo Cauliflower Wing Bites:
Rinse the cauliflower and trim any rough ends and break apart any large pieces that wouldn't be easy to put into your mouth without cutting. I really like using Trader Joe's brand Cauliflower Florets because despite the fact that it's already cut up and packages that it's still super fresh and I don't have a lot of "dead' material where the stalk has been cut. That makes it very quick and easy to use for a recipe like this!
Next, mix the Franks Wings Sauce, garlic, and season salt in a large mixing bowl and add the cauliflower florets. You can also add the mixture to a large freezer bag and toss it that way too.
Toss the cauliflower so that all of the pieces are completely covered by the sauce.
Place the cauliflower florets on a cooking sheet and place in the pre-heated oven at 450 degrees for about 20-25 minutes. Depending on your actual oven, you may want to raise the temperature at the very end to get some slight carmelization but be careful to monitor it so that the cauliflower doesn't actualy burn.
Once cooked so that the edges are slightly crispy and the texture is soft - but not mushy, place the Buffalo Cauliflower Wing Bites in a serving dish and sprinkle blue cheese crumbles over the top.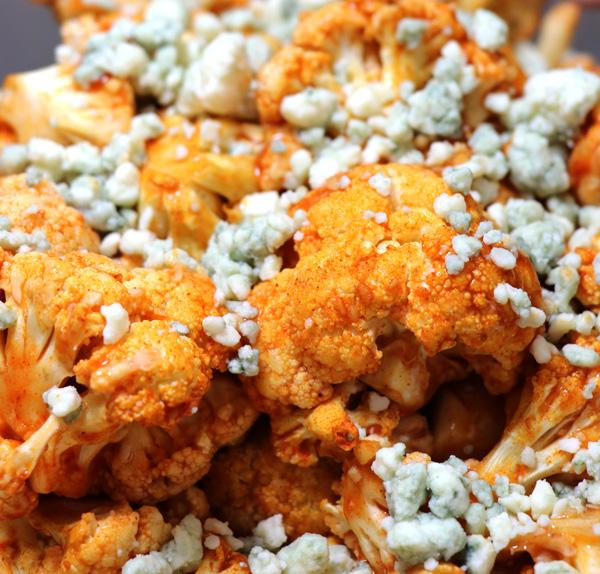 There you have it! This recipe is super easy to make and yet perfect for entertaining guests during a football "home gate" party or just a snack during family game night.