Crispy Baked Coconut Chicken Tenders With Caribbean Rum Sauce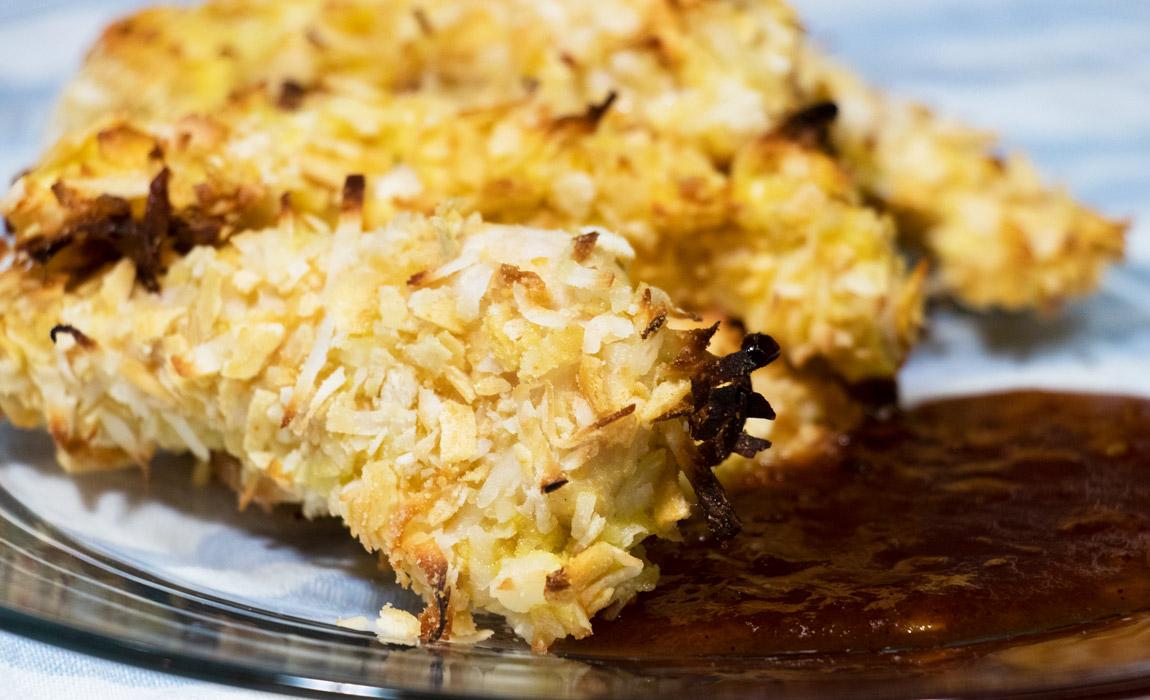 We make money from support by sponsors, advertisers, and affiliate partners. As an Amazon Associate I earn from qualifying purchases.
Chicken Tenders are one of the most versatile menu items out there. The sheer number of options to coat a chicken tenderloin with and sauces to dip it in allow for incredible freedom. Plus, there's the debate of whether to fry it or bake it. For me, I prefer to bake my chicken tenders since while I do enjoy fried foods, baking is so much easier to clean, safer, and healthier. So, with dreams of sunshine and palm trees in my head, I prepared these baked Crispy Crunchy Coconut Chicken Tenders evoking the sweet and spicy Caribbean flavor that I love!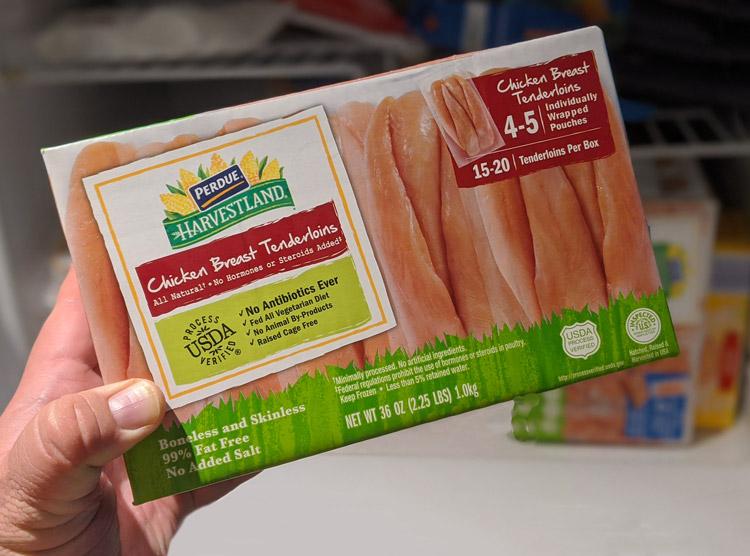 You can buy Perdue Harvestland Chicken Breast Tenderloins online. When you use my URL, PerdueFarms.com/mantripping, you will get 15% off your order plus a free box of Diced Chicken Breast meat!

As someone who grew up on the East Coast, I haven't had access to the brand's products in a long while but now you can order them along with other products direct from their family farmers. Perdue has always represented quality and a break from the commoditization of "cheap chicken". Perdue Harvestland chickens are raised cage-free and fed an all-vegetarian diet. They never receive antibiotics, hormones or steroids and are hatched, raised, and harvested in the United States by family farmers. You are what you eat and that's why I love supporting this brand.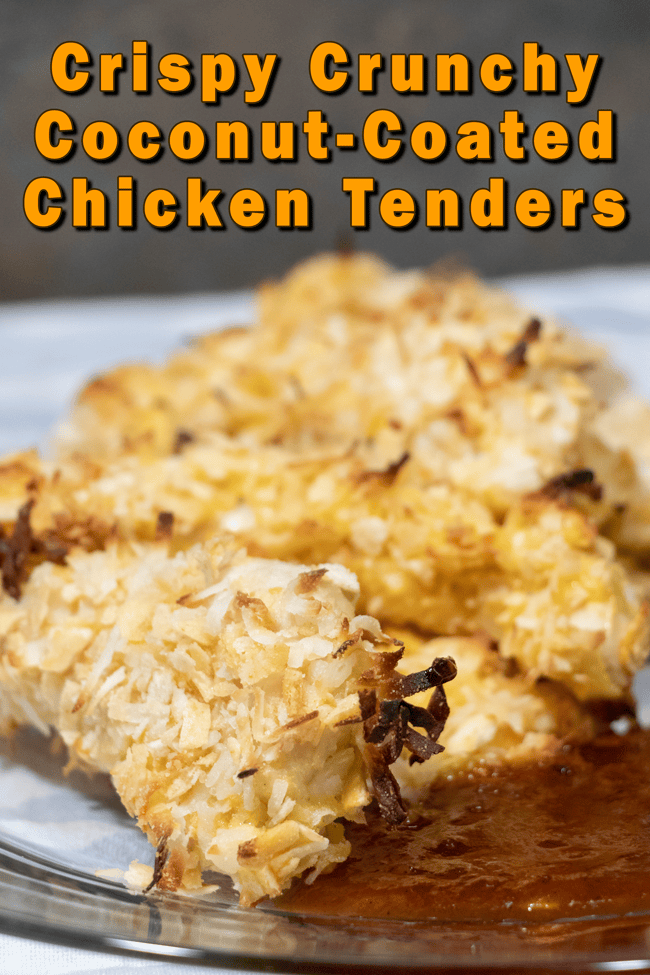 Crunchy Rainbow Baked Chicken Tenders Recipe Ingredients:
This recipe is insanely simple and can be whipped up as a quick and easy family dinner or just a fun snack. Feel free to scale the ingredients accordingly.
2 cups of shredded coconut
2 cups of crushed cracker crumbs (I used pita chips)
salt and pepper
2 tbsp allspice
2 eggs
Caribbean Rum BBQ Sauce
(scale this according to how much sauce you need)
1 part KC style BBQ Sauce
1 part Orange Marmalade
.5 parts Caribbean Dark Rum
Mix BBQ sauce, marmalade, and rum together over low heat in a saucepan to reduce slightly. Add a small dash of corn starch if you need to thicken it.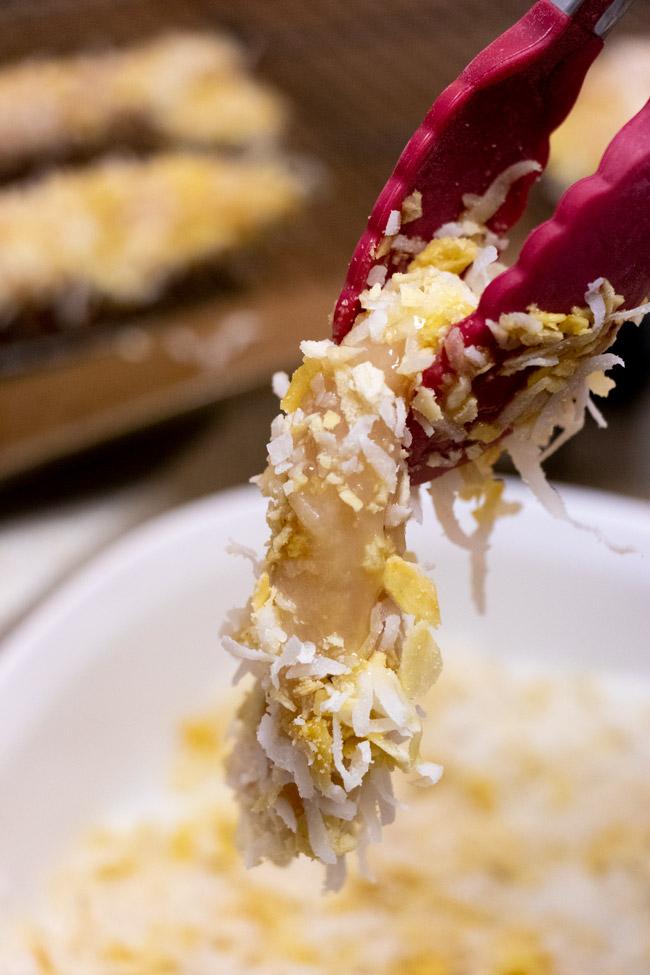 Preparation of Crispy Crunchy Coconut Chicken Tenders:
These coconut chicken tenders are insanely easy to make. Simply whip up the eggs and spices in a medium bowl then crush the crackers and mix them with the coconut in another pan. I crush them by placing the crackers in a sandwich baggie and "gently" banging on it with a mallet or handle of a large knife (i.e. a cleaver or chef's knife.
Dip the Perdue Harvestland Chicken Tenderloins in the egg wash and then dredge. Make sure to press down firmly on the chicken so that the dredge completely coats the meat and sticks well. If you want to avoid the yellow tinge that you see in the images here, separate the egg yolks from the white. I didn't because I wanted to avoid the extra step, but it does look better should that be preferred.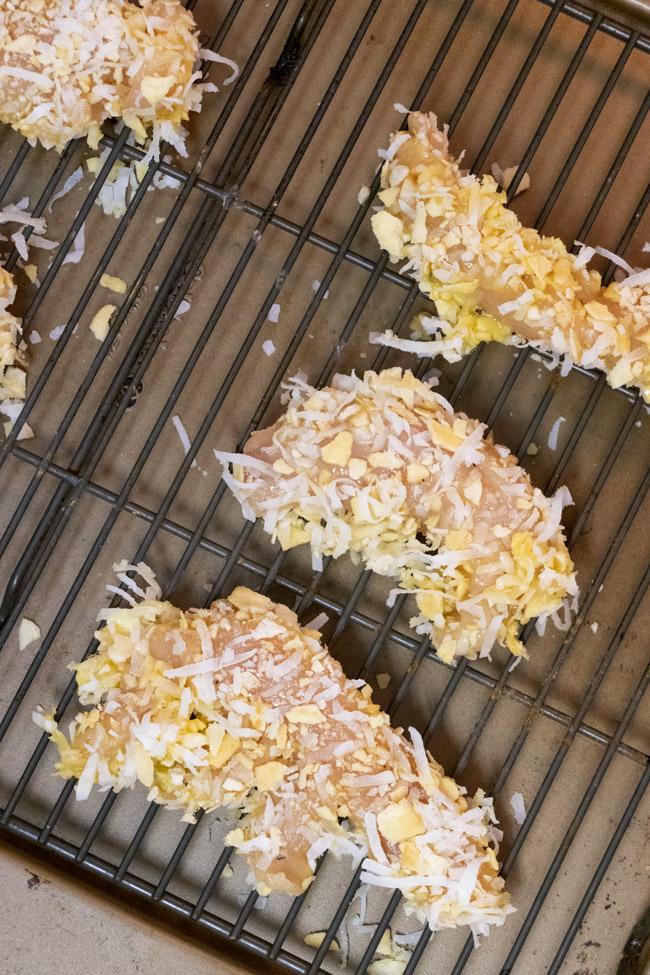 Next, spray the baking rack so that the chicken doesn't stick and place the chicken with plenty of space between each piece.
Insert the baking rack into the pre-heated oven at 400 degrees and bake for 12-15 minutes.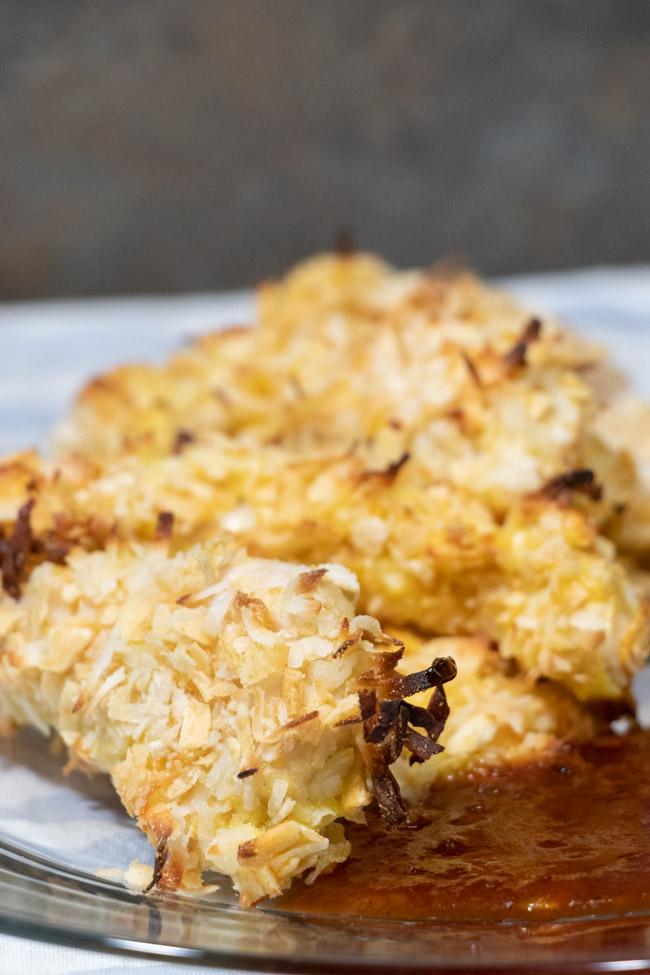 The coconut should cook to a nice golden brown color with the edges slightly burned. Don't worry, that's not bad - it's just caramelized sugars.
Plate your Crispy Crunchy Coconut Chicken Tenders and add some of the Caribbean Rum BBQ sauce for dipping.
There you go, another fun and easy to make recipe that you can do for a snack or prepare for a family dinner.
Make sure to buy Perdue Harvestland Chicken Breast Tenderloins online. When you use my URL, PerdueFarms.com/mantripping, you will get 15% off your order plus a free box of Diced Chicken Breast Meat!
Written by

James Hills

Page Views: 4344