Vermont is surprisingly a pretty awesome state for foodies and while I knew of Ben & Jerry's factory tour I was surprised to find oh so much more. From maple syrup to apples to dairy, this state has a lot to offer anyone seeking a different sort of food tour experience. Here's some of our favorite stops ...
During this road trip, we were sponsored by Nissan and driving their new Rogue Sport. While it is certainly not a "sports car", it is a great option for someone that likes the very popular Nissan Rogue - but wants something smaller and more "sporty". It was perfect for Heather and I as we cruised through twisty back roads in Vermont and we both enjoyed driving it.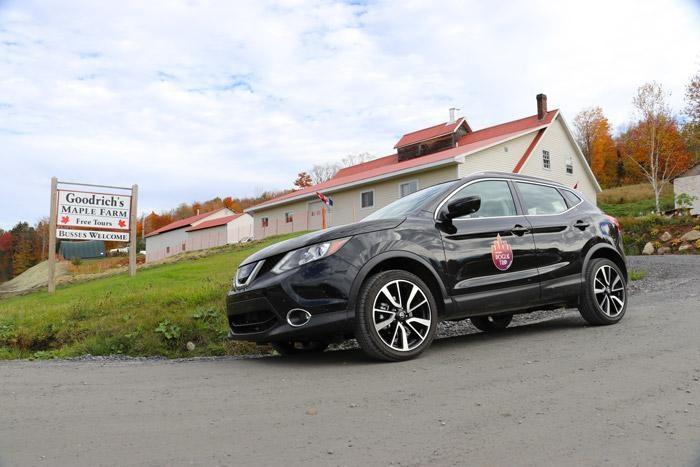 Goodrich's Maple Farm
Our first stop was Goodrich's Maple farm - family owned since 1840. Native Americans had been processing maple sap into sugar for centuries before Europeans arived and Vermont has been the top maple syrup producer for generations. In fact, Vermont maple farms such as Goodrich's produce nearly 2 million gallons each year!
As you wind your way through the Vermont countryside, you begin to notice a bizarre site - groves with thousands of trees, all with blueish white tubes running back to a barn. This is to allow the maple sap to be collected for processing. The Goodrich maple farm for instance taps 44,000 maple trees each year. While that's a lot of trees, it takes more than 40 gallons of maple sap to make one gallon of maple syrup.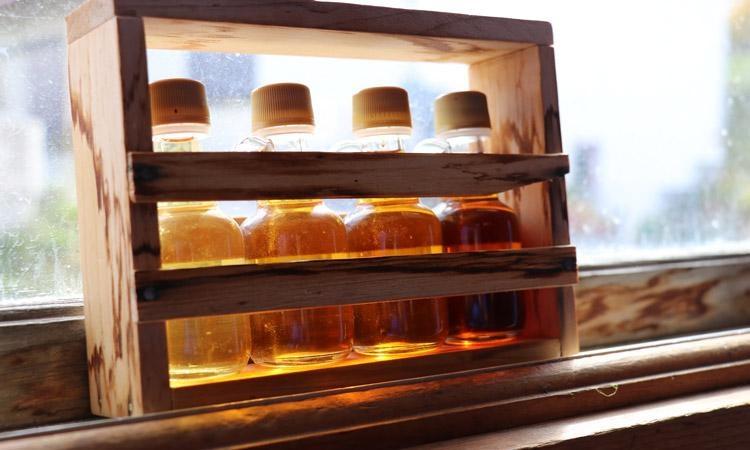 A visit to Goodrich's Maple Farm has three parts normally - a quick tour of their processing plant where they reduce that raw sap down to syrup, a small tasting area where you can try different levels of syrup, and then of course the gift shop. At different times each year they also have special events such as the "Sugar On Snow Parties". These are held seasonally depending on whether or not they have snow during March and April. During these events, syrup is cooked to 231 degrees and then immediately poured on to the snow, quickly turning it into a waxy taffy like candy.
While the opportunity to learn about how maple syrup is made ... tasting is even more fun. Before this tour, I knew that there was "real maple syrup" and that there was that stuff that calls itself pancake syrup (I'm looking at my friends Aunt Jemima and Mrs Butterworth who I do love dearly as well). However, what I didn't realize is that there are actually multiple levels of maple syrup that are produced. These range from the golden-colored "Vermont Fancy" to the very dark and strong flavored "Grade B" that is produced at the very end of the season and is better for cooking than putting on your pancakes.
For some, it may be hard to believe that real maple syrup could actually have health benefits but it contains many nutrients including potassium, zinc, manganese, calcium, magnesium, and iron as well as antioxidants. It is also lower on the glycemic index compared to other sweeteners.
Make sure to visit the Goodrich's Maple Farm gift shop on the way out of the sugarhouse since they have tons of maple products including not just syrup but maple candy, and even granulated maple sugar (tastes great on toast, oatmeal, and even fish!).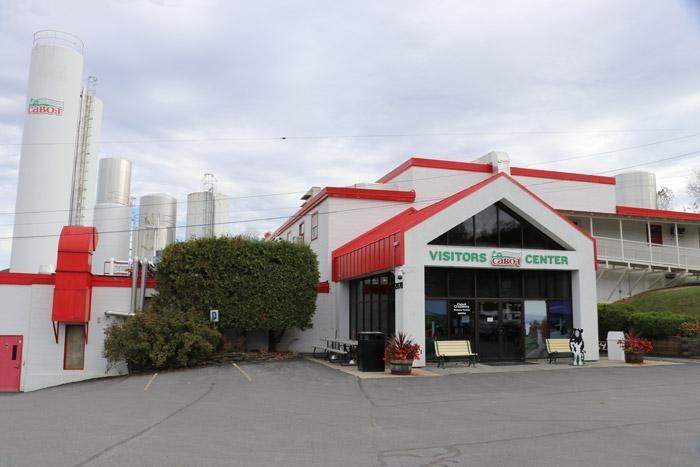 Cabot Cheese
Next up on our tour was a visit to Cabot Cheese where we learned an interesting story of not just how cheese is made ... but how this company is working to help small family farmers survive. Unlike some companies, Cabot is a co-op. This means that the dairy farmers producing the milk used in the cheese made here own the company together and make all the decisions about how to run things. Unlike a corporate owned and investor led business, the people at the top are completely connected to the guys at the bottom ... because well ... they are the same people. Cabot's dairy cooperative includes 1,100 dary farmers in the north eastern United States.
Unfortunately, after January 2018, Cabot will no longer be taking visitors into the production plant for tours. Guests will still be able to visit the store, sample cheeses, and watch a video showing the cheese making process though.
Despite this though, if you are a fan of Cabot cheese (or happen to be passing through the area and you are hungry), make sure to stop in and tasted some of their amazing cheese!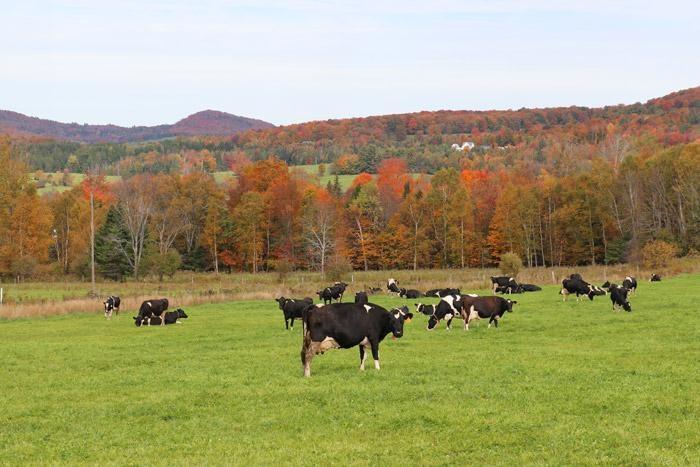 I don't know if these cows down the road from Cabot are theirs or someone elses, but even between touring food factories in Vermont, it's just an amazing place to explore in the fall.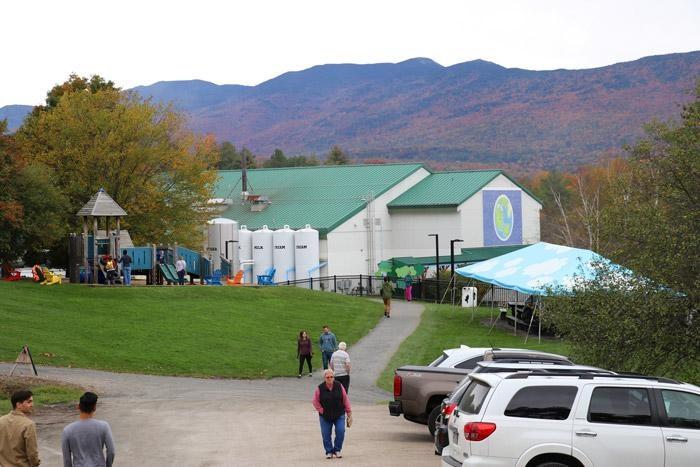 Ben & Jerry's
And now we get to the reason for our visit to Vermont ... Ben & Jerry's Factory Tour in Waterbury, Vermont!
Truthfully, I had more fun and learned more at Goodrich's and Cabot ... but this place is a pilgrimage destination for ice cream lovers from around the world. The tour is a short 30 minutes where you learn about the history of Ben & Jerry's, corproate values, and then go to an observation room where we watched ice cream being packed into pints for shipping around the world. After the tour is over, there is of course an opportunity for a sample and then a fully stocked Ben & Jerry's ice cream shop right outside where you can chose from pretty much any flavor imaginable.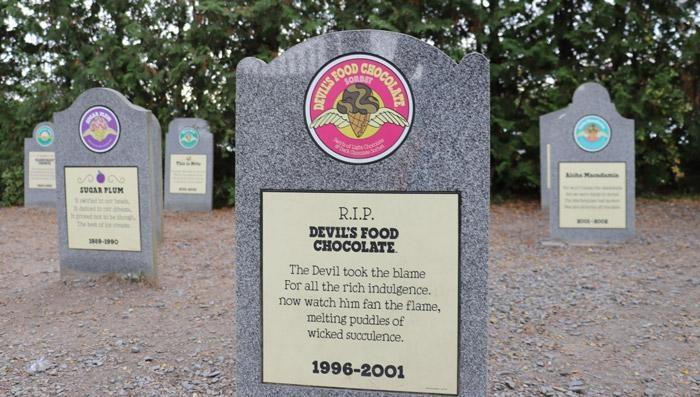 Outside of the factory, there is the Flavor Graveyard filled with legendary and infamous flavors memorialized on tombstones like this one for Devil's Food Chocolate. Wandering around the graveyard was probably the highlight of our visit (aside from tasting ice cream!) since it was an awesome experience seeing all the interesting flavors that for one reason or another simply didn't work out. While some were jokes that didn't last - Schweddy Balls (2011-2011 - vanilla ice cream with a hint of rum and loaded with fudge-covered rum balls and malt balls) others were simply not a success despite their obvious potential. One such flavor was Peanut Butter and Jelly (1989-1990 - peanut butter ice cream with peanut butter bits and strawberry jelly swirl).
On the other hand, some are probably better memorialized rather than taking up space on shelfs such as Miz Jalena's Sweet Potato Pie that lasted from 1992-1993. On the other hand - nothing is gone forever so if you have a favorite that you want to bring back, make sure to let them know by asking to Resurect This Flavor!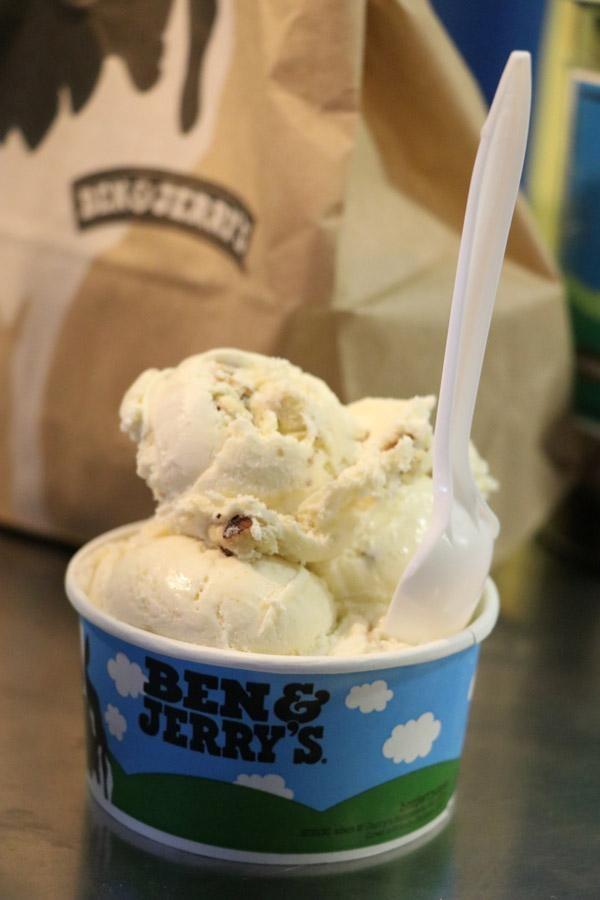 For true Ben & Jerry's fans - one of the greatest things about a visit here is the opportunity to try the exclusive flavor offered ONLY at the factory - Maple Walnut. Since we're in Vermont, that flavor seems uniquely appropriate!

Green Mountain Coffee Roasters
Also in Waterbury, Vermont - not far from Ben & Jerry's is Green Mountain Coffee Roasters. Anyone who has a Keurig is familiar with these guys and while it is a relatively small visitor center set in a 1875 train station, it makes a great stop as well.
Visitors here can learn more about the process of coffee production through a "source to cup" exploration with interactive displays and videos. Of course, there is also a cafe there brewing a daily variety of free coffee samples and other products for purchase.