Las Vegas has some of the best food in the entire country and whether or not you are here for a convention, a bachelor party, or simply just to partake in the thrills of "Sin City", you are sure to work up a heck of an appetite. Don't let your hunger ruin the moment though! Fortunately, Las Vegas is filled to bursting with excellent eateries ready to satisfy whatever urges you might have.
That's the beauty of this city. From exotic delicacies to odd combinations of flavors there is an sense of innovation that is sure to thrill.
The following are some of my favorite restaurants, but I encourage you to explore since the landscape is constantly changing and you never know what you're going to find out there!

Bardot Brasserie
Found inside of Aria, Bardot is one of my favorite restaurants in all of Las Vegas. The Michael Mina restaurant has amazing cocktails, innovative menu items and a delicious French atmosphere without being tacky that will make you smile from the moment you walk to your table till the moment you finish your desert.
Grimaldi's
Grimaldi's is arguably the best slice in the city. Hailing from Brooklyn, this New York–style pizza joint doesn't skimp on preparation; the owners hired a chemist to recreate the exact composition of the Big Apple's water in Sin City. Though Grimaldi's pizza isn't as flashy as trendy flatbreads — or, perhaps, because of it — your hanger will melt away as you bite into the perfect crust, secret sauce, and fresh cheese of a Grimaldi's pie.
Hershey's Chocolate World
Sometimes, you just need something sweet to keep you going. Hershey's Chocolate World can fill all your sweet treat needs, with more than 800 varieties of your favorite Hershey's goodies, including REESE'S Peanut Butter Cups, Kisses, and those simple milk chocolate bars you always crave. Plus, the bakery counter churns out unique, fresh, Hershey's-inspired treats every day, like Reese's cupcakes and Almond Joy brownies.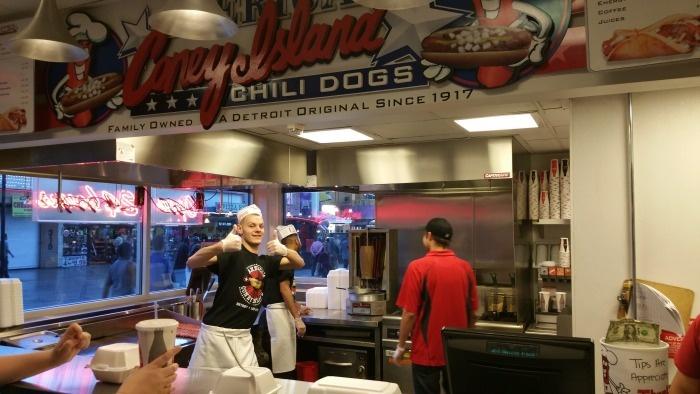 White Castle (or Shake Shack or American Coney Island)
For a quick, cheap bite, you don't have to turn to boring fast food places; Las Vegas is importing a handful of exciting quick serve joints beloved to their various home regions. White Castle, despite its ubiquity in the Midwest and eastern United States, just opened its first West Coast location in Vegas earlier in 2015, and Shake Shack, the Madison Square Park darling, is also heading west with a new diner fittingly inside New York New York.
Finally, we can't forget about American Coney Island found downtown at The D hotel, a perfect late night stop imported from Detroit where you can get some of the best chili cheese fries in the city!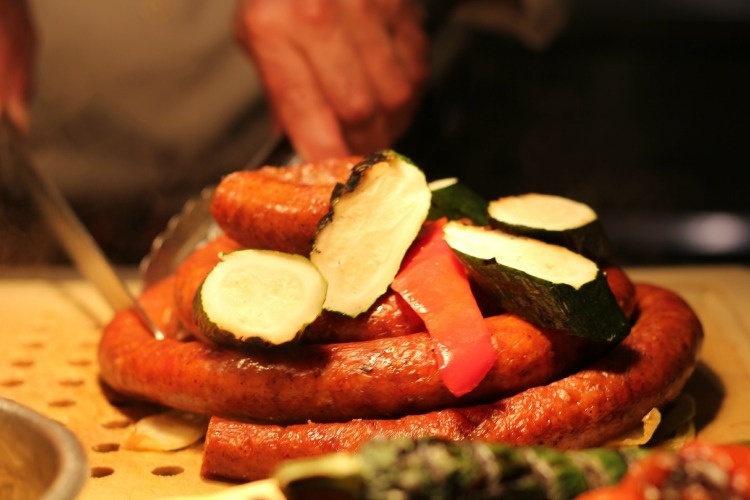 Excalibur Buffet
Having recently been completely renovated the Excalibur buffet is truly "fit for a king". With items ranging from sausage to Cajun mac and cheese to even a crepe station where you can build your ultimate desert, this has something for everyone.
Itsy Bitsy
You likely have never thought to pair ramen and whiskey, but that is precisely what the geniuses at Itsy Bitsy have done. After Japan fell in love with whisky, the rest of the world fell in love with the wealth of delicious Japanese labels. The steps to curing your hanger at Itsy Bitsy are simple: pick your noodle, pick your broth, pick your topping, and drink your whiskey while you wait.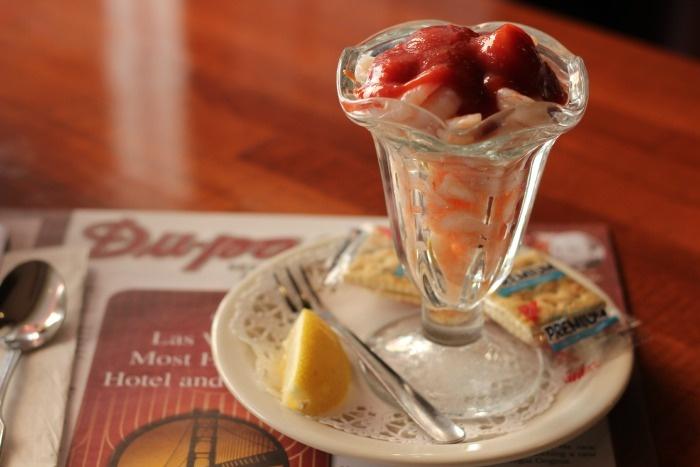 Du-Pars Restaurant and Bakery
While there are other locations across Southern California, only the Las Vegas Du-pars location inside of the Golden Gate casino downtown has the legendary shrimp cocktail. Don't stop there though, this place is open 24-hours and has incredibly fresh and high quality dinery food that is prepared fresh on location.
Yardbird
Rarely do diners see chicken on a gourmet menu, but Yardbird at the Venetian aims to demonstrate just how sophisticated the humble chicken can be. Brined for 24 hours and served alongside spiced watermelon and cheddar waffles, this bird is fancy — and especially hard to pass up when you know extreme hanger could be in your future.