The Humboldt Distillery is located in Humboldt County, California and makes several spirits, including vodka and rum, that appeal to those with a more humble(dt) preference. We tried Humboldt's Finest vodka as well as the organic small batch vodka they make. Both are excellent. Our preference in sipping is perhaps with the organic small batch, but it's a close race. For mixers, Humbdoldt's Finest is a great one.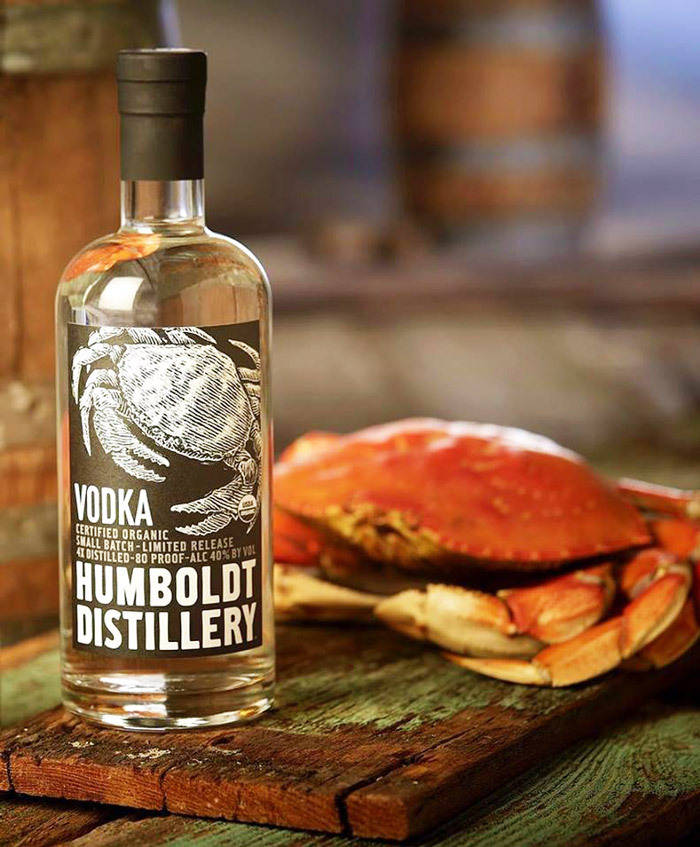 Humbold Organic Vodka is an organic, small-batch vodka produced from organic sugarcane, with no Glycerin, Sweeteners Or Other Additives and is also Non-GMO And Gluten-Free.
These are smooth, easy vodkas with a tasteful feel that isn't overwhelming or biting. Like any good vodka, these from Humboldt roll across the tongue and to the throat with just enough bite to remain palatable without a throat burn. Even straight, neat, and at room temperature, the Humboldt vodkas are lovely for sipping. Things get better with some ice, mixing ingredients, or a strong chill, of course.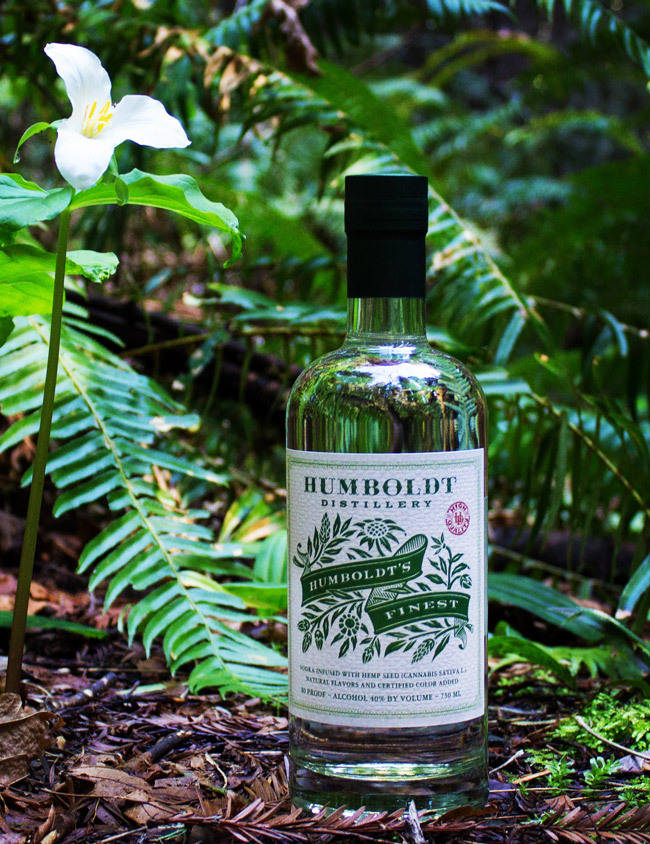 On the other hand, Humboldt's Finest is a little departure from the ordinary since it is vodka that undeniably reflects the spirit of "True California". While the botanicals used for infusion won't get you high, it does add a slight gin-like feel. Humboldt's finest is Infused With Locally Grown Hemp, THC-Free and CBD-Free, with aromatic terpenes provide a distinctive fresh herbal character.
With either bottle, things will definitely go well. For instance, we could do a great a quarantini mix (vodka mixed with Emergen-C) because it's almost a requirement given the times.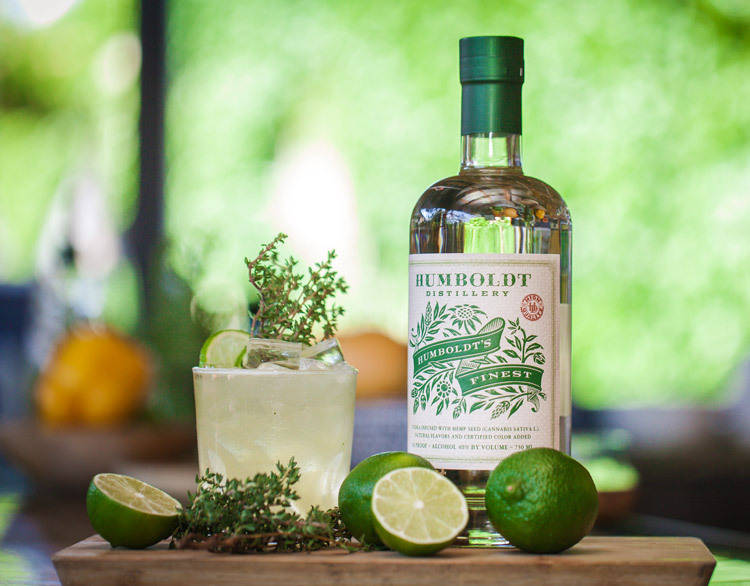 High Thyme
1.5 oz Humboldt's Finest
.75 oz freshly squeezed lime juice
.5 oz honey syrup
2 hearty sprigs of fresh thyme
To prepare honey syrup, dissolve 2 parts honey in 1 part hot water, allow to cool. At bottom of cocktail shaker, add 1 sprig thyme, give a quick muddle, add Humboldt's Finest, lime juice and honey syrup. Shake vigorously, strain into double old fashioned glass with ice, garnish with a hearty thyme sprig.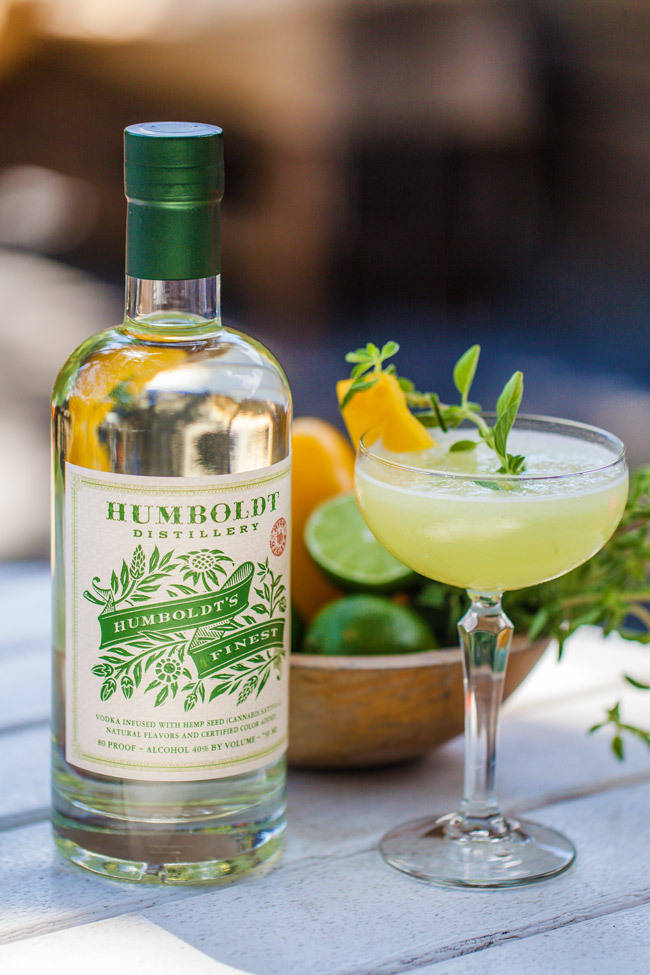 Green Gardens
1.75 oz Humboldt's Finest
.25 oz Green Chartreuse
.75 oz fresh-squeezed lime juice
.5 oz simple syrup
1/4 of a small yellow bell pepper
Fresh oregano (3 leaves plus 1 stem for garnish)
Add 1 heaping tbsp of chopped pepper to shaker, muddle well, add 3 slightly smashed (use fingers, to release oils) oregano leaves, Humboldt's Finest, Green Chartreuse, lime and simple syrup. Add ice and shake vigorously, strain into a cocktail coupe. Garnish with oregano sprig and cut pepper wedge.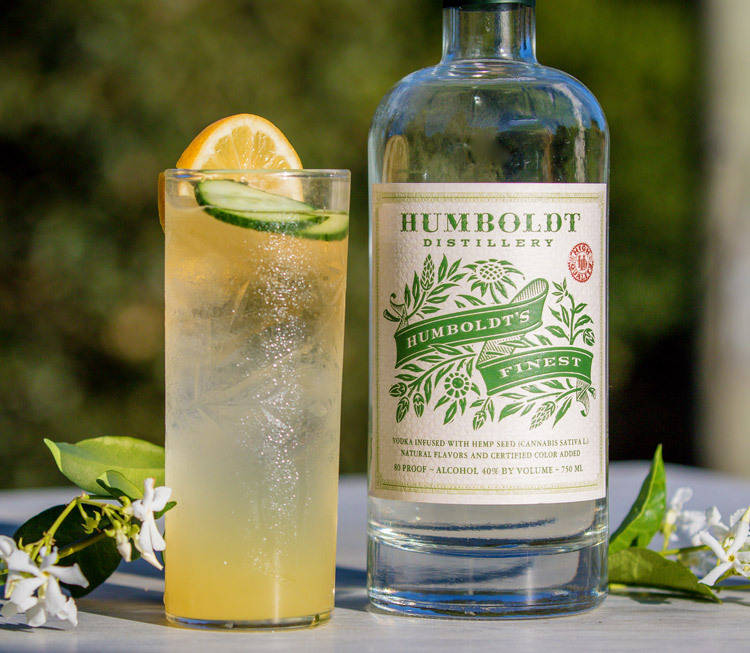 Hemp Highball
1.5 oz Humboldt's Finest
1 oz jasmine simple syrup*
.5 oz fresh squeezed lemon juice
Sliced cucumber
Seltzer water
Ice
Combine ingredients in a highball glass with ice, top with seltzer water, garnish with a slice of cucumber, and enjoy.
*To prepare jasmine simple syrup, create a strong tea using 3 jasmine green tea bags and 1 cup boiling water. Combine 1 part hot tea with 1 part sugar, mixing until dissolved.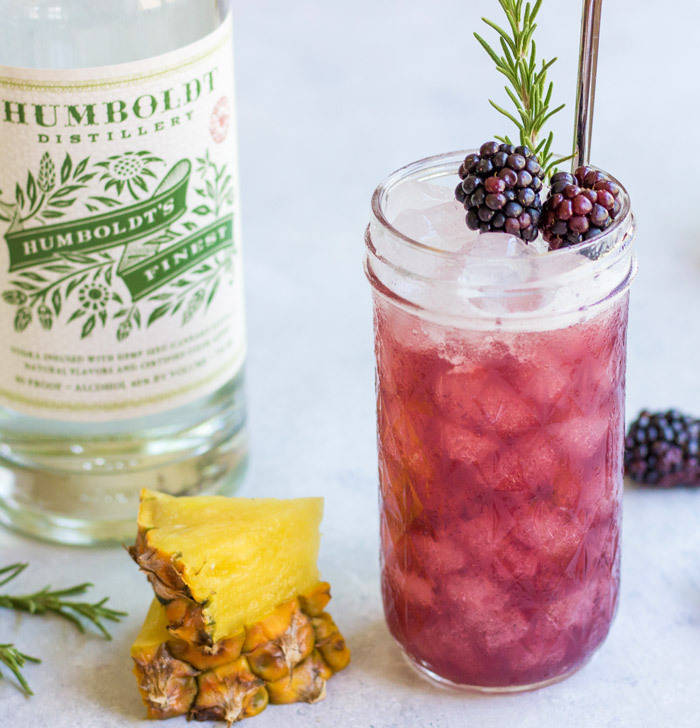 Humboldt Bramble
2 oz Humboldt's Finest Vodka
5 cubes pineapple (fresh or canned)
5 blackberries
.75 oz dry vermouth
.5 oz ginger syrup (recipe follows)
Muddle pineapple and blackberries in a shaker. Once well-muddled, add remaining ingredients and ice. Shake until very cold, about 20 seconds. Double strain into a highball glass filled with fresh ice. Garnish with blackberries.
For the ginger syrup, combine 1 c. sugar, 1 c. water and a 2-inch knob of ginger, peeled and roughly chopped. Stir over low heat until sugar has dissolved. Remove from heat and allow the ginger to steep for at least one hour. Strain and refrigerate.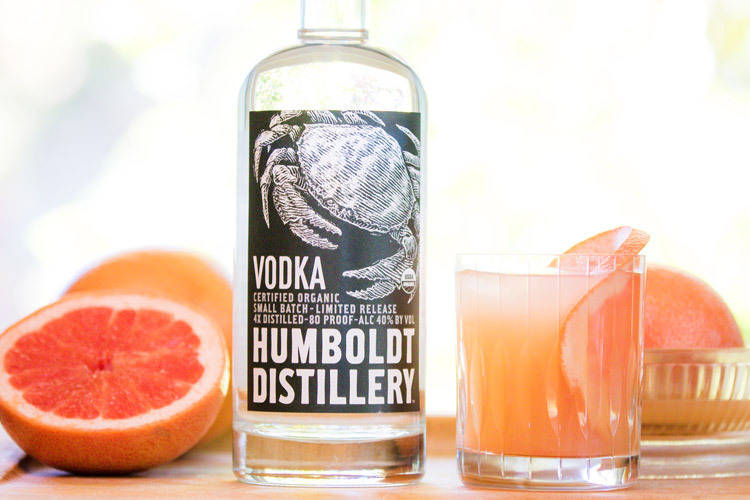 Greyhound
1.5 oz Humboldt Vodka or Humboldt's Finest
Grapefruit Juice to top
Add ingredients into a double rocks glass with ice and stir gently.
To make a Salty Dog, coat the rim of the glass with salt.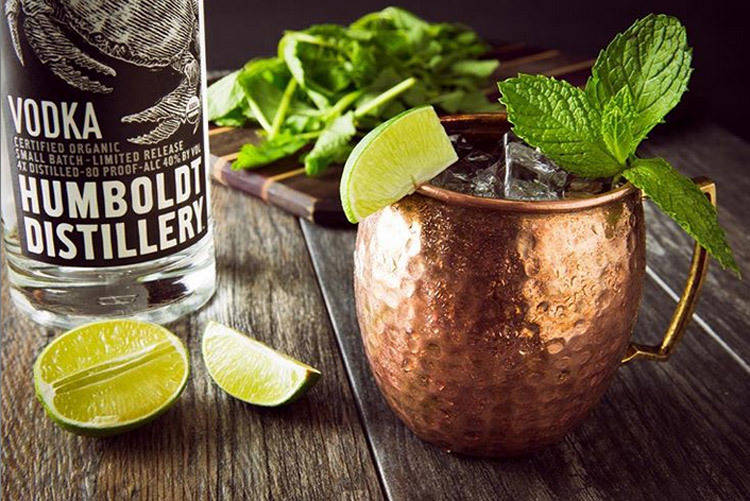 Of course, with vodka on hand, one has to get out the copper mugs and make some mules. Any favorite mule recipe will work and we found that Humboldt's Finest is a great choice for these. With a good ginger beer, a piece or two of dried ginger on a stick to submerge, and some friends and it makes for a lovely evening. Even if it's just on Zoom.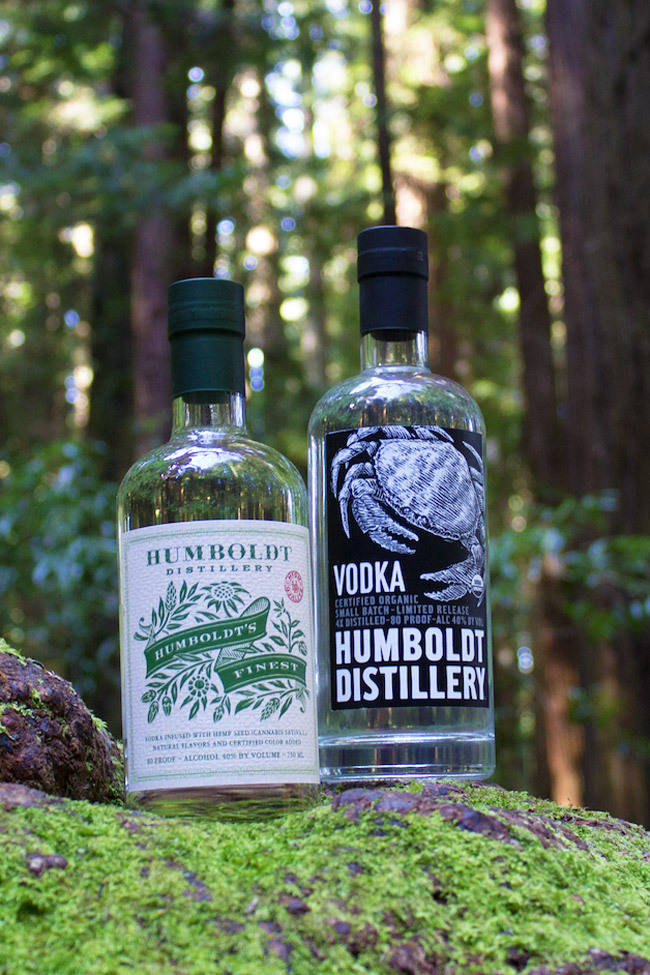 We've become fans of this vodka and are looking forward to trying other bottled goodness from Humboldt. This is a wonderful hometown-style distillery that offers vodkas and rums to satisfy every glass. Check them out at HumboldtDistillery.com.