The other day I discovered I actually liked gin ... or at least Tanqueray No Ten. To be honest, I'm still not a huge fan of dry gin and so bear with me - this is something different. Instead of the medicinal, pine-tree-flavor you might be familiar with, we're going for a bright citrus flavor that compliments the classic base of juniper and other botanicals that give gin such a unique flavor for our wings in today's recipe. For those of you who love wings and are looking for something new - this is going to be a treat!
Tanqueray sent m a bottle of their No. Ten gin and I'm quite impressed. While London Dry Gin defines the spirit, today's distillers have opened the market wide open in terms of what "gin" can be. On the west coast, you're going to find a new "West Coast Gin" where distillers are using botanicals found locally so that the spirit is defined by the terroir the same way a Cabernet is different when grown in Columbia Valley vs Napa vs Traverse City Michigan. Clearly Tanqueray is one of the most popular gin producers in the world and as a Scottland-based distiller, it is far from the sunny citrus orchards. However, twenty years ago when they decided to introduce No. Ten it was on trend with the "West Coast Gin" movement of exploring other flavors and in particular, the heavy citrus notes that were becoming popular at distilleries along the West Coast of the United States in brewing as well as distilling.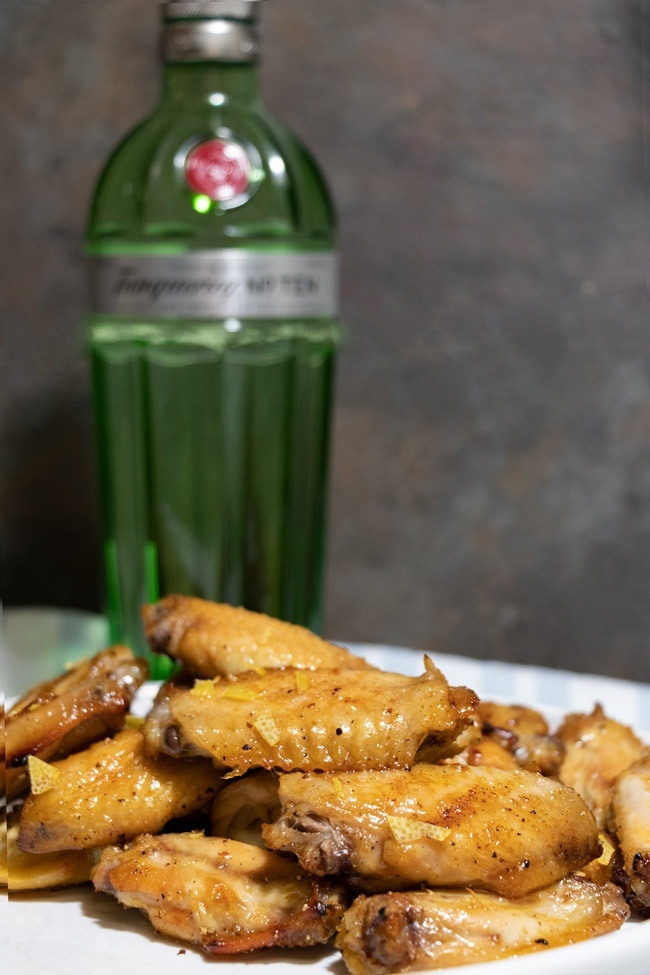 Tanqueray No. Ten features the same base botanicals as it's older brother, London Dry Gin - juniper, coriander, angelica, and licorice. However, it adds to that base by including fresh white grapefruit, lime, orange, and camomile flowers. In fact, to ensure a fresh-tasting high-citrus profile it actually uses fresh grapefruit and lemon, rather than dried peels as some other distillers prefer. This citrus, combined with the camomile flowers and the spicy juniper provides a fabulous opportunity to craft a unique recipe for wings and so that's what we've done.
For this recipe, I'm using Perdue Farms frozen wings that you can buy on www.PerdueFarms.com and get delivered directly to your door without ever having to interact with people at the grocery store. Unlike the wings that I've used in the past, these arrived frozen in individual packages rather than a huge bag that can go bad. Honestly, these wings tasted way better than the ones I've gotten at the grocery store and were nice and meaty as well. NOTE: these are unfortunately currently sold out on the Perdue Farms website but there's plenty of other great meat, including sausages, bacon, and chicken that you can buy there right now.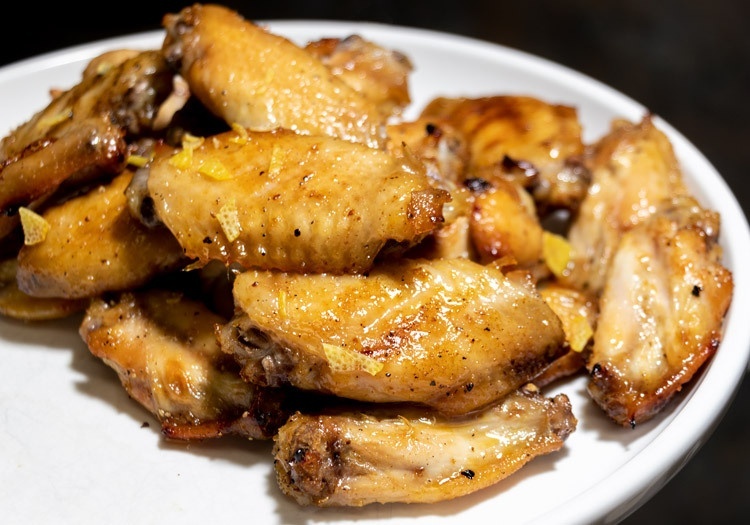 Lemon Ginger Gin Wings Recipe
For those of you who are non-drinkers, don't worry. Since we are baking these wings for about 30-minutes, any alcohol will be cooked off before you eat it.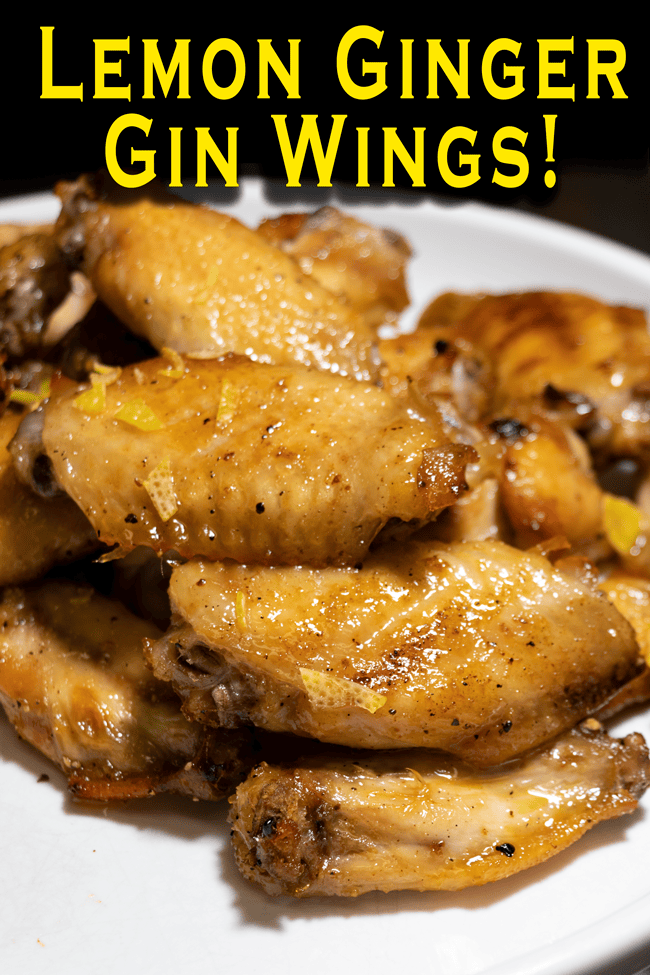 Ingredients:
4 pounds of Perdue Farms Wings
1 lemon
1/4 cup Tanqueray No Ten Gin
1 cup of brown sugar
1/4 cup olive oil
1 tablespoon season salt
Ginger root
Fresh black pepper to taste
Preparation:
Remove the Perdue Farms Wings from the freezer and let them thaw. Then remove them from the package, rinse and let dry.
Add gin, brown sugar, olive oil, and salt to a large mixing bowl.
Take a zester (or small grater) and zest the orange peel into the mixing bowl. Then, cut your lemon in half and squeeze the juice into the bowl. I also like to leave some of the lemon peel so that I can finish slicing small pieces to top the wings as a garnish and this also adds an extra citrus kick at the end.
If you have young ginger with a thin skin then proceed, otherwise - remove the skin to expose the fresh ginger root meat. Now, use the zester or fine grater and add a half teaspoon of ginger to the mixing bowl. Please feel free to moderate this since more ginger will result in a spicier mix for your Gin Wings, but you don't want to make it unbalanced so moderation is key here.
Add the fresh black pepper and whisk the mix together.
Now, place the wings in the mixing bowl and mix everything together so that your Gin Wings are fully coated with the lemon ginger gin marinade. Put this aside for at least 30 minutes to let it set. However, if you are in a hurry, you can proceed immediately to baking them.
Pre-heat your oven to 425 degrees.
Place the wings on a rack above a foil-lined baking pan and place in the pre-heated oven for 30-40 minutes.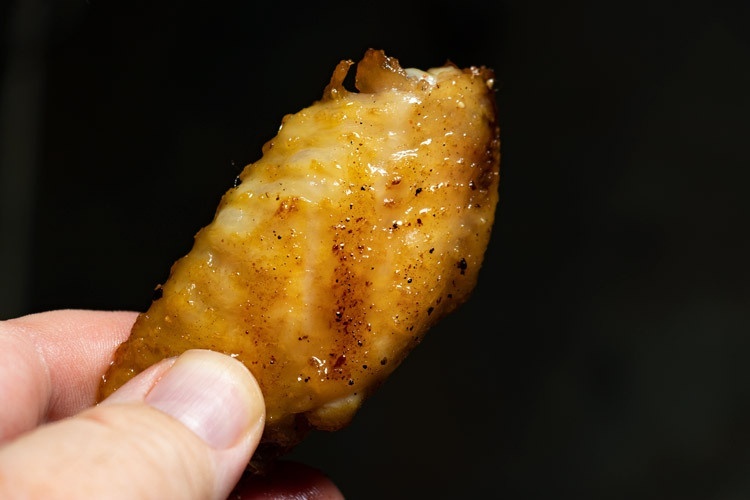 At first bite, you'll notice that these have a familiar lemon flavor but then there's something else below that. For non-gin drinkers, this "something else" is a puzzling flavor since it isn't what you'd expect and frankly it is hard to describe. What you are tasting though is the flavor from the gin. The result is some fantastic wings with a nice citrus-forward savory flavor that provides a welcome alternative the typical "hot wings" that we all know and love. This is especially true for people who are trying to reduce sodium intake as well as avoid adding gobs of fat by using dipping sauces.
These wings don't need any of that and that's a good thing for guys who want to eat a bit more healthy, without sacrificing flavor!
As a bonus though, I did some further experimentation ...
If you do miss the spicy flavor and want to kick things up a notch, sprinkle some cajun spice on the wings or even some powdered curry spice.