Las Vegas has some of the best bars and some of the best restaurants in the world but no matter how much talent and desire to be the best ... most are good at one or the other, not both. During a visit last night to Libertine Social inside of Mandalay Bay, I was treated to an experience that frankly I wasn't expecting based on the relatively unassuming entrance.
UPDATE: This post was originally written in November of 2016, shortly after it opened. However, I have been back several times (hosted and with my own dollars) and it has continued to be excellent. See below for my thoughts and photos from our Jan 2018 Chef's Table visit with Chef Jamaal Taherzadeh, 2017 winner of Food Network's Chopped!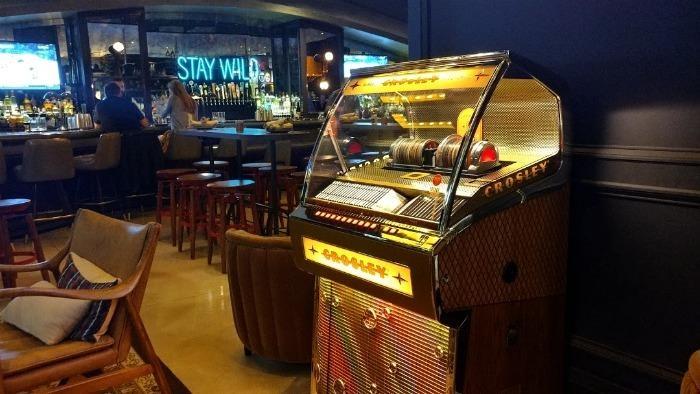 Appearances can be everything and so when I showed up at Libertine Social, I saw some tables, a jukebox and some comfy seats around a bar and prepared myself for a nice "bar food" experience. After a few minutes talking with our waiter, it was clear that this place was something special.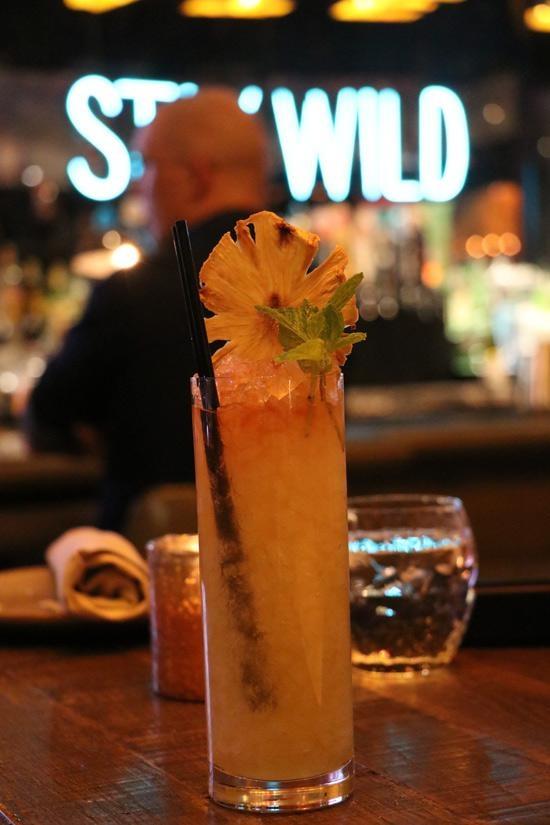 For instance - Tony Abou-Ganim not only created the cocktail program here but it is currently a location where he can actually be seen doing hands-on work several times per week. Anyone who has had a chance to meet Tony or enjoy one of the cocktails that he has created knows that he doesn't mess around. Whether that's searching for the perfect ice or egg whites, there's no facet that goes unrefined.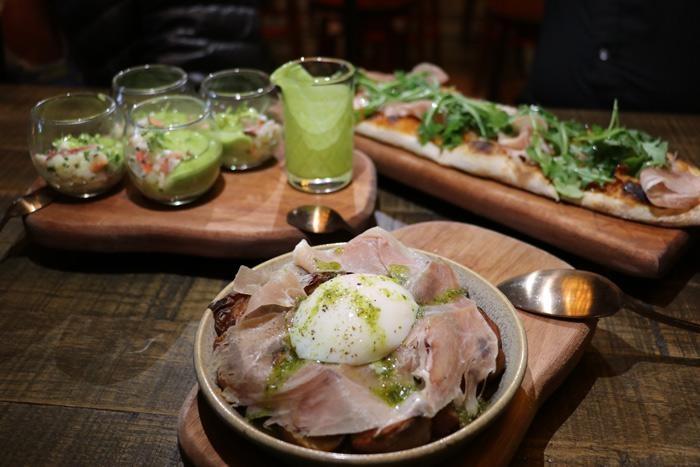 On the food side, Libertine Social features James Beard Award-winning chef Shawn McClain who has already created two of my other favorite Las Vegas eateries - FIVE50 Pizza Bar and Sage, both at Aria.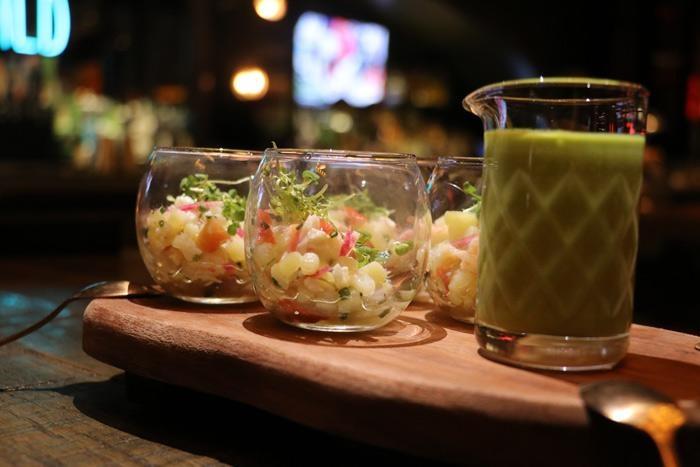 The concept here for Libertine Social is that it assists guests on their journey to embrace their deep desire to break free from a day-to-day routine and begin to play by their own rules. To that goal, both the cocktails as well as food are extremely innovative ... but still approachable. You'll find familiar items such as fresh oysters, but they are accompanied by a tequila mignonette and topped with a dollop of Tabasco gel or a King Crab Salad that comes in little cups that you pour a watercress vichyssoise into.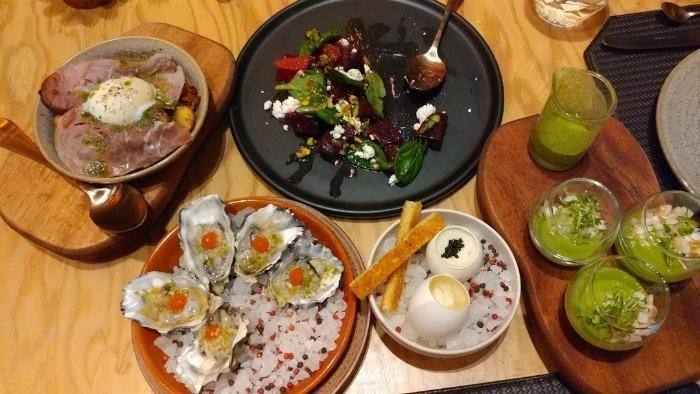 Dining is a little different here compared to other restaurants as it is truly designed to be a shared social exploration. Similar to a tasting menu, guests are encouraged to order several small plates, toasts & dips, local favorites, or flatbreads to share with the table.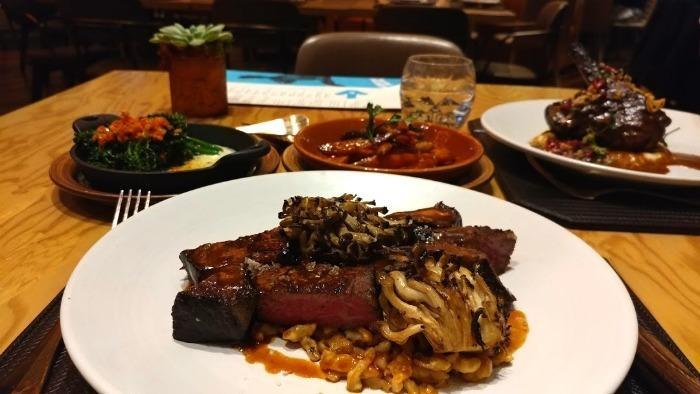 Of course, while as amazing as the cocktails and small plates are, this is a dinner after all!
While one could absolutely end the experience more than satisfied after sampling several small plates, that would be a mistake. Despite being nearly full, we forced ourselves to continue ... for science! What we foudn was like the rest of the items - simply amazing! In fact, the Wagyu Beef Shoulder with Enoki mushrooms on a bed of Spaetzle was probably the best steak I've had in a LONG TIME. Once again, it was because everything fit together masterfully. The attention to detail across not just one aspect of the dining experience, but literally every facet makes Libertine Social one that I look forward to returning to again during future visits to Las Vegas. In fact, just two days after our hosted dinner experience I went back with some friends and paid with my own money.
There's something to be said for saying great things about a fancy experience when it's free - but Libertine Social is SO GOOD that I can still enjoy it when it's my money being spent!
Libertine Social can be found on Mandalay Bay Resort's "Restaurant Row" and it is perfect for everything from cocktails to a full dinner.
Chef's Table Experience at Libertine Social
While I've enjoyed Libertine Social several times previously for cocktails as well as dinner, Mandalay Bay treated us to a chef's table experience on my latest visit.
Not only is it a table where you can get close and personal as the chef presents your meal but here, you are essentially sharing a table with the kitchen. As we went through five courses, it was an absolute pleasure watching Chef Jamaal Taherzadeh prepare a special meal that he introduced as "cooking with acid". For some chefs, a meal high in acidity would be a disaster but he was able to balance each sour note with something to balance it out such as the charcoal yogurt accompanying the Duroc Pork Kebab.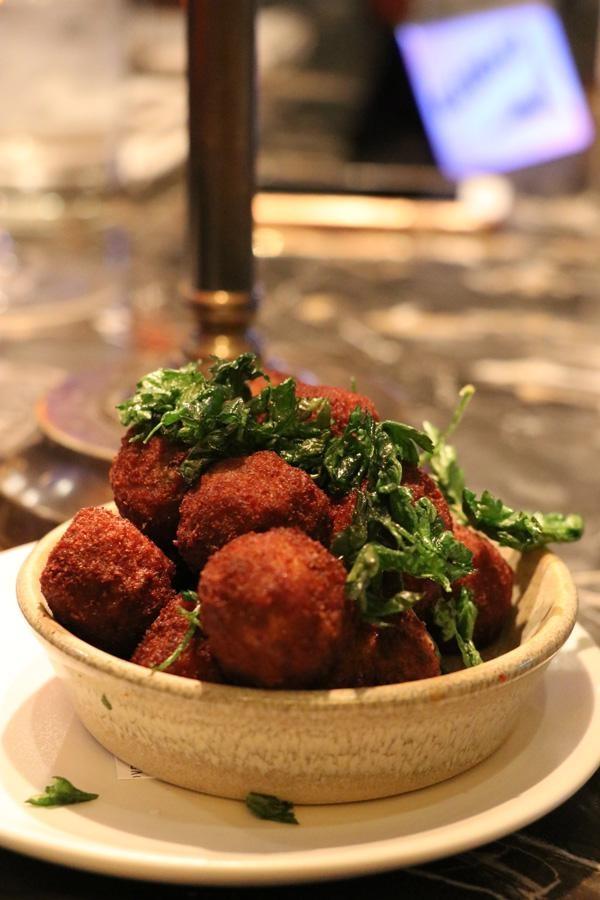 Our dinner began with appetizers in the bar area, including these Scotch Olives, which are exactly what you'd expect. Olives, wrapped in sausage and deep fried. Absolutely delicious and the perfect salty accompanyment for our drinks.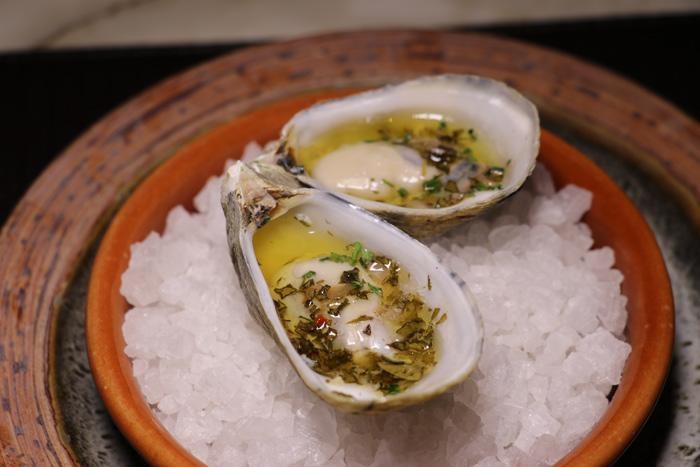 One of the things I love about Libertine Social is that they have a real grill with beautiful coals that are perfect for grilling meats. I've now learned that it is also perfect for smoking oysters like this Shigoku Oyster with Chimichurri Lemon sauce.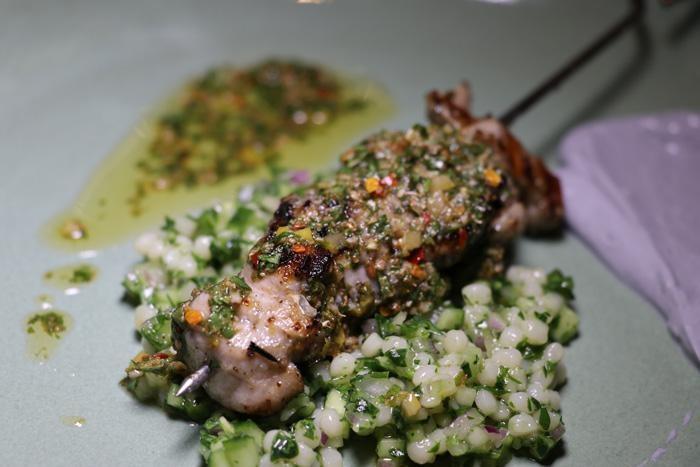 This Duroc Pork Kebab was perhaps the best thing I've eaten in a LONG time. It was simply the perfect combination of flavors with the smooth subtle flavors of the port and the tartness of the lemon and spices with a smear of purplish charcoal yogurt that balanced out the palate.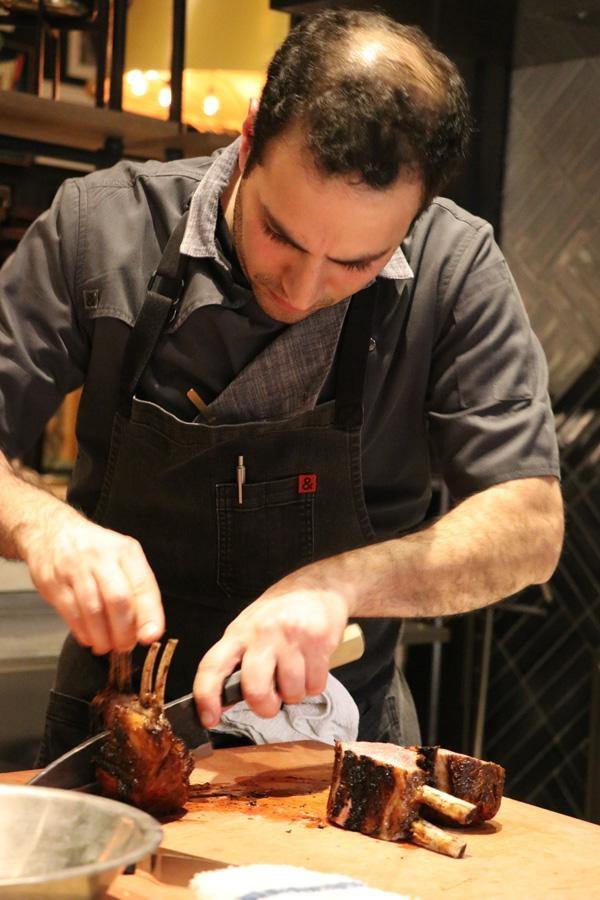 Not only was Chef able to tell us the courses, but he prepared them right in front of us.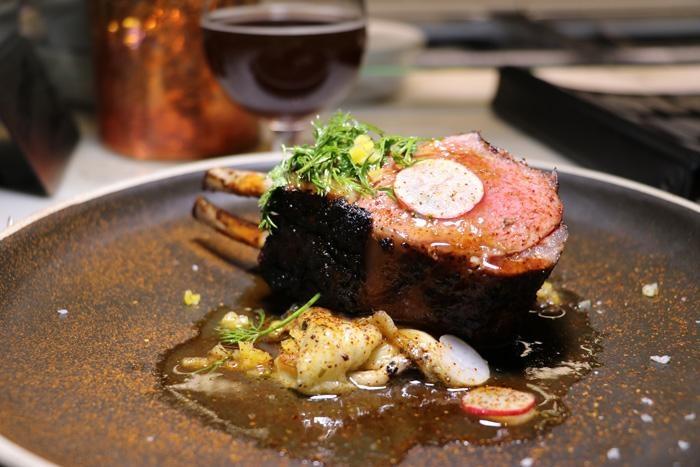 It's almost unfortuante that the pork kebab was so delicious because the lamb rack with lemon and charred eggplant was stunning as well.
Every time I visit Libertine Social, the menu is slightly different ... but it's always delicious and dare I say continues to get better with age. Often I find that's not the case and great restaurants sometimes rest on their laurels but here I feel like everyone from the Chef to the bartenders loves being part of something special ... and so do I!