One of my all time favorite comfort foods is shepherd's pie. It's easy to make and relatively easy to clean up too, plus it's cheap and very filling. The folks at Birds Eye® though asked me to check out their new Mashed Cauliflower product and see how I liked it as an alternative to mashed potatoes. Years ago when my wife suggested this I laughed - and then learned that it is super tasty, in some instances even better texture and taste than mashed potatoes themselves. So, with that in mind I decided to switch up my shepherd's pie recipe and use Birds Eye® Veggie Made™ Mashed: Original Cauliflower instead.
Nutritional Differences Between Mashed Potatoes and Cauliflower
Let's start by saying that even though potatoes have gotten a bad rep recently as people try to avoid carbs that good quality potatoes are actually pretty healthy to eat. A one-cup serving of boiled potatoes contained approximately 0.16 grams of fat, while the same serving of boiled cauliflower contains 0.56 grams. However, when it comes to calories that serving of potatoes includes 134 calories vs 28 calories - primarily due to the sugar / starch content. Both vegetables contain almost the same amount of fiber though.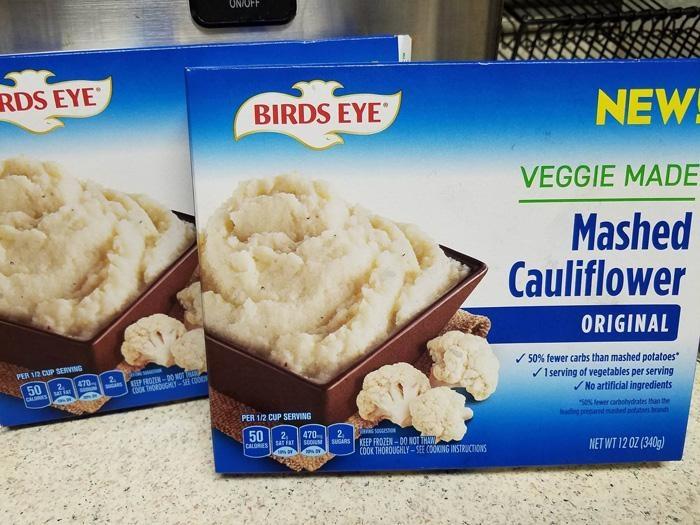 Both choices though ultimately depend on what you choose to add to them. The bottom line is that if you are looking to cut back on carbs as well as net calories, while eating more vegetables - mashed cauliflower makes a great substitute. Plus, it still tastes great and now it is easy to prepare thanks to Birds Eye® Steamfresh packaging!
Mashed Cauliflower Topped Shepherd's Pie Recipe
Let's start by saying that this is not a fancy dish. It's down home family dinner time good food quick and easy. You can very easily scale this recipe for larger occasions to. Most importantly, it tastes great and is relatively good for you too.
Ingredients:
1 pound of ground turkey
2 packages of Birds Eye® Veggie Made™ Mashed: Original Cauliflower
1 19 oz package of Birds Eye® Steamfresh Mixed Vegetables
1 26 oz can of Cream of Mushroom soup
2 tbs season salt
2 tbs garlic powder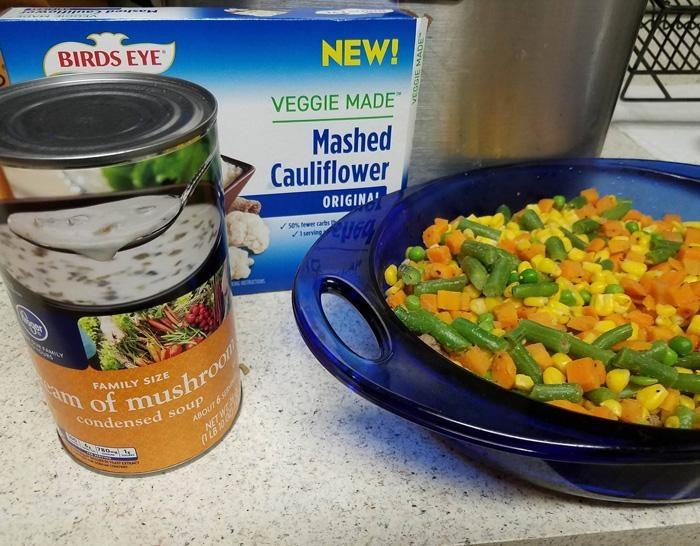 Preparation:
Pre-heat the oven to 450 while browning the meat and place on the bottom of a medium-sized oven-safe casserole dish.
Place the Birds Eye® Steamfresh Mixed Vegetables on top of the meat, sprinkle garlic poweder and season salt, then pour the mushroom soup over the vegetables. NOTE: depending on the brand of soup you use, you may need to add a small amount of water or milk in a separate bowl to allow the soup to spread easily and cover the vegetables.
Cook the Birds Eye® Veggie Made™ Mashed: Original Cauliflower according to the instructions and then spread them on top of the other ingredients in the pan.
After baking for 15 minutes, you can turn the oven to broil for 10 minutes to get a light brown crust on top.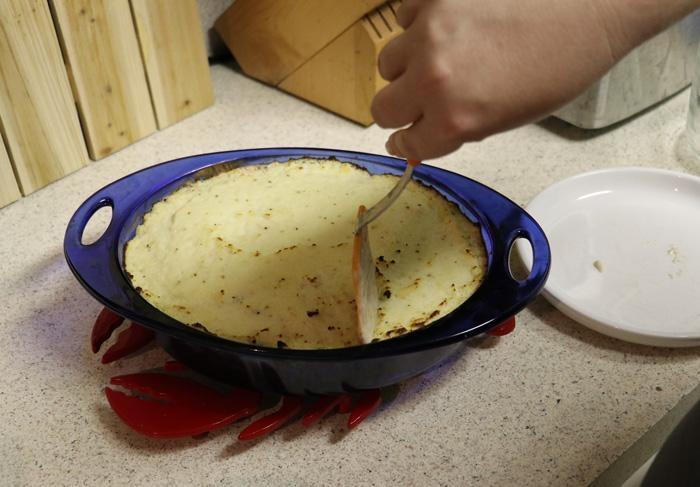 Allow the shepherd's pie to cool and set for a few minutes before serving. This allows the ingredients to re-solidify. Otherwise, it can be challenging to serve.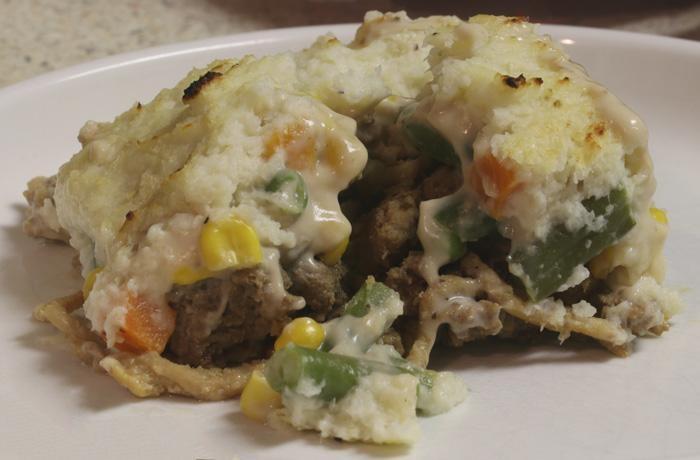 This is a super easy to make meal that is low in carbs, high in protein, contains tons of great vegetables but still tastes great.
Honestly, unless you knew specifically that it wasn't mashed potatoes, you'd never notice. However, I don't think it is fair to promote it that way. Instead of looking at Birds Eye® Veggie Made™ Mashed: Cauliflower as a "replacement", simply look at it as an alternative where you can love both at different times!