The trouble with going to other people's BBQs is that you can't be "King of the Grill" since it's their domain, but that doesn't mean you can't be king of the table and win bragging rights by having the biggest, baddest dish that everyone will be talking about next week at the office. Sure, anyone can bring "mac and cheese" ... for goodness sake, it comes in a box and even college kids can make it. Let's dress this up a bit and make something that everyone will want a piece of.
Introducing the Ultimate Mac & 11 Cheese Recipe With Jalapeno, Bacon, and Hot Dogs!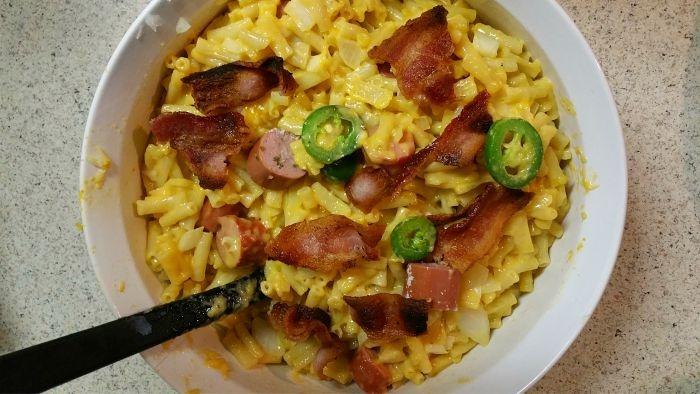 With dreams of a crazy, over the top recipe in my mind, I headed home ready to do what they said couldn't be done!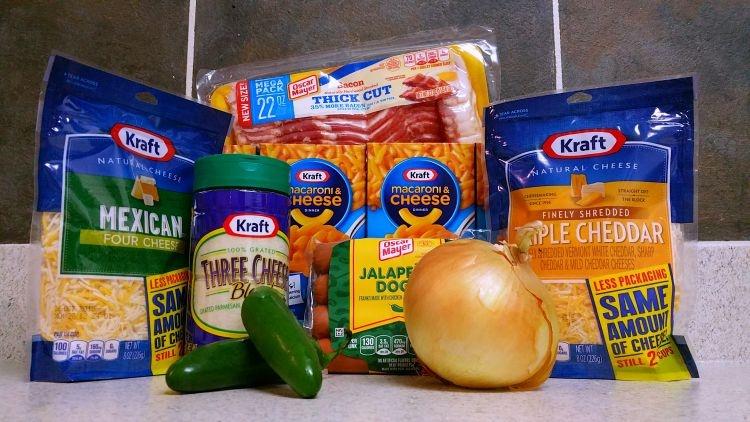 Ultimate Mac & 11 Cheese Recipe With Jalapeno, Bacon, and Hot Dogs Ingredients:
2 Boxes of Kraft Macaroni and Cheese
2 Jalapenos
1 Yellow Onion
1 Cup Kraft Mexican Four Cheese Blend
1 Cup Kraft Triple Cheddar Blend
1/2 Cup Kraft Parmesan Three Cheese Blend
4 Pieces of Oscar Mayer Thick Cut Bacon
4 Tbs Butter
1/4 Cup of Milk
4 Oscar Mayer Jalapeno Dogs
4 (or more!) Slices of Oscar Mayer Bacon to crumble on top or mix in.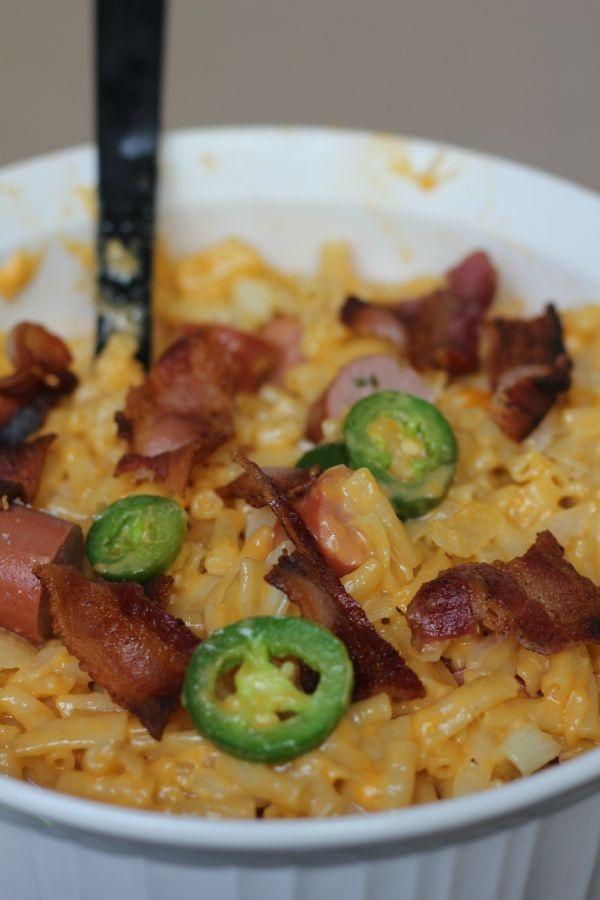 Preparation is super simple ...
In a large pot, boil the macaroni and hot dogs until the pasta is soft but not fully cooked. The pasta will continue cooking during step 3.
While pasta and hot dogs are cooking, slice the jalapenos and chop the onion into small pieces.
Once the pasta is done, drain, chop the hot dogs and return them to the pot.
Add cheese, butter, and milk. NOTE: you will have two packets of Kraft Macaroni and Cheese powder, only use one. The other you can save for something else later.
Combine all the ingredients and mix them together until cheese completely covers the noodles.
Place back in the oven at 350 for 20-30 minutes or until the onions and jalapenos are soft.
While the mac and cheese is in the oven, cool up the bacon and crumble on top before serving.
You can either serve directly from the pan or place into a serving dish and share it with the neighbors.
Hopefully, you will have as much fun making this as I did ...