Asking a chef or cook what their secret recipe is one of those things that I generally try to avoid. After all, there's always more to a great meal than simply a set of directions. That being said, after trying some of the famous Gator Gumbo at Peace River Seafood in Punta Gorda, Florida I just had to ask for the chance to share it with you guys. It's THAT good ... and what's even better is that they even have a pet alligator in the pond out back ... because of course they do, It's Florida!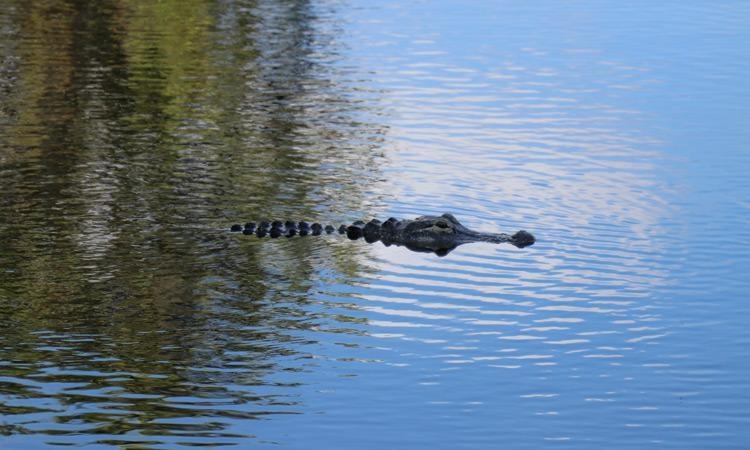 When I travel to new destinations, I usually have tons of great food but seldom to I feel compelled to return to the same place twice. Peace River Seafood though is the exception. I visited them on the first day of my visit to try their all-you-can-eat crab feast but had to go back again before I headed back to California.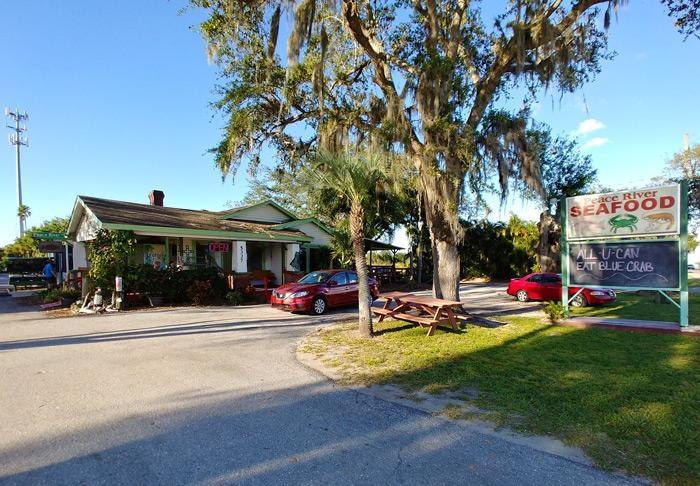 One of the things that makes Peace River Seafood so great is that it started as a wholesale seafood distributor, so everything here is FRESH and of the highest quality you can get. In 2003, Kelly Beall, wife of the owner, began serving her secret Gator Gumbo recipe on Friday afternoons under the giant oak tree. This recipe quickly became a hit and led the pair to expand the food offerings and convert the building behind the tree from a feed store, into the seafood restaurant it is today.
We were honored to have it served to us by Larry Corbin, the cook who's the genius behind the grub found here and probably the first person outside of her family that Kelly entrusted with this secret recipe.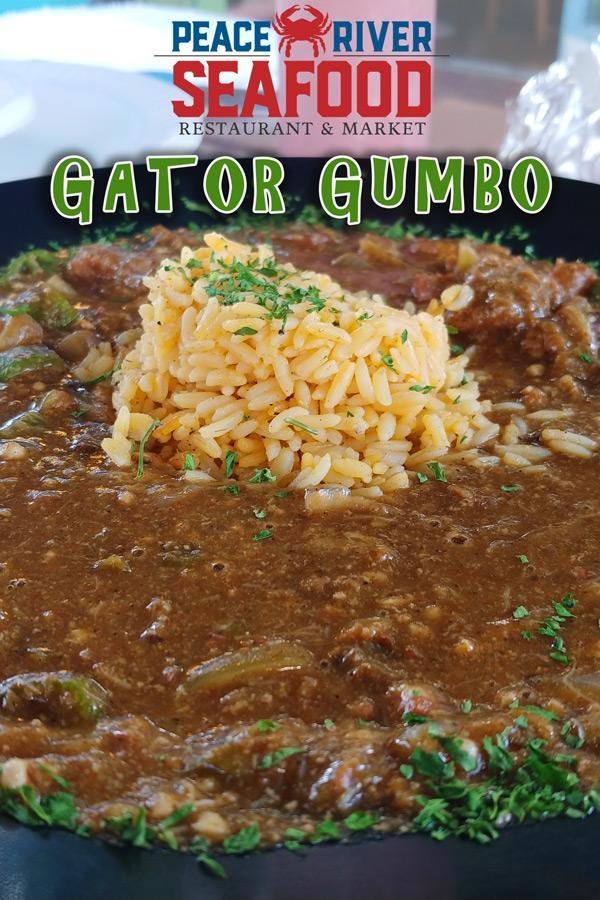 Peace River Seafood Gator Gumbo Recipe:
A good gumbo always starts with a great roux and this one uses whole wheat flour as the base. This recipe makes a serving for 10-15 people.
Making A Great Roux ...
Ingredients -
1 cup unsalted butter
1 cup whole wheat flour
2 cups chopped sweet onions
2.5 cups diced green bell peppers
1 pound andouille sausage (diced)
(to taste) - Coarse salt, freshly ground black pepper, and cayenne pepper
Process -
Melt the butter in a large stockpot over low heat.
Add flour and whisk constantly to a smooth consistency. Continue till the mixture is the color of a penny.
Stir in the onions, peppers, and sausage then season to taste.
Let the roux cool to room temperature, cover, and refrigerate till ready to use.
Making The Gator Gumbo ...
Ingredients -
3 pounds of gator, cut into 1-inch cubes
1 bay leaf
1/4 cup chopped celery leaves
1 tbs fresh thyme
1/4 cup coarsely ground black pepper
1/4 cup salt
2 tbsp cayenne pepper
2 tbsp minced garlic
1 pound of shrimp (peeled, deveined, and chopped small)
1/2 pound crab meat (lump or claw)
1/2 cup chicken stock
3 tbsp tomato paste (to taste)
2 cups sliced okra
Process -
Place the alligator in a pot or slow cooker and cover with water 2-inches above the meat.
Add bay leaf, celery leaves, thyme, pepper, salt, cayenne, and garlic.
Cook covered on low for 4 hours or until the gator is tender enough to break apart with a fork.
Stir in the shrimp and crab and cook for about 10 minutes.
Remove the gator, shrimp, a crab and place into the cold roux along with chicken stock and stir till well mixed.
Add the liquid from the slow cooker, tomato paste, and okra and cook until okra is tender.
Depending on preference you can add additional chicken stock.
Serve in a big bowl with scoop of rice.