One of my favorite things about visiting Las Vegas is the food scene. There's always something new and fun popping up and because of the competition, innovation is constant. On this most recent trip, we were invited to check out Rice & Company, a pan-Asian restaurant located right between Blue Man Group and Carrot Top's theaters inside of the Luxor resort at the south end of the strip. It's the perfect spot for pre/post show drinks as well as a complete dinner to keep you going all night long.
While not the fanciest or newest property, Luxor has a special place in my heart. It's one of the first properties I ever stayed at in Vegas and because despite it's age - it is still a fun place to visit. While I enjoy the chic luxury at Aria and Caesars Palace as well, Luxor always has music videos on big screens in the lobby and fun music from the 70's, 80's and 90's pumping throughout the property. There's no pretense here - just people who want to enjoy Vegas for what it is.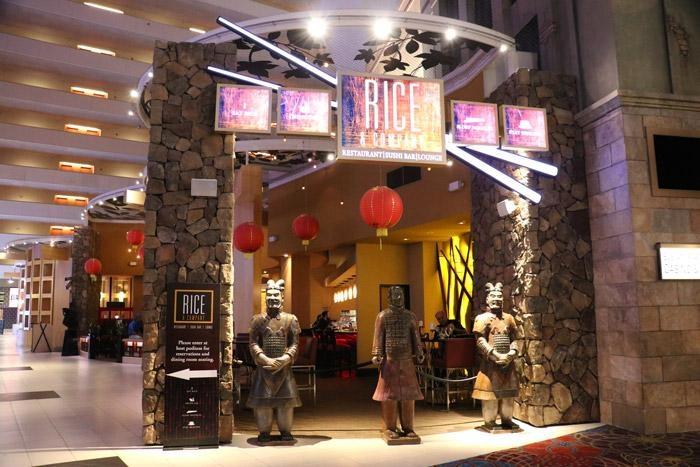 This "fun" atmosphere continues to Rice & Company where even if you aren't a "sushi person", I'm sure you'll find something you like here. The menu has a solid selection of rolls that while innovative - aren't confusing with weird fish names that would be familiar only to sushi aficionados. Instead, you have fun names like Chop Chop, Bang Bang and Sexy Lady as well as mainstays like California Roll. That isn't to say that the sushi rolles aren't high quality and delicious - just that it's great to look at a menu and know that anything you pick is going to be good.
Beyond the sushi menu, you'll find all of your standard Asian favorites from Chicken Lo Mein and Pad Thai to Sweet & Sour Chicken, Beef & Broccoli, and Mongolian Beef too.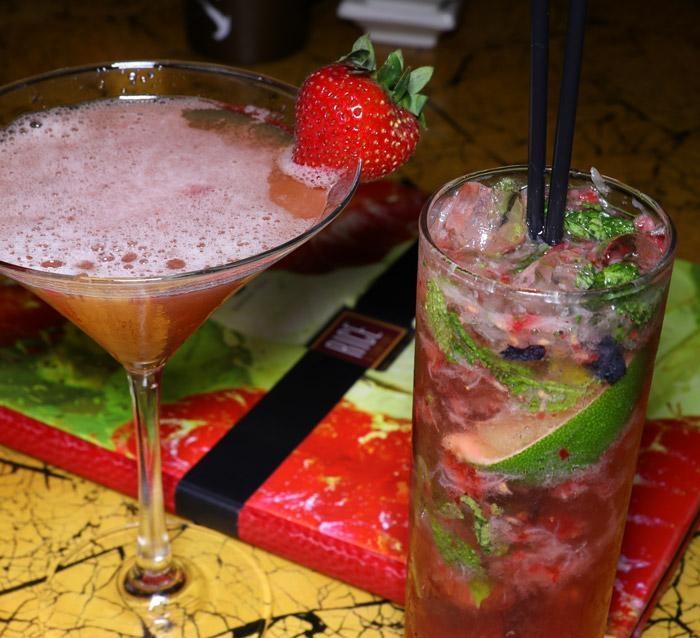 Our dinner at Rice & Company started with a selection of cocktails from their menu including the Haiku Mojito (Skyy Infusions Dragon Fruit, fresh kiwi, fresh strawberry, mojito mint syrup, fresh lime juice, and Sierra Mist) as well as the Rice & Co Dragon Martini (Skyy Wild Strawberry Vodka, muddled strawberries, lemonade, Sierra Mist, and cranberry juice). Over the course of the night, we enjoyed several more cocktails from the menu including their Wasabi Martini (Absolut Vodka, fresh cucumber puree, cucumber infused simple syrup, wasabi, and sweet & sour) as well as the Ginger Ninja Martini (Absolut Berri Acai Vodka, fresh lemon juice, ginger syrup, fresh blueberries, and wild berry puree).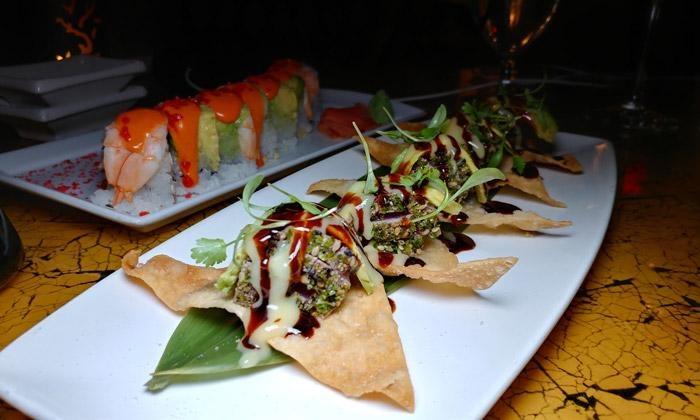 Since it's Vegas, we dediced to roll the dice and asked the chef to prepare his favorite dishes for us. So we started out with two appetizers - Chop Chop, Bang Bang sushi roll (blue crab, cucumber, tempura crunch, shrimp, avocado, and pop rocks with a spicy mayo), and Seared Ahi Tuna, with avocado, topped with miso lime sauce served on a fried wonton chip.
The sushi was absolutely my favorite item of the evening since it not only tasted GREAT but the addition of pop rocks added a totally unexpected dimension to the experience.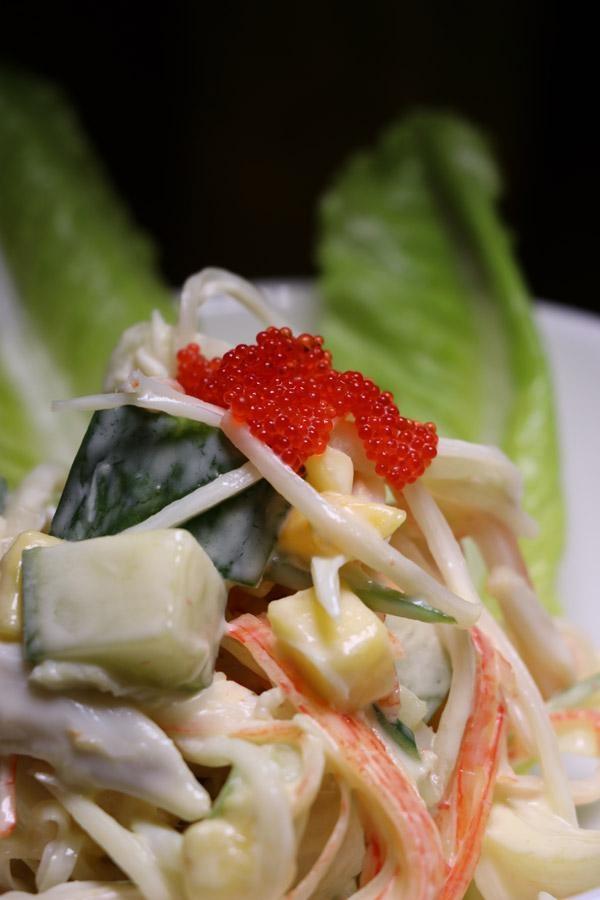 Following the sushi, we were brough the Crab Mango Cucubmber salad. Honestly, these are three flavors that I would never have chosen to combine but it worked extremely well and looked great too.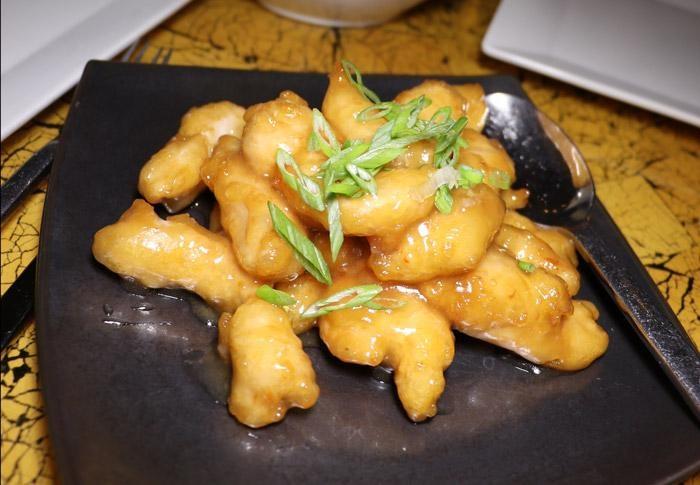 Next, we tried the Honey Crispy Chicken and it was also delicious.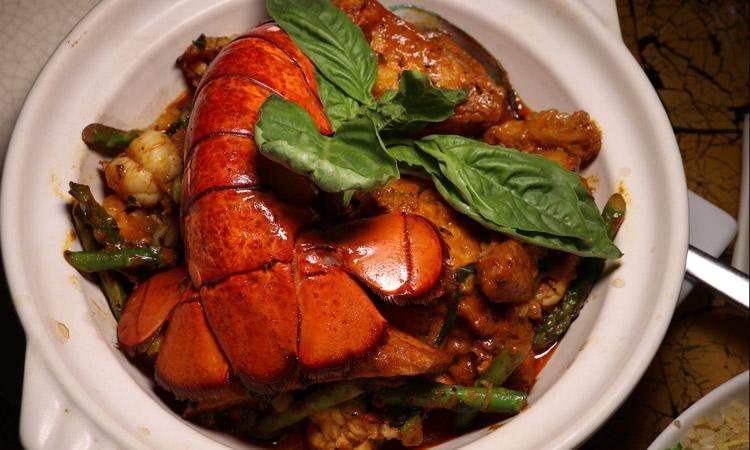 For our main entree, we split the Seafood Clay Pot. This is a huge dish designed to be shared and included: a lobster tail, shrimp, white fish, scallops, mussels, asparagus, bunashimeji mushrooms, fried tofu, iceberg lettuce, served in red curry coconut sauce. When I visit restaurants, I often order dishes like this since you can pretty much guarantee if the kitchen can get all of the seafood items cooked just right with a proper balance of flavors, then they can pretty much do anything.
Thankfully they did a fantastic job on this and all of the various elements were perfectly cooked and while I might have prefered it to be a bit spicier, it was perfect.
Aditionally, as someone who normally loves soy sauce, one of the greatest things I can say is that none of the menu items needed it!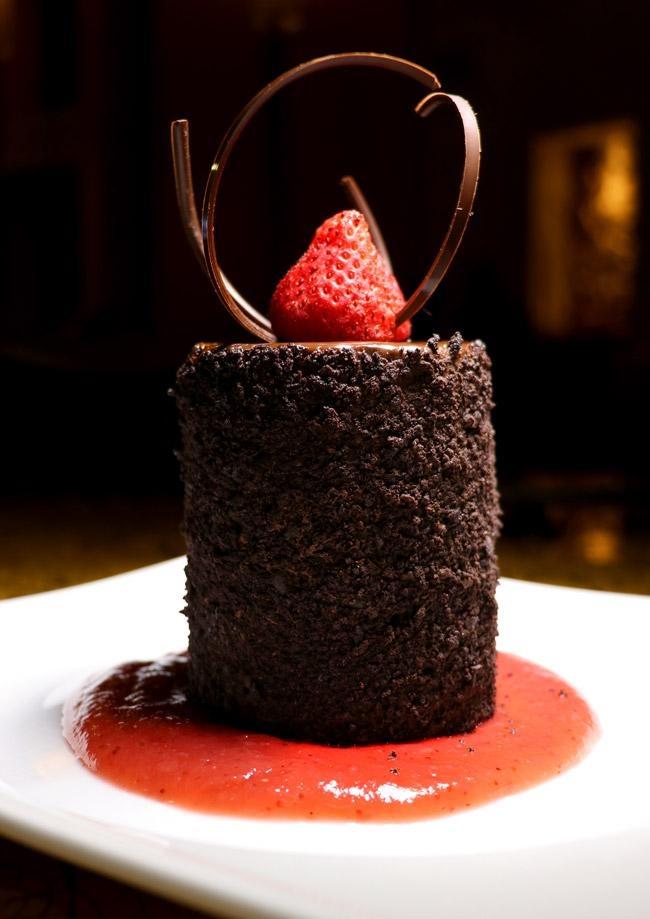 Of course, no dinner would be complete without desert and despite our protests, the chef insisted that we try the Godzilla Chocolate Cake. This is a seven-layer chocolate cake with layers of fudge and cake stacked high and topped with a strawberry on top. It was absolutely delicious and just the right size to share.
Rice & Company is absolutely a restaurant I look forward to returning to for cocktails and sushi before a show at some point. With it's central location, Rice & Company is perfect for a quick bite befor a show and Luxor offers entertainment packages designed just for that.