This dinner is a classic Jewish dinner that would be appropriate for any number of holidays. However, I decided to prepare it last night in honor of Hanukkah even though I'm not Jewish or even particularly religious. Why? Because Beef Brisket, Latkes, Chollar Bread, and Matzo Ball Soup are all among my favorite treats and I love switching up my menu to try different recipes in my own kitchen.
In San Diego, I found that getting a beef brisket was extremely difficult. In fact, when I asked the butcher at my local grocery store he pointed me to the corned beef. While that is technically a beef brisket it is NOT the same. What I found was that Ralph's in La Jolla, California has an AMAZING "Kosher Experience" section of the store with everything you could possibly want when it comes to Jewish food from chocolates and Kosher wines to a deli, bakery, and a guy taking orders for Kosher brisket. However, I don't know that you'd be able to get one outside of various Jewish holidays since it was a reservation list.
Luckily, I managed to secure my brisket and it was a very fine piece of meat. While this recipe is NOT Kosher, I really respect Kosher butcher practices and when possible I like to have my meat processed this way. In general, it is nice to know that the person handling and making my food cares about what they are doing and treats it with respect as opposed to it simply being an industrial product that needs to ship to the store shelves.
Kosher Markets, Butchers, and Bakeries In San Diego:
Ralph's Kosher Experience, La Jolla
Normally when creating a meal like this, I'd want to go all the way and do as much as I could from scratch. However, thanks to Manischewitz I decided to cheat on the latkes and matzo ball soup.
So, armed with my beef brisket and a basket full of latke mix, matzo crackers, matzo ball soup mix, and a beautiful loaf of Challah bread, it was time to head home and prepare dinner!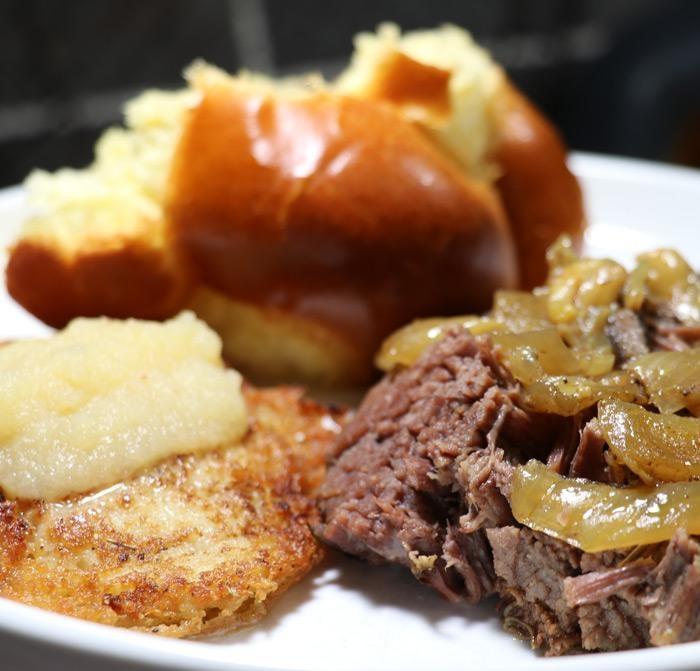 Slow Cooker Beef Brisket Recipe
This Slow Cooker Beef Brisket recipe is extremely simple to make and easy to clean up too. All you need is a cutting board, a slow cooker, and a pan for browning the brisket.
Ingredients:
4-pound beef brisket (I prefer point cut because it is fattier and more flavorful, plus cheaper)
1 teaspoon of Paprika
1 teaspoon of Turmeric
3 tablespoons Minced Garlic
2-3 Vidalia Onions
1 bottle of Red Wine (half for the brisket and half for you!)
15 oz of Chicken Broth
Coarse Ground Black Pepper
Season Salt
Avocado Oil for pan
Preparation:
Chop onions and place into the slow cooker and turn on to high.
Add Paprika, Turmeric, and Minced Garlic to the pot as well.
On medium-high heat add Avocado Oil to large frying pan. (I prefer Avocado Oil since it has a high smoke point and won't burn) Place beef brisket in pan and sear / brown all sides. When finished, you shouldn't see any pink or red and there should be a light brown crust on certain parts. This adds significant amounts of flavor and helps to seal the juices in the brisket.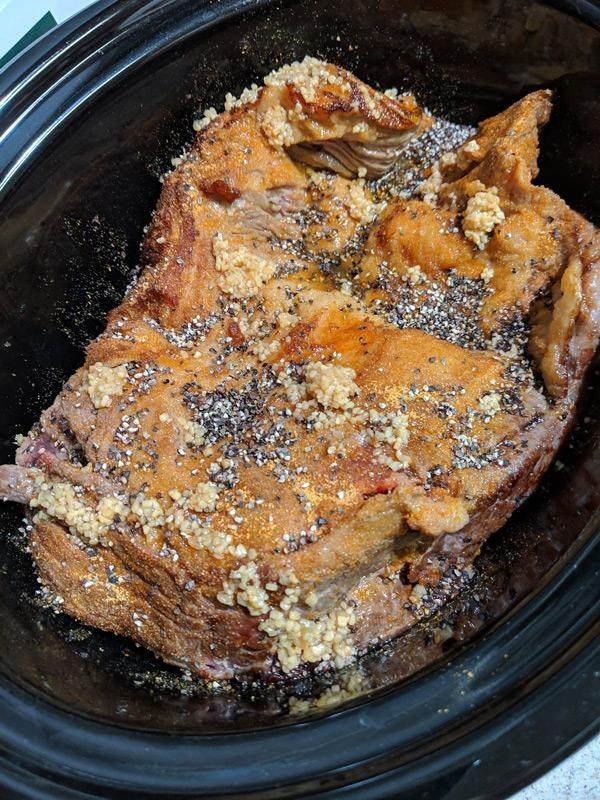 Add the brisket to the slow cooker, sprinkle all sides generously with Season Salt and Coarse Ground Black Pepper, then pour any excess oil remaining in the pan over the meat.
Add Chicken Broth and Red Wine and cook on high heat for one hour. After one hour, turn the heat to low and continue cooking for approximately eight hours (9 hours total cooking time).
Test the meat and ensure that it is fork tender and pulls apart easily. This should happen around 9 hours but there might be variations.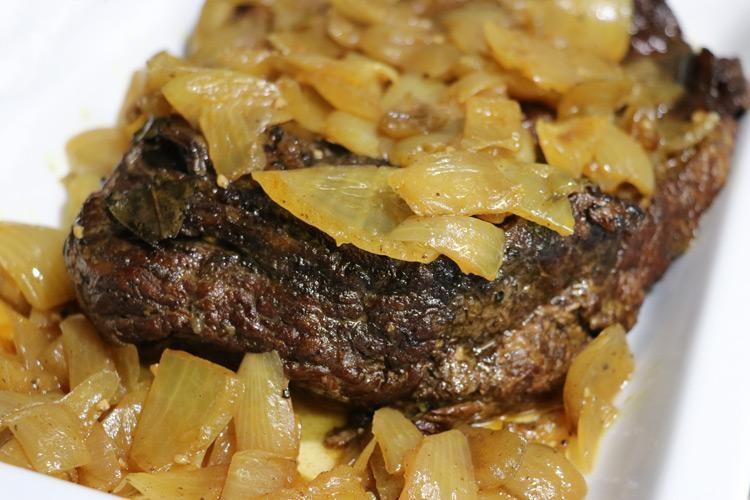 When your Slow Cooker Beef Brisket is ready, remove from the pot and place on a serving dish to rest for 15-20 minutes. While it is resting, this is when I start cooking the latkes so that they are hot and delicious when you are ready to serve the brisket!
When you serve the brisket, make sure to cut against the grain of the meat. The Flat Cut of Brisket makes this much easier and much prettier since it is easy to produce nice clean cuts. However, I prefer the fattier and more flavorful Point Cut of Brisket. The downside of this is that you will get smaller "chunk" slices instead of nice clean strips.
Make sure to serve with plenty of onions and enjoy!