There's something special about southern cooking. It's a craft that has been honed by generations and has a unique sophistication that really isn't based on "price" but rather simply a love for flavors and textures that transcend economic divides. When I lived in North Carolina, food was a celebration and "Sunday Dinner" represented a time when friends, family, and neighbors would gather at my friend's grandmother's house for stories, drinks, and meals that I still remember today. That's the magic Southern Cooking and Yardbird Las Vegas has taken that experience and elevated it to a level that is sophisticated - but still approachable.
Yardbird Las Vegas is located in the Venetian Resort along "Restaurant Row" and makes a great place to stop in for appetizers and drinks or a full meal like we did when they invited us to visit them for Thanksgiving dinner.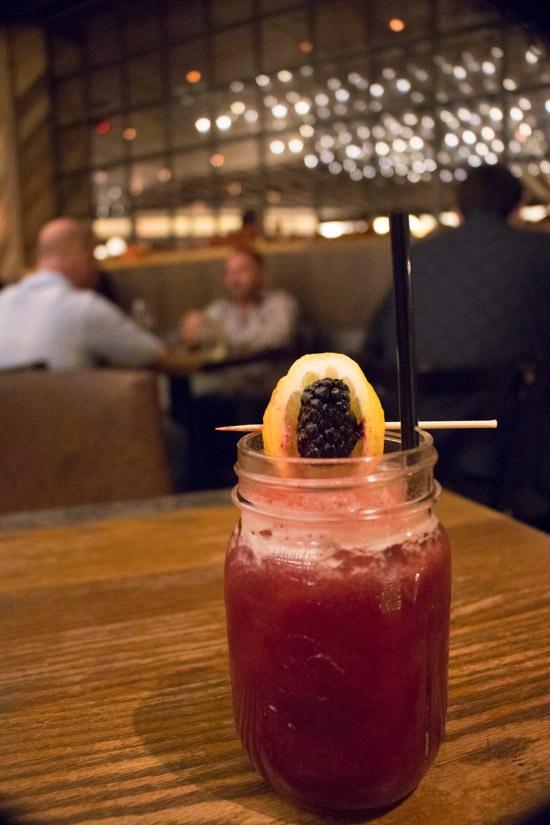 Let's start with a cocktail - they have a fantastic selection of whiskey cocktails such as this blackberry lemonade and everyone of them that I tried was absolutely delicious. In addition to "southern" drinks, they of course have all of your classic favorites as well.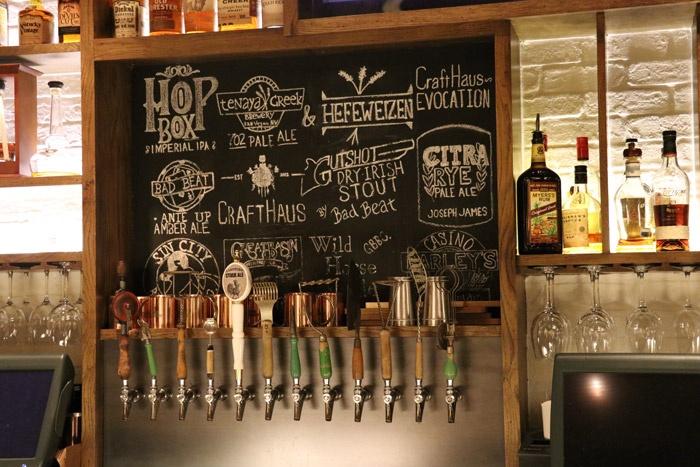 However, what I found possibly most impressive about the bar selection was that they actually have a great selection of craft beers on tap. Not just craft beers with national distribution either ... but actually Vegas and Nevada favorites from breweries including Tenaya Creek, Great Basin Brewing, and Sin City Beer. While others on the strip are slowing catching up to the desire to drink more than Coors, Bud, and Miller - most restaurants still focus on mass-market craft beers. However, Yardbird has really made an effort to bring the best of Nevada to their patrons. Even more than that, they are actively involved with local breweries to create collaborations that are unique to the restaurant.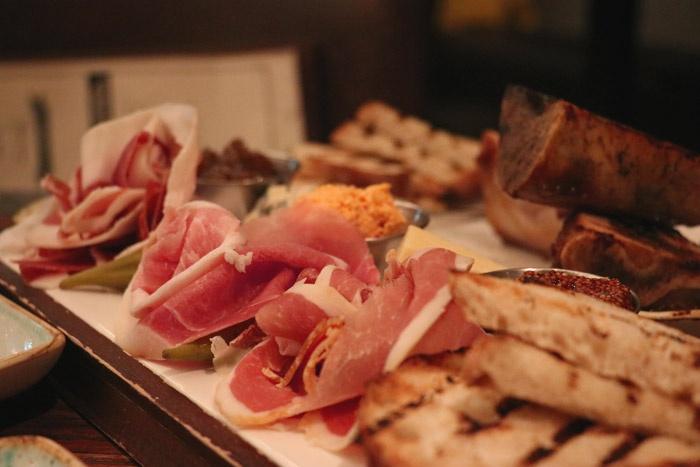 Our meal started out with a selection of appetizers including a characterize platter - complete with pimento cheese!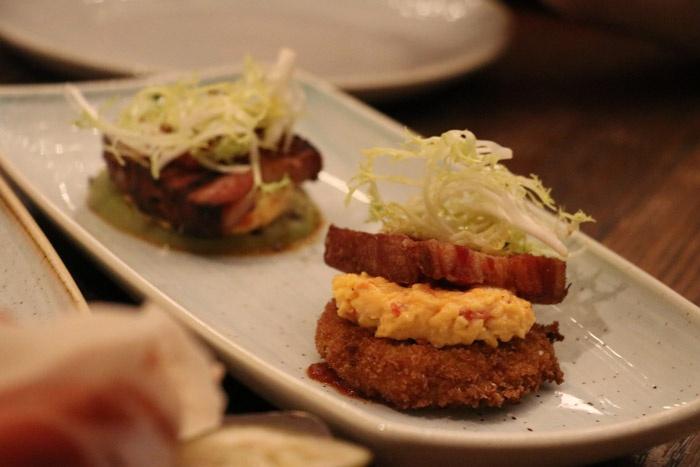 Here's where we started to get "Southern Cooking Elevated" ... everyone knows that fried green tomatoes are a Southern delicacy but frankly they are sort of plane for a fancy restaurant. So, Yardbird's solution is to take this classic dish and pile on pimento cheese and a big piece of pork belly with some lettuce to create a BLT complete with smoky tomato jam.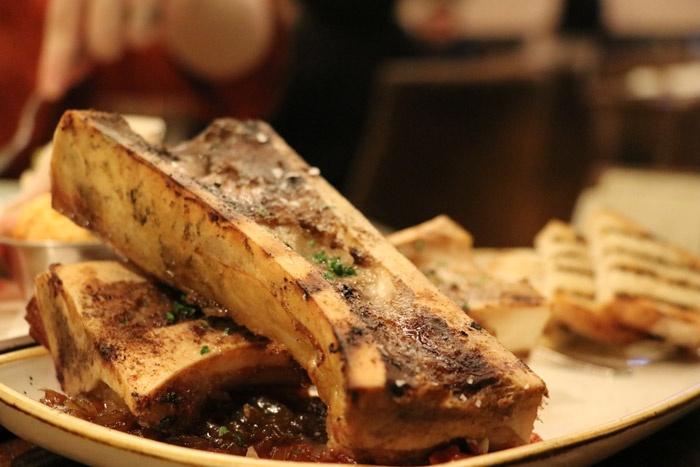 Next up was the smoked and roasted bone marrow, which by itself was stunningly delicious. However, not to be content with simply leaving the bones alone after eating the marrow, the manager suggested I try a "Bone Marrow Whisky Luge" and brought over some bourbon to try it with.
Sadly I sacrificed my shirt to the food gods that night as it isn't the most elegant things to do but OMG it was an amazing experience. Again though, food is about having fun, socializing, and sharing your zest for live with friends and how often can you drink bourbon out of a cow bone? I could have stopped here and had a great night ... but there was more to come!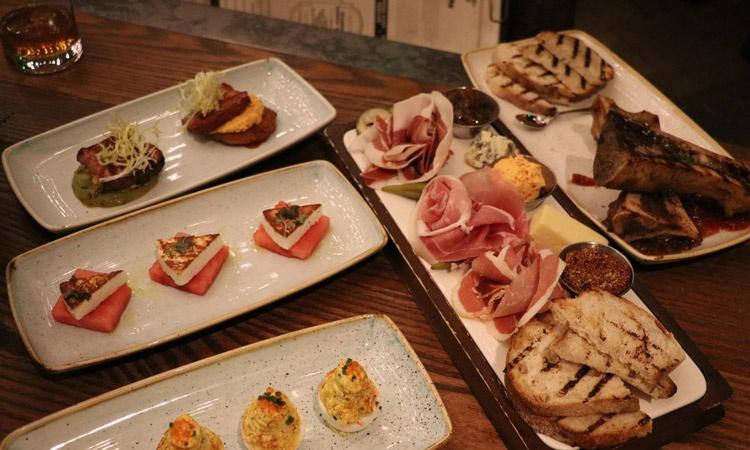 We had a wide variety of other small plates including deviled eggs and watermelon topped with warm farmer's cheese. Everything was incredible and imaginative with a clear Southern legacy combined with an innovative spirit that still respected the core essence of the authentic experience.
To say that Yardbird is famous for their friend chicken would be an understatement. However, after trying it I can understand that it isn't just hybperbole. While we didn't try their classic recipe, we did sample the gluten free version and it was absolutly phenominal. The meat was juicy and perfectly cooked and the skin was similarly crispy without being greasy. I can't wait to go back and check out the Chicken 'n Watermelon 'n Waffles next time - complete with honey hot sauce, chillded spiced watermelon, and a Vermont cheddar cheese waffle with bourbon maple syrup.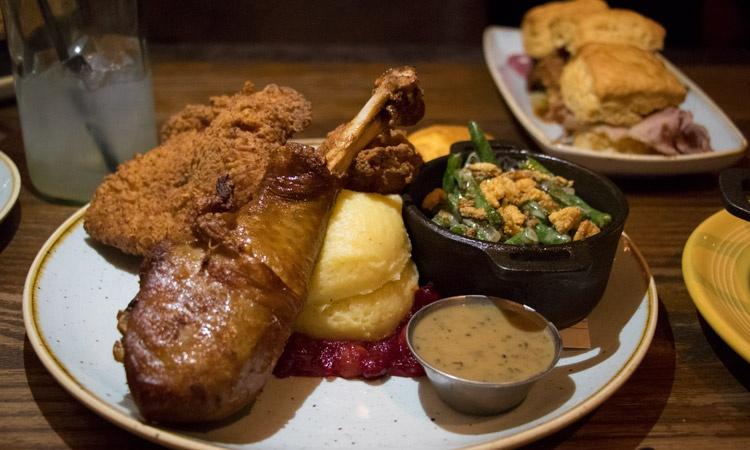 Since we visited on Thanksgiving, I had to go for a Southern-style thanksgiving feast. Anyone who knows the south, knows that fried turkey is somewhat of a staple here and so I picked a plate featuring a gigantic fried turkey leg with chicken-fried turkey breast with cauliflower mash and green bean casserole.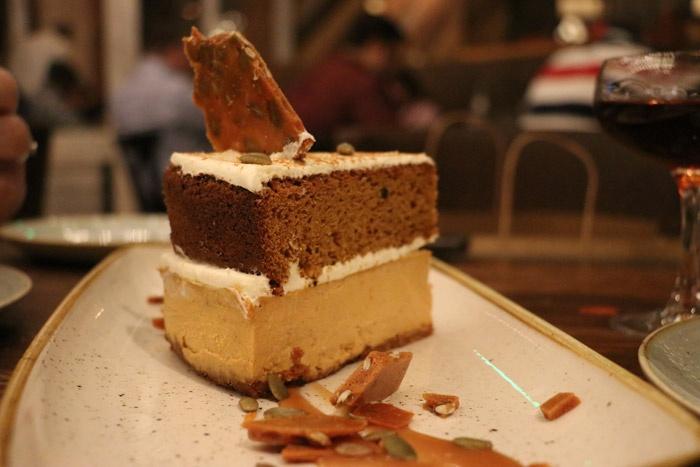 Dessert too was over-the-top delicious and included this Pumpkin Cheesecake complete with a rum-soaked pumpkin cake sitting on top of a cream cheese mouse and topped with pumpkin seed brittle.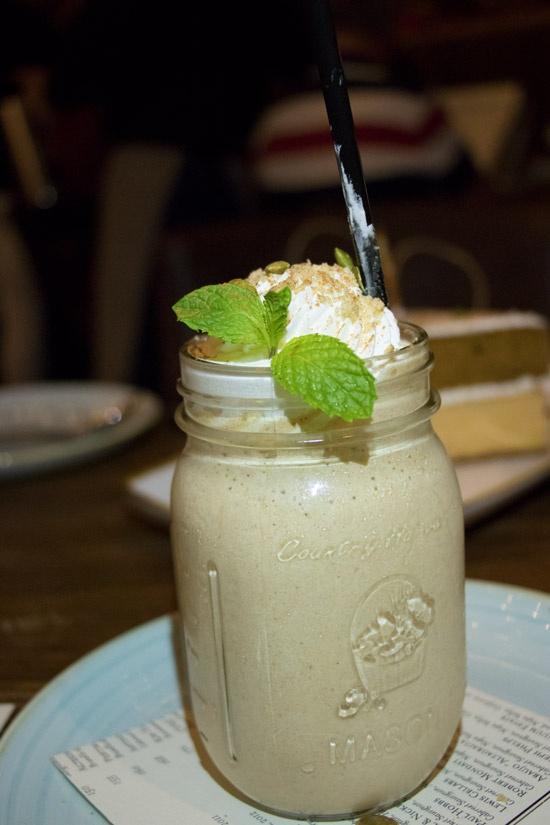 We also tried the pumpkin pie milkshake and parfait.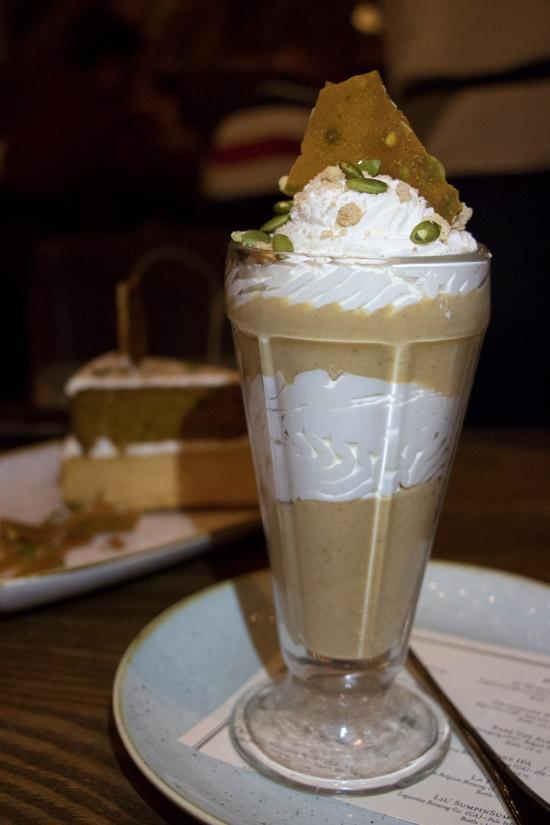 Honestly, everything was absolutely delicious here and in an era where Vegas has seen an explosion of FANCY restaurants where you aren't sure what you are eating, it is refreshing to see a place like Yardbird that is every bit as sophisticated but still feels warm and welcoming. I can't wait to return again soon!