It's national grilled cheese month and I still have some corned beef brisket left in the fridge since St Patrick's Day and I was looking for something special to make with them that was different than the corned beef and cabbage I've already had a few times. Instead, I decided to make an ULTIMATE grilled corned beef and havarti grilled cheese sandwich.
I like to use Rumiano organic cheese because it tastes great and is is certified "humane", certified organic by USDA, and certified Non-GMO. While it is more expensive than other cheese brands, what's a few extra dollars when you can trust that it is a better product?
If you want to check this cheese out, they have a store locator on their website. I found the cheese at my local Vons Pavilion here in San Diego in the deli section.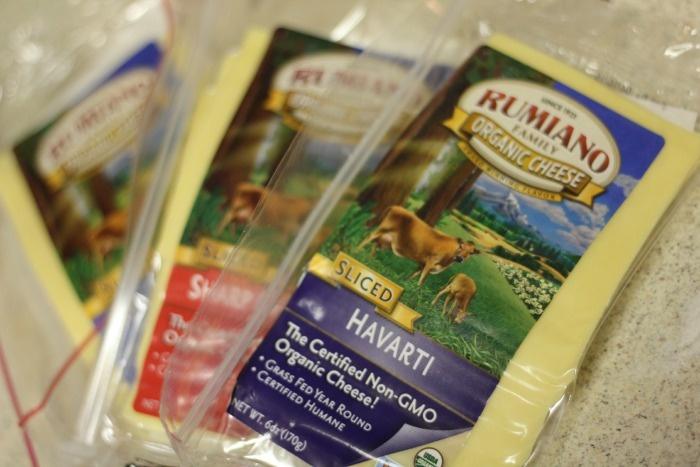 Corned Beef Grilled Cheese Recipe:
Ingredients:
"Take and Bake" Rolls
2 Rumiano Havarti Slices
2 slices of Corned Beef Brisket
Butter
Horseradish Coarse-ground mustard
Directions:
Pre-heat a large skillet or fry pan to medium. Be careful not to make it too hot or you will burn the butter.
Slice 2-3 medium/thin slices of corned beef brisket and place in the pan to heat and then flip after it starts to fry.
Cut the rolls and place inside down on the hot pan with a tab of butter under each side to brown.
After a few moments (will depend on your preferences and the actual heat of your pan) you will want to flip the bread on to it's back and place the brisket slices on the bread with a slice of havarti on top and cover for a moment to fully melt the cheese.
Combine the sandwich sides and add press down to create a panini press like pressure with a metal spatula and flip so both sides are equally browned.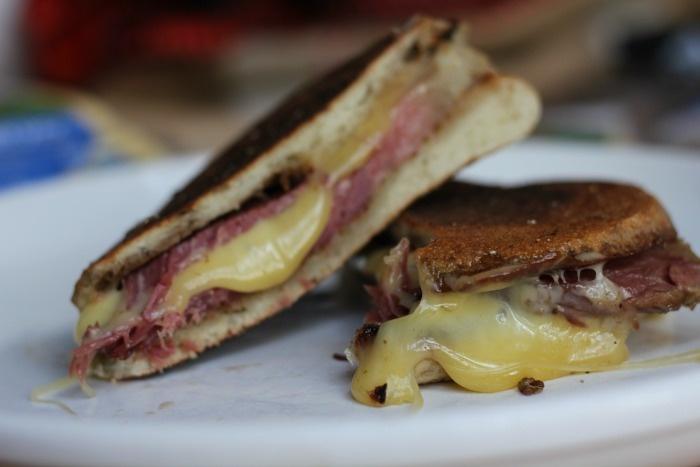 Your sandwich should be ooey gooey like this with slightly crispy corned beef and gently browned bread.
Serve with a glass of milk and some horseradish mustard.