This evening, the air is cold and blowing a through a sky broken by large clouds. Inside, my fireplace and kitchen stove churn with heat enough to warm my home, but I'm left wanting warmth that only comfort food can provide – and well, a comforting drink too.
As we continue with our fall cocktail series, we turn our attention to bourbon, the uniquely American whiskey that falls on the sweeter end of the spectrum, and plays well within our scene of comfort, chilly nights, and mixology.
With a charming mélange of heat, sweetness, and complexity, bourbon begins with a new, charred, white oak barrel in which it is aged for a minimum of 2 years. By law bourbon is made with wheat or rye, but must be made with at least 51 percent corn, from which it gets its sweetness. The only other additive permitted is water. Despite this strict regiment, we see an amazing spectrum of notes in bourbon, across a healthy and growing list of distillers.
While Knob Creek and Buffalo Trace have gotten a lot of buzz in recent years, I wanted to highlight another well-known bourbon - Wild Turkey, which scores 91 points according to Winemag.com, just a point shy of Knob Creek.
Because Wild Turkey comes out of the barrel at 109 degrees Fahrenheit, less water is needed to proof it correctly, allowing for its true characteristics to show in each sip. Hints of vanilla, caramel, honey, and oranges make it ideal for fall mixing. That said, here are just a few bourbon-centric recipes for you to consider this season:
Winter Bourbon Cocktail Recipes: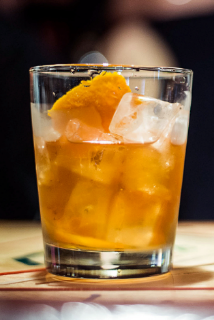 Fig Fling
1-1/2 oz. Wild Turkey® 81 Bourbon
1 tablespoon fig jam
1/4 oz. orange liqueur
1/2 oz. fresh lemon juice
Combine all ingredients in a cocktail shaker with ice. Shake and strain into a rocks glass over fresh ice. Garnish with an orange peel.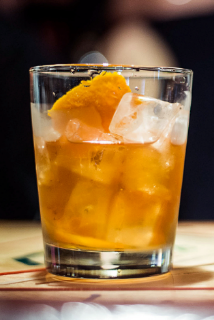 Bourbon Lift
1 1/2 oz. Wild Turkey® 101 Bourbon
1/2 oz. orgeat syrup
1/2 oz. coffee Liqueur
1 oz. heavy cream
1 egg white
Splash of soda water
Add first 5 ingredients to shaker and shake without ice to emulsify. Then add ice and shake again. Strain into highball glass and top with soda water. Garnish with grated nutmeg.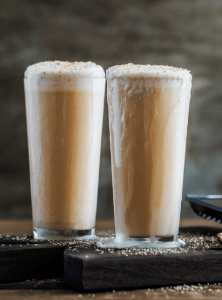 Hot Toddy
8 parts Wild Turkey® 101 Bourbon
16 parts Hot Water
3 parts Honey
3 parts Fresh Squeezed Lemon Juice
Combine all ingredients into a heat resistant batch vessel like a kettle or pot. Keep warm and serve in mugs. Garnish with lemon wheel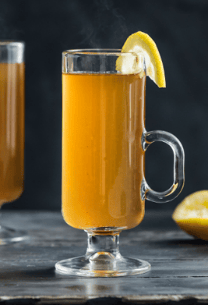 Chai, Spice and Everything Nice
1-1/2 oz. Wild Turkey® 81 Bourbon
1/2 oz. cinnamon syrup*
3/4 oz. chai infused sherry*
3/4 oz. fresh squeezed lemon juice
Dash of cardamom bitters

Combine all ingredients in shaker with ice. Shake, and strain over ice into rocks glass. Garnish with grated cinnamon and orange slice.