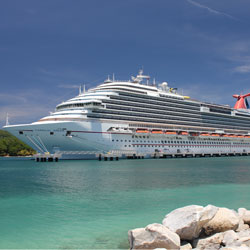 Over the past year, Heather and I have caught the cruising bug. It started out simply as a cheap way to get away for a few days without the distraction of email and mobile phones, but it has now become something that we actually enjoy.
As we have progressed from "let's just cruise" to "let's have a great time" there are a few things that we have wanted to try out but had been focused only on budget. When we booked on the Dream, we got the opportunity to upgrade our rooms to the Cloud 9 Spa deck ...
I enjoy spas but I am far from a spa nut - Heather on the other hand loves spas and being taken care of (as do most women I have found). So this opportunity to see what Carnival could offer with their Cloud 9 Spa was a great opportunity to take our cruise experience to the next level. Cloud 9 is a 40,000 sq ft, two level spa that contains pretty much any type of facility you can imagine.
This cruise was on the Carnival Dream out of Port Canaveral Florida. I'll be doing a full review of the Dream in another article. However, the Dream is one of three sisters that are the largest in the Carnival fleet. On our cruise, there were 4,200 passengers so it was VERY NICE to have our own space to relax!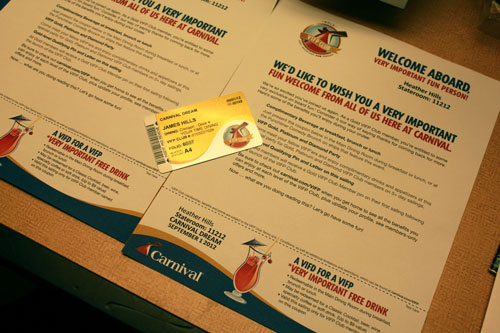 Heather and I are back to Gold left again! Under Carnival's new VIFP program that means (among other benefits) we now get a free drink at breakfast or lunch in the Main Dining Room.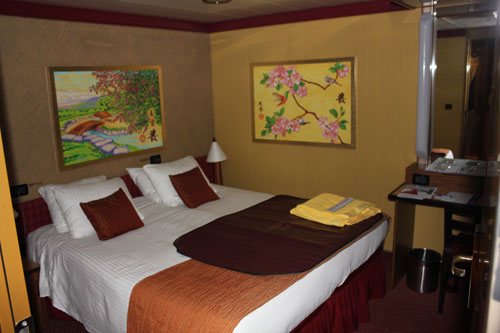 As you can see, the room (inside cabin 11212) is pretty standard except we have yellow beach towels and the artwork seems to be upgraded compared to what we have seen on other ships.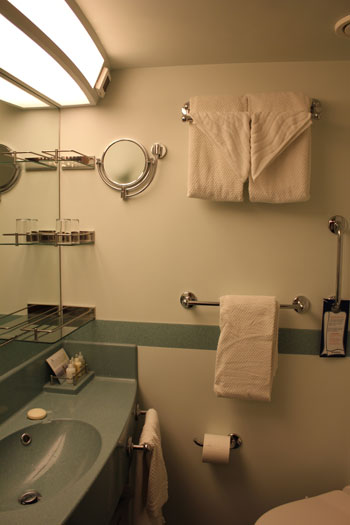 Inside the bathroom, the linens were definitely upgraded from the standard but not luxurious towels to a marginally better set of towels. Again, the rest of the bathroom is standard Carnival.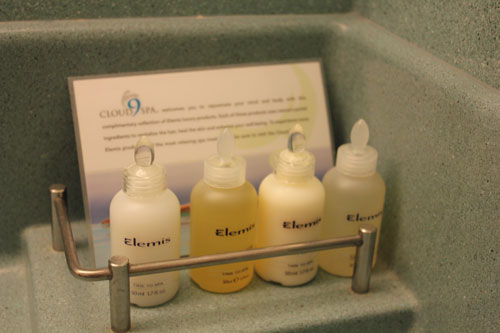 Soaps were the other upgrade in the Spa level rooms. These were definitely a step up from the standard Carnival shampoo and body wash but personally I sort of prefer the dispenser in the shower because it is just easier to use in a cramped space.
Heather liked these though and they were clearly a much higher quality than standard.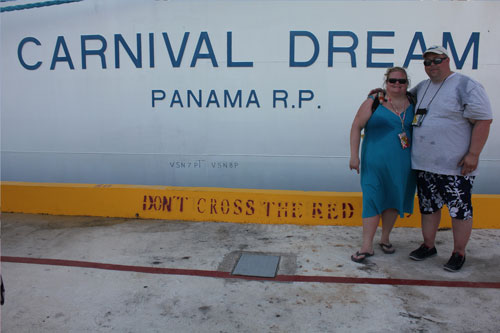 As you can imagine, the Caribbean is very hot and humid sometimes, so it was nice to be able to come back to the ship and visit the private (Spa level and people who bought day passes) facilities including the Thalassotherapy pool (giant hot tub filled with mineral infused, ionized water), and a series of rooms ranging from VERY steamy to just nice and relaxing where you can sit in a comfy chair, sip some tea or fruit flavored (lemon, lime, cucumber) water and quietly watch the ocean.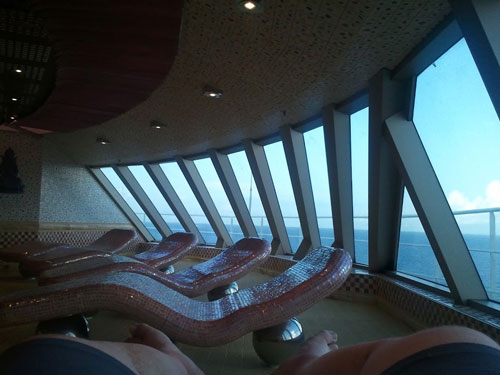 All of the rooms (Oriental Steam Bath, Thermal Suite, Aroma Steam Bath and the Waiting Room) have floor to ceiling windows like the photo above of the Thermal Suite or Tepidarium.
This makes a visit to the spa a fantastic place to visit in the morning or to relax after a shore excursion. Heather ABSOLUTELY got her money's worth and I enjoyed it too, though not as much as she did
Dry Heat Chambers:
Laconium: is a large dry heat bath / sauna-like chamber, wherein body circulation is stimulated, thereby facilitating the elimination of metabolic waste accelerated and mobilizing the body's own defenses, while reducing stress. Body circulation is stimulated at a temperature of 55°-65° C or 131 - 149° F which facilitates the elimination of metabolic waste accelerated and mobilizes the body's own defenses while reducing stress.
Tepidarium: is the relaxation / rest area with the ergonomically shaped heated loungers for intensive relaxation, often referred to as the classic transition area of the spa, where you complete the process of regeneration. The classic transition area of the spa, where you complete the process of regeneration with ambient temperatures around 38° C or 100.4° F.
Steam Chambers:
Oriental Steam Bath: is typically referred to as a large steam chamber called the Caldarium. The high humidity and radiant heat provide an extremely relaxing climate, which has a purifying effect on the whole body. The high humidity provides an extremely relaxing climate. The respiratory tract is cleansed, circulation stimulated, muscle tension relaxed, the skin becomes pliant and supple. Temperature: 40 - 50° C or 104 - 112° F.
Aroma Steam Bath: is typically referred to as the small intimate chamber called the steam aromatic grotto. The high humidity and radiant heat creates a moist, warm climate in the Aroma Steam Bath that gently but thoroughly cleanses the skin and respiratory tract, with herbal steam (sweet odors such as cinnamon, orange or apple) can additionally support the cleaning effect. The circulation is stimulated, muscle tension relaxed, stress is reduced, limbs and joint pains relieved. Temperature: approximately 40 - 50° C or 104 - 112° F.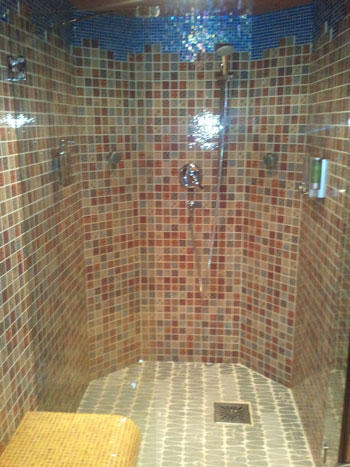 One of the HUGE perks of the spa though is the MASSIVE showers. If you are a bigger guy, like I am - or just don't want to have to be cramped into a closet then you should visit the Spa. This is the shower in the men's locker room, but there are similar showers in the private area as well. Frankly you could fit two people in there ... but that's for another cruise :)
In addition to access to the VIP areas of the spa, we also got discounts on various other services - including the Couples Rasul treatment.
I can't share photos of this, but imagine a series of rooms where you and your partner do self-applied, full-body, "mud" treatments to each other. It is fun and sensual and certainly fits into Carnival's "Didja Ever" marketing.
After explaining what the different lotions and scrubs were, the attendant left and told us she would be back in an hour. Heather and I had fun here and it was definitly something that was worth the money and I would do it again on another ship.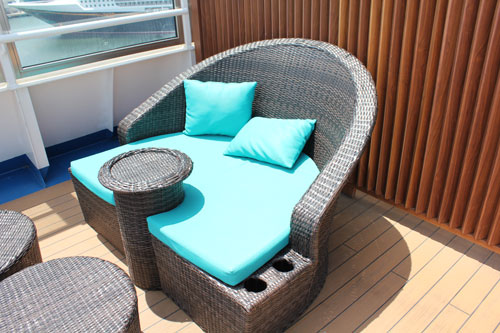 Another benefit of being in a Spa level room was the private elevator to the Serenity deck. Dream's was pretty much the same as other ships we have been on, except we found a new type of chair that had cup holders and a little table so you could enjoy a drink. We tested it out one night with a bottle of champagne and a plate of chocolate covered strawberries. (thank you Carnival PR and John Heald!)
So was the upgrade to a Cloud 9 room worth it?
Absolutely. If you look at how to spend your money and upgrade either to a balcony or an interior Spa room, I think you will get more value out of the Spa room if your goal is a romantic cruise with someone special to you.
This is doubly true on a larger ship like Dream where frankly it was nice to be able to "escape" and the private elevator made venturing up to the Serenity deck that much easier than climbing stairs.
That isn't to say that the spa was void of people (it was actually very crowded and continually ran out of clean glasses for water), but the people tended to be "quiet" and more respectful than what you might find running around Lido deck with a drink in their hand :)