While Caribbean cruising may be king, the west coast of Mexico also offers some exciting opportunities for fun as well. To explore these, we boarded the Carnival Miracle and set off on a seven-day journey with our review starting in Los Angeles (Long Beach) and included two days in Cabo San Lucas and Puerta Vallarta before heading home.
Carnival Miracle currently spends its winters alternating between 6 and 7 day Mexican Riviera cruises and 15 day Hawaii cruises but during the summer heads north to Alaska. Launched in 2004, the ship is in the middle of the fleet age wise but was in near perfect condition. The one noticeable difference compared to some of the other Carnival ships we have been on is that the buffet and specialty stations were either laid out awkwardly or the scheduling/arrangement just didn't click. Specifically, I missed the burrito bar and Heather missed the Mongolian wok. (they did have "Chopsticks" - an Asian station but the food wasn't particularly good there).
Weighing in at 88,500 GT and 963 feet long / 105.7 feet wide with 12 decks, the Carnival Miracle carries between 2,100-2,600 passengers depending if you use standard or max occupancy counts.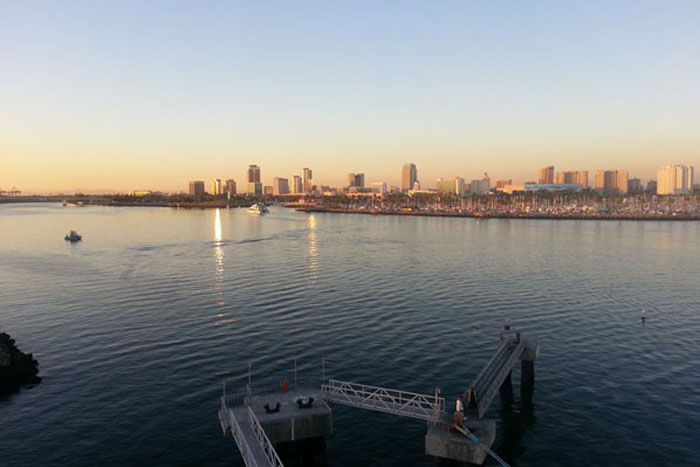 Our journey started in Long Beach, enjoying the aft balcony that one of our friends selected. (later in the cruise, they were able to watch dolphins playing in the wake while sitting here!)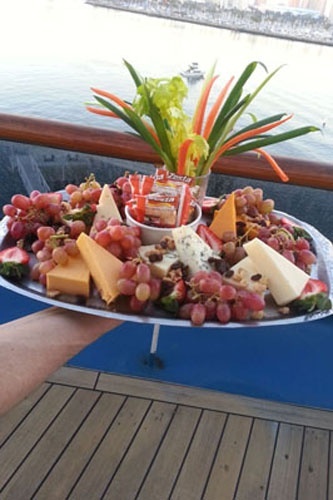 For appetizers our host ordered a cheese tray from room service and this is what we got - HOLY CHEESE TRAY!
Then it was time to head back to our room.
Carnival Miracle like others of her sisters in the Spirit class has a few peculiar rooms designed to accommodate the width / size restrictions to comply with the Panamax form factor so that it can pass through the Panama Canal. One of these is that there are a series of rooms categorized as "Inside Cabin with French Door". The reasoning for this is that the door opens up looking right at the lifeboats.

However, if you are clever enough to do research you can find rooms that open between the lifeboats and get a little view for a lot less money. The other benefit is that because these are essentially Balcony Rooms, the size of the room itself is much larger than you would get with an Ocean View or a true Inside Cabin.
You can watch the full room tour here:
Then it was off to Cabo San Lucas for two days where we spent the first at Billygan's Beach Club laying back in the sand and relaxing while drinking Sol and margaritas with a quick stop at Cabo Wabo to do the whole tourist thing :)
Those loungers may look odd compared to the typical beach chairs but they were among the most comfortable beach loungers I have ever enjoyed. Nice thick, firm, foam that was perfect to just lay back in. The staff here were fantastic as well with adjusting the umbrellas to make sure you always had shade and the drinks were good and cheap as well!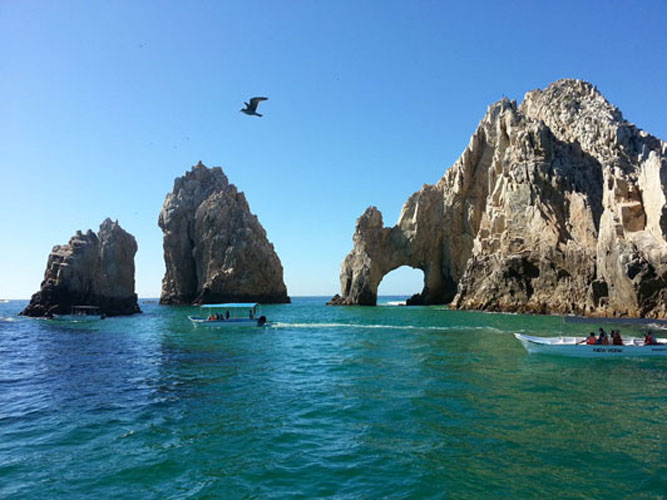 On day two though, we chartered a sailboat with Cabo Sails and headed off to see El Arco, whales, and celebrity homes.
Hats off to Cabo Sails for an awesome time!
The only downside of a great day is that you have to head back to the ship.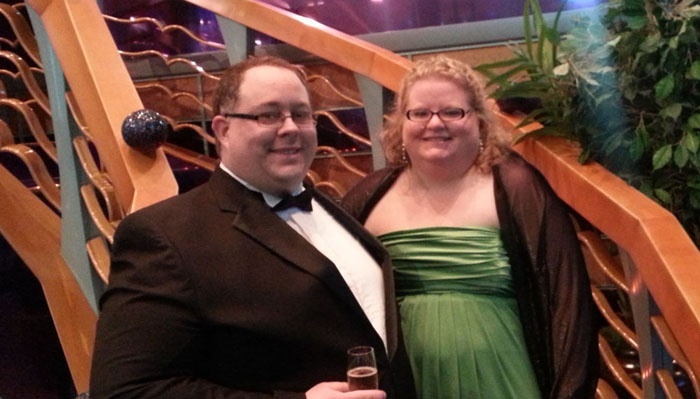 Typically we don't dress up much with specific clothes for formal night since we normally have to fly to the port and extra bags = extra luggage fees. Since we now live in
San Diego
we were able to bring my tuxedo and Heather her dress so we could do some adult dress up time that night.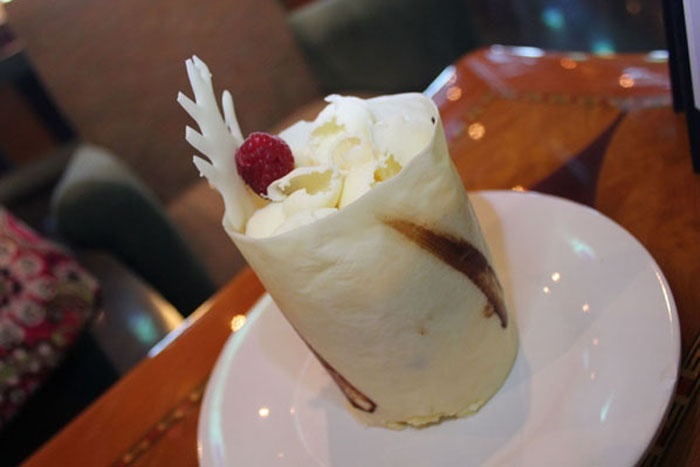 After dinner we headed over to the coffee and pastry shop for our favorite desert - the White Forest Cake (imagine Black Forest Cake - but with white chocolate instead).
While everything varies from ship to ship, food on Carnival is absolutely one of the highlights (at least in the Main Dining Room).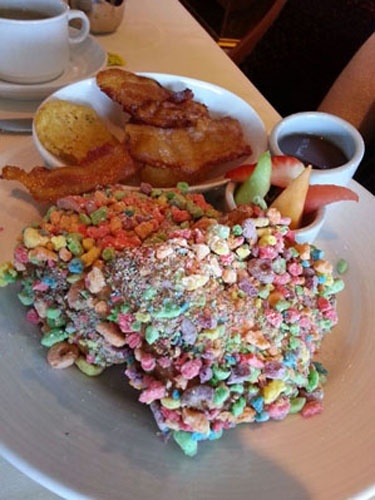 One of the changes that they have made over the past year is eliminating the lunch on sea days and replacing it with brunch. While there have been some sacrifices that I missed this time (no more pepper pot soup :() overall, this was a spectacular addition.
Above, is the Fun French Toast covered in your choice of cereals (this is Fruit Loops).
One of our other favorites was the steak and eggs with fillet mignon and fries as well as the pork chop, but honestly we tried pretty much on the brunch menu between the group of us and there wasn't a single complaint by anyone except maybe the brownie was a bit heavy (though delicious) and the "starter" caesar salad was more of an entree. However those are the sort of complaints you can hardly consider negatives.
While Carnival Miracle has not gotten the full 2.0 upgrades including the EA Sports Bar, the ship did feature a pretty large sports bar and there were a ton of screens in the casino as well for watching football or whatever other sports were going on.
The sports bar itself though had the walls covered in historic sports photos, so even if a game wasn't going on this was a pretty cool place to chill out and have a beer with the guys.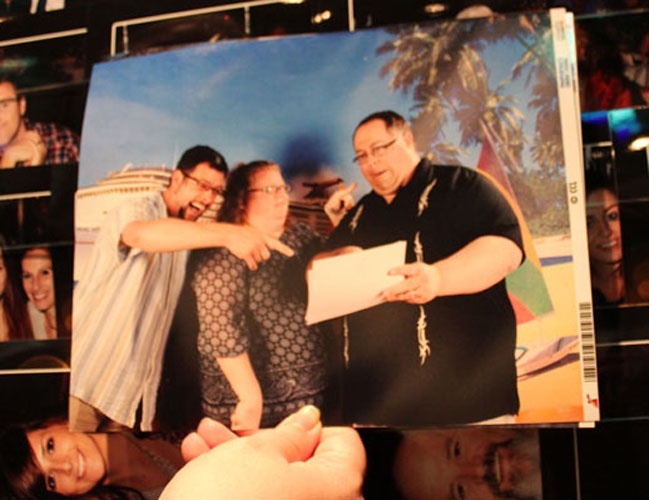 Of course, no Carnival Cruise would be complete for us without having fun with the photos. Big shoutout to Amanda the photo manager since this crew of photographers were a blast to work with since we typically like to have fun with the photos and not just take serious pictures. After all, part of the fun of a cruise with Carnival is looking at other people's pictures and laughing (we aren't the only ones who like to take funny pics).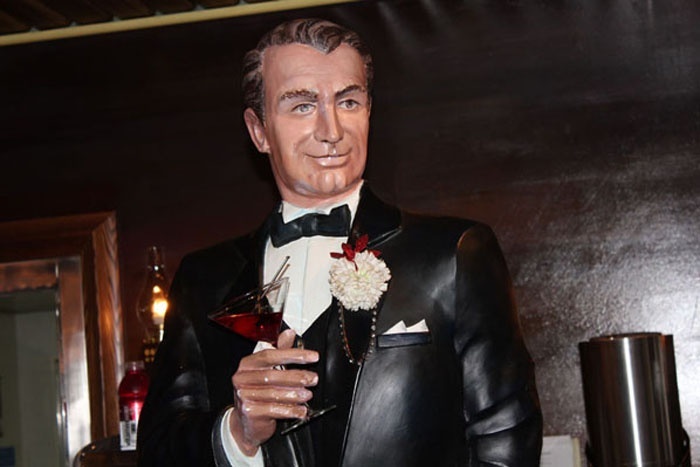 Equally important to Photos and Food on your Carnival Cruise is the casino!
Overlooking the Casino Bar was Frank Sinatra :)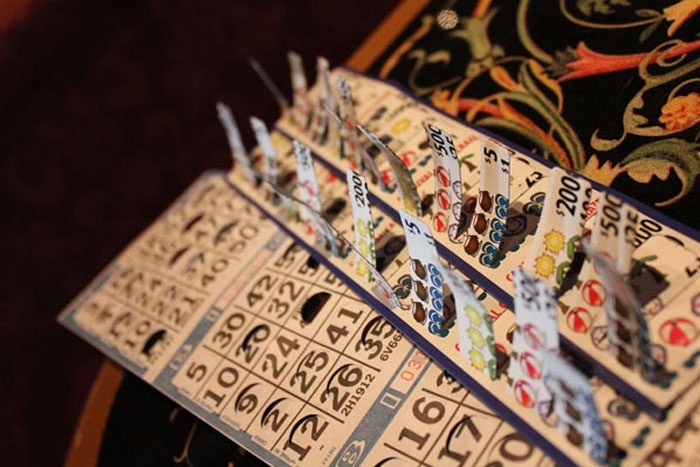 Unfortunately this cruise was not a winning cruise for Heather as we didn't win anything on Bingo or the pull tabs. Still we had FUN and that's what Carnival is about.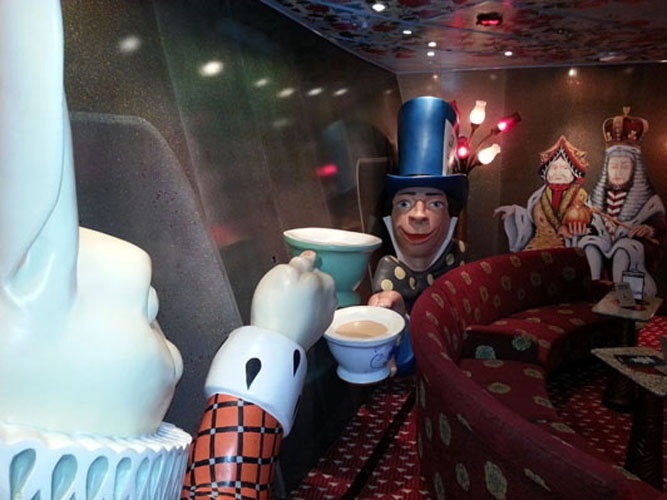 Joe Farcus is a legend in designing cruise ships. Sadly some of his designs now seem dated by many but his design(s) for Carnival Miracle have got to be among the best I have seen on any of the other Carnival Ships.
Above is the Mad Hatter's Ball Lounge where they held the Comedy Club and Super Star Live (Karaoke with a live band).
Equally stunning in design was the Phantom Theater, featuring a design that was equally regal like a classic theater from 100 years ago mixed with fun like the masks in the railings along the stairs.
Joe Farcus has done some amazing work on the other ships, but across the board this is a masterpiece of design that deserves to be enjoyed by more people.
Another fun element that we enjoyed about this design is the glass stairs above the atrium. Imagine looking down 10 stories above people walking back and forth while climbing up to Nick and Nora's Steakhouse. It isn't a "major" point but just another element that makes cruising the Carnival Miracle that much more enjoyable.
Above was our waiter team in the Bacchus Main Dining Room, lead by Yordan - one of the best waiters we have had so far. His team was fantastic and made us always feel welcome.
When we review cruises it is important to consider the many factors that go into the cruise - it isn't just "the boat" but the entire experience and I have to say that while everything was great on this cruise, it was the staff from the very top to the very bottom that made this cruise a fantastic experience. So hats off to all of the team members and crew of Carnival Miracle - you deserve more recognition than I can provide here.