There's more to cruising than the big three - (Carnival, Royal, and NCL) and I have been wanting to try Princess for quite a while, but never had the opportunity. Last month, we took a quick weekend escape out of Los Angeles on the Golden Princess and finally got to experience what it means to "Escape Completely".
The Golden Princess is a grand class ship, measuring 109,000 gross tons and carrying 2,600 passengers (double occupancy) plus 1,100 crew members.
Princess launched Golden in 2001, but retrofitted the ship in 2009.
Honestly it took me some time to figure out how to write this review since while most mainstream cruises lines have essentially the same components but Princess Cruises has a very different vibe compared to Royal Caribbean and Carnival. Typically Heather and I spend tons of time out of the room, doing activities like trivia, piano bar at night, etc. but on Princess we spent a lot more time in our room.
Initially, I looked at this as a negative - until I realized that the whole concept of Princess is to relax and well ... escape completely. Instead of the high energy vibe that we have experienced typically, Princess is relaxed, laid back, and works to add elements of luxury and service where they can.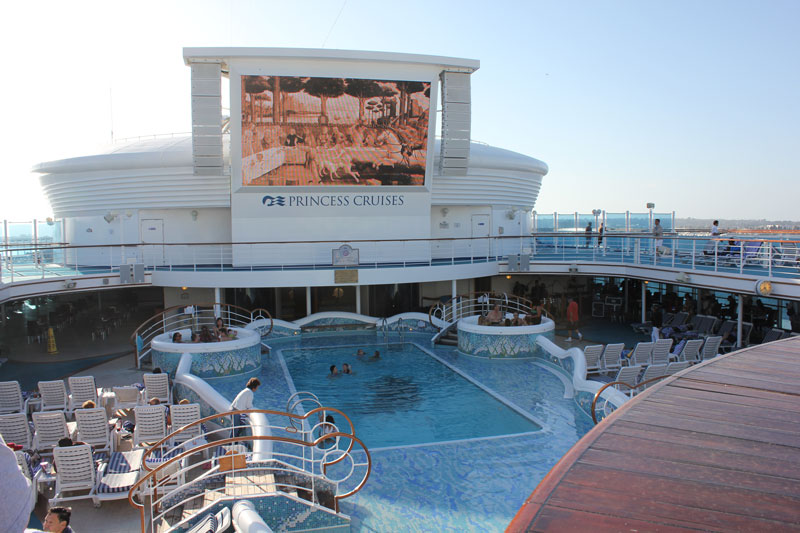 What We Liked:
Movies Under the Stars!
This is a key thing that Princess hangs its hat on and frankly it didn't disappoint.
While many ships have a big movie screen today and call their movie nights something cute like a "Dive In Movie", few take it that extra step and provide blankets, extra padded covers for the chairs AND get this - milk and warm cookies plus popcorn that comes around on a cart for you so you don't even have to get it.
VERY cool Princess!
Sabatini's
Before setting off on our cruise we asked our friends for input on what they liked about Princess. Everyone seemed to love Sabatini's and they were right - it was an excellent experience.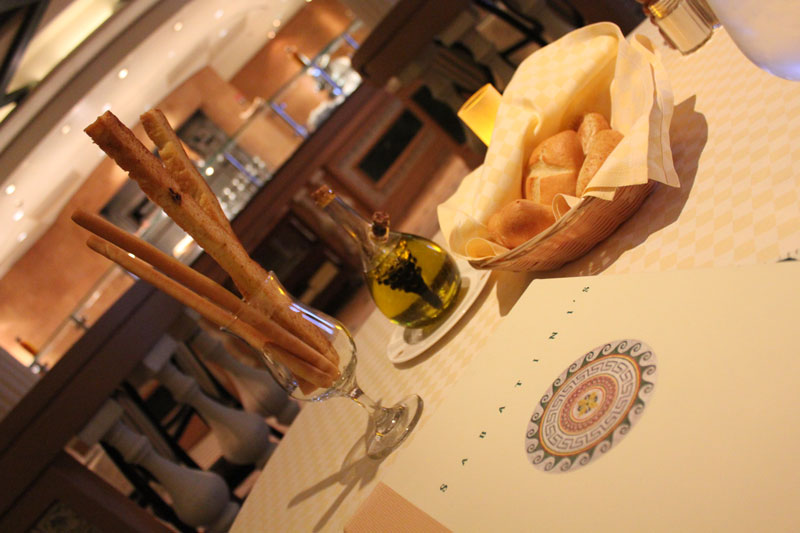 Skywalker's Night Club
Honestly, we never made it to Skywalker's at night for the disco but this sort of wing perched above the stern of the ship gave a great view both of the wake as well as that of the ship itself.
The only element that was weird about it was that on a ship where everything is so elegant ... why is there a nightclub that has paintings of Star Trek ships on it? That alone seemed weird.
Regardless Skywalker's was a cool feature on the ship that made it sort of special.
International Cafe and Atrium
This was another very pleasant area of the ship that was well used and complete with a wine bar that served Tapas and Sushi if you were ordering wine, and the International Cafe (complimentary) serving up antipasto, soups, sandwiches, and desserts.
It was the perfect place to swing by before or after dinner, have a drink with friends (or just by ourselves).
Plus, there normally was a live band or something going on for light entertainment. Even on those occasions where no music was being performed, it was a fantastic spot for people watching!
Stateroom L251
Originally, we had selected an obstructed ocean view, but were upgraded to a balcony, Lido 251. This was a pleasant surprise!
Additionally, it allowed us to see true added benefit of a balcony vs. interior that we normally select. Typically, we are fine with an interior because we spend very little time in the cabin. However, because of the different vibe on Princess I HIGHLY recommend a balcony if you can afford it.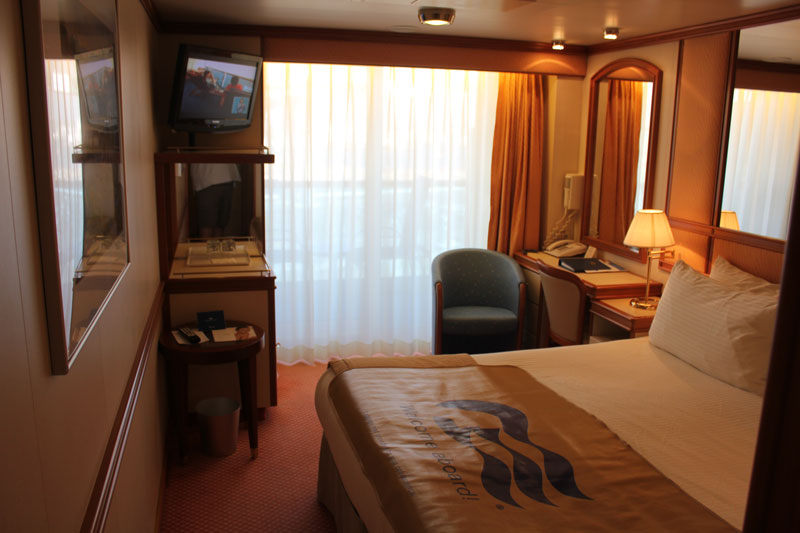 The room was well equipped and extremely clean - likely due to our fantastic steward.
Because of where we were located, we could also look down on other balconies below us - that's something to take into consideration if you plan any nighttime activities :)
In addition to the stateroom simply being outfitted nicely, the experience was completed by nice touches such as your name card by the door, a pretty great selection of free movies on the TV (plus episodes of The Love Boat!), and the room service menu delivered hot items not just cold sandwiches like on some other lines we have tried.
This all came together to produce an experience that could allow one to spend virtually the entire cruise in the cabin together relaxing.
Unfortunately, not everything was perfect.
Crew Members
While we met some fantastic crew members - including our cabin steward who did a great job, a guy from Chile with whom I had a fantastic conversation about Pisco, and of course Daniel from Macedonia our waiter at Sabatini's, the general vibe of the crew was sadly indicative of a transition cruise. In sitiations like this half the crew is going to be exhausted and checked out, ready to go on vacation while the new members are still learning about their new assignment. On one occasion in particular, we experienced a crew member rolled eyes and then laugh / chattered with another crew member in their language about a request that was made from our table.
This general attitude may be due to the fact that a large percentage of the crew was either new or at the end of their contracts as Golden Princess was transitioning from service in Alaska / Hawaii to a tour through South America.
However, it was unfortunate because it was one of the few things that detracted from the illusion that you were someone special - something that clearly Princess Cruises is trying to project with other elements of the experience.
Mixed Results with Dining Room
Cruise ship kitchens always come up with weird variations on what should be standard menu items - so I am not really concerned with the chimichurri sauce that was essentially just pureed jalapenos, but what struck me as odd was that while appetizers, soups, and salads were typically good to excellent, not once did I have an entree that I would rate excellent (that included 2 of 4 nights in the specialty restaurants - though Sabatini's was by far the best and the rest of the experience made up for a small miss on the cooking of my chop).
In fact, even in the steak house, I had to send the steak back twice because it wasn't cooked properly. However, while they failed to understand how to cook a steak properly (and both the maitre de and the head chef agreed that it was not cooked as requested), the same kitchen somehow prepared my sea scallops appetizer PERFECTLY. It was delicious, cooked just right, and plated perfectly.
Buffet Layout was Cramped but Good Food
The layout of the buffet on Golden Princess was not ideal and felt a bit cramped. It was almost as though the designer had never designed a buffet line before or perhaps they designed it for a much smaller ship and it just didn't scale up properly. Either way, the layout was extremely poor ... but the food being served was generally pretty tasty and had a good selection of items for those who want to eat healthily... as well as those who are on vacation and just wanted to have fun! :)
Overall though, our voyage was fantastic and I look forward to sailing with Princess again in the future.
For what Heather and I were looking for - an escape where we could relax, spend time by ourselves and relax this was PERFECT. If we had been looking for something more active and "FUN" (i.e. Royal / Carnival) then it would have missed the mark. But this also meant that there were far fewer kids than we have experienced on cruises in the past and that too allowed for a quieter, more relaxing experience.