Grand Cayman is a fabled island with a mystique of off-shore banking and as a playground for the rich and famous. While those two things are absolutely a core part of island life on Grand Cayman, there's so much more for visitors and it's one of my favorite places to visit on a cruise ship. This is even more true when traveling with someone special to share those experiences with.
Norwegian Cruise Lines has been sailing to Grand Cayman for a while now and while they have great shore excursions available, this is an island that is pretty easy to get around via taxi and public transportation. However, unlike other Caribbean islands this is a well developed economy and so costs are often significantly higher for transportation and self-booked tours.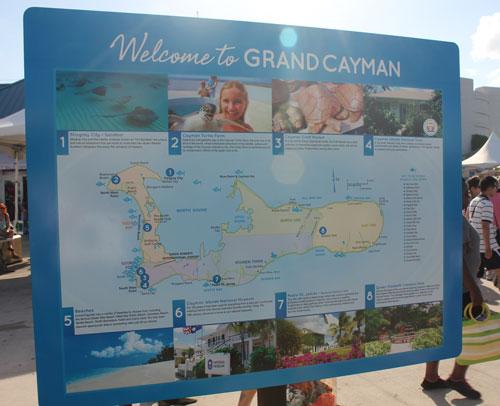 Things to Know Before You Get to Grand Cayman ...
Unlike most ports in the Caribbean, Grand Cayman is one where ships must tender. This means that unlike ports like Cozumel where there is a dock, cruise ships here must ferry passengers to and from the port This means that if you want the most out of your day, make sure to line up early so you are one of the first people off the ship. For others of us though who are more into relaxing, if you wait an hour for that rush to clear out you'll find that tenders are pretty quick and there will be minimal waiting to get on shore.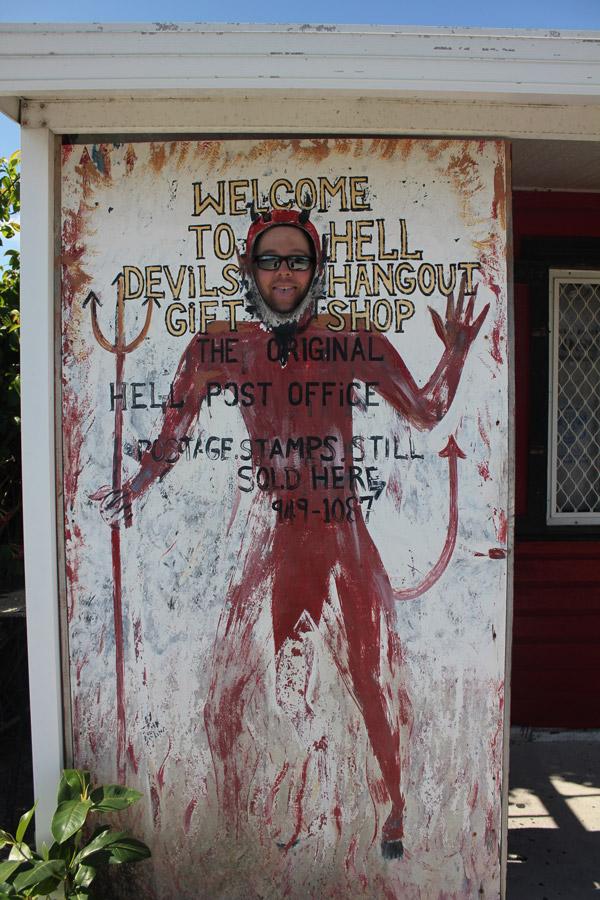 Go to Hell!
This is a pure tourist trap, but it's absolutely worth a visit (once). The place gets its name from the eroted black limestone that resembled what hell might look like. Certainly it is a hostile landscape and during the summer the island can be hot, so it fits. However the kitch is really what makes this a great place to visit since you can take photos with men dressed as devils, take pictures with wooden cut-outs and even send a postcard "from Hell" since it has it's own post office here.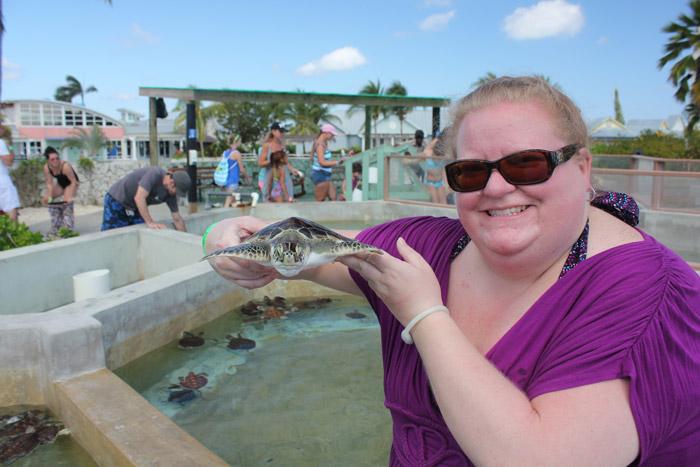 Cayman Turtle Centre and Island Wildlife Encounter
The Cayman Islands are famous for the sea turtles who live here and the Cayman Turtle Centre is a fantastic place to visit and learn more about these aquatic animals. It's also a sort of zoo for other native animals where you can get up close and personal with birds, butterflies, even sharks and their 300 pound American saltwater crocodile! While activities and encounters range from feeding shows (Smiley the crocodile) to touch and feel (green sea turtles), there is a good blending of pure entertainment with actual research and conservation here that I appreciate.
For instance, while it's awesome to swim with the turtles as well as pick them up like Heather is above, the Cayman Turtle Centre also is conducting research into how these animals live and are working to ensure that the turtle population is strong for generations to come.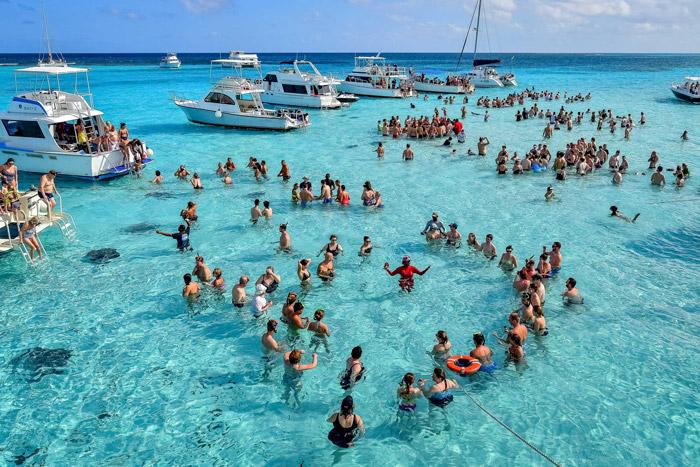 Stingray City Grand Cayman Island - (Creative Commons source: Grahampurse from Wiki Media)
Stingray City
Honestly, I've become fairly sensitive about animal exploitation and Stingray City edges on my limits. However, people who have visited here say it's a fun experience so I'm including it on our list because it sounds like a pretty fun excursion. The area is a very shallow sandy area that is protected from waves by a coral reef that surrounds it and the tourism activities and feeding of the stingrays has created an environment where people can touch and feel these incredible animals.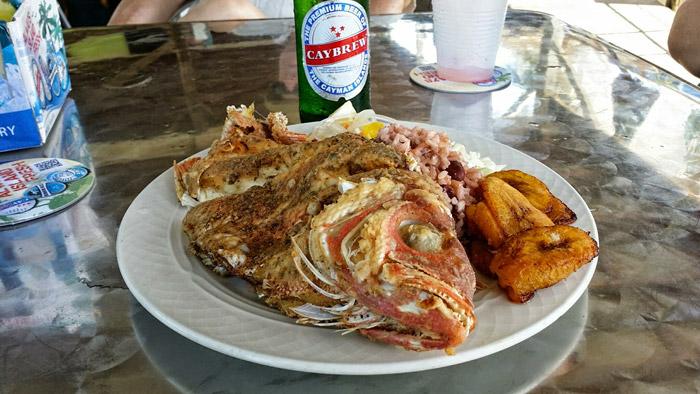 Explore the Local Food and Drink
It would be a shame to visit an island like Grand Cayman and not enjoy some local food. Generally the native cuisine here is similar to other Caribbean islands (fish, plantains, and rice with beans) but you'll want to wash it down with an ice cold Caybrew. Fans of rum will also want to make a visit to the Rum Point Club where the Grand Cayman Mudslide was invented in the 1970s and and of course a rum cake from the Tortuga bakery where you can sample cakes and rum and rum in cakes! Since you're on a cruise, there's going to be plenty of these in your gift shop back on the ship, but here the samples are free and there are several varieties you won't find elsewhere.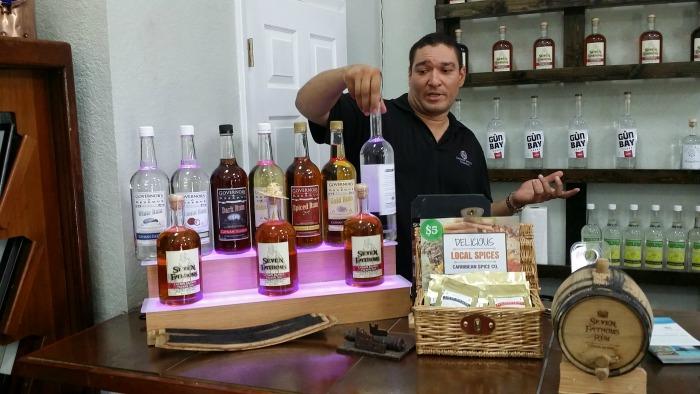 Cayman Spirits Company Rum (and more!) Tour
This is one of my favorite places to visit on Grand Cayman. The guys at Cayman Spirits might seem a little nutty, but they know how to make great spirits. While best known for Seven Fathoms Rum - which is aged in barrels anchored seven fathoms under the surface of the ocean. The tour itself is fun and on the day we visited, samples were plentiful. Luckily it is also close to the port since we had so much fun that the boat nearly left with out us.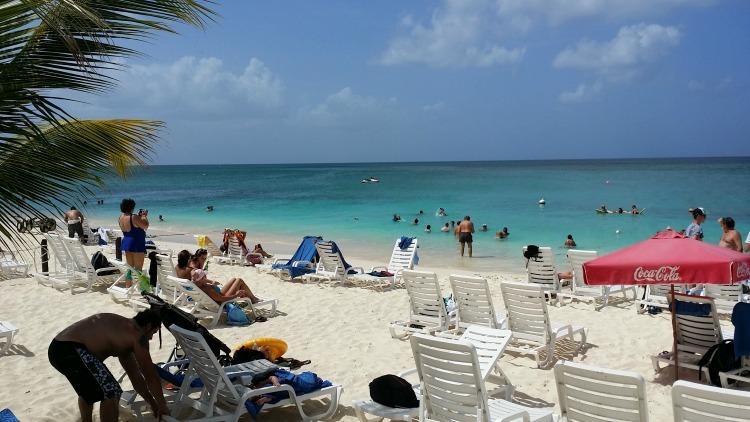 Yup, Of Course Grand Cayman Has Great Beaches too!
Grand Cayman is a very flat island and it has some great sandy beaches though you'll want to make sure to pick the right ones. One of the most famous is Seven Mile Beach, which is approximately seven miles of crystal clear water and pure white sand lined with beach clubs and resorts. Some hotels will offer day passes to use their facilities but there are many beach clubs designed for exactly that purpose where you can get a reserved chair, cabana, umbrella as well as water toys.