When planning a romantic getaway to Santa Ynez Valley wine country, several options come to mind from corporate-brand hotels to bed and breakfasts but Hotel Ynez offers something in the middle. At first glance it appears to be a renovated 1950s style drive-in motel but the new owners have taken it sever steps further than that to create an unexpectedly enjoyable oasis of relaxation at an affordable price.
From a first glance at the amenities and photos that you see on Instagram, Hotel Ynez looks like it is a hipster retreat - each room has a hammock on the porch, there is a chic selection of top chef liquors and a retro looking fridge in our in-suite bar, and frankly even the "what's old is new" feeling of the property itself. However, while a 20-30'something couple or group of girls will have a great time here ... so are 40, 50, and 60 something couples too.
One of the things we also liked about the property is that they have two Tesla chargers and I'm told they are looking into options to support industry standards to allow more guests with EVs to charge here as well.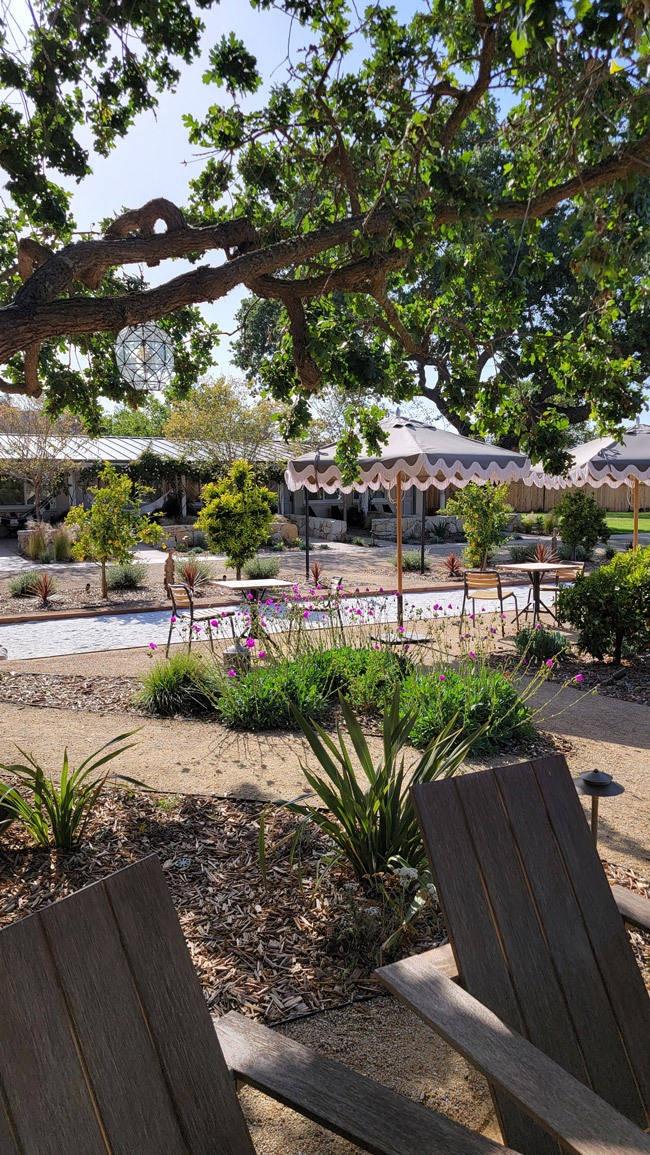 Hotel Ynez is brand new (spring 2021 opening) and still trying to figure out its identity. In part this is because they inherited a strong and loyal fan base from the previous incarnation of the property and that skews MUCH OLDER than who I think they are trying to target now. However, for a couple like my wife and I (40's) who have a joie de vivre and enjoy fun laid back properties like this, it is a fantastic fit. We noticed a diverse group of guests including families and everyone seemed to have a good time. They are very focused on making sure that the property doesn't turn into a "party hotel" and that's a good thing.
While you can be young and fun ... Hotel Ynez is true to the spirit of the Santa Ynez Valley. That includes the sense of romance and relaxation with the pretense that you might find in places along the coast.
Couples who we met during the stay also enjoyed themselves and many had booked the property because they were excited to check out the next phase of a resort that they had previously enjoyed. However, though there were a few growing pain tweaks that a 20something guest might not care about, but a 50something guest would. For instance, the check-in building is quite literally as far away from the parking lot as you can possibly get, without any carts to transport bags to the room. My recommendation is to call the office before making the trek to see if your room is ready and then leave your bags at your room or ask for assistance. I'm sure they will be able to add luggage carts and on our stay they did offer a couple use of the same style cart that was used later for our BBQ kit to be delivered.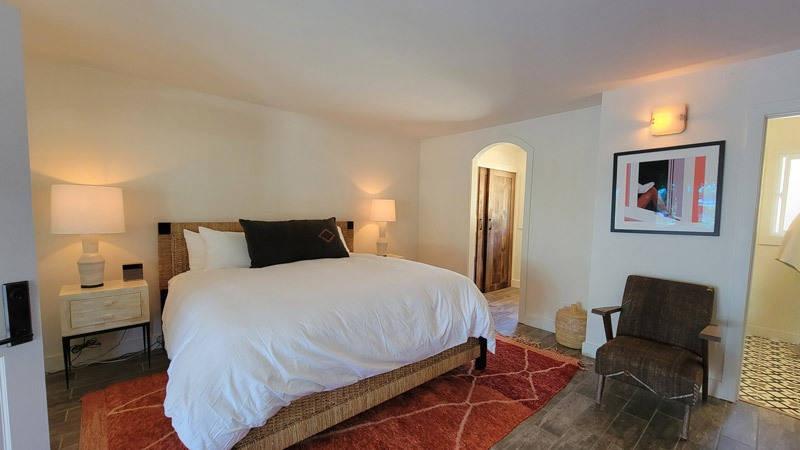 There are several different unique room styles here but they are all decorated beautifully with a sort of retro-modern feel that includes accents of native American influenced pattern design in pillows. Our room was very spacious and it was was also one of the most comfortable resort beds that I have ever enjoyed. Upon leaving (we only stayed one night), my wife commented to me that she wishes we could have stayed longer since she slept so well that night.
Guests of Hotel Ynez could certainly book a room just for the night and not enjoy the rest of the property but that would be unfortunate.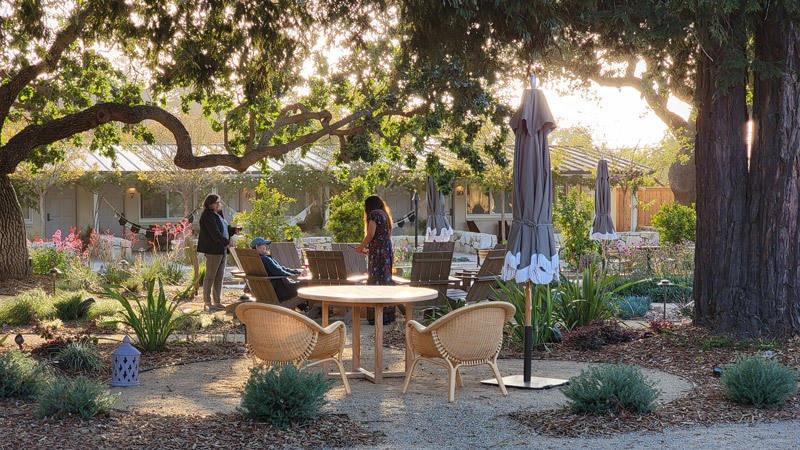 While the grounds are simple, the landscaping and hardscape garden area between the two rows of rooms is absolutely spectacular for just relaxing. from couches and chairs with cushions under shady oak trees to Adirondack chairs around a big central fire pit, this is the perfect setting to relax, enjoy a bottle of wine, and make some new friends while sharing stories about what wineries you've visited and hope to visit.
Outside food and drinks are permitted on your own patio and room, however if you want to buy a bottle of wine they have a limited but well appointed selection available in the "gift shop" area of the main building. They can even deliver local craft beer and wine (as well as international selections) right to the table or firepit so you don't have to lift a finger.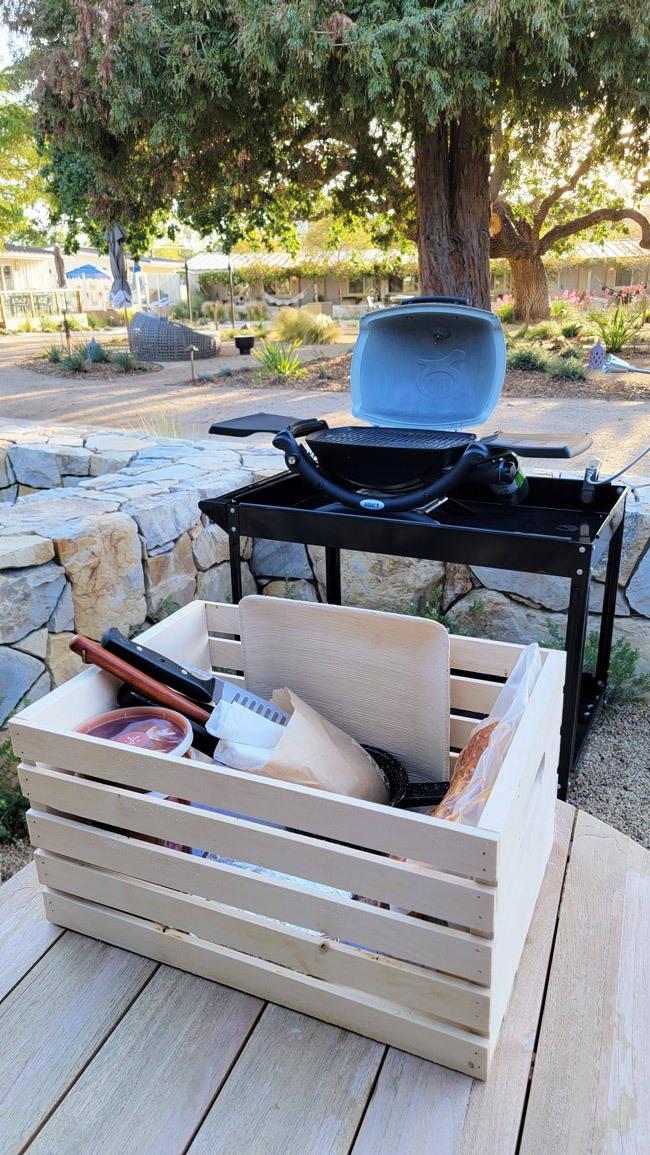 One of the more fun and unique amenities they offer is the BBQ Kit. this is a "Grill-it-Yourself" kit that (on our stay) included ribs, beans, and veggies that were already pre-cooked, you just needed to heat it up on the grill. The kit came complete with everything you'd need to cook, serve, and eat dinner with minimal mess. The hotel rep who delivered it even spent time to walk me through exactly what needed to be done and how to operate the grill.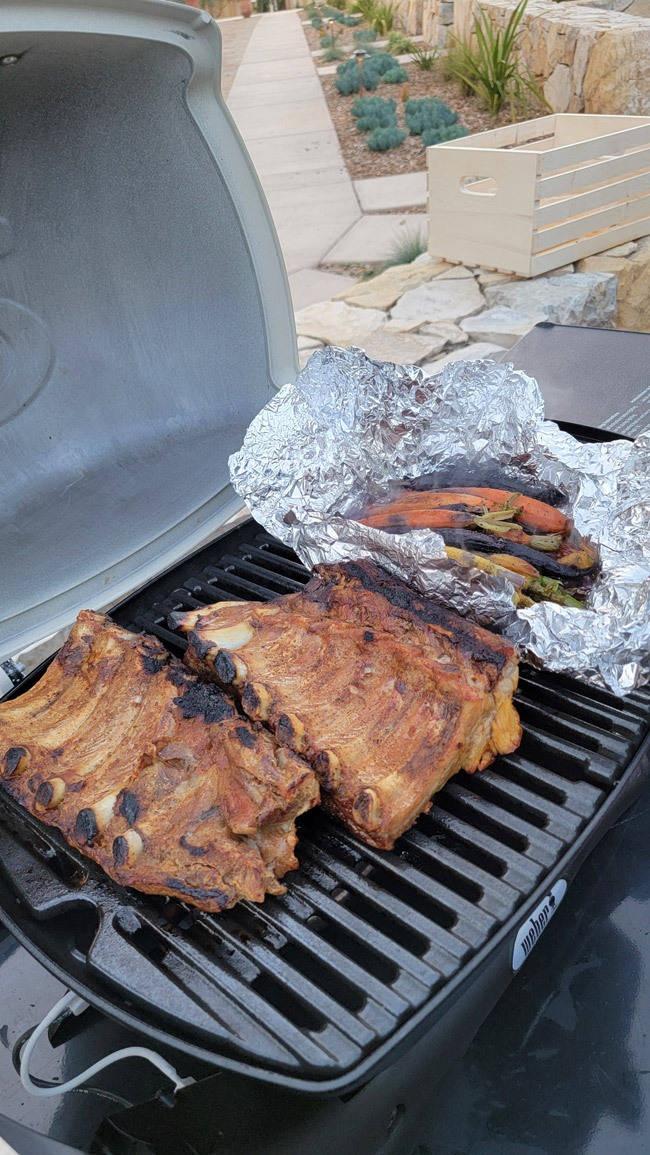 This was probably one of the most unexpectedly fun things I've done at a resort and it's a great way to spend a night in without having to worry about getting dressed up and going out.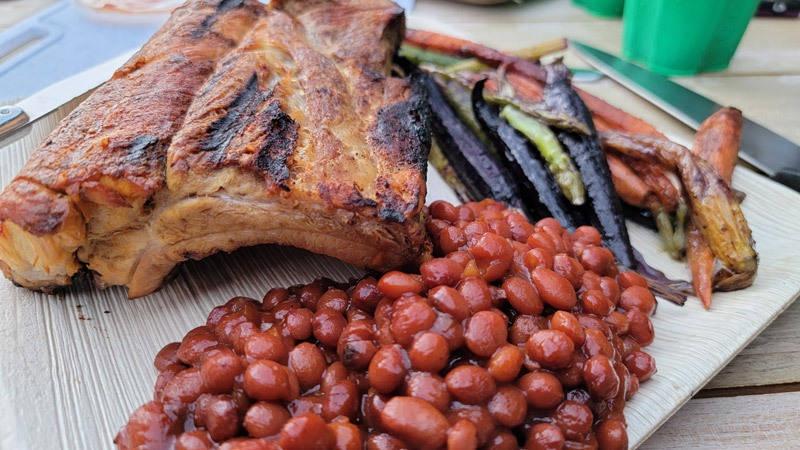 When it comes to travel ... and especially post-pandemic travel ... it's all about experiences. Shared experiences with someone you care about will create memories that you can recall years or even decades later. Heck, on a normal year I visit a LOT of very nice hotels but they all have big TV's, comfortable mattresses, and fancy linens. It is very unlikely that I'll remember any of those a few years from now.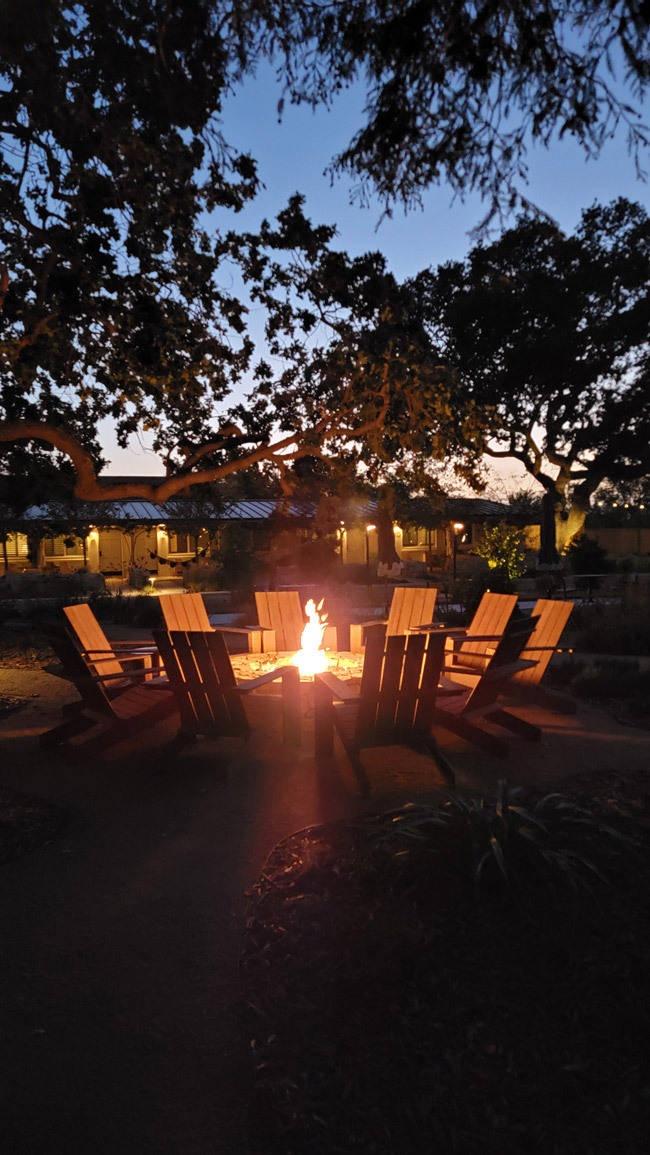 However, I know that I'll remember the single night that I spent with Heather at Hotel Ynez, cooking dinner for her under the stars and then later enjoying a bottle of sparkling wine from Pence Vineyards, one of our favorite wineries just down the road in Buellton.
These are the sort of experiences that make you want to come back again and Hotel Ynez is absolutely on our list to visit again in the future.