Miramonte Resort and Spa is located about half way between Los Angeles and San Diego in the Coachella Valley about 30 minutes south east of Palm Springs. It is in the perfect location for anyone who can't decide if they want an active weekend getaway or one with breakfast in bed followed by relaxing by the pool topped with a relaxing visit to the spa. The simple answer here is you can have both ... and it's very pet friendly, so there's no reason to leave your dog at home!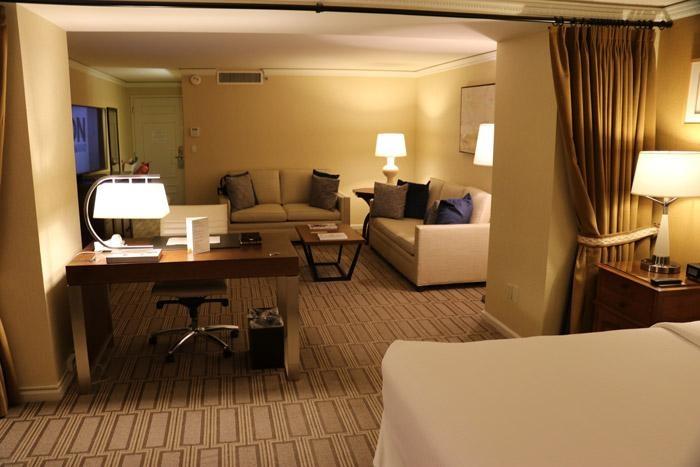 Miramonte Resort provided with a Dolce Suite for our romantic getaway that includes a semi-divided space with a large seating area and a semi-private patio just off the bedroom. Aside from the large space, this was also on the first floor so it was very easy to take Niki Belle out to do her thing.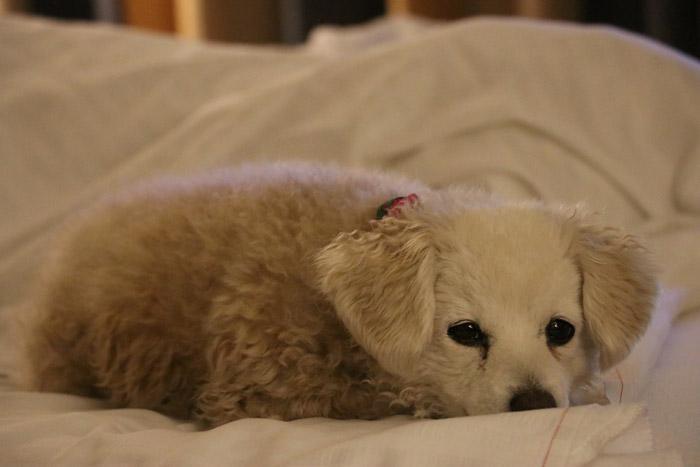 Miramonte Resort is Dog Friendly
It's a challenge sometimes to do a review of a pet friendly resort since it's really not about "us humans" but also how comfortable Niki feels too. I tend to watch her comfort level and if she is able to do her perimeter search of the room and settle down quickly, that's a great sign. She was very relaxed here and enjoyed walking around the resort with us. My only area that I would like to see improved though is to add some pet relief bags and disposal areas spread across the property or have one area centralized to make things easier. Other than that, the Miramonte Resort pet policy is pretty reasonable, charging a $100 non-refundable pet fee to cover extra cleaning.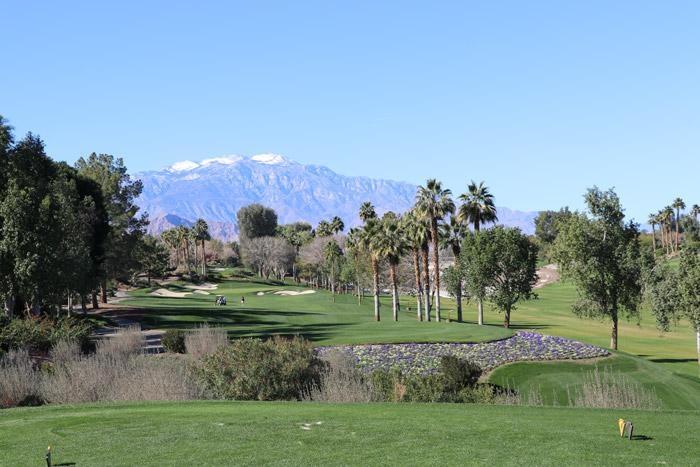 Access to Indian Wells Golf Resort, Just Across the Street!
While Miramonte Resort does not have a golf course on the property, they have a relationship with Indian Wells Golf Resort directly across the street including a shuttle to take guests there. They are also able to assist with booking tee times through the golf concierge. As a new golfer, it can be intimidating playing on an amazing course like this but the staff there were extremely friendly and accommodating as well as providing advice on how to best enjoy the course. I also appreciated that they had excellent water and ice stations located every few holes, seemingly more often than other courses that I've visited, which is a good thing since despite the green grass, we're in the middle of a desert and it can get extremely hot during the summer months.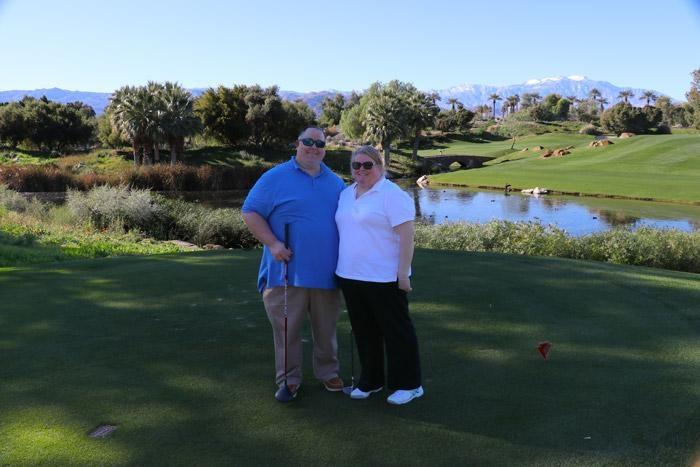 The 36 hole resort features two courses - the Players Course and the Celebrity Course, which we played. The Par-72 Celebrity Course was absolutely stunning and while I'm told it's not the most technical course, it's one that you could enjoy simply for the views of snow capped mountains, waterfalls, streams, and floral features. In addition to the golf cart which we were provided, the resort also offers "Golf Boards" which is a sort of cross between a scooter and a golf cart that I'm told is a lot of fun to ride.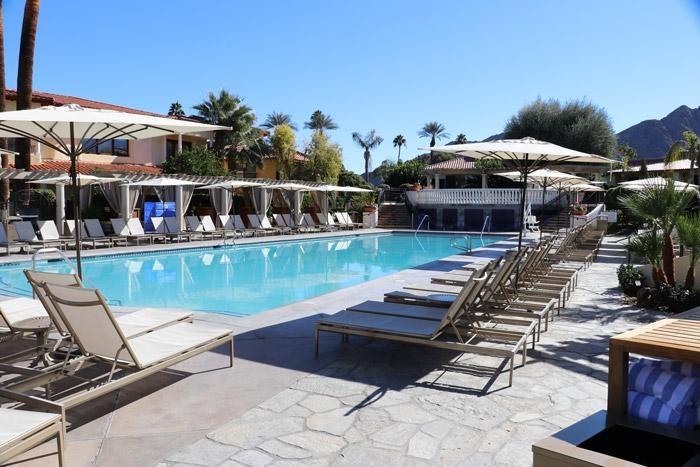 Take a Dip In the Pool or Relax at the Spa
Back at Miramonte Resort, it was time for a dip in the pool before our spa appointment. Each of the three pools at the resort are open from sunrise to 11pm and offer food and beverage service. This includes the Miramonte Pool above, where you can also relax in a cabana - perfect for those extra hot summer days - complete with a fresh fruit bowl, bottled water and soda, personal misters and a refrigerator.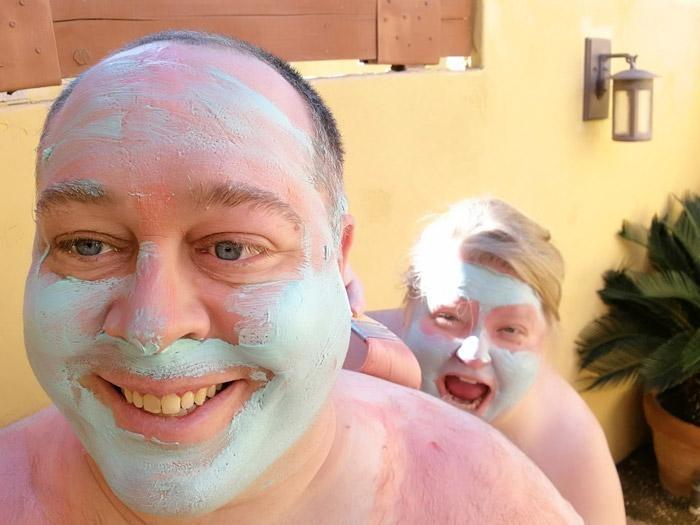 Our spa experience was a special treatment and their spa, while not huge is well equipped and the perfect size for a resort like this with extremely friendly and professional staff. Our treatment that the resort invited us to take part in was their Pittura Festa which is essentially a couples only body painting party with therapeutic and colorful muds in a private outdoor sanctuary followed by a 60-minute couples massage. While generally I'm a fan of most spa treatments, there's something special about something like this since it is interactive and great for bringing a couple together while you laugh and giggle as you paint things on each other's body with fingers, paint brushes or noses.
We've done similar treatments before and it's always fun. If you have never tried it, do you and your partner a favor and book it next time you see it on the menu!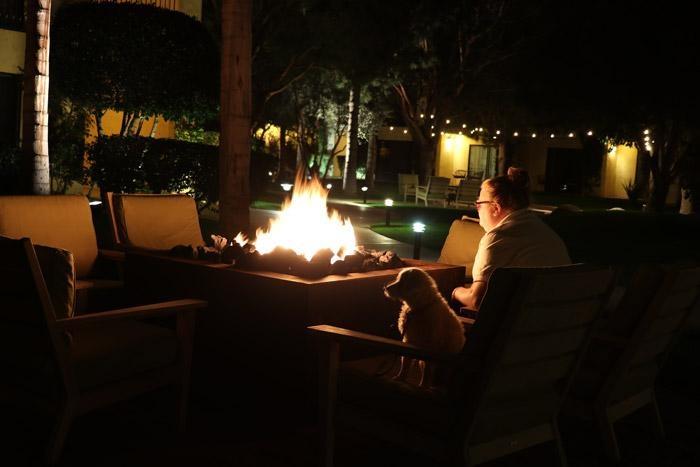 After a hard day of golf, pool, and spa it's time to relax at one of the many fire pits spread across the resort. Once again, Niki Belle got a chance to enjoy the resort as we stayed warm by the fire with some local craft beer from one of the breweries located throughout the Coachella Valley such as Poolside Blond from La Quinta Brewing, which is available at Miramonte Resort. I'm told by the manager that they are working on a program to offer smores kits at the fire pits in the near future as well.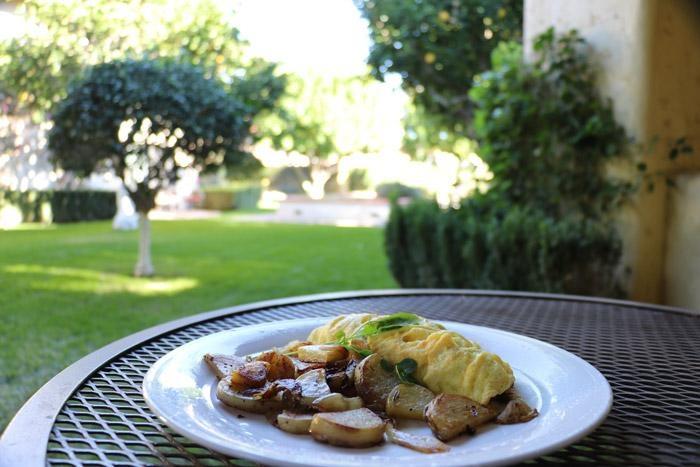 The next morning, we ordered room service and enjoyed a delicious omelet on the patio while looking out at the lemon trees and herb gardens. The resort has a relatively new chef and is working to refine its F&B program with one of the objectives to bring in as much locally sourced ingredients as possible. This also includes growing fresh herbs and citrus on the property itself. Not only do the lemons hanging on the trees add a fantastic visual appeal but the smells of roses, herbs, and lemons add an incredible aroma during those morning walks or simply while sitting on your patio sipping your morning tea.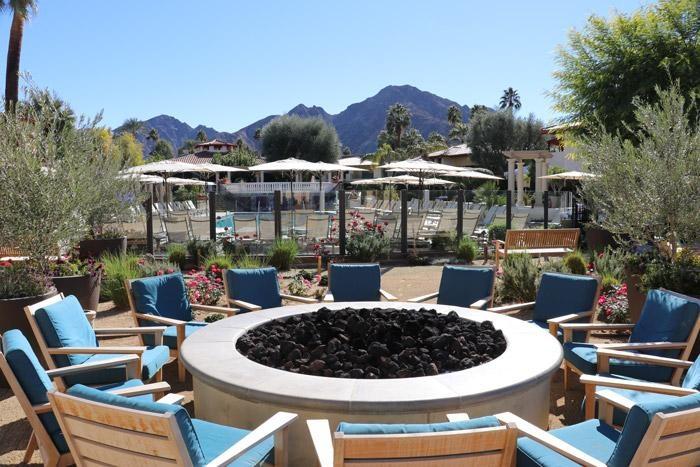 The Miramonte Resort was a fantastic experience and while this was our first time staying in the area, I know that it won't be our last. While I knew that the area was a mecca for golf resorts, I didn't realize how many other opportunities for excitement were in the Indian Wells area. Some of those include the BMW Driving School, Jeep tours that can take you out to the fault line, exploring Joshua Tree National Park (40 minute drive down I-10 to the south entrance), as well as the Palm Springs Tram and fantastic culinary scene in Palm Springs itself.