For this trip review, we decided to try the Freedom of the Seas. It isn't the newest or largest ship in Royal's fleet but it certainly had some fun "Designed for Wow" features that others simply don't, so let's start exploring.
Freedom of the Seas is a MASSIVE ship - weighing in at 154,407 Gross Tons, it is 1,112 feet long, and features 18 decks (15 passenger decks). In case you are wondering, a ship of this size burns 28,000 pounds of fuel per hour while cruising at speed.
The ship can carry 3,634 passengers and 1,360 crew.
Launched in 2006, so it is also one of the newer ships in Royal Caribbean's fleet.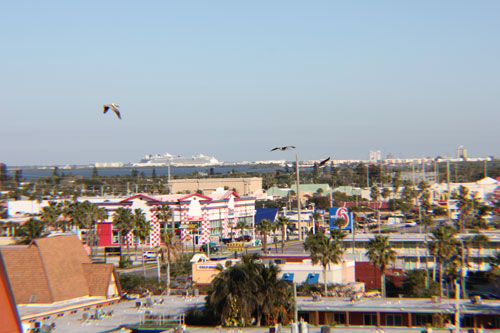 Our journey began in Port Canaveral, the photo above is the view from our hotel room at the Hampton Inn Coco Beach. You can see the Kennedy Space Center, Freedom of the Seas, Disney Dream, and Carnival Inspiration if you squint hard enough.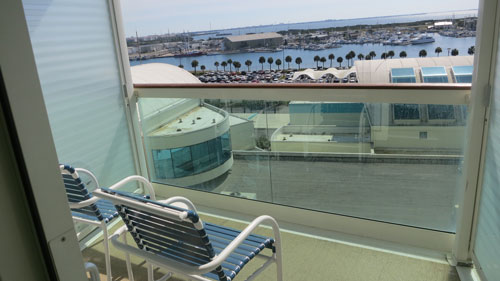 This is the balcony on our room - we had a standard balcony in the "hump" area so our view was actually angled a bit so we could see aft.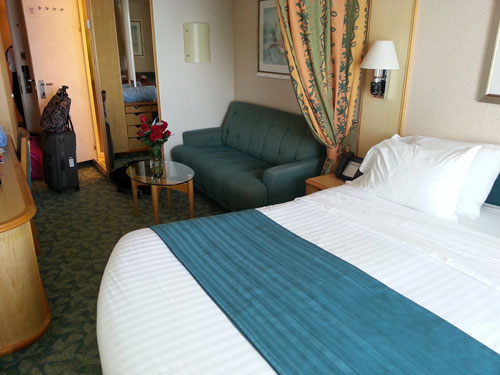 Normally we cruise in inside cabins, but it was very nice having a bit of extra room and a couch etc. (the natural light was nice as well!)
While the room was nice, the downside of having a lot of wood is that it isn't as durable as other materials and it was clearly showing its age. Similarly, the remote for the TV was filthy. Luckily we had some cleaning wipes and took care of the dust / dirt and misc crud between buttons.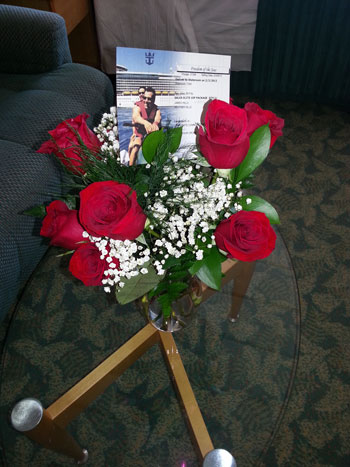 Royal's PR folks sent us a bouquet - THANK YOU!
This trip was a dual anniversary celebration - our belated anniversary and my parent's early one.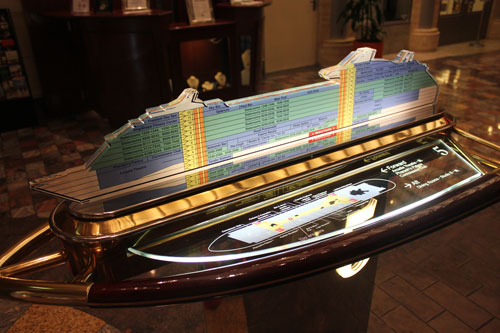 This model should provide a pretty good idea for just how big this ship is.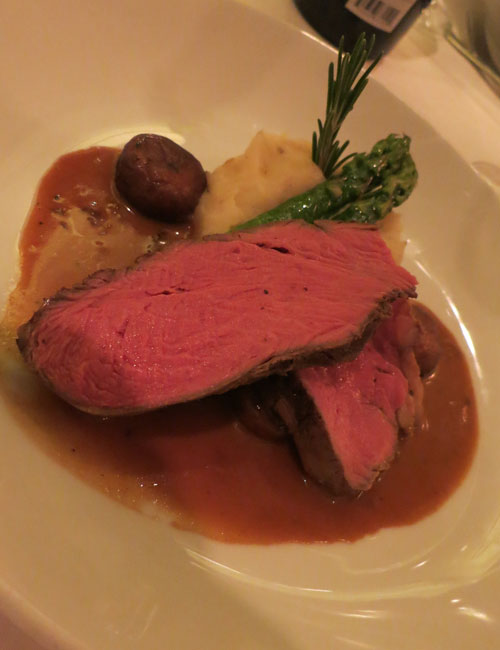 Royal recently updated the menu and the preparation / presentation. I have to say that compared to our initial voyage it is MUCH improved. However it sort of felt awkward with things that were overly fancy but not always prepared properly i.e. super dry fish.
However, the chateaubriand above was absolutely delicious and so was the lobster on formal night.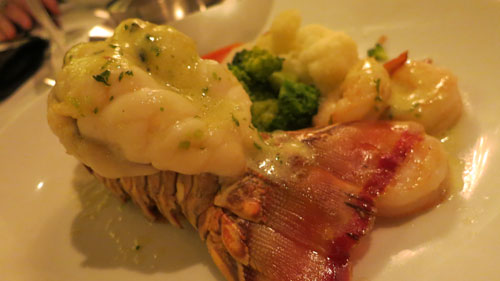 One thing to note is that the lobster in the main dining room - like most lines, is warm-water lobster.
However you could get cold-water / Maine lobster in the Chops and Portofino's.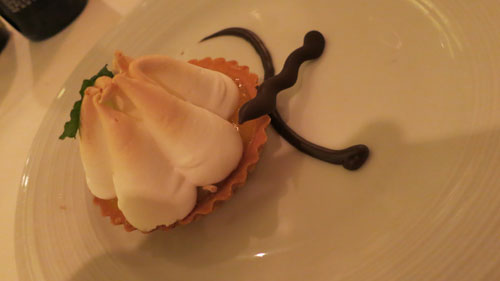 This lemon meringue tart was my favorite dessert of the cruise. It was simple and delicious.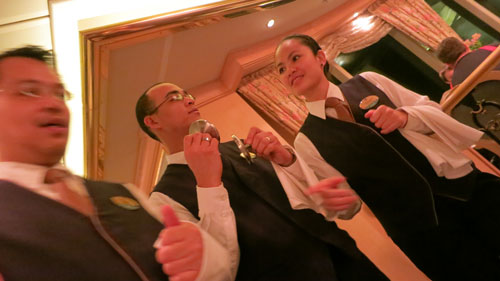 Our waiters sang us a happy anniversary song and clanged the butter dish lids like tiny cymbals :)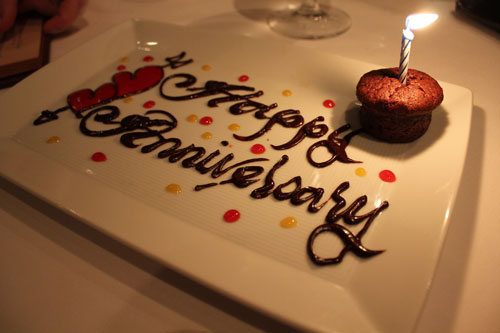 It's always fun to celebrate things at sea and this was pretty cool I thought. Definitely appreciated by all four of us.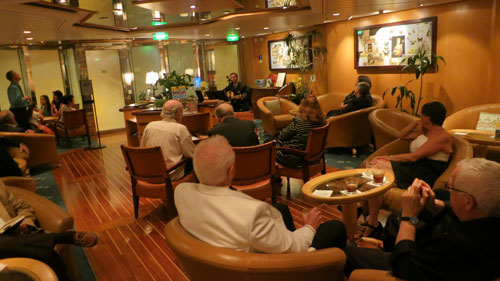 One of the perks that the PR department granted us was a "gold card" that got us into the concierge lounge where they had beer / wine and some spirits from 5-8 every day. Willie, the concierge also periodically sang and played the guitar. He and the two bar tenders made this place a lot of fun and a great gathering point.
Normally you would gain access to here if you were a suite guest or a diamond plus level cruiser in Royal Caribbean's loyalty system.
It is actually a pretty decent perk when beers cost $5 per can normally :)
Royal Caribbean has partnered with Dream Works and it was not uncommon to see various characters roaming around the halls. Here is Heather getting a hug from Princess Fiona from Shrek.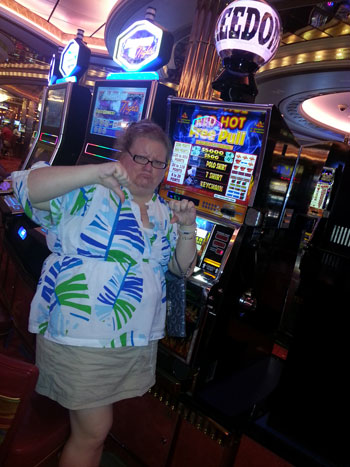 Unfortunately, her fairy tale didn't last long when she tried her luck at the slots. Oh well, cruise ship slots are always tight so don't play unless you just want to watch your money go down the toilet.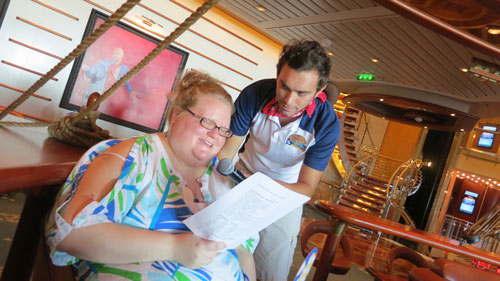 On board there were a ton of events that were fun for us to do together including typical things like bingo and trivia.
However one day we decided it would be fun to learn Italian ... sadly I would still be lost if you dropped me off in Rome :(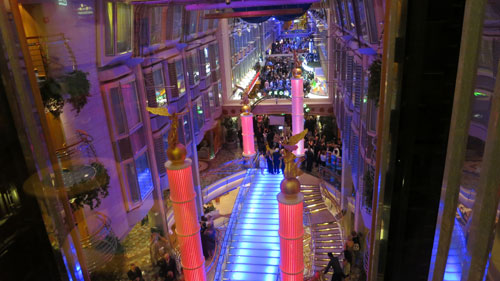 One of the really unique features of this and the previous class of ships from Royal Caribbean is the Royal Promenade. Essentially it is like a shopping mall inside a ship with rooms overlooking a central corridor vs. having them be inside cabins.
Warning - if you are in these rooms, no hanky panky without the drapes closed since anyone walking along the promenade can see right in - especially the people directly across the hall from you :)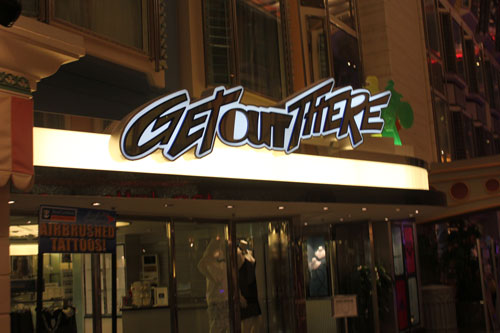 Along the Royal Promenade you have a variety of shops from high-end clothing to souvenirs and trinkets.
You also have a pretty nice selection of bars and specialty eateries for snacks and more.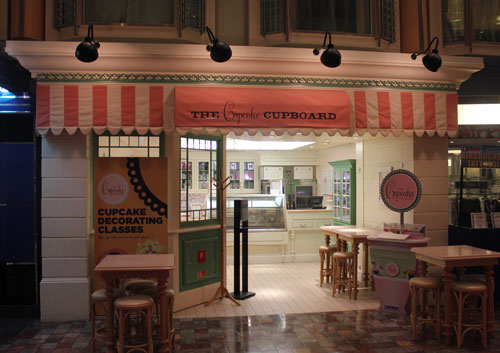 Cupcake Cupboard has cupcakes to buy, but also decorating classes that looked like fun but we never did it.
If you get the promenade view room behind the cow's butt then you get to eat at Ben & Jerry's for free :)
I still prefer the view from our balcony!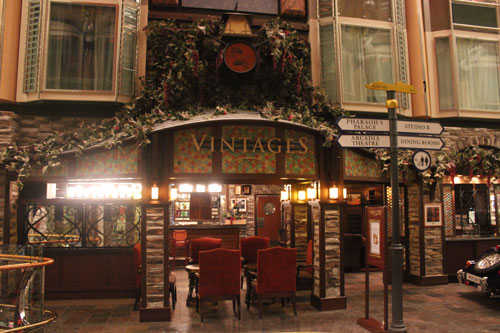 Vintages was a very cool place that we enjoyed immensely.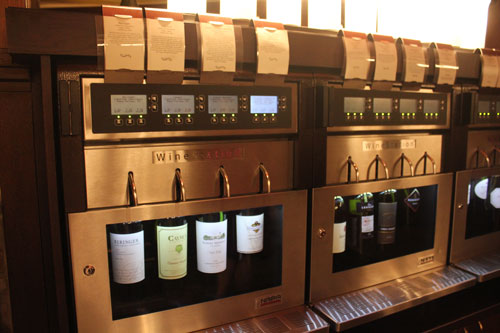 At its core, it was a self serve wine bar open 24-hours with a pretty significant selection of wines to sample or buy a glass of.
As you can see from above, this might be a great way to sample a new wine with just a 1 oz taste or you can get a full glass once you fall in love with it.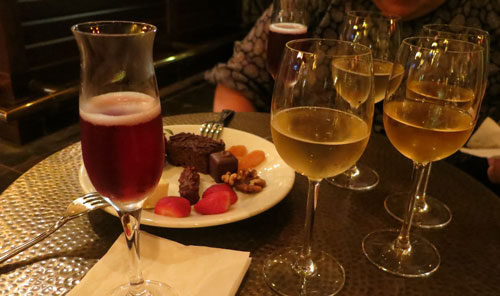 They also do wine flights and tastings. We did this on two nights.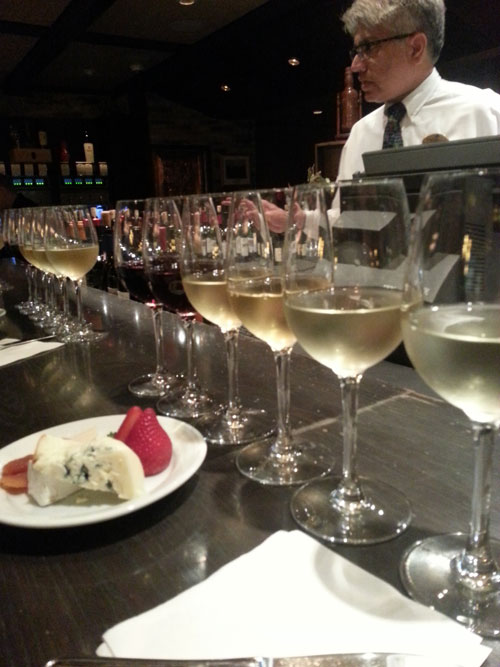 On the second time we were led through a virtual wine seminar by a master wine tender. This guy looked a bit like a mad scientist but he knew his stuff.
Very fun and enjoyable for us and another couple we met on the cruise.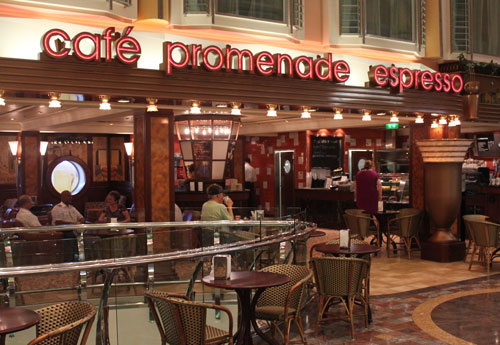 A bit further down the promenade was the Cafe Promenade Espresso where you could always find a great selection of cookies, small sandwiches, coffee etc.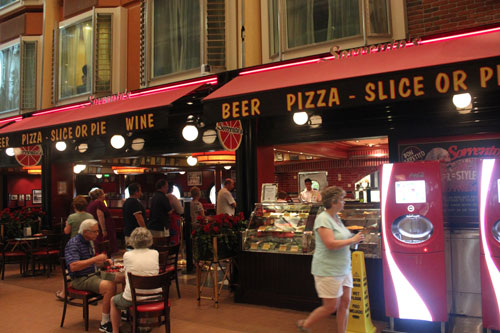 Of course, no cruise would be complete without a pizza restaurant! Sorrentos is Royal Caribbean's answer for pizza and it was pretty delicious with selections changing daily and they also had an antipasto bar as well.
You can also see the Coke Freestyle machines that were located across the ship for those with the soda card. These are the same as you have on shore and much more convenient than having to go to a bar and wait in line to get a drink.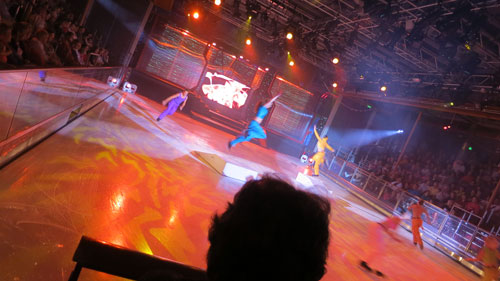 Royal Caribbean's slogan is "Designed for Wow" and one of these wow features is the ice rink and associated ice show. While like most cruise shows it was somewhat hokey, it is pretty cool to have the skaters flying around and jumping in the air on a ship that is also moving up, down, and around.
Also, for such a small ice rink it was pretty impressive how well they used it.
At night, the Studio B converts into a disco, during the day they also have free skating.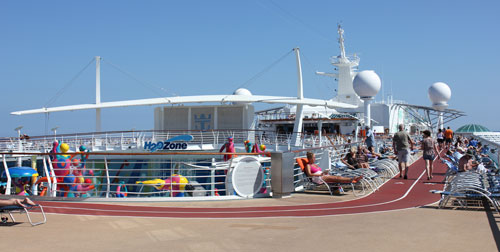 Half way down the page and you are probably wondering what the outside looks like!
Well, that was actually one of the surprising things about this ship ... there is as much if not more INSIDE vs. OUTSIDE.
The was especially true at night when almost everything was inside and the open decks were barren except a few people doing some late night hot tubbing :)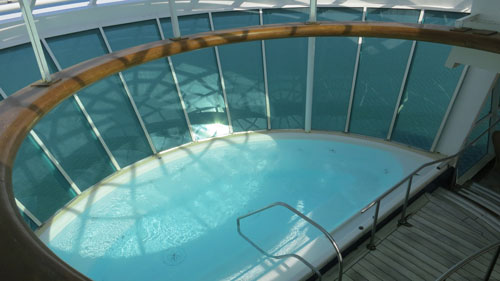 If you were up for some late night hot tubbing, Freedom of the Seas certainly has the tubs to do it - these could fit maybe 10 people comfortably and during the day had a great view of the ocean. At night they were secluded and private.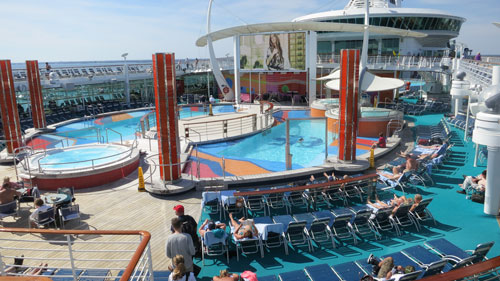 Royal has done simply an amazing job with their pool deck. It is gorgeous and well laid out with multiple pools and hot tubs as well as plenty of chairs for everyone.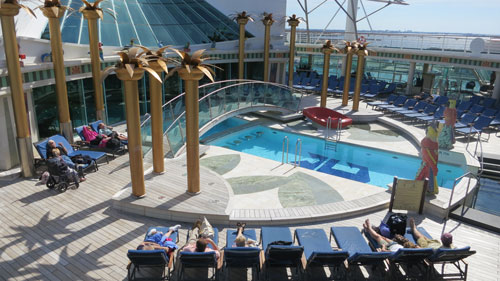 This is the Solarium / adult pool area. Unlike Carnival's Serenity deck though, kids were still running through it though they weren't in the pool so that's nice.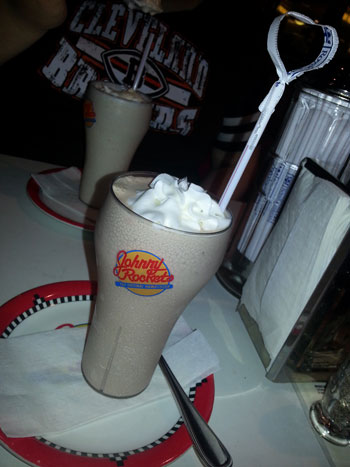 While I am sure Johnny Rockets was mostly intended for kids during the day, it was a great place to visit for adults as well. It was our late-night snack destination on several evenings.
Milkshakes and beverages were charged based on bar rates, but food was a cover charge of about $5 per person and then you could order whatever you wanted.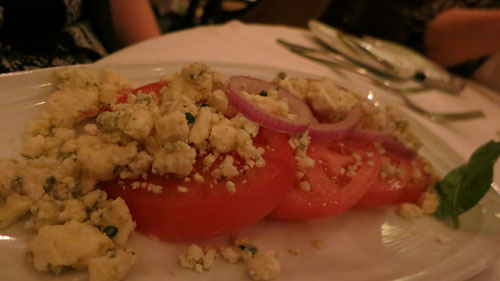 On Carnival, we don't typically visit the specialty restaurants but on this cruise we ate there 3 of 7 days for dinner.
The tomatoes above are from Chops which had a 2 for 1 special on the first night so that was a fantastic deal!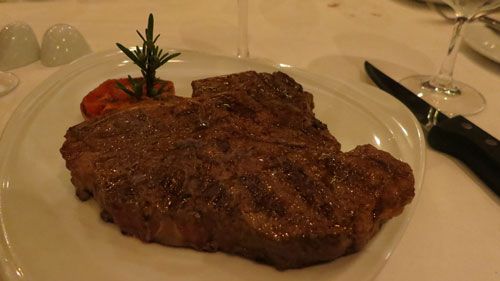 The porterhouse was very nice but frankly the $30 per person surcharge was overpriced for what you get and I was surprised that they didn't have a ribeye.
Service was comparable to what we experienced in the main dining room - which is to say that both were very good. However Chops and Portofinos both had a much more romantic and quiet atmosphere vs. the hustle and bustle of a main dining room where you are surrounded by hundreds / thousands of other people.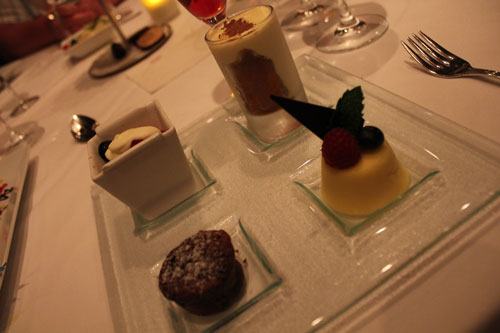 For desert, I had a desert sampler that was very nice.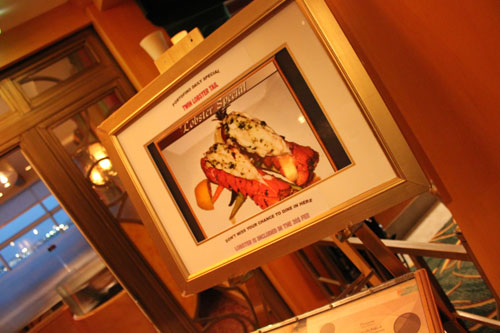 Portofino on the other hand was absolutely delightful and for a $20 surcharge wasn't "cheap" but had good value for what we got.
One of the specials they had was a twin lobster dinner - yum!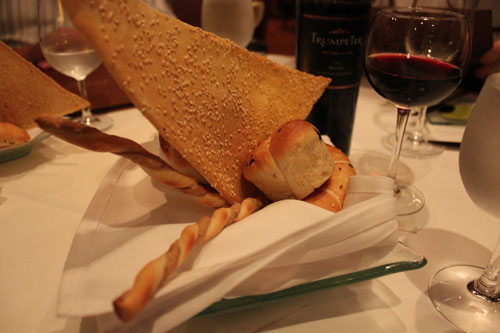 The bread basket was very nicely laid out and set the tone well for the rest of the meal.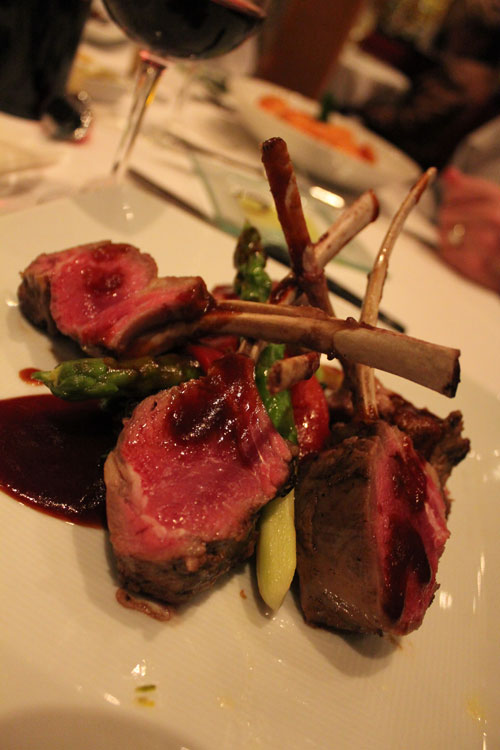 My lamb chops were delicious though way under cooked. Later I ordered the filet - a cut I NEVER order - and it was absolutely stunning.
I will absolutely return to Portofino on my next voyage with Royal Caribbean!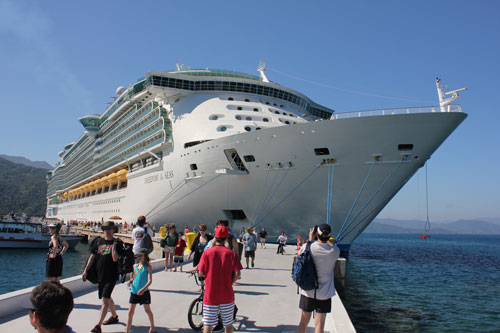 Our first port of call was Labadee Haiti - Royal's private beach resort.
While the beach was really not that great they have developed this port very very well with a selection of great cabanas for relaxing and zip-lines, roller coasters, and water sports for those wanting more adventure.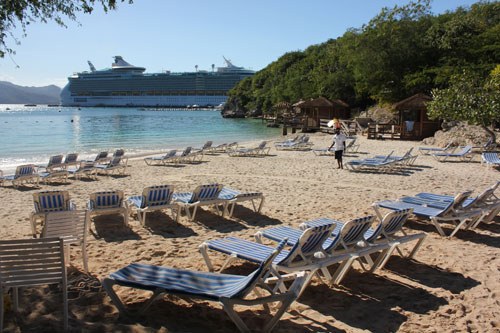 This is the view from Barefoot Beach - normally reserved for suite guests and VIPs.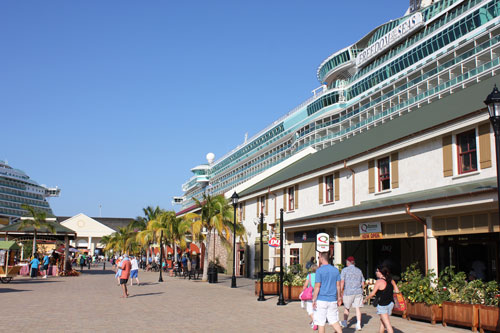 Our next stop was Falmouth Jamaica, another private port that Royal has developed vs. stopping in Ocho Rios or Montego Bay.
It is a fantastic port complex, but the location is in the middle of nowhere so it is expensive to go anywhere.
In time, I am sure a tourist trade will develop locally but for now you are left with a $60 cab ride to Montego Bay or more for Ocho Rios.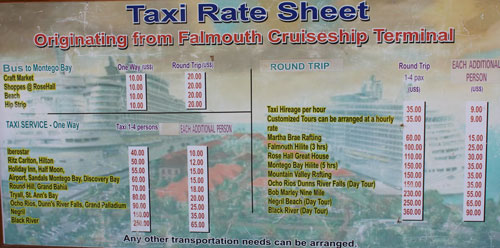 We headed off to Sandals Montego Bay. Read our Sandals Montego Bay Review here.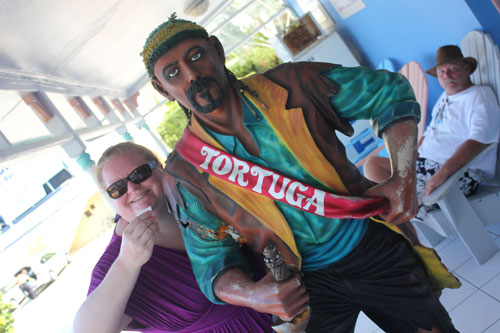 In Grand Cayman we did a quick tour that included a stop at the Tortuga rum company where we sampled rum cake and drank some rum with one of the local pirates.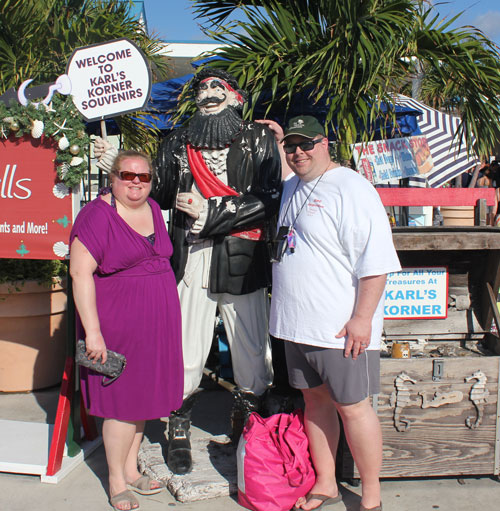 Back in port, we found another pirate and took a photo ;)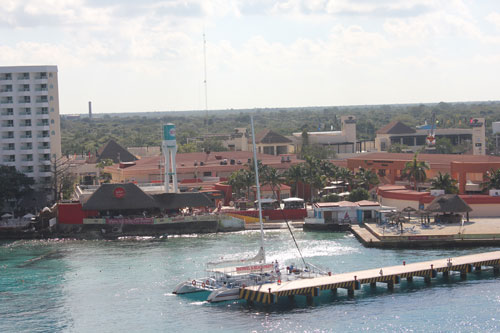 Our last stop was Cozumel where we docked at International Pier.
As a regular cruiser I was getting sick and tired for Cozumel but someone told us to try a beach club called Nachi Cocom, so we did.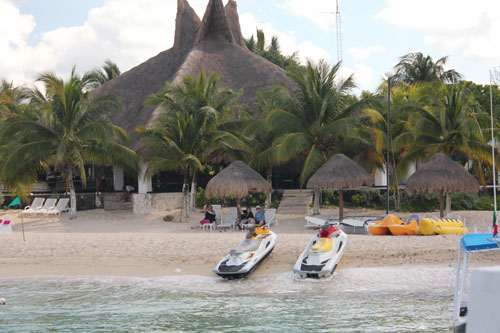 We now look forward to coming to Cozumel just for this place!
With a nice beach and fantastic all-inclusive service for only $55 / day this place is amazing!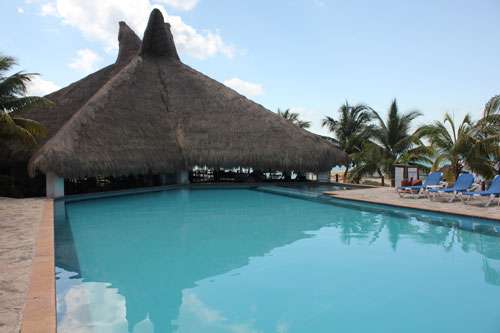 If the beach isn't your thing, they have a swim up pool and hot tub bar. This is where we spent most of our time - chilling out in the pool and then warming back up in the hot tub.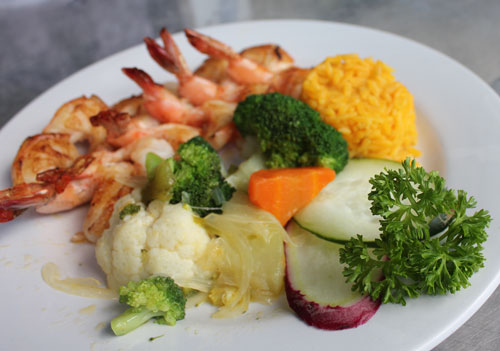 Not only was the beer and tequila fantastic here but so was the food. They have amazing nachos, delicious guacamole, grilled shrimp, ribs, fajitas and probably even more stuff that we were simply too full to sample.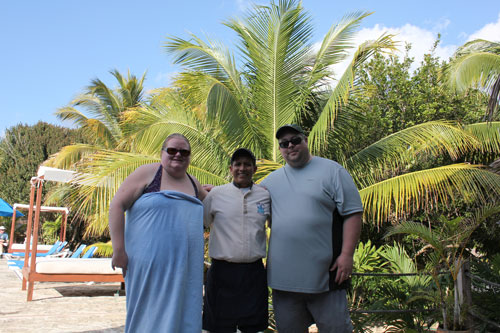 The only bad part about taking vacations is having to head home afterwards ... the great part about cruising though is that it is cheap enough that you can turn around and do it again in a few months.
Thanks to all the folks at Royal Caribbean who helped with some perks on board such as access to the VIP lounge and all the awesome people at the various places we visited along the way.