The Jeep Renegade is an interesting beast and initially I let my biases cloud my judgement but I quickly realized that this is "more than just a Fiat". Last year I had the opportunity to test out the 500x that shares the same platform as the Renegade and while it was a fun experience, at no time would I have ever thought that it could possibly be turned into a mountain scaling dirt monster. But somehow the guys at Jeep made it happen ...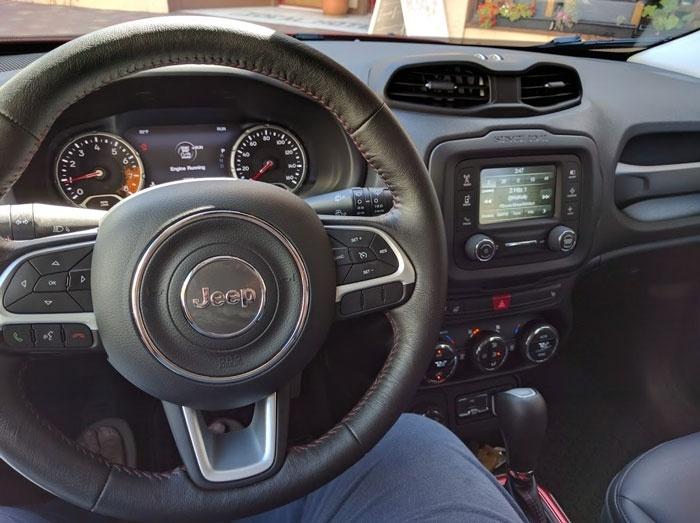 As a bigger guy, I was completely comfortable driving it, with great headroom and telescoping wheel that allowed me to be in a more relaxed position while cruising around town but more aggressive while driving on the trails. You'll also notice that the interior has some legacy from Fiat as there are bright splashes of color trim and even a orange design at the end of the tachometer vs a standard red line.
The 2016 Jeep Renegade comes in a variety of flavors starting at just under $18,000 ($19,995 for the Sport 4x4) and goes up to $27,120 for the Limited 4x4.
The Trailhawk that we drove starts at $26,745 and is designed specifically to live up to everything that it means to be a Jeep. This includes tow hooks, skid plates, advanced 4x4 capabilities that include a full-time 4x4 system and a 20:1 crawl ratio and all around designed take what you throw at it and conquer it comfortably. Oddly it even has the "My Sky" system where you can remove roof panels like you might on the Wrangler. This is likely an effort to make it more "Jeep" but it was functionally odd and so after taking the panels off I quickly decided to replace them and instead just open the sunroof.
Honestly, I could be plenty happy driving the Jeep Renegade around town and never once getting it dirty. With a compact body and good ride quality I didn't have troubles fitting into San Diego parking spaces at the grocery store or finding places to park on the street. But there's more to being a Jeep than just driving it around town and looking good doing it.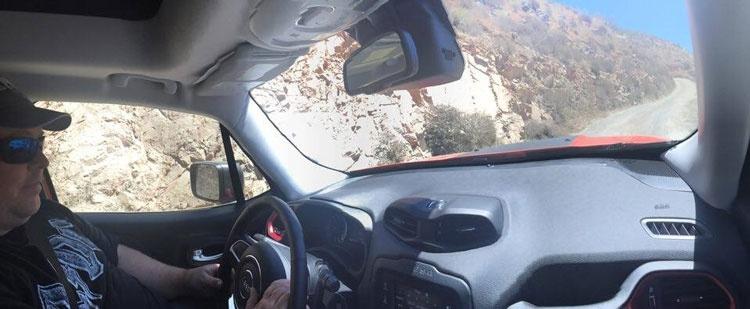 So that's where I was nervous since I knew the Renegade would be good to look at and be easy to drive since both the Renegade and the 500x share the same platform. They are even manufactured in the same factory in Italy. For an iconic American brand though and especially one that was "Trail Rated", this made me take a step back and scratch my head. How could a "Jeep" be made by the foo foo Italians? Surely it wouldn't be the same. To explore this line of thought, I set out on a quick drive through San Diego and ultimately decided to climb a mountain to see if I could get a more clear view of what this car is actually capable of.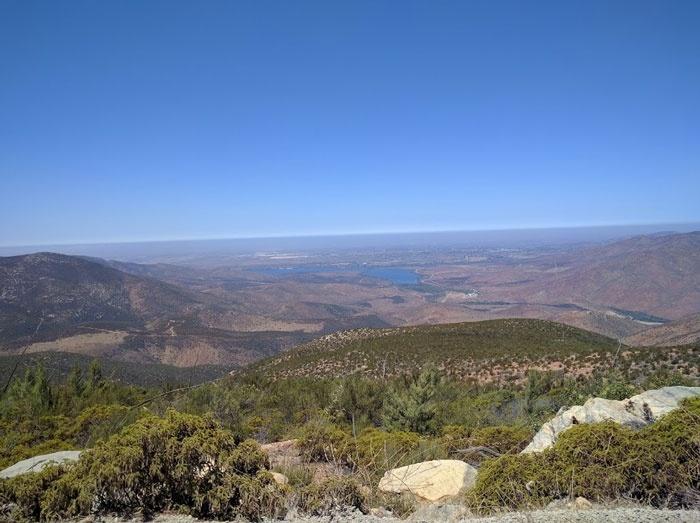 While at no point did I ever come close to testing the limits of the Jeep Renegade Trailhawk I honestly wasn't sure what they were and wish I had pushed harder. After a few hours of driving, I stood at the top of Otay Mountain and looked out over the US/Mexican border. I realized that I'd had a lot of fun and I went places that other SUVs wouldn't have dared to go. I think that's when I fell in love with the Renegade since I would have NEVER considered buying a dedicated 4x4 but this was something different and it allowed me to experience things that I couldn't have with a "normal compact SUV".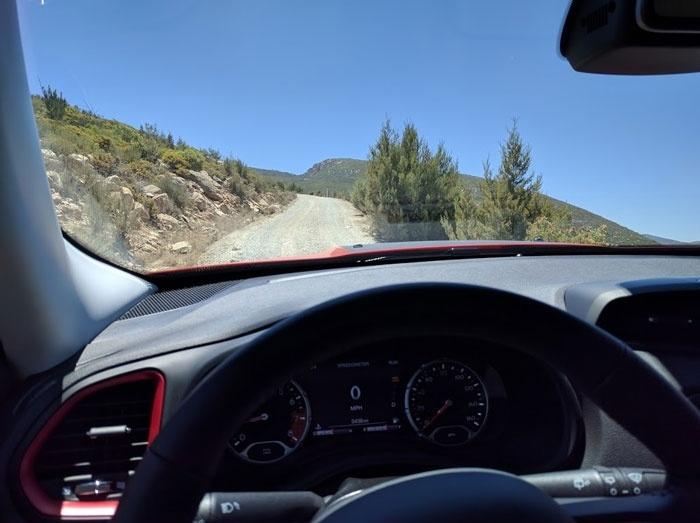 Some cars are about simply utility and others are about the feeling it gives you. The Renegade Trailhawk was both. Most of our journey was along narrow "shelf roads", so it was nice that the Renegade was both surefooted enough to not slip as we went through switchbacks but also compact enough and handled easily, allowing us to back down to passing areas when we encountered US Border Patrol and other vehicles that patrol this mountain because of its proximity to the Mexican border.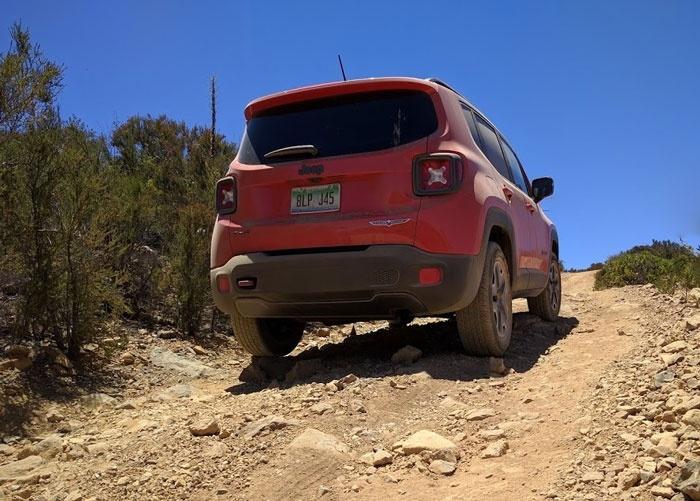 However, when it came time to test it's ability to climb with loose rocks we were thankful for it's ability to tackle those obstacles too. The Trailhawk has been raised 0.8 inches to 8.7 inches which is greater than most compact SUVs and light-duty trucks. It has 19 inches of water fording ability and 2,000 pounds of towing capacity as well. Additionally, the Selec-Terrain traction control system allows you to engage 4WD lock as well as optimizing the drive for snow, sand, mud, or rocks to make thing even easier to manage.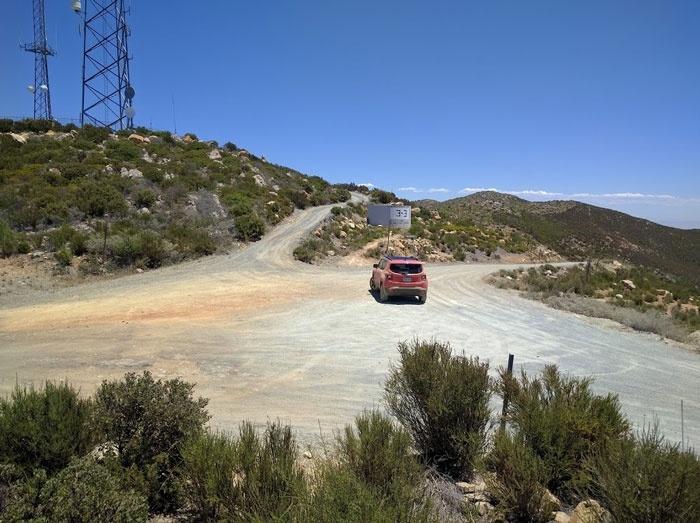 The thing I liked most about the Jeep Renegade Trailhawk is that short of crawling over large rocks, I felt like I was able to go wherever I wanted to go and yet I could still feel comfortable driving it to a client meeting. Like most guys, I don't have the luxury of being able to dedicate garage space or money for "toy" to take out just on weekends for my offroading adventures. With the Renegade Trailhawk I wouldn't have to since it functions great as both a car to haul groceries as well as climbing mountains!