Genesis is the new hot thing in the world of affordable luxury vehicles and so there are undoubtedly a lot of compromises when it comes to this space. It's one of those situations where you could compare it to something else out there but that inevitably means adding 10s of thousands of dollars to the sticker price. At the lowest trim levels, the Genesis G80 initially feels like a sexed up Hyundai but as you begin to drive it, you realize that this is indeed something special. As you proceed to higher trim levels though, Genesis as a brand truly takes off into a category of it's own that defies simply being considered "budget luxury".
My first experience with Genesis was last year driving the GV80. That experience piqued my interest since the vehicle opened my eyes to a world that leveraged Hyundai's extremely good quality and merged it with segment leading technology. In both vehicles, to be fair, the initial feel just isn't there. The doors feel light and while the exterior design is stunning with it's brash confident grill and striking lines that allow it to stand out in a crowd, the initial "touch" falls short of what I'd expect from a true luxury vehicle.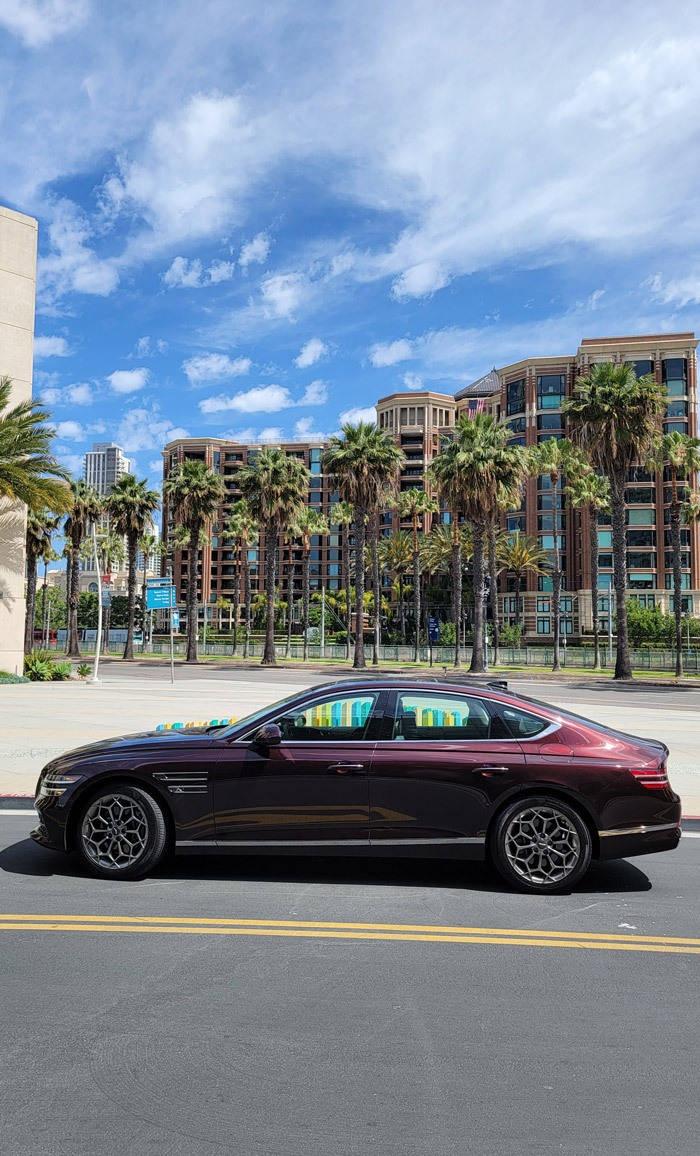 Don't let that dissuade you from spending time with it though, both vehicles offer a driving experience that is exciting and comfortable. That's not shocking since they are based on the same platform. This new M3 platform shared by the two vehicles allows the G80 to ride lower, is wider, has a lower center of gravity, and is lighter than the previous model.
The model that we had was the 2021 G80 AWD 2.5T Advanced. Priced at $56,875, this model features the smaller engine, a sacrifice that saves $12,000 vs the 3.5T AWD (price jump includes engine as well as a bunch of features, many of which you can add by selecting the Advanced Package on our trim level).
This was a very interesting experience here since with the way Genesis has configured the packages, you're forced to select the Prestige Package to get features I'd consider standard even on non-luxury vehicles. For instance, the wireless device charger, Surround View Monitor, and Blind-Spot View Monitor are only available at the Prestige Package level. Compare this to the Hyundai Sonata Limited at $33,950 that includes all three of those features.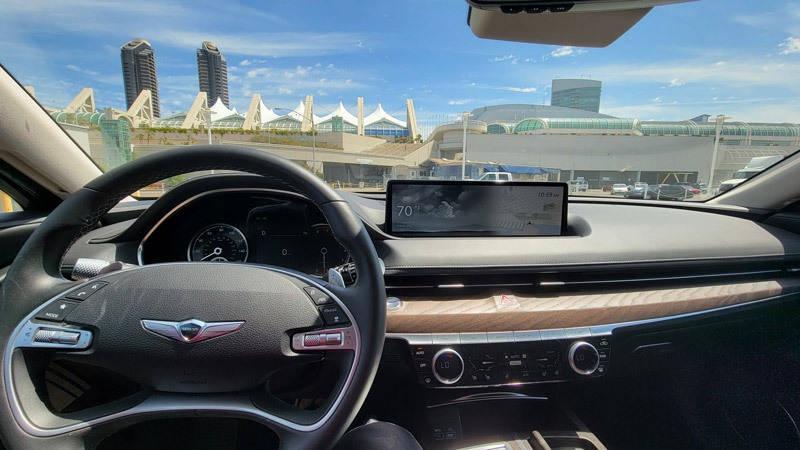 These are clearly two different vehicles but frankly it left me infuriated that a manufacturer would only offer safety features like the Surround View Monitor on the top level of three offerings when the base should already be a luxury product exceeding what you find on vehicles half the price.
I frankly don't see the value in purchasing anything but the Prestige Package for the G80 unless you just want a vehicle that looks great. Some folks will be happy saving a few dollars here and the driving experience is still impressive. However, when I think of buying a luxury sedan I want to feel like I'm someone special. I don't want to feel like my kids car has features that mine doesn't.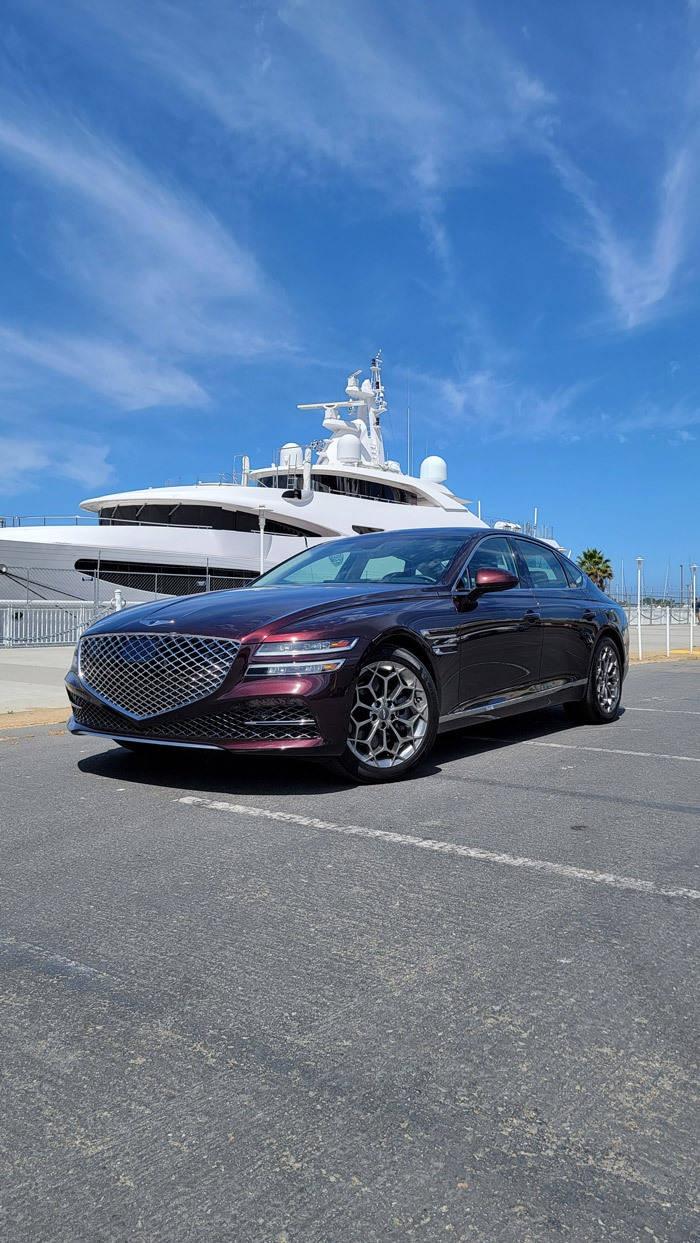 My other concern initially was performance. I always prefer faster and more powerful if I can get it. However, I was very impressed with the 2.5 Turbo engine in this configuration. It offers 300 hp and 22 mpg city / 30 mpg highway from its inline 4-cylindar. If you want to step things up a bit, the 3.5L V6 adds an extra 75 hp while sacrificing a bit of fuel economy for the extra power.
While I wouldn't describe the vehicle as being a performance sedan, I never felt that I was lacking enough power. The 2.5T was more than enough engine to provide a fun driving experience and ultimately that's what is important for most people.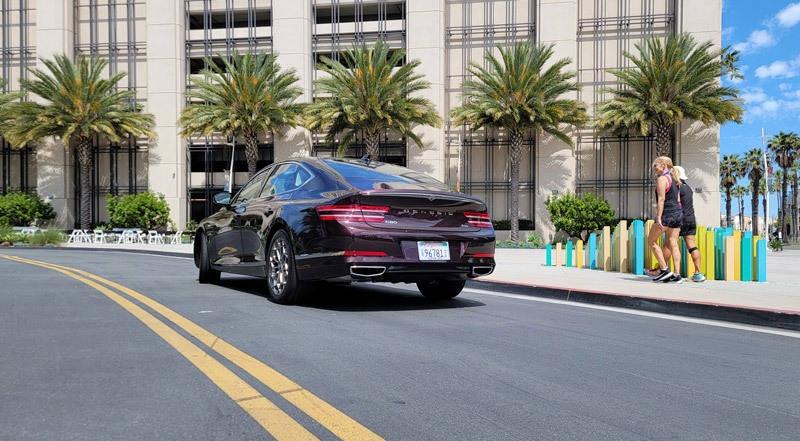 For anyone looking for a luxury sedan but may have overlooked Genesis in the past, this is the time to take a second look. Even while I was out taking photos of the car, people would stop by and ask questions thinking it was some exotic luxury vehicle (not an uncommon occurrence in downtown San Diego). When you consider that one of the draws of having a luxury sedan is attracting attention, Genesis has clearly succeeded there. This is not a "disappear in a crowd" Mercedes or Audi. The Genesis G8 is something beautiful that will draw attention and make you smile as you approach it.
Compared to it's German rivals, Genesis G80 offers a lot of value and considering my only nit was the wonky pricing configuration, that says a lot about the vehicle. I can't wait to explore more of their portfolio soon.