Two of our favorite trucks are the Chevrolet Silverado and the Colorado ZR2 ... well now they've come together to create a truck we can't wait to get our hands on next spring. The 2022 Silverado ZR2 takes the existing Silverado to the next level, bringing it closer ... and in many ways superior to the current generation Tundra TRD Pro and F-150 Raptor.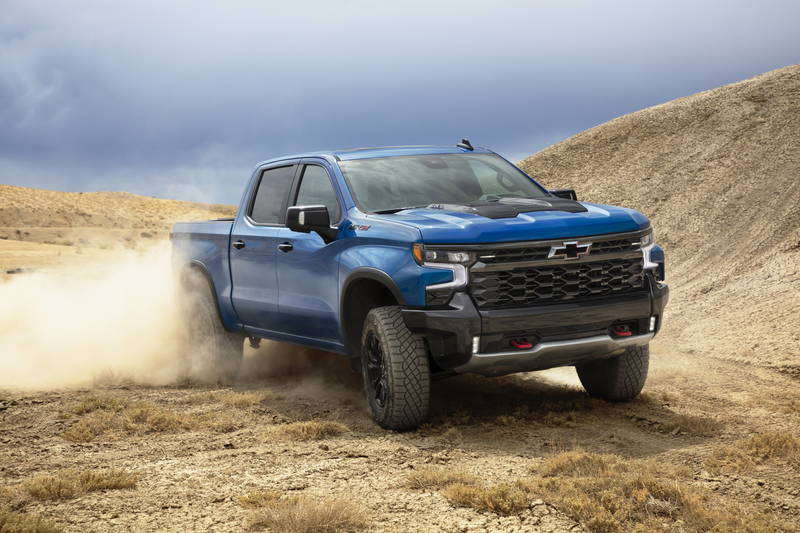 In recent months, the off road truck race has been dominated by power ... with the introduction of the TRX last year and the forthcoming Raptor R, the conversation recently has been about engines. However, as any fan of off road vehicles knows ... horsepower is only one part of the equation. In fact, the 700+ horses in the TRX - while incredibly cool - doesn't really help in practical situations like crawling slowly over rocks and shelf roads.
That's where the Raptor has shined in comparison to the TRX and even though Ford is set to compete with the TRX's engine power sometime next year, we're not completely disappointed that the Silverado ZR2 isn't following that path.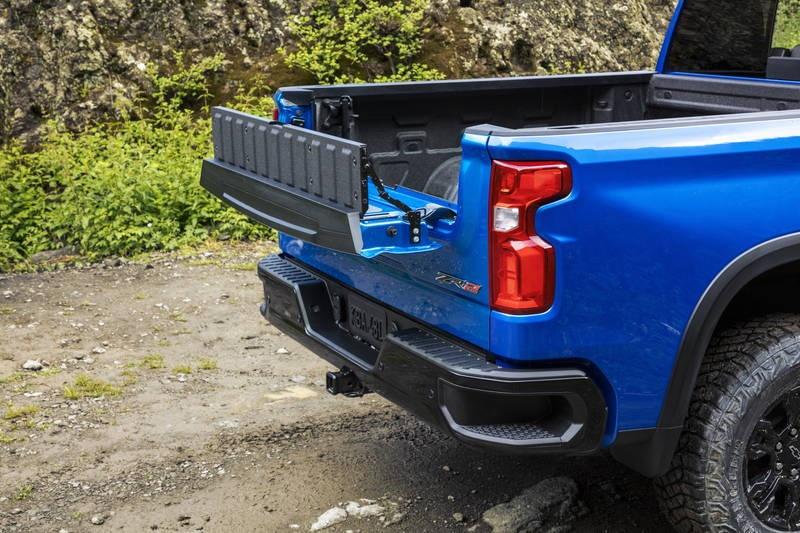 Instead, we'll see a truck dimensionally similar to the standard Silverado but featuring a standard 6.2L V-8 that delivers 420 hp and 460 lb-ft of torque, connected to a 10-speed automatic transmission.
The suspension has been updated to a 40 mm DSSV spool-valve dampeners. Combined with off-road tuned springs, the front and rear suspension travel is improved compared to the Trail Boss trim level (which will still exist in 2022).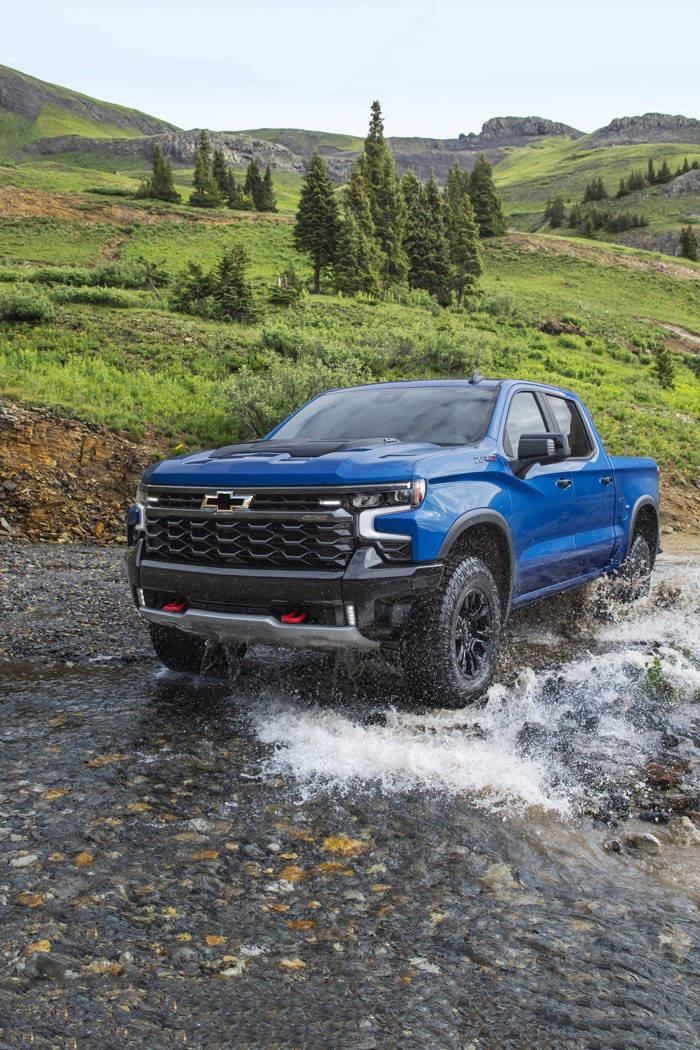 Other enhancements include:
Front and rear e-lockers
Specific off-road chassis and suspension calibrations, including Terrain Mode, which allows one-pedal5 rock crawling
Specific 33-inch off-road MT tires
Unique skid plate package
New high-approach steel front bumper designed for off-road strength, durability and clearance that enables an improved 31.8-degree approach angle compared to other Silverado off-road models
When you look at how Chevy has approached this vehicle it is clear they were committed to creating a vehicle designed for folks who truly are looking for a great off road vehicle ... not simply one that will be bought by people who want to show off by parking it in front of a nightclub.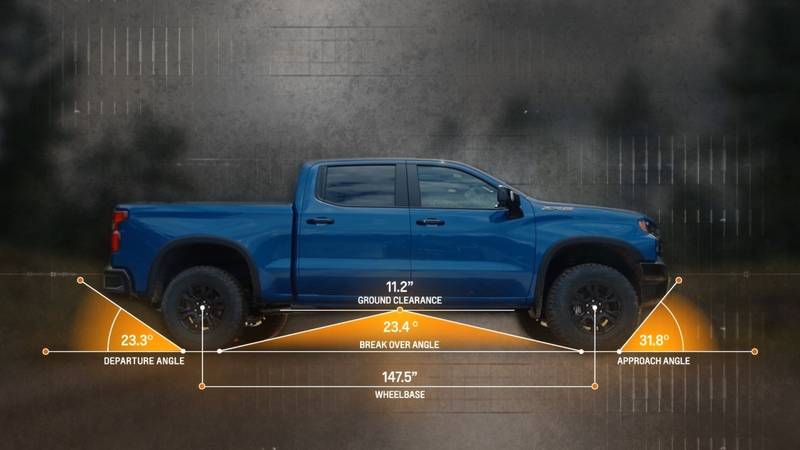 For instance, one of the frustrating elements of most trucks is that the exhaust pipes stick out below the rear bumper and can be easily crushed, while also limiting departure angles. In the Silverado ZR2 however, Chevy has placed them before the rear bumper to avoid damage.
In addition to its functional features, the new Silverado ZR2 is distinguished by several aesthetic cues, including a new black hood insert, a unique grille with integrated lighting and a "flow-tie" emblem, ZR2 badges, unique 18-inch wheels and a unique Jet Black/Graystone leather-trimmed interior, with complementing dark trim.
From a brand positioning perspective, it seems that unlike the ZR2 trim on Colorado where it was just about off road ability, here with Silverado they are configuring it for a no-compromises customer who wants comfort as well as off road ability.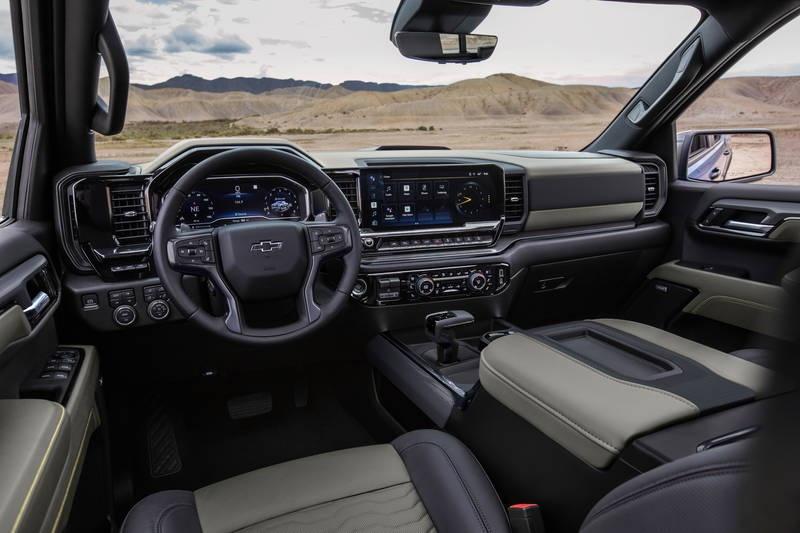 Interior Is Updated Too!
One of the biggest criticisms - even among GM Truck lovers like myself is that the Silverado and Sierra simply didn't make the grade when compared to it's peers in this new generation. They've addressed this concern in a big way by adding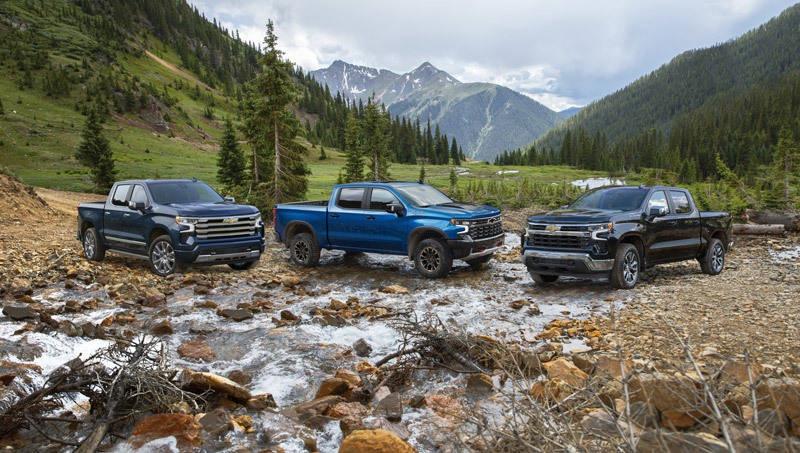 Silverado ZR2 Shares Many Updates With LT and High Country
While ZR2 is focused on delivering an excellent off road experience. These updates to the interior will also be found on the LT and High Country trims as well.
It appears that, for now at least, Work Truck, Custom, and Trail Boss remain largely unchanged aside from some new engine tweaks and options.
How Much Will The Silverado ZR Cost?
While Chevy has not revealed pricing details, we expect that the Silverado ZR2 will be priced similar or even above the High Country trim. Currently The LT Trail Boss 4WD with Crew Cab is starts at about $54,000 with the 6.2L V8, while the High Country is priced at $59,000.
This would place it significantly above the 2021 Tundra TRD Pro (starting at about $49,000) but lower than the 2021 Ford F-150 Raptor (starting at about $64,00) and 2021 Ram TRX (starting at $70,000).