The long awaited all-new 2022 Toyota Tundra is finally here and we had a chance to test it out on some trails in San Diego, patrolling the southern border as well as prowling some of Southern California's highways. Our summary judgment - Toyota has delivered exactly what they needed to keep existing customers excited about the brand and attract some swing customers with long awaited updates that make this one of our favorite trucks available today.
The outgoing Tundra was a workhorse that despite avoiding the pissing contest games that GM, Ford, and RAM continue to play … was an excellent work truck for someone who prized Toyota reliability over pretty much everything else.
The incoming all-new Tundra platform though, while it continues to avoid challenging the market leaders for most specs … it doesn't really need to. Instead, it is generally speaking a huge improvement on all aspects of the platform from ride comfort to technology to fuel economy.
In fact, with the Hybrid i-FORCE MAX, Tundra is approximately 7 mpg better than the previous generation's 5.7L V8. Measuring truck fuel efficiency is essentially meaningless the deeper you dig, so let's just leave it by saying, "it's better". More importantly, "it's right there in the middle of the pack."
Tundra comes standard with a 3.5L Twin-Turbo V6 with 389 hp and 479 lb-ft of torque and the available i-FORCE MAX kicks that up to 437 hp and 583 lb-ft of torque. This is more than any other 1500-class truck except special editions like the Ford Raptor or RAM TRX.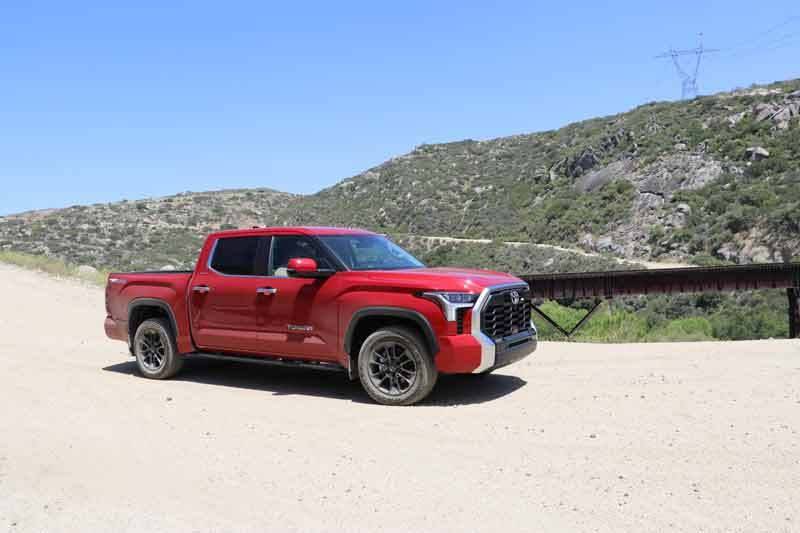 The model we were loaned for this review was a Limited trim with the TRD Offroad 4x4 package, featuring a CrewMax with a 5.5' FT bed and it is an enormous truck. While I can (barely) park a GMC Sierra in my garage spot, the Tundra was long enough where that just wasn't possible safely. Depending on configuration, the Sierra ranges from 211-242" vs Tundra at 233.6-252.5" vs F-150 209.1-250.3" vs RAM 228.9-241.8".
Size matters though, and if you are looking for a vehicle that works equally well as a full-size SUV (minus a 3rd row) for your family but also want a fully functional payload bed, this is a great option.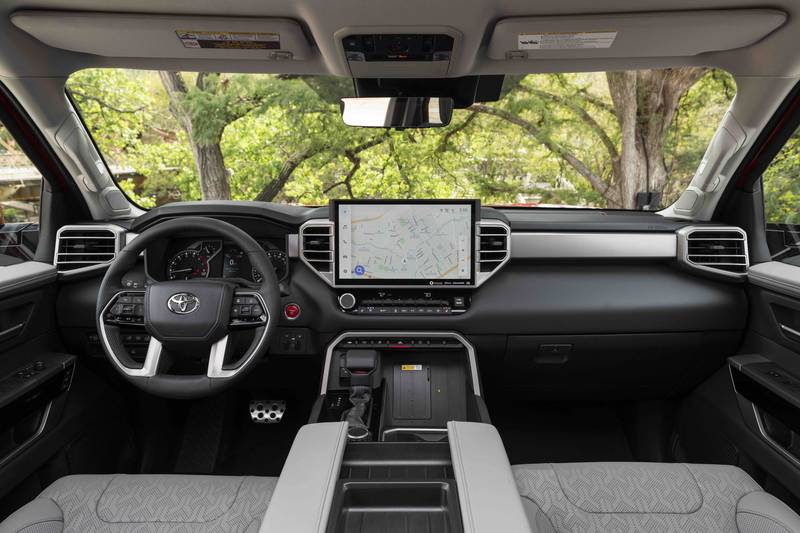 Inside the cab, the difference is immediately evident that Toyota has finally taken the truck into the future with an enormous 14" vertically oriented infotainment screen that is also one of the most functional and easiest to use but they still retained the big buttons and switches that I like to use when wearing gloves.
Materials were very appropriate for a Limited trim that sits nearly $30,000 less than the Capstone trim and $10,000 more than the entry-level SR "work truck" trim level. Here, you get robust materials that appear easy to clean but with very attractive styling such as the patterned seat fabric and leather-wrapped steering wheel.
Toyota Safety Sense 2.5 Active Safety system is standard on all grades as well.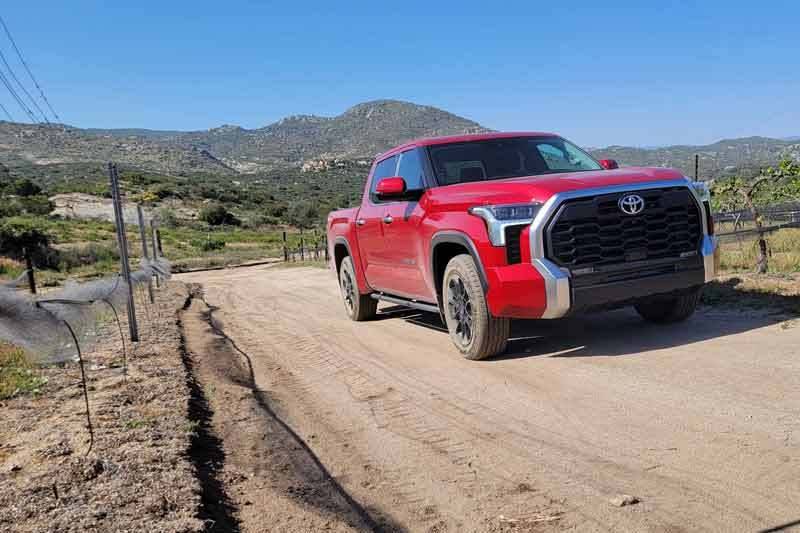 From a comfort perspective, I found this to be among the most comfortable trucks that are available today. With a high headrest and a much improved "chair" type seating compared to previous generation, as well as ample head, leg, and shoulder room … this is possibly the most comfortable truck I've driven in a long time.
On-road performance felt a bit soft in corners compared to the more SUV style experience of the RAM but felt very solid in highway and around town driving, including an unexpectedly quick stop I made during the test period. Even on mountain roads the truck felt comfortable to drive though it's clear that this is still a big, heavy beast.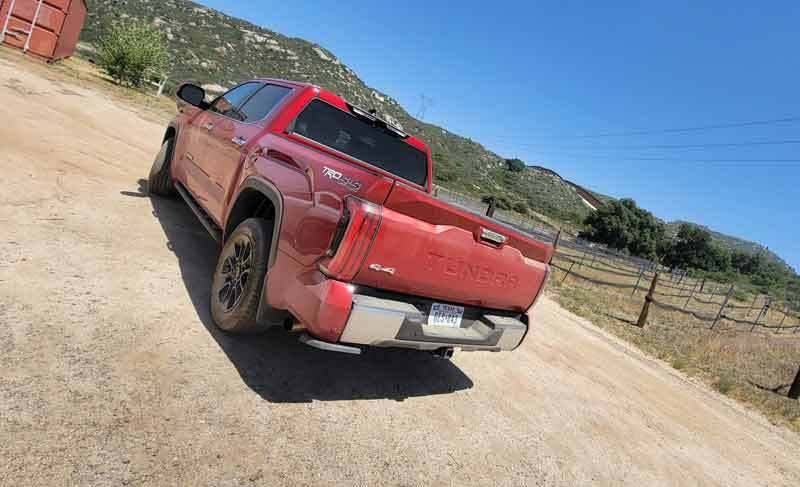 Off-road on unmaintained dirt paths and traversing gullies, the Tundra was extremely confident and smooth. One thing we really appreciated here is that compared to the outgoing Tundra, they've also done a MUCH better job of protecting the exhaust pipe. Instead of sticking down and out on the side, it appears to be much better integrated so as to reduce the chances of it getting crushed on sharp departure angles and other obstacles. In fact, not only is it tucked up into the bumper but the retractable step sits right behind it to protect it in the event you should land the rear of the truck on something unexpectedly.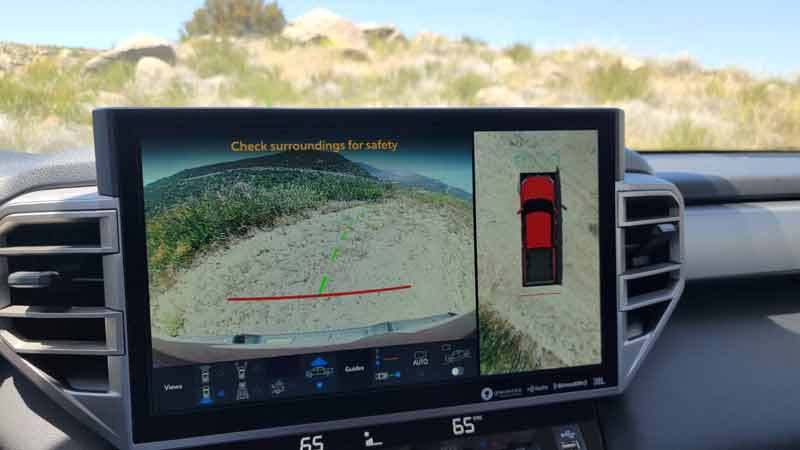 The camera system and screen also helped compensate for the less than nimble experience of backing up or turning around in tight spaces where you want to avoid placing your wheel in the wrong space.
The Limited trim starts at $46,850 and as tested was just over $61,000.
Overall, we are extremely impressed and for the buyer that isn't worried about parking in urban areas this is a great truck that everyone should consider if they are in the market.