One of the challenges - and frankly the thrills - of having a 4x4 truck is seeing how capable it really is. The challenge with that though is that sometimes the line between awesome fun and danger is blurred and you never really learn except by making mistakes. That's why I absolutely love the fact that the state of California along with some local off road clubs created this amazing park located just east of San Diego with marked challenges and obstacles ranging from the absolutely insane to beginner. This also gave us the perfect place to test out and compare the TRD Pro trucks that Toyota had given us to play with.
Unlike in the open desert we explored the day before up at Joshua Tree, at the Ocotillo Wells SRVA 4x4 Training Park we were able to push things to the limit and see what the strengths and weaknesses of each vehicle was. I wish there were more places like this since all too often you really don't know how far you can take something - until it breaks. Unfortunately when that happens while on the trail it is an expensive and sometimes painful situation.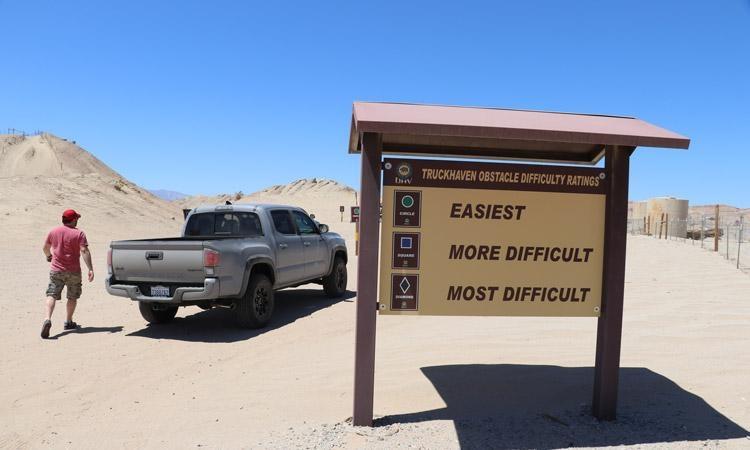 Truckhaven 4x4 Training Park and obstacle course in Ocotillo Wells is extremely convenient for anyone Southern California. It is about 2.5 hours from San Diego and 3 hours from Los Angeles, and just under an hour from where we were staying at Marriott Shadow Ridge in Palm Desert.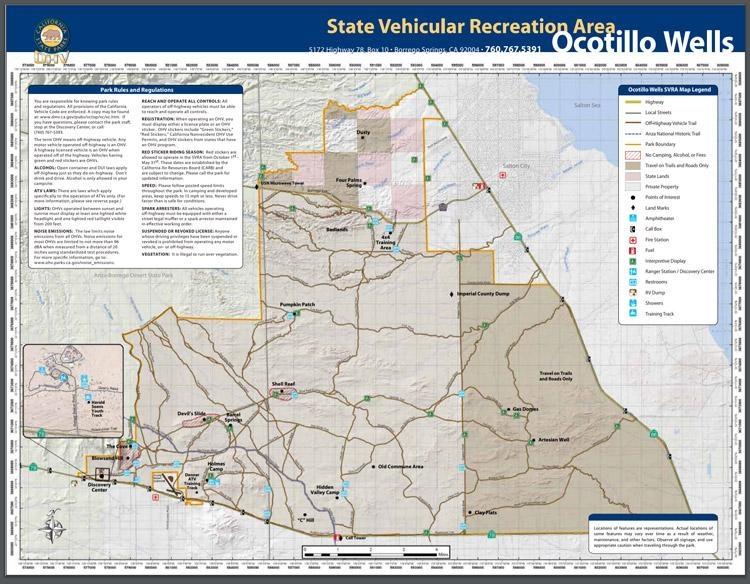 map of Ocotillo Wells SVRA off-road park and 4x4 trails (click for full-sized map)
The park has approximately 22 different obstacles ranging from "Easiest" to "Most Difficult" across approximately 30 acres of desert located off the Salton Seaway between Borrego Springs and Salton City. While the park is the main draw from people looking to practice their skills, it is part of the larger Ocotillo State Vehicular Recreation Area that has some fantastic terrain to explore ranging from tight canyons winding through the badlands to huge sand dunes, plus a variety of fast trails, geologic wonders, and abandoned settlements too.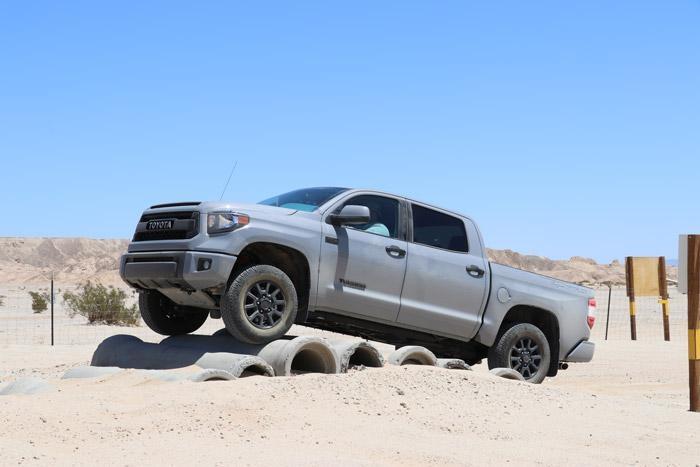 During our time here we wanted to test out a few different areas of each truck so that we could really judge them for their strengths (as well as weaknesses).
Our first stop was this obstacle above to test a combination of wheel articulation as well as agility. The 2017 Tacoma TRD Pro and the 2017 4Runner TRD Pro had no problems with this obstacle, but the Tundra TRD Pro had some challenges bottoming out in the back because of the longer wheelbase.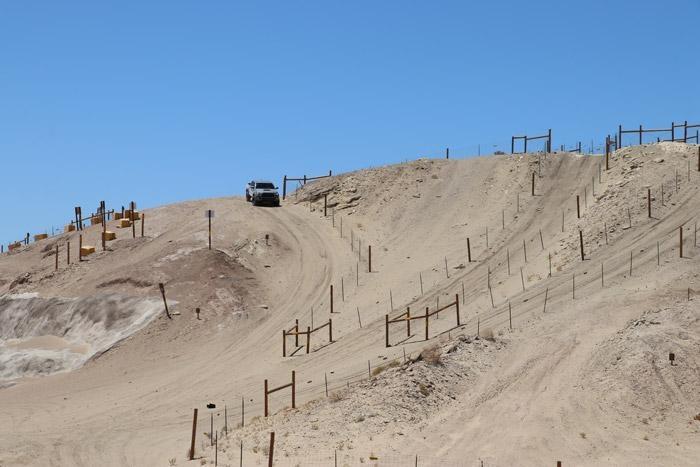 Next we wanted to test out hill descent and ascent. the Ocotillo Wells 4x4 park has some well marked paths up and down this hill for us to test out. While none of the vehicles needed the computer to takeover in the form of crawl mode, it was nice to know that crawl control was available since the sand tended to be a bit loose at steeper grades. I did engage it on the 4Runner and it was an interesting feeling similar to the first time that you experience anti-lock brakes as the computer adjusts to prevent slippage.
Differences Between Tacoma TRD Pro, Tundra TRD Pro, and 4Runner TRD Pro
The question I got immediately when I got back from this adventure is, "which truck was best?" That's honestly a hard question to answer since each was different and had both strengths as well as weaknesses. When comparing the three though, all three of us agreed that the Tacoma TRD Pro was the strongest and ultimately the truck that each of wish he had in the garage.
All three of these models were designed to include a set of options that would take Toyota's already strong truck lineup and make them off-road monsters. This includes cosmetic enhancements as well as improved tires, skid plates, suspension tuned for off-road environments, and in the Tacoma and 4Runner technology designed to help conquor the toughest obstacles in your way. They all shared a few weaknesses though - there were no tow hooks (front had a loop and in the rear your hitch served as a tow point), tires compromised to the benefit of on-road fuel economy vs off-road ruggedness, and the included tire jack is more suited for pavement repairs than supporting the truck on sand, rocks, or dirt.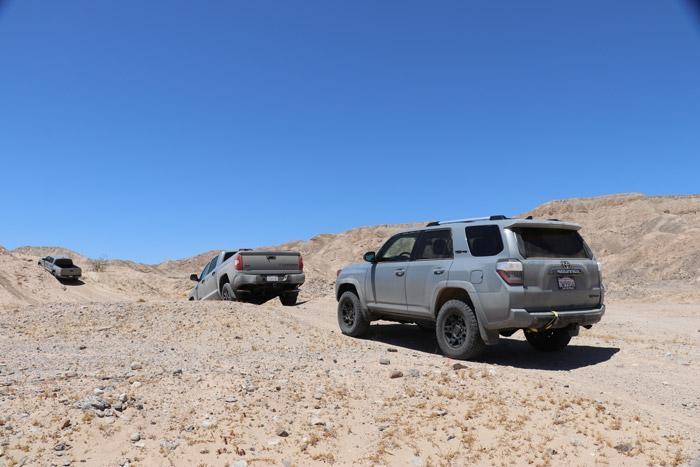 Regardless though, each of them managed to take everything we did during our testing at the Ocotillo Wells 4x4 Training Park and on the trails we explored through Joshua Tree the day before.
Tacoma TRD Pro:
With a MSRP starting at $41,215 this is the least expensive of the trucks - but when you add the double cab as we tested it becomes $43,2015.
The Tacoma TRD Pro features a 3.5L V6 providing 278 hp and 18/23 mpg (Double Cab) and has a towing capacity of 6,400 pounds with the tow package that comes standard on the TRD Pro trim level.
Ground Clearance: 9.4 inches
Approach / Departure / Breakover Angle: 35.0 / 19.1 / 23.9 degrees
Turning Cicle: 40.7
Length / Width / Wheelbase: 212.3 / 75.2 / 127.4
4Runner TRD Pro:
With a MSRP starting at $42,675, the 4Runner TRD Pro is the middle child in terms of price though when you add larger cab options to the Tacoma that goes away quickly. The 4Runner TRD Pro was extremely solid during everything we threw at it and handled steep sand as well as rocks with ease. The technology inside is a bit dated compared to the Tacoma TRD Pro, which received a platform update in the 2016 model year (4Runner continues the same platform since 2009). Despite this, it still had a solid technology package including crawl mode and was clearly designed as an SUV that would be as good to haul family, friends, and pets as it would be to tackle off road trails.
The 4Runner features a 4.0L V6 that provies 270 hp at 17/18 mpg and has a towing capacity
Ground Clearance: 9.6 inches
Approach / Departure Angle: 33 / 26 degrees
Turning Cicle: 37.4
Length / Width / Wheelbase: 191.3 / 75.8 / 109.8
Tundra TRD Pro:
The Tundra is a beefy truck, so it's no surprise that it is also the most expensive with a MSRP of $43,495 and it comes in two different options that increase that price - a Double Cab with a 6.5' standard bed and a CrewMAx with 5.5' short bed.
The Tundra TRD Pro features a 5.7L V8 that provides 381 hp providing 13/17 mpg and a towing capacity of 9,700 pounds.
Ground Clearance: 9.6 inches
Approach / Departure Angle: 26 / 22 degrees
Turning Cicle:
Length / Width / Wheelbase (standard bed): 78.7 / 79.9 / 145.7
We all loved the Tundra TRD Pro but it sort of felt out of place next to the other two extremely capable off road trucks. While it handled everything we threw at it, the width and length caused challenges on the tighter trails and obstacles that required it to be more nimble with tight turns. This was especially accute in attempting to cross ditches. However, the huge and comfortable cab was the perfect spot to escape from the summer heat and enjoy lunch with the AC blasting cold air at us. It is also the truck we'd want to have for hauling our toys out to the desert or pull a boat to a fishing cabin in the woods.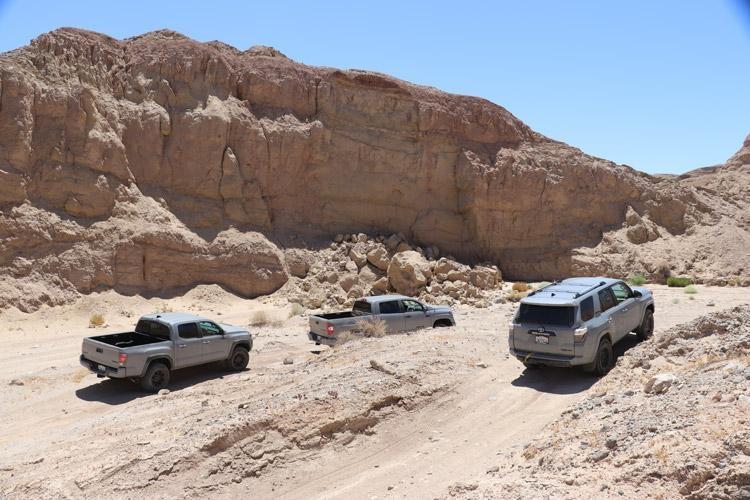 Photos of Toyota TRD Pro Trucks at Ocotillo Wells 4x4 Training Park:
{lightgallery type=local path=images/stories/ocotillo-wells-4x4-training-park/photo-gallery previewWidth=160}Ocotillo Wells 4x4 Training Park Photo Gallery{/lightgallery}