Mazda is a brand that we haven't had much exposure to recently but it continues to fill a very nice niche of affordable luxury and because it isn't focused on serving a mass-market customer, it can deliver a different design experience than other manufactures. For some people this is the right fit and understandably for others it isn't right. That's why test drives are so important and why I enjoy spending time driving these vehicles over a series of days on different terrain. For this road trip, we took the Mazda CX-9 up to Palm Springs and tested it on a mixture of suburban streets, high-speed interstates, and twisty mountain roads. What we found was a very enjoyable and comfortable ride that while not a standout in terms of power or luxury amenities - hit a very attractive price point that is thousands less than comparable 3-row SUVs from luxury brands like Cadillac.
The first thing that you will notice about the Mazda CX-9 is that it's styling is bold with a big front grill and while it has a stretched out appearance, doesn't immediately scream "family wagon". Similarly, while designed to be aero-dynamic, the rake of the windshield doesn't sacrifice being able to easily able to enter and exit the vehicle for tall guys like myself.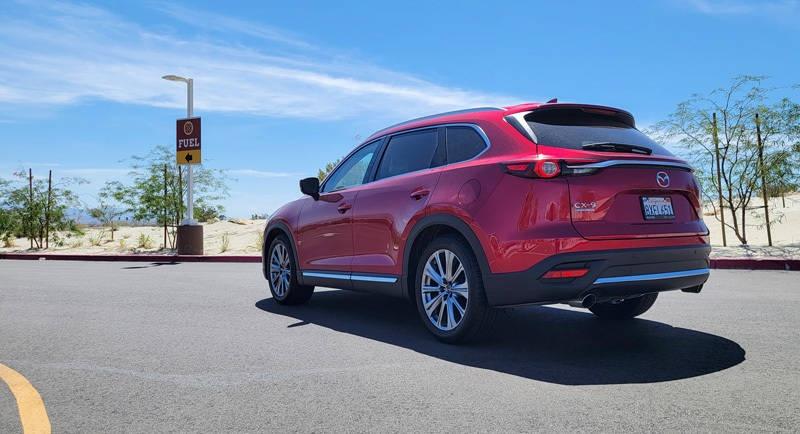 From a performance perspective, all trim levels feature the Skyactiv-G 2.5 Turbo which delivers 250 hp and 320 lb-ft of torque with 93-octain and 227 / 310 with regular 87 octane fuel. For some reason though the CX-9's 2-row brother, CX-5, is rated at a slightly higher 256 hp for the same engine. While I found the engine sufficient for this vehicle, this is certainly not a vehicle you buy to go fast but that's standard for the segment. Most customers are shopping for a 3-row family hauler for comfort and efficiency and that's what the Mazda CX-9 does well.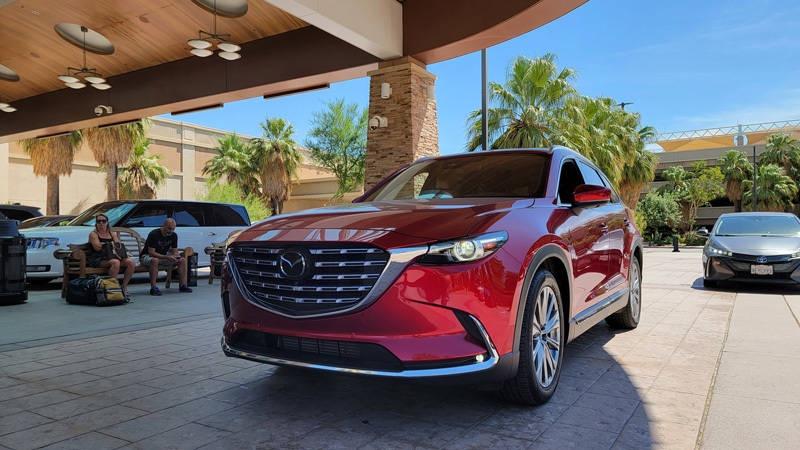 Compared to it's peers - Ford Explorer, Chevy Traverse, and Hyundai Palisade, the Mazda CX-9 slightly exceeds the competition in terms of both power and efficiency.
Honestly, I have no complaints but it would have been nice to have a performance trim that offered a bit of extra boost like the Ford Explorer ST so that the vehicle can have overall performance numbers that match how great it looks and feels.
Before you think that maybe I was disappointed when driving, I want to clarify that on-road it handled as I expected but on the mountain roads it was very enjoyable to drive. In spaces where raw power and speed were less important, the actual performance made the drive fun and exciting while still maintaining a comfortable environment for the passengers.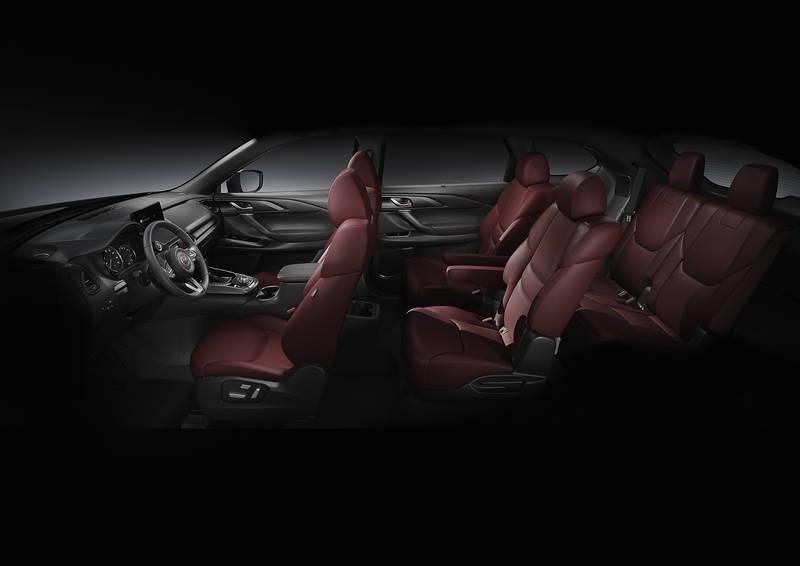 From a technology perspective, teh vehicle features all of the standard features such as Apple CarPlay and Android Auto as well as standard i-Activsense safety features such as Mazda Radar Cruise Control with Stop and Go, Smart Brake Support with collision warning, Advanced Smart City Brake Support with pedestrian detection, Blind Spot Monitoring, Rear Cross-Traffic Alert, and Lane Departure Warning with Lane Keep Assist.
One thing that takes some getting used to initially is that Mazda still uses a shuttle puck system for navigating the infotainment system. This I feel is outdated design language compared to the giant touch screens that I see on other vehicles in the segment but ultimately, when combined with the heads-up display (HUD) the system allowed me to keep my eyes focused on the road rather than leaning over to hunting around on the screen trying to tap exactly the right spot to change the radio channel.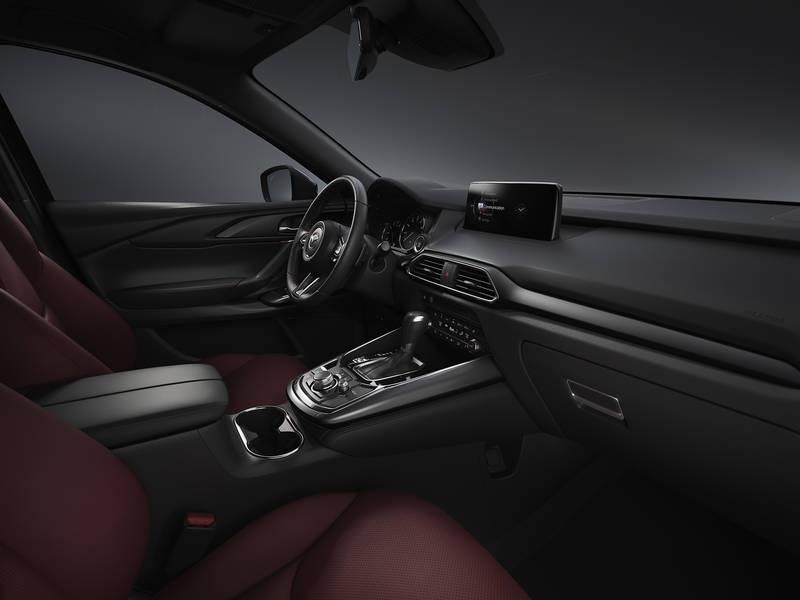 Inside, our CX-9 Signature features premium materials including Nappa leather in the first two rows of seats as well as Santos Rosewood trim and aluminum accents on the dash and door bezels instead of chromed plastic. This gave a very nice feeling when driving but also contributed to a luxury experience from the moment you opened to the door the first time to the moment you stepped out.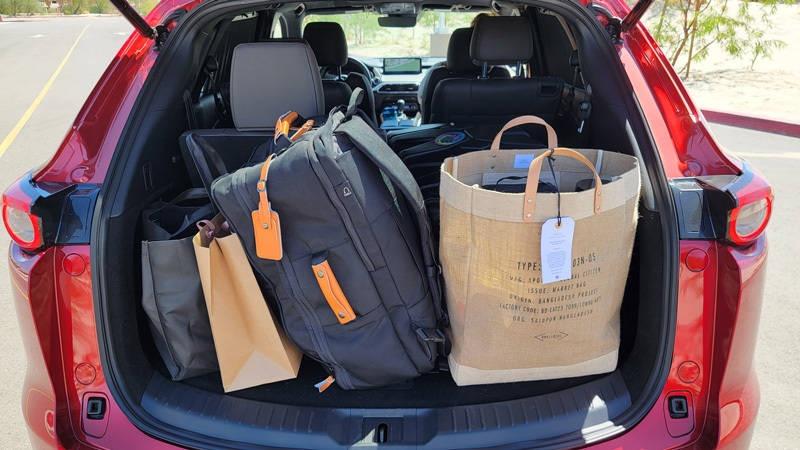 One thing that was important though is cargo space. This is always a compromise when it comes to 3-row SUVs but it was sufficient for a weekend getaway, though we dropped one of the seats to provide extra space for our large suitcase. Cargo space is rated at 14.4 Ft3 / 71.2 ft3 with seats folded down. Likewise, like most competitors, the 3rd row should be considered for small children only and otherwise simply for space to store suitcases and other equipment for a road trip getaway.
Pricing starts at $35,280 for the CX-9 Sport and $47,210 for the top tier trim, CX-9 Signature.