There's something magical about being able to control the way time unfolds ... those clouds that look static suddenly billow and fluff as they float across the sky. Many people have played with time lapse features on their camera phone or even a DSLR at one point or another - myself included - but there are two big challenges. The first is that nobody that I know wants to surrender their phone to a process that can take hours or even days. Second, even if you have a spare phone, chances are it isn't going to do well in the elements such as rain, a heavy dew, and even hot blowing dust and sand ... even if the battery was somehow to last long enough. Enter Brinno's TLC-200 camera!
Brinno is pretty much THE COMPANY for making consumer oriented time lapse cameras. All of their models are super affordable and very easy to use while providing very good quality for their category. For instance, the Brinno TLC200 Pro is just under $200 on Amazon and the TLC120 Wi-Fi HDR Time Lapse Camera that we are reviewing today is just under $300. The ART200 Pan Lapse accessory mount is just over $100. The reason I bring these prices up first is that it's important that you realize from the beginning that you won't be capturing those mind-bending videos that you see passed around Facebook and YouTube but you also aren't investing in thousands of dollars of equipment.
What you do get however, is absolutely fantastic. Certainly it is more than enough to impress your friends and neighbors when you share it on Facebook and with practice good enough for corporate videos. Based on my initial experience with it, this pair has earned a permanent place in my camera bag for future trips.
What You'll Love About the TLC-120 Time Lapse Camera
I've had the pleasure of using the TLC200 Pro previously and while it was a fantastic product, the TLC120 has improved upon it in pretty much every way. Ultimately these changes have resulted in creating a product that I would have zero hesitation in recommending for anyone looking for a great gift for someone who loves photography. For instance, it features a f2.0 lens that is good for low-light shots, a long battery (up to 22 days depending on photo interval), includes an SD card so it is ready to go out of the box, and unlike it's brother - is IPX4 weather resistant and includes a rechargeable battery. It also connects wirelessly through Wi-Fi and Bluetooth to your iOS or Android device so you can program the timer, set intervals, quality settings, and other elements as well as review the result and set up the shot through the live monitor.
Brinno TLC120 Time Lapse at Night in the San Diego Gaslamp Quarter
In practical terms, what this means is that you could mount it on a tripod outside your tent while camping, use the app to set the timer and capture the sunrise without having to wake up early. Even if there is a heavy dew or some rain, the camera is still going to work ... though your sunrise time lapse might not be as beautiful :)
When you mount it to the top of the ART200 Pan Lapse base then it will rotate the camera slightly for each shot so that you get one of those sweeping videos that pans across the landscape as if by magic.
When you consider the cost of this camera, what it can do is simply amazing. From HDR photos to night sky photography it obviously can't compare to what I can accomplish with my DSLR, but this is less than half the cost of just one of my lenses for that camera. In fact, low light photography such as the night scene above, was especially impressive. This is in large part due to the fast lens and large pixel size of 4.2µm (most camera phones are ~1.5µm and DSLR cameras range from 4-7µm+). This allows more of the light to be captured and makes for a better picture.
While it is extremely easy to set a basic setting and simply press the shutter start/stop button, you can also have access to advanced controls by using the mobile app. This means that the Brinno TLC120 is something that will ultimately grow as your own skills and creativity do.
What Will Frustrate You ...
My only real point of frustration was connecting my phone to the camera and the pan lapse base. This really isn't a knock against Brinno because virtually every device that relies on a WiFi connection like this has the same problem. As far as the ART200, it does exactly what it was designed to do, though, I REALLY wish Brinno was able to integrate the two apps so that settings carry over from one to the other - rather than setting intervals twice and then hoping they sync properly.
My solution to the WiFi issue was to buy a travel router and carry it around with me so it's always connected to that network rather than trying to connect it to my phone. This is the same solution that I've adopted for other similar devices as well and it works well.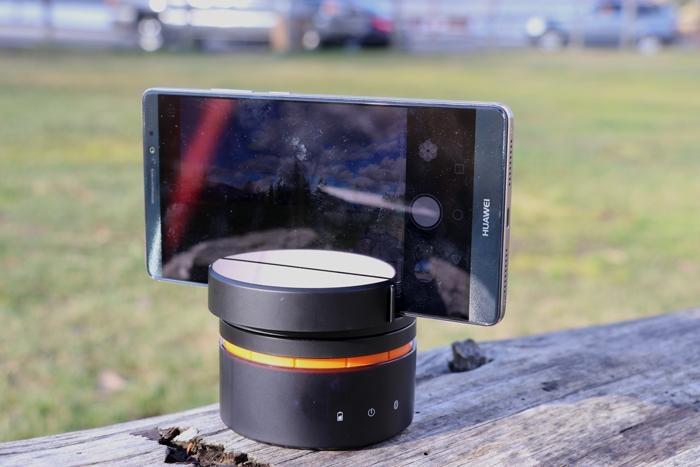 The Brinno ART200 also has a mount that works for holding your mobile phone! (even large phones like my Huawei Mate 8)
Do the Brinno TLC120 and ART200 make a Great Gift Idea?
Absolutely, this is a fantastic gift for any man that enjoys photography. As I noted above, until now you had to dedicate your camera phone to the task and frankly - that sucks. With the Brinno TLC120, time lapse photography is easy (or as complicated as you want to make it).